Here is the Avios award chart (which is no longer on ba.com!)
Links on Head for Points may pay us an affiliate commission. A list of partners is here.
What is the Avios award chart?
On the face of it, this is an odd question – until you find out that you can no longer see a simple chart of how much an Avios redemption flight costs on ba.com.
Instead, you are expected to plug your route into this ba.com calculator. This works fine but doesn't give you a good overview.
Luckily we have a copy of the chart here. The basis of Avios pricing is this simple grid, which prices British Airways flights based on the one-way distance flown. This is the pricing chart introduced in April 2015 – click to enlarge: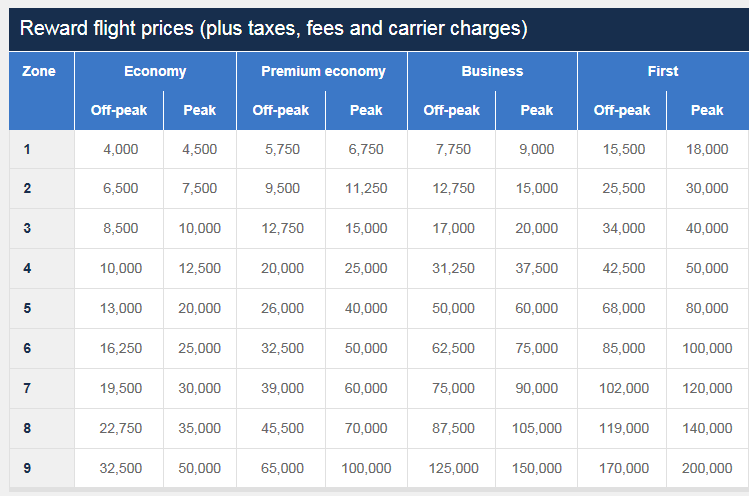 The zones relate to the distance flown:
Zone 1: 1 – 650 miles
Zone 2: 651 – 1,150 miles
Zone 3: 1,151 – 2,000 miles
Zone 4: 2,001 – 3,000 miles
Zone 5: 3,001 – 4,000 miles
Zone 6: 4,001 – 5,500 miles
Zone 7: 5,501 – 6,500 miles
Zone 8: 6,501 – 7,000 miles
Zone 9: 7,000+ miles
There are exceptions to these zones, with some routes such as Cape Town being put into a cheaper zone than their distance would suggest.
Short domestic flights in the US are priced differently – see this article
If you want to find out the distance between two airports, the best route is Great Circle Mapper (gcmap.com). Type in the airport codes, eg LHR-JFK, and click 'Distance'.
To make it easy, we put all the routes into a table for you
This article (click) lists EVERY British Airways route together with the number of Avios you need to fly it. It is the only reference guide you need!
There is a link to this article in the footer of every Head for Points article, unless you are reading on mobile.
What are the peak and off-peak Avios dates?
To make the most of the table above, you also need the peak and off-peak dates.
The list of British Airways peak and off-peak dates for 2019 can be found in this article.
Remember that Avios flights are priced by sector
Pricing is based on EACH individual flight, not the distance between origin and destination. This means that the Avios charged for a particular route can vary depending on how you fly there:
London to Muscat on British Airways is non-stop and 3600 miles, so costs 13,000 miles in Economy one-way off-peak and 20,000 miles on a peak day
London to Muscat on Qatar Airways (or a mix of BA and Qatar Airways) involves a change in Doha. London to Doha is 3,200 miles and Doha to Muscat is 437 miles. This means your flight will cost (13,000 or 20,000 + 4,500=) 17,500 / 24,500 Avios, one way depending on whether the BA flight is on a peak day.
The only exception is when booking a UK domestic connection to/from London to connect to a long-haul flight. No additional Avios are required for this.
This is the second Avios award chart you may never have seen
There is a second British Airways Avios redemption pricing chart for trips which use two or more oneworld carriers apart from British Airways.
This chart is rarely used but you can find it here. A flight such as London – Doha (Qatar) – Hong Kong (Cathay Pacific) would price off this chart.
I discuss some uses of the Avios multi-partner reward chart in this article. There is real value in it if you are heading to Australasia for example.
Which airlines can I redeem Avios on?
A full list of the 30 (!) airlines which let you redeem Avios points can be found here.
This list has shrunk over the last year as airberlin and NIKI went into receivership and Monarch (also now in receivership), Aurigny and Air Malta were dropped as avios.com partners. Flybe is leaving on 30th April 2019.
(This article is part of our 'BA Q&A' series which explains how British Airways Executive Club works. You can see all of our 'BA Q&A' articles here. )
(Head for Points is the UK's biggest frequent flyer website with 1.5 million monthly page views. Want to learn more about earning and spending Avios? Click here to read our latest news stories, click here to join our email list and click here to read our 'Avios Redemption University' series. Read this article to learn how you can get 10,000 FREE Avios by signing up for the American Express Preferred Rewards Gold credit card.)