Review: the new Staybridge Suites hotel at London Heathrow Airport
Links on Head for Points may pay us an affiliate commission. A list of partners is here.
This is our review of the brand new Staybridge Suites hotel at London's Heathrow Airport.
IHG is on a bit of a roll at Heathrow at the moment.  We recently reviewed the (very nice) new Crowne Plaza and Holiday Inn Express connected to Terminal 4.  Today I want to review the new Staybridge Suites London Heathrow Bath Road which has just opened.
Staybridge Suites is one of IHG's 'extended stay' brands.  Rhys reviewed the new Staybridge Suites in Manchester in December which was the first time we'd ever covered one, but I was keen to take a look myself.
These are the features you can expect to find at a Staybridge Suites:
standard rooms with kitchenettes, but primarily 1+ bedroom suites with a separate bedroom and lounge / kitchen / dining area
limited hotel facilities, including no housekeeping at weekends unless specifically requested
evening social events
no restaurant and no bar but a pantry selling lights snacks and microwavable meals
free breakfast
Whilst in theory they are designed for contractors on extended stays, I think a lot of people book them purely because you get a lot of space for your money or because they need a room to accommodate children.  The average length of stay is probably shorter than you think and they don't look twice if you only book for one night.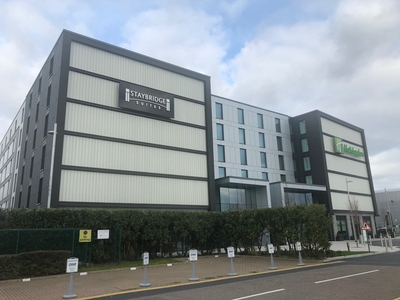 Our stay at Staybridge Suite London Heathrow Bath Road was paid in cash.  We paid just £76 for a one-bedroom suite.
This is a dual branded building which is 50% Staybridge Suites and 50% Holiday Inn.  The Holiday Inn Heathrow Bath Road website is here.  The Holiday Inn was not open when I visited but will be any day now.  The hotels are totally separate inside.
Getting to Staybridge Suites London Heathrow Bath Road
Regular readers will know that I hate staying at airport hotels which are not directly connected to the terminals.
The Staybridge Suites is surprising easy to reach however.  From the Central Bus Station at T2/T3 it took just 6 minutes on the U3 bus which stops directly opposite.  You can also get a 105, 111, 140 or 285 bus to Newport Road.  This stop is further away.  From T5 or Hatton Cross you can get the 423 which stops opposite.
You have to cross a 4-lane road with no sort of pedestrian crossing to help you.  This could be tricky with luggage and/or small children and/or in darkness.
The local buses are free.  The £6 Hotel Hoppa bus also stops here.
My suite
Check-in was efficient and the woman behind the desk was exceptionally bubbly and enthusiastic.  This may be because she wasn't used to seeing many guests – the property still seemed exceptionally quiet.  I was given a tour of the common areas and, as a Spire Elite, given two vouchers for a free drink and snack.  There is also a points alternative but there is a lot more value in the refreshments.
The hotel has a bit of an Orla Kiely feel as you can see from the corridors, which were pleasantly light and wide: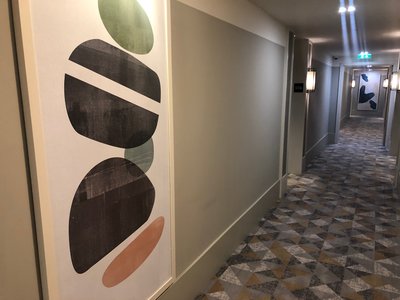 Let me give you a tour of my suite, which was very spacious and – for £76 including breakfast – very good value.
The living area contained a round dining table with three chairs: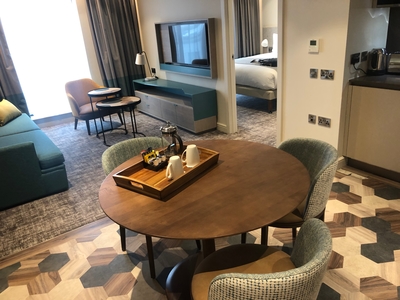 …. and a kitchen unit.  The kitchen was very comprehensive – there was a fridge, a two ring induction hob, a kettle, a full set of saucepans, a full set of kitchen utensils, a dishwasher, a microwave, a sink, a full set of crockery for 4 people, glassware inc wine glasses and a cafetiere.  It was everything you'd expect and of course it is all brand new.
The kitchen area has mock-wood lino flooring.  The living area is carpeted, as is the bedroom.
The living area has a long sofa which would happily seat four, an armchair, two tables, a lamp and a TV.  What the suite doesn't have is a desk – you need to work at the kitchen table or in the business areas in the lobby.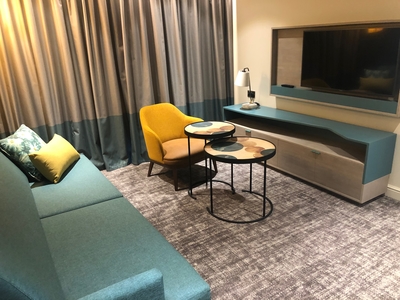 The bedroom is not huge but was perfectly pleasant with a 2nd TV.  The wardrobe contained 12 coat hangers so you won't be short, although the inclusion of some drawers means that the space available for long hanging items such as dresses or coats is modest.  An iron and ironing board is provided.
The windows are far slimmer than they had to be.  The architect decided that slim windows would look more modern, clearly.  This may be true, but it also means that there is less natural light than there could have been.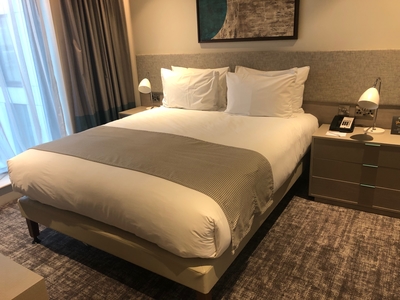 The bathroom was also a good size.  There was no bath which, for an extended stay property, was a missed opportunity.  The shower was very large but there was only one sink which was relatively small.  You do get a lot of counter space which is important if you are staying for longer and have brought full size products.
Toiletries were Gilchrist & Soames.  They came in bumper sized containers which are not meant to be taken away, although they are not bolted to the wall.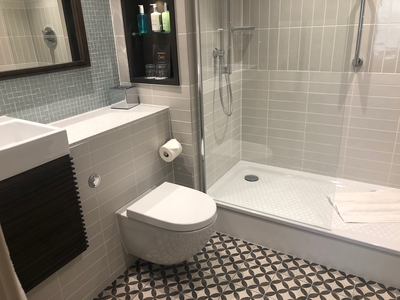 You don't get a washing machine, but there is a laundry room on the first floor: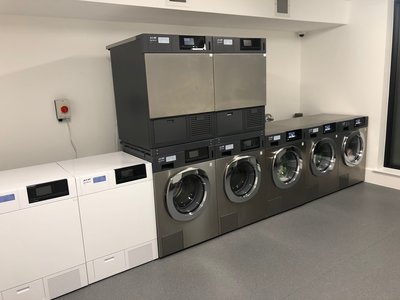 There is also a modest fitness room.
There are some interesting touches to make the room look more like a home which it takes you a while to spot.  There is no marketing literature, at all, on display.  There is a clock on the wall.  The light switches and power sockets are standard domestic ones.   This is all done to give a more 'homely' feel to long stay guests.
Soundproofing is outstanding.
The public areas
There is no restaurant and no bar.  Literally within days the Holiday Inn next door will be open which solves the problem.  I was left with snacks from the pantry.  There is nothing else walkable from the hotel unless you head to the Leonardo Hotel nearby.
(It is worth noting that the 'free drink and snack' voucher given to elite IHG Rewards Club members includes 200 ml bottles of prosecco, although not spirits.  As well as the kettle and cafetiere in your room, there is 24/7 free coffee available from a machine in the breakfast area.)
There is a LOT of public space at the Staybridge Suites for milling around which is rare in new hotels.  On Tuesday, Wednesday and Thursday nights the hotel holds social events where you can get a free drink and meet other guests – unfortunately I was there on a Monday.
If you don't want to work in your room, you can choose from this space: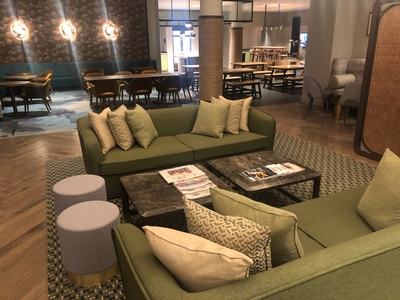 …. or this space: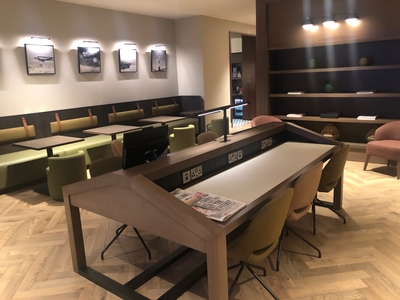 …. or this room, called The Den which has a smart skylight: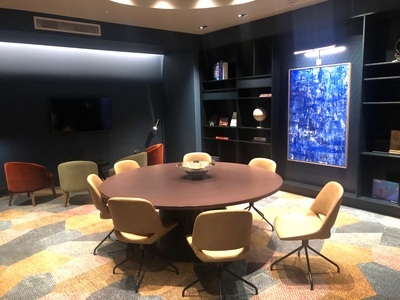 Breakfast at Staybridge Suites London Heathrow
Here is the breakfast room, in a picture taken in the afternoon which is why it is empty.  I found the use of picnic tables for the bulk of the seating to be weird.  Breakfast runs from 6am to 9.30am which isn't great if you want to sleep in.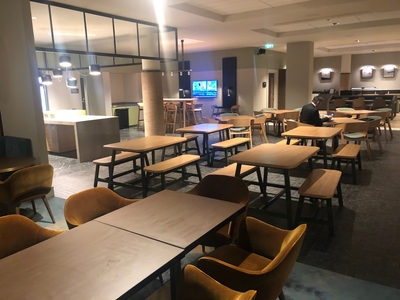 The buffet looks relatively small but actually contained everything I wanted.  There is a buffet here: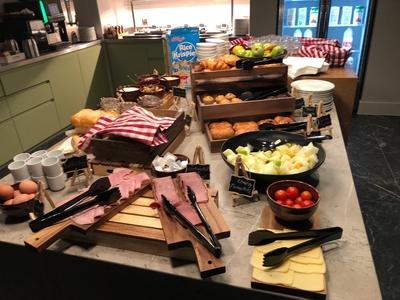 …. and some hot items: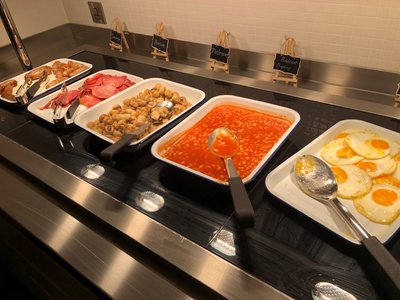 Two things did annoy me.  Firstly, as the top picture shows, cereal is served from the usual domestic cardboard boxes.  This looks messy and is probably unhealthy, as most people end up putting their hands in the box to scoop out the contents once it gets low.  Secondly, fruit juice is poured from supermarket cartons – it wouldn't have hurt to decant it into jugs.
It is worth noting that, even though the hotel was virtually empty, I couldn't get a standard table to myself.  My only options were to eat at a stupid picnic table or eat in the lounge at a low table.  I did the latter.  Once occupancy picks up, table sharing for breakfast will be unavoidable unless they add some more furniture and rip out the picnic tables.
Conclusion
This was my first visit to a Staybridge Suites and I was impressed.  Everything is new and shiny, rates are low, you get a lot of space if you take a one bedroom suite (I paid £76 in IHG's recent Flash Sale) and it is literally just 6 minutes on the bus from the Central Bus Station.
I am still happier in hotels attached to the terminal, purely for convenience, but if you want to save some money then Staybridge Suites London Heathrow Bath Road is worth a look.
My only criticism is whether, if you do need a place for a longer stay, Bath Road is where you want to be.  If you were seconded to Heathrow for a couple of weeks, would you prefer a suite here to staying in a traditional hotel room in a nearby town with shops, pubs and restaurants within walking distance?  Some people would, some wouldn't.
As an IHG Rewards Club redemption Staybridge Suites Heathrow is currently 25,000 points.  This gets you the standard 'Studio Suite' and not the one bedroom suite which I had.  The new Holiday Inn in the same building (website here) is the same price.  This is fair pricing given typical cash rates of £100 and my standard valuation of IHG Rewards Club points at 0.4p.
You can read our full series of London airport hotel reviews here.
The Staybridge Suites London Heathrow Bath Road website is here if you want to book or find out more.
---
IHG One Rewards update – December 2023:
Get bonus points: Our article on IHG's current bonus promotion is here. You will receive 2,000 bonus points for every two cash nights you stay until 31st December. Nights do not need to be consecutive. Click here to register.
New to IHG One Rewards? Read our overview of IHG One Rewards here and our article on points expiry rules here. Our article on 'What are IHG One Rewards points worth?' is here.
Buy points: If you need additional IHG One Rewards points, you can buy them here.
IHG is offering a 100% bonus (some members may be offered less) when you buy points by 30th December 2023. Click here to buy.
Want to earn more hotel points? Click here to see our complete list of promotions from IHG and the other major hotel chains or use the 'Hotel Offers' link in the menu bar at the top of the page.