Links on Head for Points may pay us an affiliate commission. A list of partners is here.
This article explains how to redeem your Avios points on Aer Lingus.
The "Avios Redemption University" series is a good starting point for beginners, although I hope everyone will learn something from it.  Click here to see the other "Avios Redemption University" articles.
One of the biggest issues with redeeming Avios for long-haul flights is the level of taxes and surcharges imposed by British Airways. These usually run to around £550 per person in Club World (£650 to North America) and £275 in Economy, return.  For Club World, I can live with this – after all, I would be paying a lot more for a cash ticket.  For Economy seats it often makes your Avios close to worthless.
British Airways Executive Club has two partners who offer long-haul flights from Europe without excessive surcharges. I have looked at Iberia already.  In this article we will look at Aer Lingus.
Aer Lingus is a sister company to British Airways since it was bought by IAG, BA's parent company, a few years ago.
Following substantial investment, it has an impressive long-haul operation focused exclusively on the United States and Canada.  New seats and new aircraft means that it has a Business Class product which is, frankly, superior to British Airways Club World in many respects.
If you redeem your Avios for a transatlantic flight on Aer Lingus, you will need to start your trip in Dublin or Shannon.  There are two upsides here though:
You won't be paying long-haul premium cabin Air Passenger Duty to the UK Government as long as your connecting flight to Dublin is on a separate ticket
Aer Lingus lets you clear US immigration in Ireland allowing you to land as a domestic passenger and saving a potentially long queue at immigration
We reviewed the Aer Lingus Business Class service between Dublin and Boston in Business Class 18 months ago.  The flight and seat is reviewed in that article and others in the series cover the Aer Lingus lounges in Heathrow, Dublin and Boston and the pre-clearance lounge (once you've cleared US immigration) in Dublin.
Here is the current Aer Lingus long-haul Business Class seat – it looks pretty good, I'm sure you'll agree: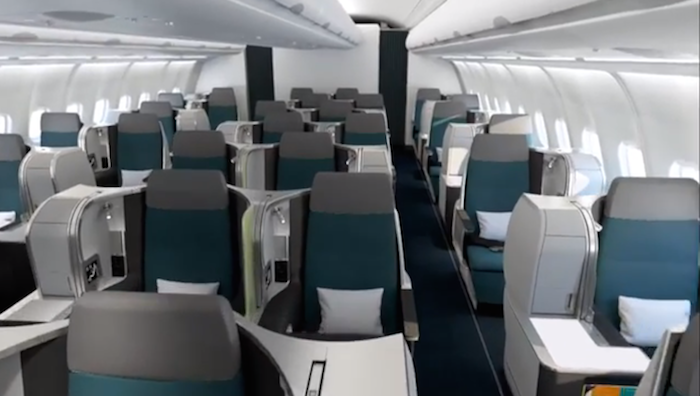 …. and here is the seat map, which varies from 1-2-2 to 1-2-1: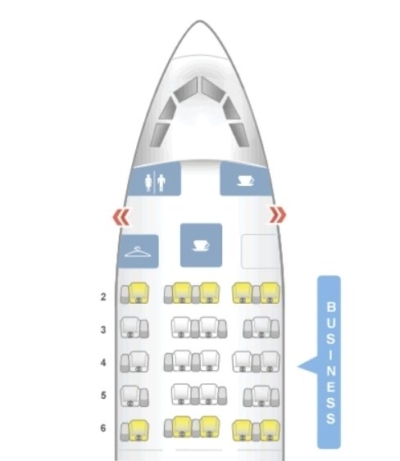 What routes can be booked with Avios?
Aer Lingus will be running the following long-haul routes during Summer 2019 from Dublin:
Miami
New York
Boston
Chicago
San Francisco
Orlando
Seattle
Philadelphia
Washington
Los Angeles
Hartford
Minneapolis
Toronto
There are also services from Shannon to New York and Boston.
The planned Montreal route has been postponed until 2020 due to delays with receiving new long-haul aircraft.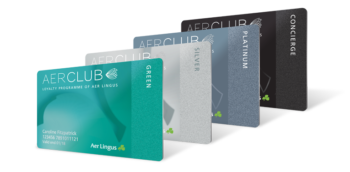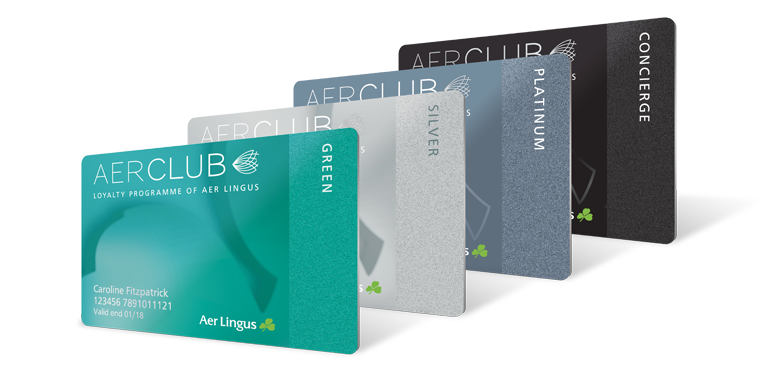 How to book Avios reward seats on Aer Lingus
It used to be the case that Aer Lingus seats could only be booked with Avios via a telephone call to British Airways Executive Club, with no way of checking availability online.
This changed in December 2016 when Aer Lingus reward availability was loaded into avios.com.
There are now TWO ways of booking a redemption on Aer Lingus:
Option 1 is to use avios.com. You can book online and you get the widest choice of dates. You will pay around £200 in taxes and charges for a long-haul business class flight from Dublin to North America.
or
Option 2 is to use ba.com. You cannot book online, only by telephone. Anecdotally, there is less availability than you see via avios.com, and you cannot check availability online before you ring. However, you will only pay around £75 in taxes and charges for a long-haul flight from Dublin to North America.
You can still access avios.com if your Avios Travel Rewards Programme account has been closed by opening an Aer Lingus AerClub account here.
For clarity …. if you book UK – Dublin – North America on the same ticket then you will also need to pay long-haul premium cabin UK Air Passenger Duty.  Booking two separate tickets dramatically reduces the taxes although you must build in enough flexibility to ensure you don't miss your connection.
Can you use a BA American Express 2-4-1 voucher on Aer Lingus?
No.  You cannot use a 2-4-1 voucher on Aer Lingus or any partner airline.
You CAN use 'cash and Avios' to replace some Avios with a cash payment if you do not have all of the points you need for your redemption. The cost per Avios varies depending on your class of travel and how many Avios you are short.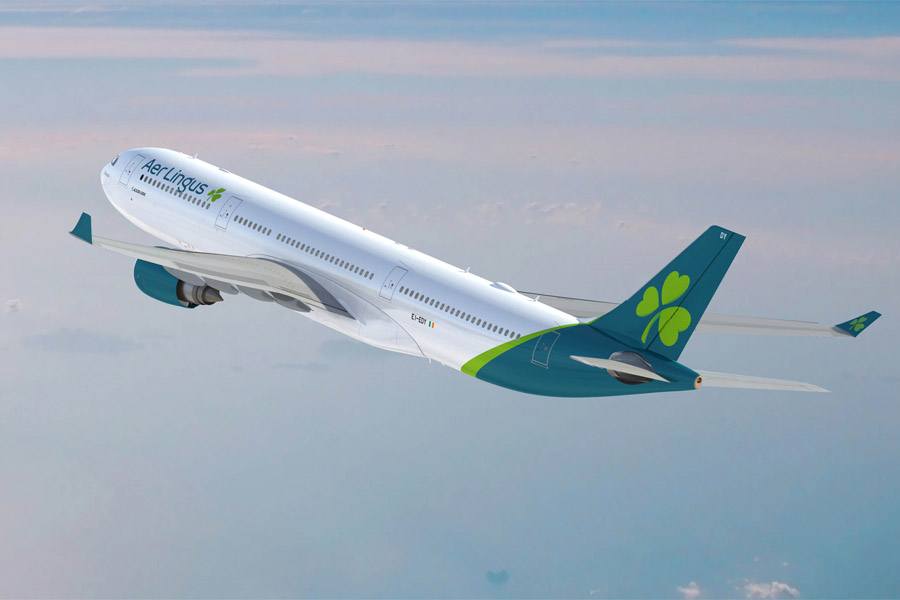 How many Avios will I need?
Here is the Aer Lingus reward chart showing zones and mileage, which is identical to the general Avios reward chart (click to enlarge):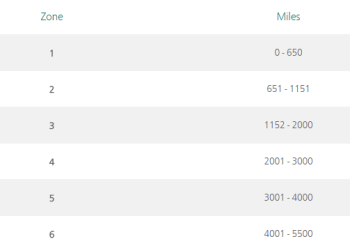 …. which means you need this many Avios: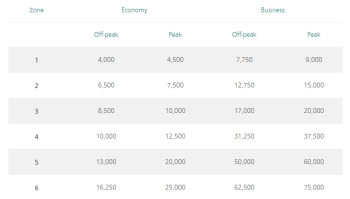 However, Aer Lingus has been rather sneaky.
Dublin / Shannon to Boston SHOULD be in Zone 4. It used to cost 75,000 Avios for a return business class flight from Dublin to Boston – which is what you expect to pay for a partner airline flight of 2,986 miles which is how long the Dublin flight is.
Aer Lingus has now moved Boston 14 miles to the west. Dublin to Boston (and Shannon to Boston) have been moved into Zone 5 which means it now costs 100,000 Avios off-peak and 120,000 Avios peak – the same price as Dublin to New York.
And there is peak and off-peak pricing
Aer Lingus has its own peak and off-peak pricing.  The list of peak dates does NOT match the British Airways list of peak dates.
Here is the Aer Lingus 2019 peak and off-peak calendar (click to enlarge):


For comparison, the British Airways and Iberia 2019 calendars are here.
Three periods are noticeably different from the BA calendar.  Aer Lingus doesn't have an October and February peak season during the UK half terms, the April peak season is one week shorter and there's also no peak season towards the end of May / early June.
On a long haul flight the saving in Avios would be attractive.  It makes the Aer Lingus long haul services from Dublin to North America worth considering during weeks where BA is charging peak prices and Aer Lingus is not.
Just to be clear the Aer Lingus peak and off-peak dates apply to Aer Lingus flights wherever you book them. If you book an Aer Lingus flight on ba.com then it goes by the Aer Lingus calendar and not the BA calendar.
What do I pay in taxes on Aer Lingus?
Taxes are very low when redeeming Avios for Aer Lingus long-haul flights.  Avios has still found a way to make it confusing, however.
As I mentioned above, there are now TWO ways of booking a redemption on Aer Lingus. Book via avios.com and you will pay around £200 return for a Business Class return. Book via British Airways Executive Club (on the telephone) and you will pay around £75 return.
Remember that these tax figures assume you start your trip from Dublin. If you add in a connection from the UK on the same booking then you will be hit for long-haul Air Passenger Duty of over £100. You would need to buy or redeem for a separate connecting ticket to Dublin.
However, when you are on separate tickets, Aer Lingus has no liability to you if you miss your connecting flight due to the late arrival of your incoming flight. You may therefore need to travel to Dublin a day earlier, or give yourself a long connection time in Dublin. You need to factor all this in when considering whether this is a better deal or whether you should swallow the APD and book UK – Dublin – North America on the same ticket to guarantee you are protected if you miss the connection.
How do I check Aer Lingus Avios availability?
The obvious thing to do – given that taxes are lower if you book via British Airways Executive Club via telephone – is to book that way.
You can check availability at avios.com online first before calling British Airways. However …. anecdotal evidence suggests that avios.com has better availability than ba.com.
Since the Avios Travel Rewards Programme was closed, you may no longer be able to log in to avios.com.  If this is the case, open an Aer Lingus AerClub account via this page and then log in at avios.com using those details..
It is possible that you can see a seat available for booking via the Avios website which British Airways cannot see. If this is the case, you should try calling BA back. You may simply have had an agent who doesn't understand how to find Aer Lingus flights. If a second agent cannot find the flight, you need to decide whether to change your dates or book via avios.com and pay the higher taxes.
These taxes are still a lot cheaper than booking on British Airways from London.
Coming back to the UK, you CAN book your connecting flight in one ticket. It makes no difference as there is no Air Passenger Duty on flights TO the UK.
Moving your Avios around between Aer Club at avios.com and British Airways Executive Club is free and instantaneous via 'Combine My Avios' on avios.com.
Conclusion
If you are heading to Toronto or the USA, Aer Lingus offers you a great way of saving a substantial amount of money in taxes and charges – around £250 per person in Economy and around £400 per person saved in Business compared to a British Airways redemption!  Even if you want to have your connecting journey from the UK to Dublin on the same ticket, to avoid any risk of misconnecting, you will still save between £100 and £250 after adjusting for Air Passenger Duty and get an arguably better Business Class experience than British Airways offers.
(Want to earn more Avios?  Click here to visit our home page for the latest articles on earning and spending your Avios points and click here to see how to earn more Avios from current offers and promotions.)
Click here to join the 14,500 people on our email list and receive the latest Avios, miles and points news by 6am.