Links on Head for Points may pay us an affiliate commission. A list of partners is here.
News in brief:
Has BA now messed up its iPhone app too?
Before Christmas we covered the new British Airways iPad app.
We celebrated the achievements of the BA IT team as the British Airways iPad app received its 1,000th one-star review.  Since virtually no-one had given it two, three, four or five stars, the overall average from ALL reviewers was just 1.1 out of 5.
Take a look (click to enlarge):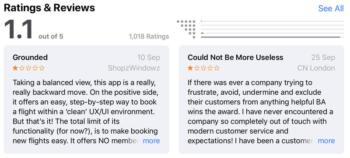 Things have not improved since then.   The overall average for the iPad app has now dropped to 1.0 out of 5, which is as low as it is feasibly possible to go.  Once the developers ran out of friends to give it 5 stars, the drop from 1.1 to 1.0 was inevitable.
If you're wondering what the team has been doing since then, the answer is that it has turned its hand to the iPhone app.  To be honest, I always thought it was OK except for the pointless need to log in again every few seconds.  If you have not updated the BA iPhone app yet, you may want to leave it as it is.  The home screen, previously a classy affair (especially for Gold members) is now white and with print size aimed at the short sighted.
Here is some feedback from the last few hours: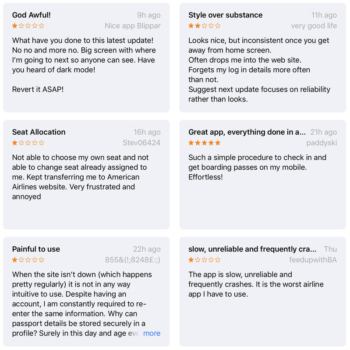 Eastern Airways launches Teesside (Durham) to London City
Eastern Airways unveiled a raft of new routes from Teesside International (the old Durham Tees Valley) Airport yesterday.
Impressively, it includes two daily flights to London City Airport.  Given the recent failure of Eastern to run an Aberdeen – Newcastle – London City service, this is a brave move.
Other new routes from Teesside are Belfast City, Cardiff, Dublin, Southampton and the Isle of Man.  The existing services to Aberdeen and, in Summer, Jersey will remain.
Cardiff flights will begin on 10th February, Belfast City, Dublin and Southampton on 9th March, London City on 27th April and the Isle of Man on 30th May.
Eastern Airways is a Flybe franchise partner and these new services need to be booked via flybe.com, although they may not be loaded yet.
You can find out more on the Eastern Airways website here.  Our recent review of the lounge at Teesside International is here if you are now planning a trip.
British Airways and Qatar Airways plan Australian joint venture
British Airways and Qatar Airways have submitted a request to the Australian Competition & Consumer Commission to form a joint venture on nine routes to Australia from the UK.
Sydney is NOT included – I think both airlines know that such a request would be thrown out as damaging to competition.  Instead, it will cover the following routes:
Adelaide – Manchester
Adelaide – London
Canberra – London
Melbourne – London
Melbourne – Edinburgh
Melbourne – Manchester
Perth – London
Perth – Edinburgh
Perth – Manchester
What is a little odd about this joint venture is that British Airways brings virtually nothing to the party EXCEPT for its brand.  Apart from the BA flight to Doha, every other flight in the joint venture will be operated by Qatar Airways.
At present, anyone looking to travel from London to Adelaide would be routed on British Airways to Sydney and then onto a Qantas codeshare.  British Airways believes it can make more money by filtering passengers onto a Qatar Airways flight in Doha.  As this is a joint venture, rather than just a codeshare, British Airways should make more money.
There would be very little obvious difference if the joint venture was approved.  There may be some retiming of flights so that connection times in Doha are minimised.  British Airways Executive Club status members would receive a tier bonus on the Qatar Airways service from Doha, which is not currently offered.  Apart from that ….. little changes.
This doesn't mean that approval for the joint venture is a given, of course, since it reduces competition into the four Australian cities.  It may also raise questions over the future of the British Airways Sydney service, with many potential passengers planning to connect onwards now siphoned off via Doha instead.
You can find out more on the ACCC website here.
Click here to join the 14,500 people on our email list and receive the latest Avios, miles and points news by 6am.