Review: The Escape Lounge at London Stansted Airport
Links on Head for Points may pay us an affiliate commission. A list of partners is here.
This is our review of the Escape lounge at London Stansted Airport.
You can see the long, long list of Head for Points UK airport lounge reviews here.
The official website for the lounge, where you can book visits for cash, is here.
We last looked at this lounge three years ago, when Anika popped in. I had never been myself so I thought it was worth another look. Very little seems to have changed, looking back at her review.
The 'Escape' brand is owned by Manchester Airports Group (MAG), owner of Stansted. You will also find three 'Escape' branded lounges at Manchester, one at East Midlands Airport and at some American airports.
I have a love / hate relationship with MAG and its lounges. The '1903' uber-premium lounge in Manchester (review here) is very good. PremiAir, the new private lounge and terminal, is outstanding (and we gave it an award to prove it) and apparently may be rolled out at East Midlands and Stansted too. Unfortunately the 'Escape' lounges are nothing to get excited about.
Frustratingly, MAG limits third party lounge operators. There are none at Stansted or East Midlands. Manchester only has a couple of Aspire sites, with No 1 Lounges and Plaza Premium not present.
Where is the Escape lounge at Stansted?
The Escape lounge is located at the far end of the airport when coming from security, halfway to the gates. You do NOT get on the shuttle train, and if your gate requires the train you should factor that into your plans.
You have to walk through the l-o-n-g Duty Free arcade until finally reaching your destination, next to Pret A Manger. The lounge itself is downstairs, which minimises the light: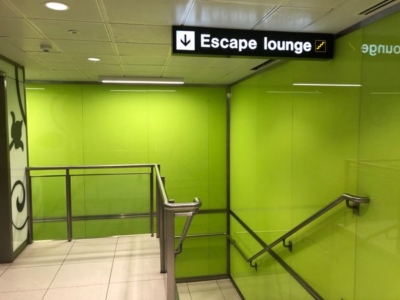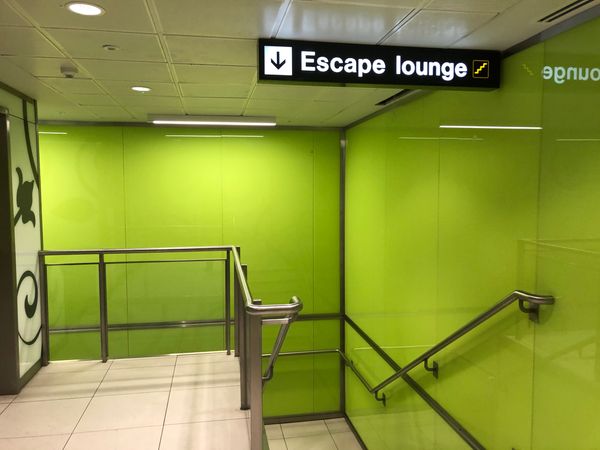 I had no problem getting in at 7.30am using my Priority Pass card. It is not possible to reserve a place in advance if you will be using a lounge club card.
You can book in advance if you pay cash – if you do, the staff pop a 'reserved' sign on a seat for you: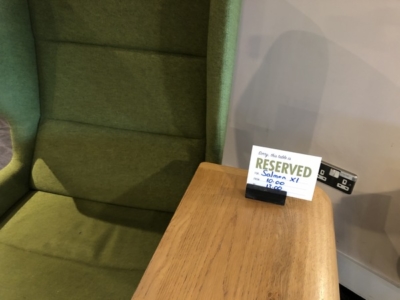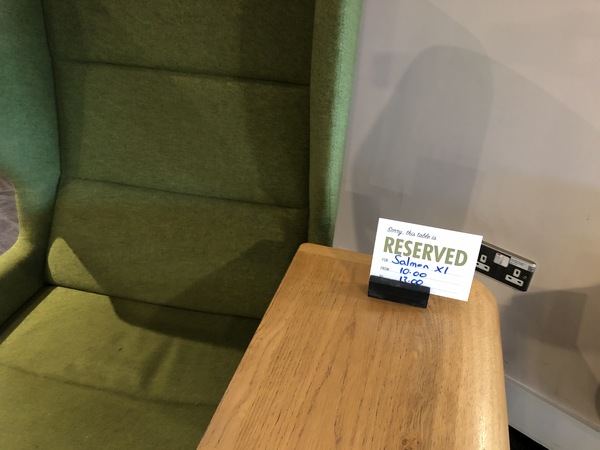 Starting at the far end, you have a reserved area which is only used for the two daily Emirates flights – it looks pretty dull, frankly – and contains a rack of magazines in Arabic: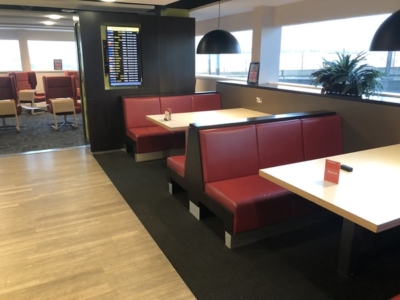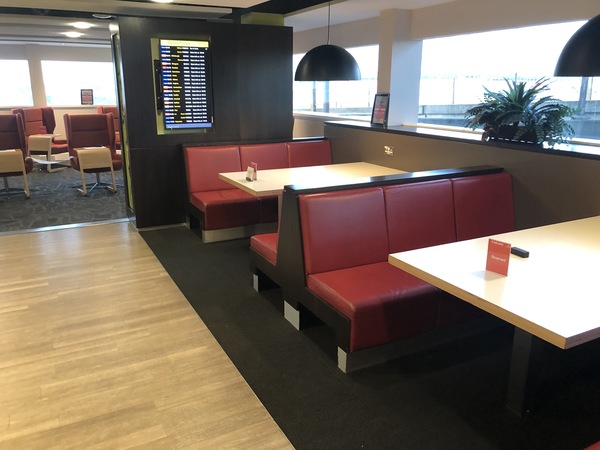 The main lounge area is brighter, with lots of green: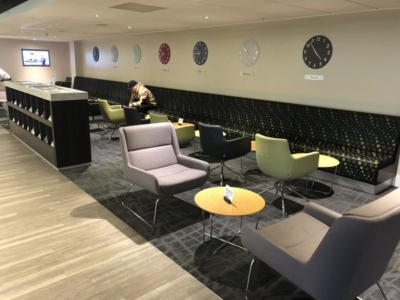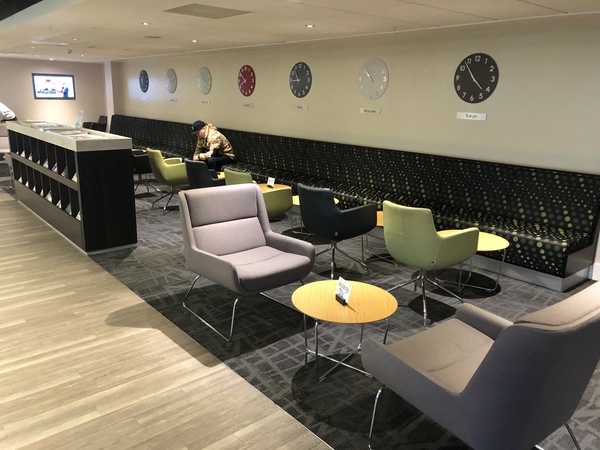 and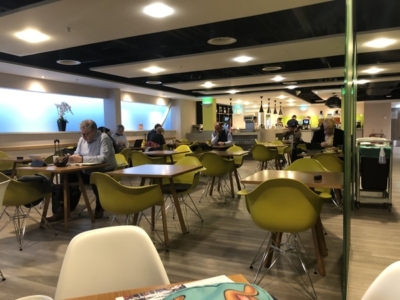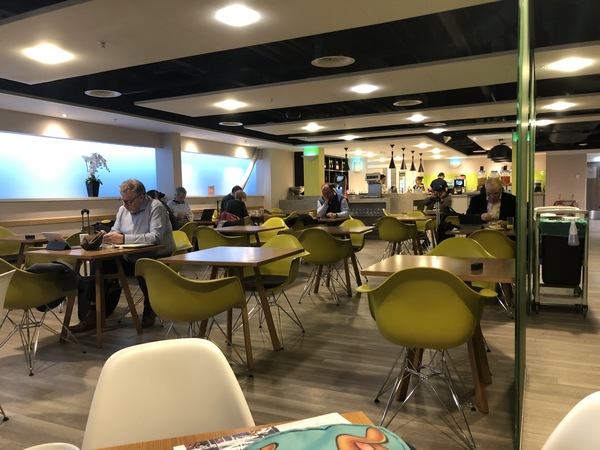 The ceiling is quite low and dark. This adds to the odd sense of being squeezed in. There are windows overlooking the tarmac but these are mainly at the Emirates end.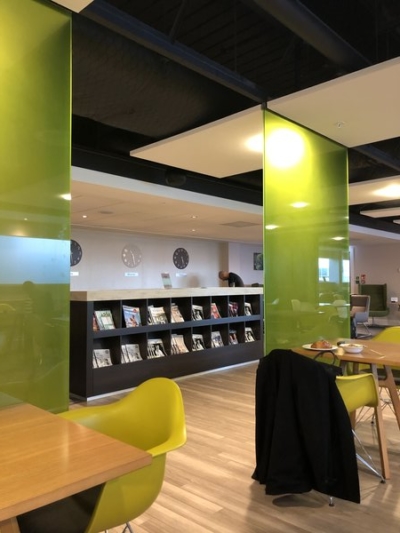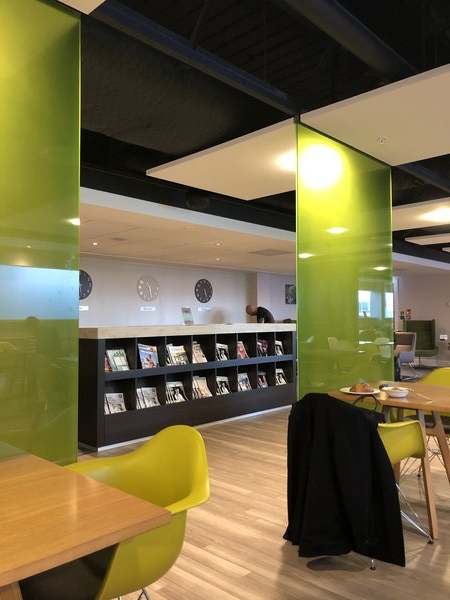 I should give a shout out to the media shelf: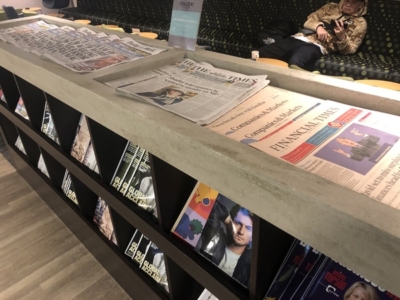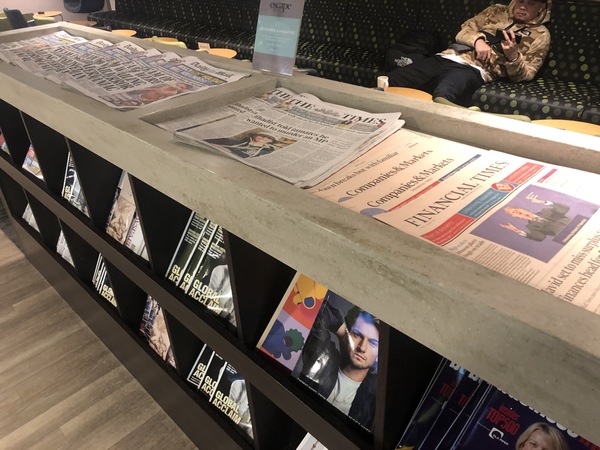 Any regular British Airways passengers will be spitting out their coffee in shock at this point. Yes, you have the Times, FT, Telegraph (and Mail), with magazines including Brummel (a City lifestyle title) and The Art Newspaper. If Escape could scrounge a few magazines from Conde Nast to add to the selection it would be perfect.
Breakfast in Stansted's Escape lounge
I was there over breakfast. The buffet, amusingly, was almost a carbon copy of what I had just left behind at the Hampton by Hilton Stansted hotel next door (review), albeit with less choice: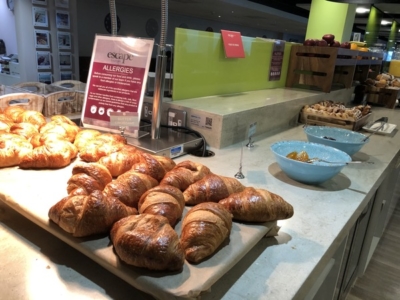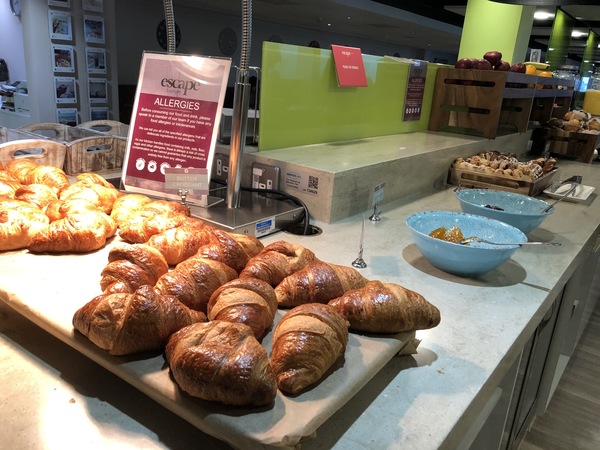 and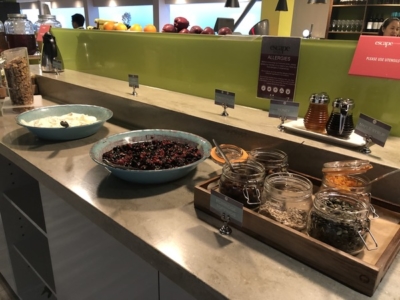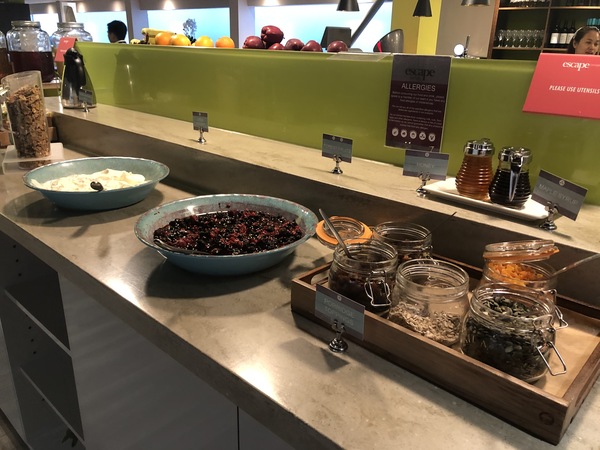 and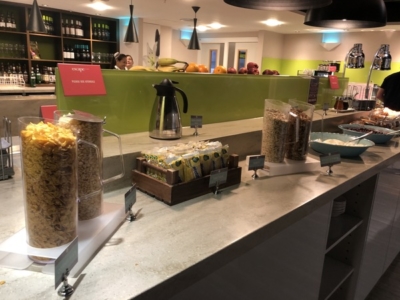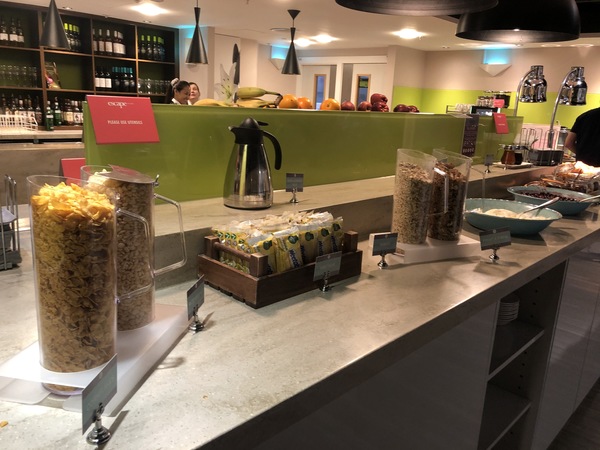 Two years ago Anika said that the lounge had additional 'paid for' food options in the evening. There did not appear to be any 'paid for' breakfast extras. The bar also charges for champagne and premium spirits although everything else is free.
Another thing missing which was there three years ago were the combined 'menu holders and USB charging units' on each table. I'm not sure if they come out after breakfast or if they have been removed.
Conclusion
The Escape lounge at London Stansted was pretty much as I expected. I will give it brownie points for not being too busy and letting me in via a Priority Pass at peak hours, as well as for the newspaper selection, but then I wasn't expecting it to be in a semi-basement with a low ceiling.
Manchester Airports Group can, and should, do better. I don't understand why we haven't seen a premium '1903' lounge at Stansted yet. If No 1 Lounges, Aspire or Plaza Premium were allowed in (No 1 used to be here, years ago) it would give Escape a reason to improve.
If you can get in via a Priority Pass then you should come in. If you are wondering whether to use your two Amex Gold Lounge Club passes here, I would be tempted to save them for somewhere else and sit in the Pret at the top of the steps.
Access is available via Priority Pass (free with American Express Platinum, or buy one here), Lounge Club (two free passes when you get a free Amex Gold) and the other major lounge schemes.
You can pre-book a cash visit to Stansted's Escape lounge via the airport website here.