NEW: Redeem IHG One Rewards points at 70 Iberostar beach resorts
Links on Head for Points may pay us an affiliate commission. A list of partners is here.
Thanks to a new long-term agreement with Iberostar, IHG is adding up to 70 new resorts to its roster. It means you'll soon be able to redeem IHG One Rewards points at all-inclusive beach resorts in Spain and further afield.
Iberostar is a Spanish family-run chain of hotels that runs four and five star leisure properties. The group owns hotels in Mallorca, Tenerife, Mexico and the Dominican Republic amongst other places.
The agreement covers all of Iberostar's beach resorts outside of Cuba but does not include the city centre hotels.
In total, IHG claims that 'up to' 70 hotels will take part as Iberostar Beachfront Resorts, which will become the 18th brand in IHG's stable. It will sit within IHG's 'Exclusive Partners' portfolio.
IHG has agreed an initial 30-year licence to the 'Iberostar Beachfront Resorts' brand, so this is a long-term partnership.
Under the agreement, Iberostar retains ownership of the hotels whilst benefitting from access to IHG's customer base. The reason that IHG cannot confirm exactly how many hotels will transfer is that some require minority shareholder approval.
It wouldn't surprise me to see Iberostar's city centre hotels rebranded under IHG flags at some point, or moved into a similar partnership with another global brand.
Where are Iberostar beach hotels located?
In Europe, the vast majority of Iberostar properties are in Spain. There are a couple in Greece, Montenegro and Portugal.
The company also owns a number of hotels in the Americas and a handful in Africa. Its second largest destination is Cuba, although these properties are excluded from the deal presumably due to complications under the USA – Cuba embargo.
The expected 70 properties tally up to 24,300 rooms, which would grow IHG's portfolio by around 3% worldwide. According to the press release:
"IHG has fewer than 20 resort properties in the countries where the Iberostar Beachfront Resorts properties are located. The agreement therefore significantly increases and broadens IHG's resort footprint."
The first resorts to join in December will be in popular winter sun destinations such as Mexico, the Dominican Republic, Jamaica, Brazil and the Canary Islands.
Over the course of 2023 and 2024 other destinations in Spain, Southern Europe and North Africa are expected to join. Approximately 27 hotels need third party approvals to take part in the partnership.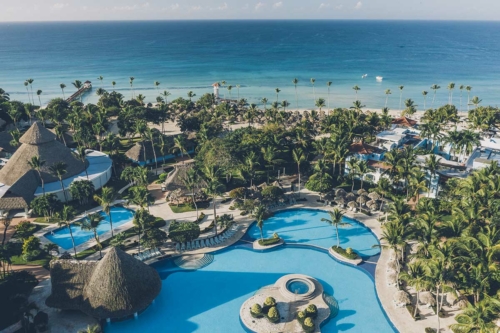 Why are Iberostar and IHG joining forces?
The benefits for Iberostar are obvious. By affiliating itself with IHG, it gains access to a large group of potential new customers. IHG says over 100 million people are signed up to IHG One Rewards. Clearly not all of these are active users, but it does open up a new base of potential customers including many who have not used all inclusive resorts in the past.
What isn't clear is whether Iberostar will continue to sell these 70 hotels from its own website as well as offering them through ihg.com, or if the two parts of the group will now be marketed separately.
The benefits for IHG are a bit more nebulous. If you look at the bigger picture, IHG is following in the footsteps of Marriott and Hyatt, both of whom have recently acquired a number of resort hotels. Marriott took over Elegant Hotels in 2019 and 19 all inclusive resorts operated by Sunwing Travel in 2021.
Hyatt acquired the substantially larger Apple Leisure Group last year for a chunky $2.7bn. In terms of scale, the IHG – Iberostar agreement sits somewhere in the middle, and does not see IHG acquiring the ownership of any assets.
What is clear is that the major hotel groups believe they were missing out by not being present in the all inclusive segment. What isn't clear is whether the IHG One Rewards membership base actually wants to book such resorts.
IHG may feel that it can offer more attractive redemptions if it has a decent spread of all-inclusive holiday resorts. The value from this deal is not just the money that IHG makes from operating the hotels. It will also get incremental bookings at existing hotels from members who want to redeem or enjoy status benefits at Iberostar in the future.
A points redemption at an all inclusive property would be genuinely free. You wouldn't be on the hook for the the cost of your meals and drinks, which can quickly add up at luxury hotels.
One key issue, of course, is that the majority of bookings at most all inclusive hotels come via tour operators. IHG One Rewards adds little value here – tour operator bookings don't qualify for points or status benefits. IHG has little experience in selling rooms via this channel.
On the upside, it is possible that being part of IHG One Rewards will lead to more direct bookings, which will be substantially more profitable.
Here is what IHG says:
"In what is a large and high growth market segment, demand for resort and all-inclusive stays has been buoyed by increasing traveller desire for high quality experiences and stress-free holidays, particularly post-Covid, and the ability to access such stays as part of loyalty programme membership."
This deal may put pressure on Melia to do a similar deal with a global hotel group, although Melia may also be willing to gamble on Iberostar (under IHG) and Apple (under Hyatt) losing focus as part of groups without experience of large leisure resorts.
When is this happening?
IHG says it expects around half, so approximately 35, of the resorts to be loaded into IHG's system in December.
We need to see how 'earn and burn' is treated in terms of how many points are earned and whetherredemptions will be truly all inclusive at hotels that offer it. We'll do a further article when the first European hotels are bookable.
---
IHG One Rewards update – December 2022:
Get bonus points: You will earn bonus IHG One Rewards points on stays between 13th October 2022 and 31st December 2022. You can choose between 2,000 points for every two nights or 10,000 points for every four nights (not cumulative). Read this article for full details. You can register here.
New to IHG One Rewards? Read our overview of IHG One Rewards here and our article on points expiry rules here. Our article on 'What are IHG One Rewards points worth?' is here.
Buy points: If you need additional IHG One Rewards points, you can buy them here.
You will receive a 100% bonus if you buy IHG One Rewards points by 29th December 2022.
Want to earn more hotel points? Click here to see our complete list of promotions from IHG and the other major hotel chains or use the 'Hotel Offers' link in the menu bar at the top of the page.