Review: the Tempelhof (British Airways) lounge at Berlin Brandenburg Airport
Links on Head for Points may pay us an affiliate commission. A list of partners is here.
This is our review of the Tempelhof lounge at Berlin Brandenburg Airport. It is the lounge used by British Airways and, amongst others, Aer Lingus and Air France.
It is also a DragonPass lounge but does NOT work with Priority Pass. DragonPass means that applicable Barclays and NatWest customers can enter. Priority Pass cardholders can get €23 of free credit at the Moevenpick Cafe – this includes cards issued by American Express, for once.
It is also possible to pay cash although you wouldn't catch me paying the asking price of €48.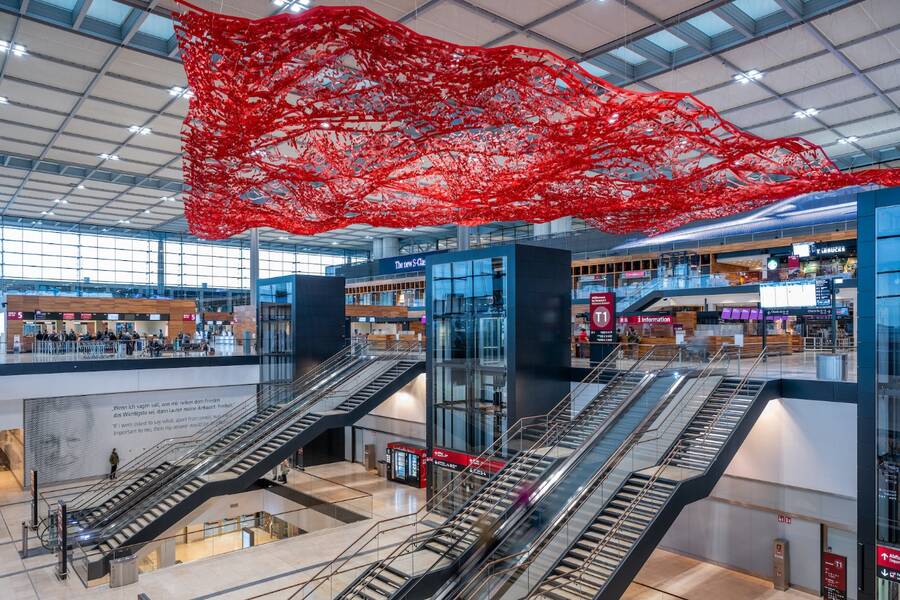 This was my first visit to Berlin Brandenburg Airport. It is four years since I was last in the city for the ITB travel show, and when I was there last year I travelled by train from Hamburg whilst my family were with my in-laws. (A bad decision in retrospect …. it was a Bank Holiday weekend, literally everything in Berlin was shut for two days and it rained constantly!)
I miss the quick 15 minutes taxi rides to and from the city that the old Tegel airport offered. Brandenburg is a long way from the centre, not helped by a confusing mix of local and suburban rail options. There is only one mainline train per hour from Friedrichstrasse, for example. Whilst Potsdamer Platz (outside my hotel) has U-Bahn, S-Bahn and national rail services, none of them seemed to go directly to the airport. Signage at the airport itself is spectacularly unhelpful in guiding you to the best rail option for your needs.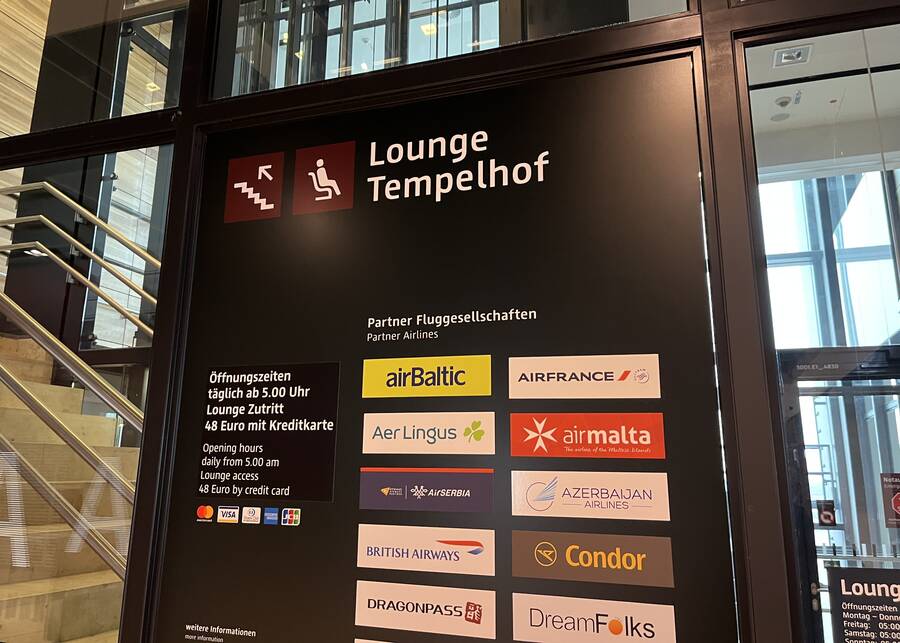 Finding the Tempelhof lounge
Berlin Brandenburg is U-shaped, with passengers entering into the departure area in the centre. Unfortunately, the Tempelhof lounge is at the far end of the top of the 'U' – you literally could not walk further.
The lounge is up a few flights of stairs, or you can take a lift.
The good news is that, as you leave the lounge, you can immediately go up a flight of stairs to the non-Schengen departure area. Boarding was relatively efficient from there although you are pretty low on facilities once you go through passport control.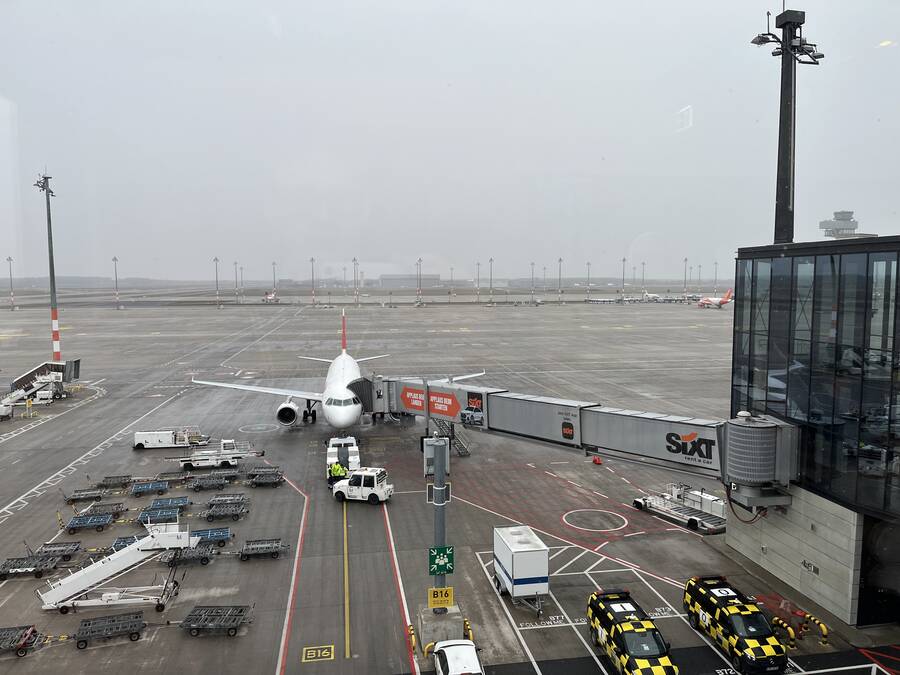 Inside the Tempelhof lounge
One benefit of the lounge being on the prong of the 'U' is that you get good views over the runway as you can see above.
It's a slightly confusing layout inside. The upside is that there is a range of seating, from: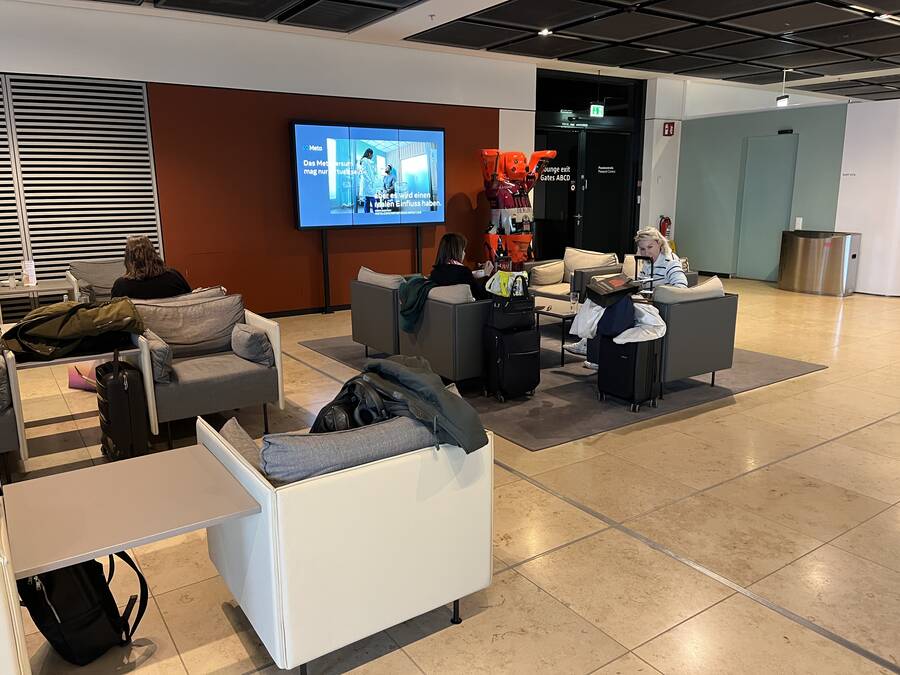 to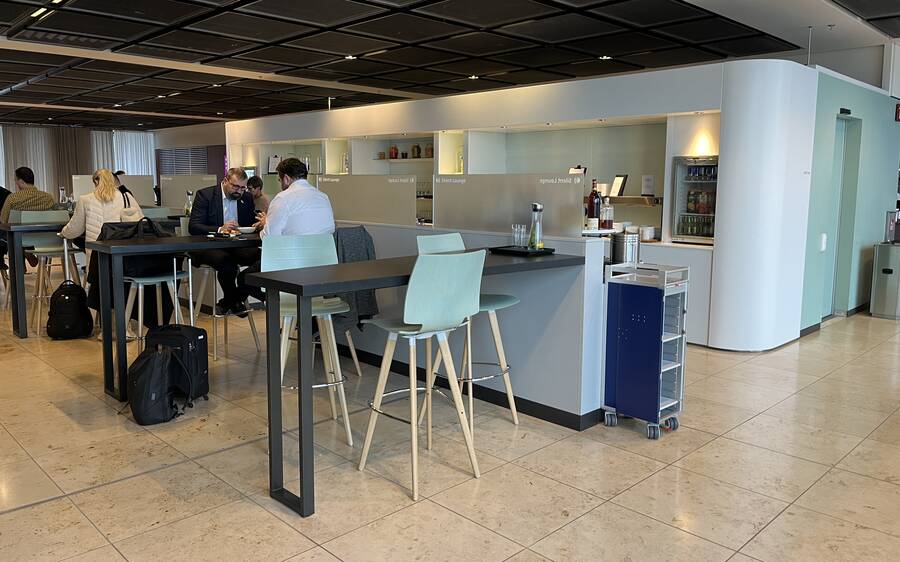 to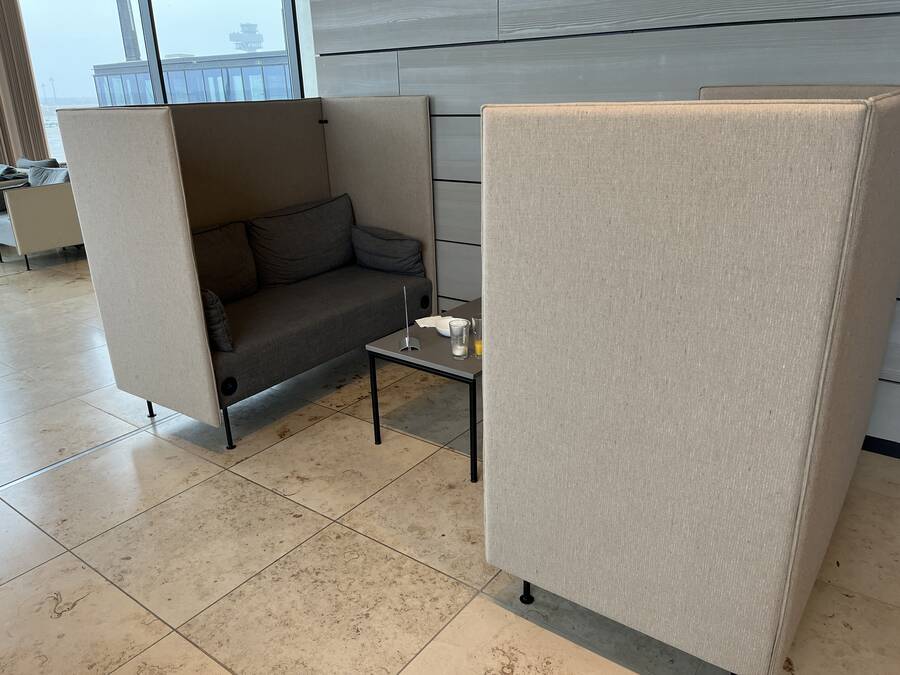 to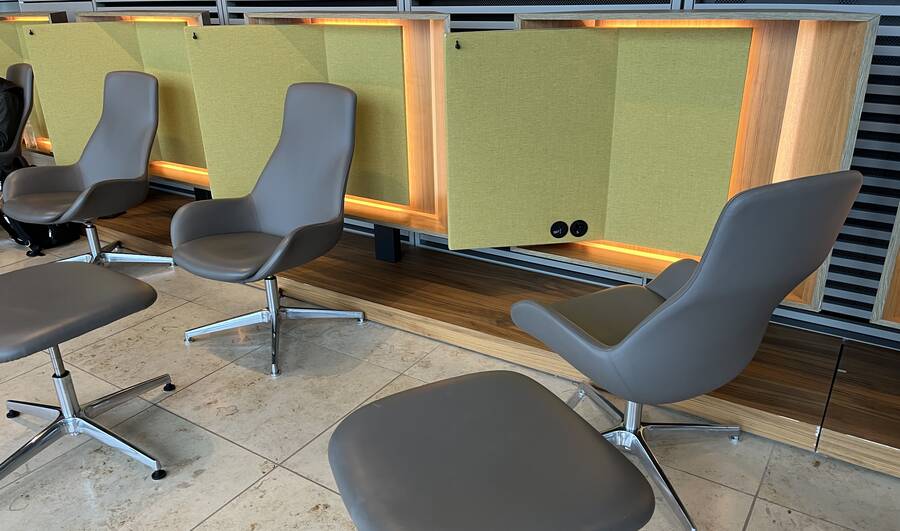 …. and, for those who want to take it easy: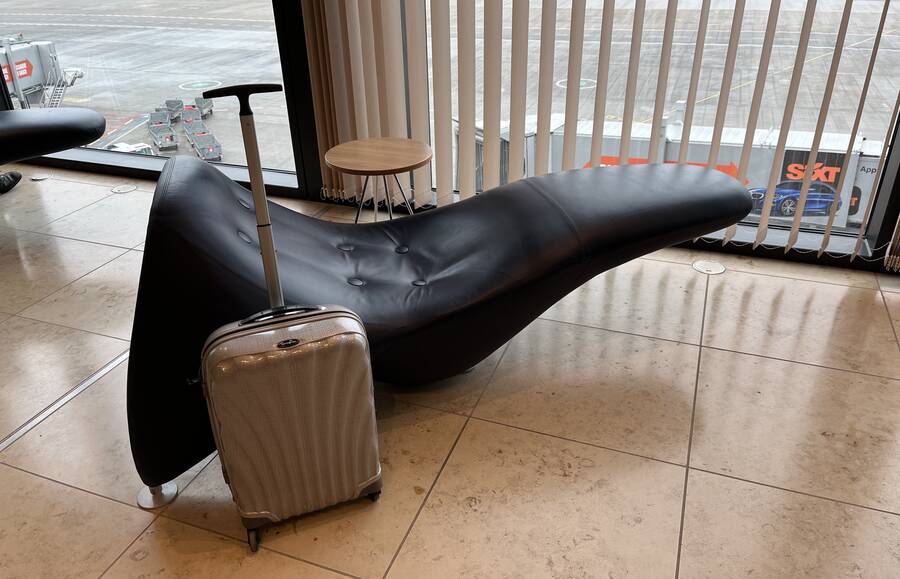 It was fairly busy in the lounge so I couldn't get better photographs. The irony is that the airport itself was deserted. I walked past many totally empty cafes on my way to the lounge, and if I'd known how far I had to walk – and if I hadn't given myself ample dwell time before my flight – I would have sat in one of those instead.
Food and drink
I'm in two minds about the F&B offering. There was certainly food available, and it is a better selection than you find in most independent airport lounges, but it didn't get me too excited.
The hot food options were:
meatballs in pepper sauce with rice
beetroot sweet potato pan
celery soup with walnuts and tangerine
It didn't do it for me but your tastes may vary. There was always Plan B, the not-hugely-appealing salad bar: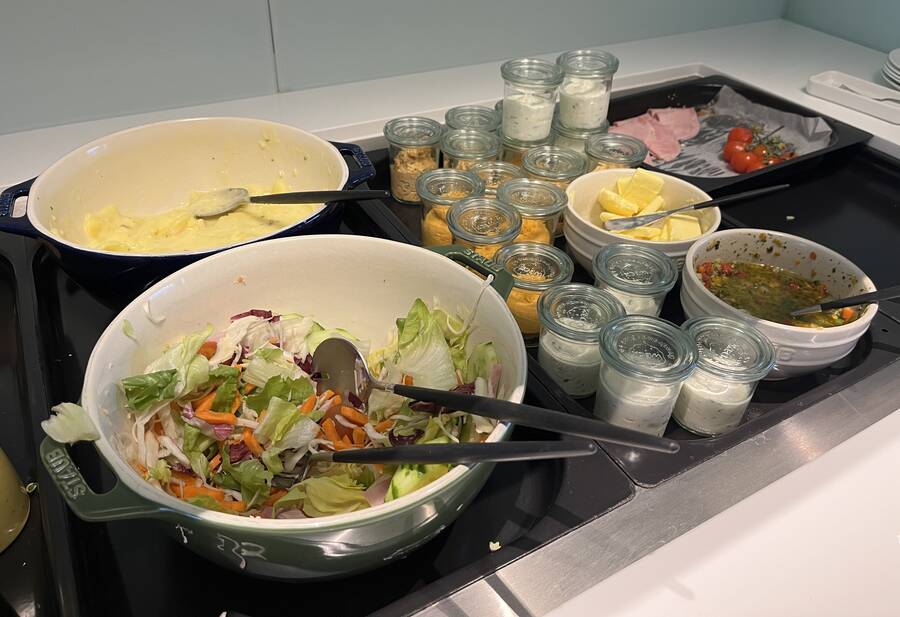 …. and Plan C, the pretzel wall: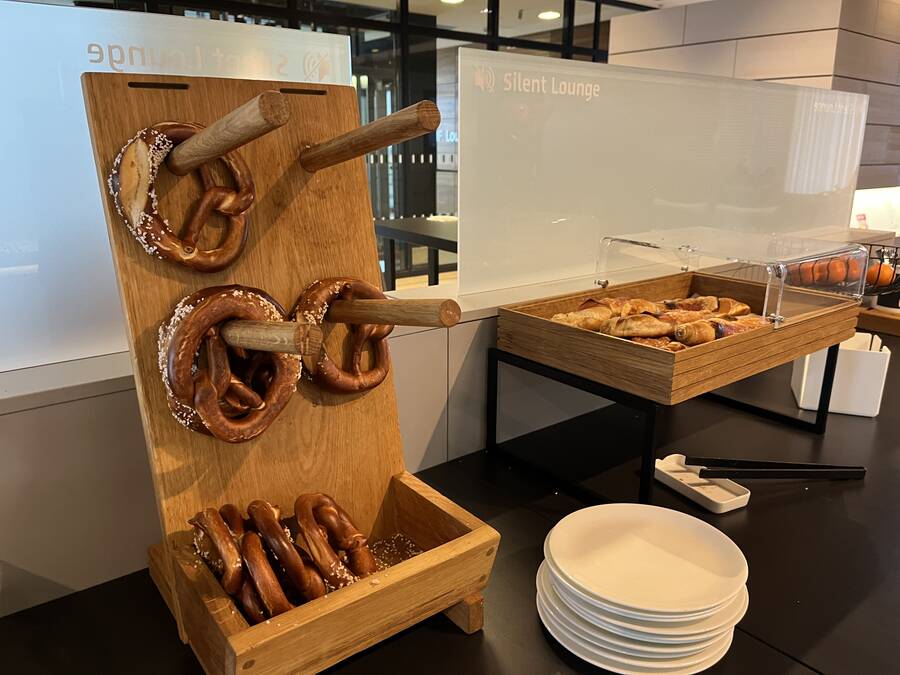 The alcohol selection was decent. As well as a fridge of beer and soft drinks, there was a decent range of spirits (self pour):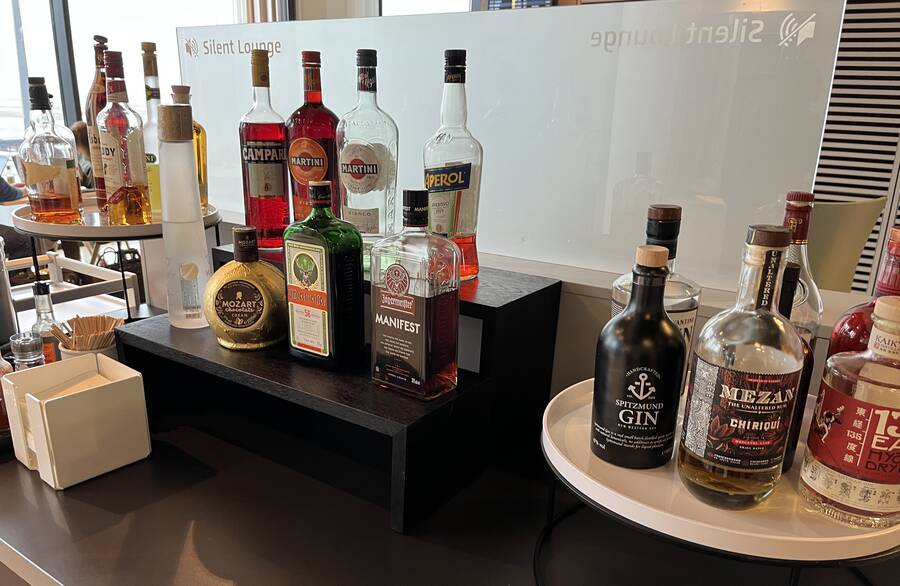 …. and wine, albeit no champagne: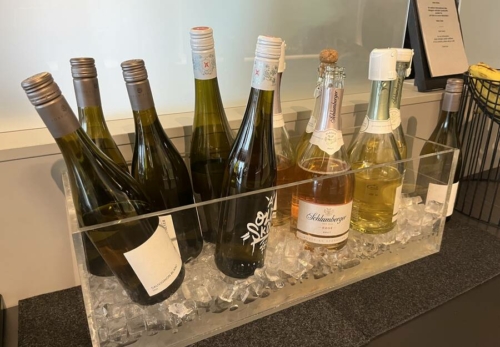 Conclusion
For a brand new airport, Berlin Brandenburg is underwhelming when it comes to lounges.
I'm not sure what the Lufthansa facilities are like, but as Berlin is not a Lufthansa hub I would be surprised if they were anything special. The failure to set up any sort of Priority Pass lounge is very odd. There is no shortage of underused space in the airport so things may change in the future.
For now, I certainly wouldn't rush to the airport purely to give the Tempelhof lounge a try.