Review: the JW Marriott Maldives resort, a high quality and very family friendly choice (Part 2)
Links on Head for Points may pay us an affiliate commission. A list of partners is here.
This is part 2 of our review of JW Marriott Maldives, the second instalment of a series looking at selected Marriott Bonvoy resorts in the Maldives. Part 1 of our JW Marriott Maldives review is here and you should read that before continuing.
Food and drink at JW Marriott Maldives
There are five restaurants at the JW Marriott Maldives. Aailaa, the all-day dining option where breakfast is served, Kaashi, a treetop Thai restaurant, poolside Italian restaurant Fiamma and side-by-side overwater restaurants Hashi (Japanese) and Shio (a grill).
Hashi and Shio are situated at the bottom of the island and are overwater restaurants, with beautiful views out to sea. Shio runs along the right side of the jetty and Hashi runs along the right side and also houses a Japanese-inspired cocktail bar, Wabi Sabi . I visited Hashi on my first night where we were given a tasting menu that also included some of Shio's grilled items.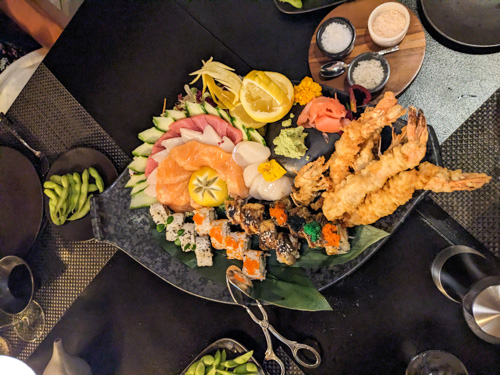 We had a selection of sushi, sashimi and tempura prawns as a sharing platter, all delicious and beautifully presented.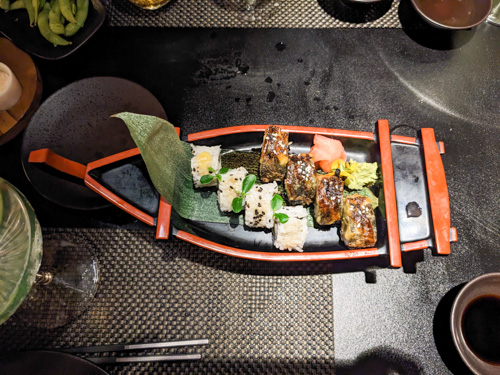 I was served additional vegetarian sushi on this cute boat.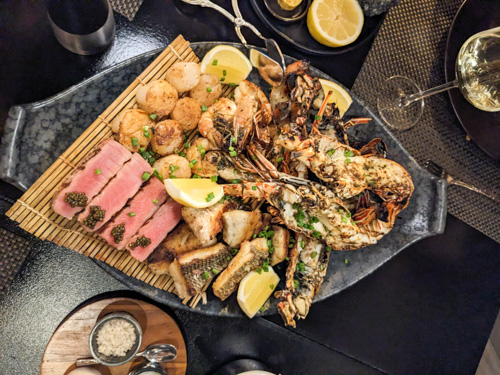 This was the grilled fish platter from Shio which was excellent; flavoursome and high quality, fresh fish.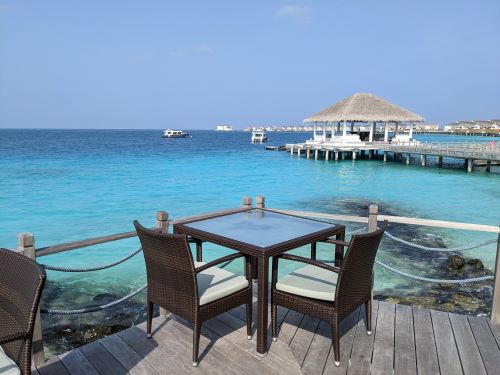 Breakfast at Aailaa offered a variety of options including plenty of international items such as curry and congee as well as UK favourites like sausages and eggs.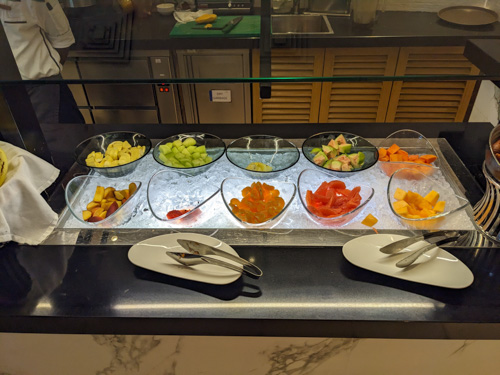 There was plenty of fresh fruit and you could order fruit smoothies.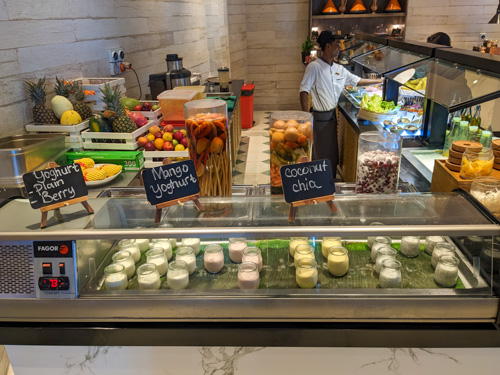 These fresh yoghurts and chia were very welcome after our overindulgence at Hashi the night before.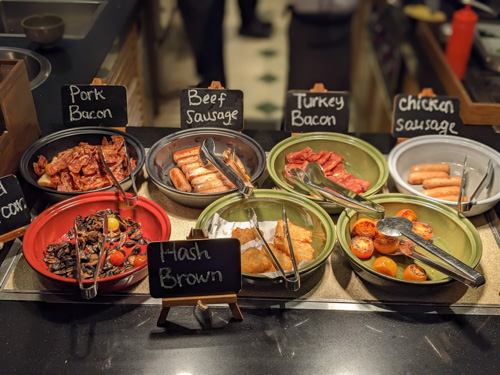 Fried breakfast items were freshly replenished and well-cooked. Eggs and omlettes were cooked to order.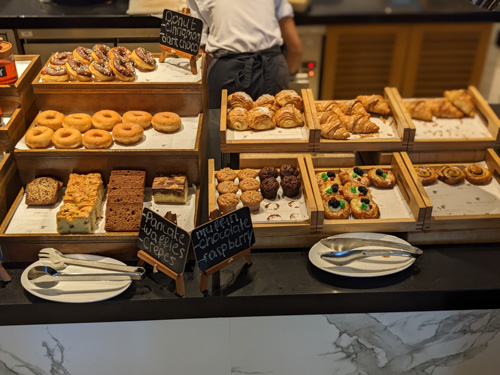 The bakery section was very tempting and I enjoyed trying lots of different honeys.
Aailaa has a rather suave Wine Room which you can choose to eat in, surrounded by all manner of wines.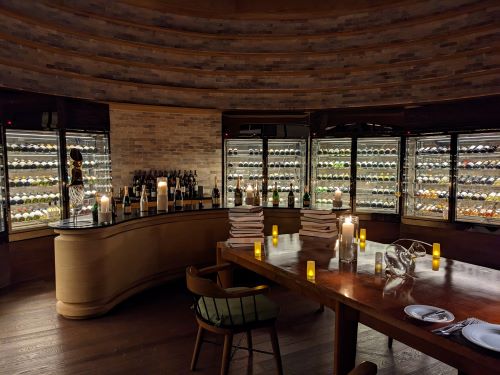 We had a stunning Indian feast in the Wine Room on our final night. The head chef is Indian and he loves to showcase elevated Indian cuisine. If you do visit the resort, make sure not to miss any Indian nights at Aailaa.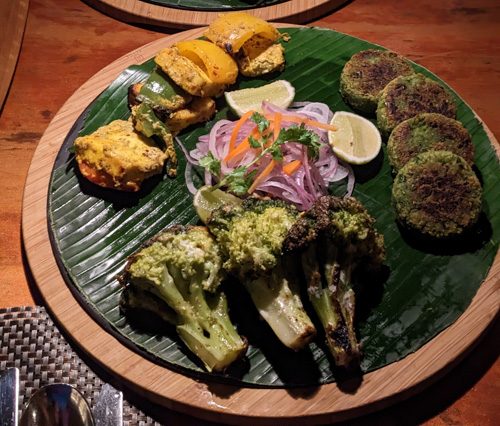 Above is our starter.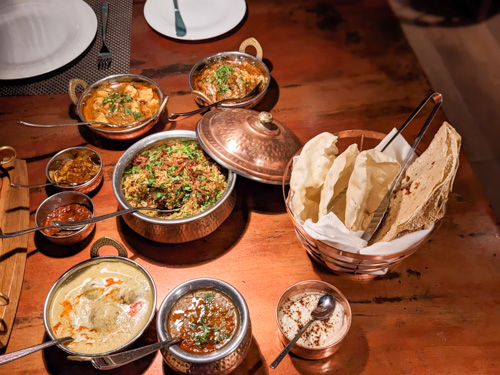 Here are a selection of mains, all superb.
We visited the treetop Thai restaurant, Kaashi, for lunch one day and were delighted to see our favourite waiter from Hashi, Malaz, who, like all the staff, was excellent, but brought an extra level of fun and was particularly great with our daughter.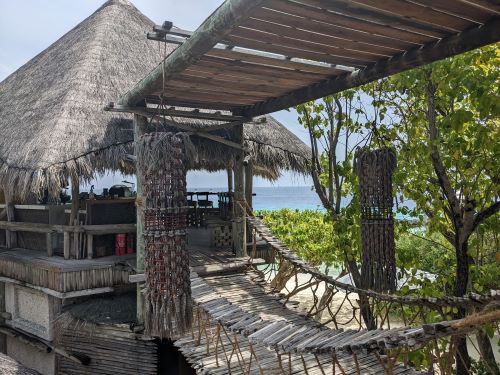 The food at Kaashi was high quality Thai and would be great for lunch or dinner. It is a quirky place, up a selection of walkways and steps to tables at treetop level, and has great views over the beach. My only regret is that we didn't return for a sunset cocktail as I can imagine it would be a fantastic spot.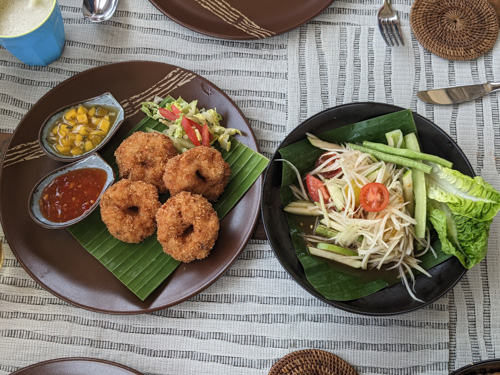 We enjoyed prawn cakes and fresh papaya salad.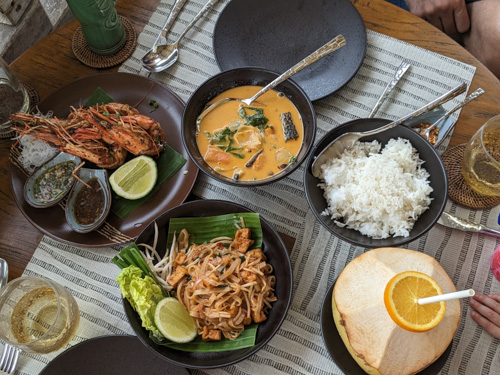 …. and a selection of king prawns, curry and pad thai.
I also had lunch at Fiamma, the poolside Italian restaurant one afternoon. Due to my daughter's naptime I decided to try Fiamma by myself, but I hadn't realised that the hotel had organised a five course tasting menu for me.
Surrounded by other guests enjoying quick slices of pizza and sandwiches after a dip in the pool, I felt like some sort of extravagant nepo-baby influencer with course upon course of Italian food arriving, me photographing it, then sending it away after a few mouthfuls.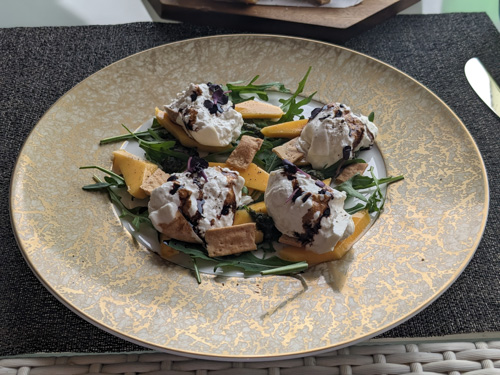 The mouthfuls were delicious though and I particularly enjoyed the burrata and mango salad.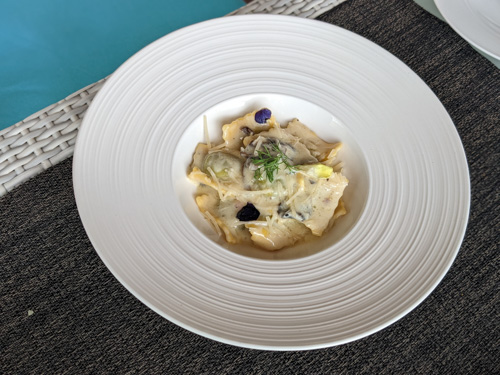 Above is the tortellini.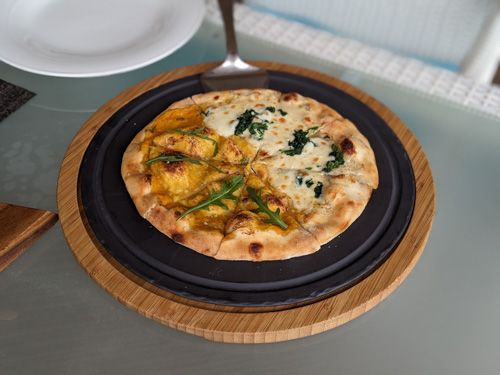 I then enjoyed a 'mini' pizza (this at least got boxed up and fed to the toddler).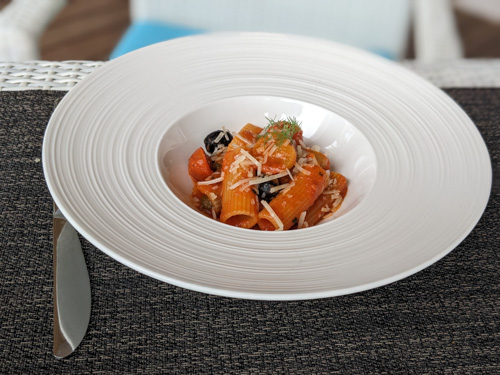 …. fresh tomato rigatoni.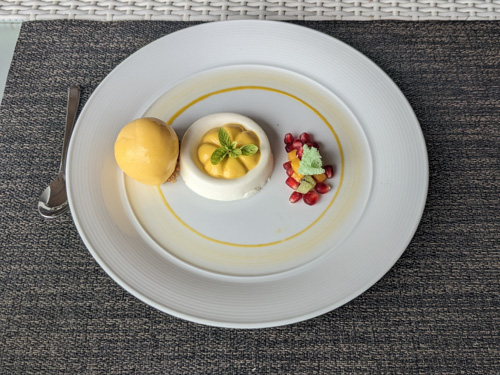 …. and mango sorbet and coconut pannacotta – my idea of a perfect dessert.
There are also bars located in or by most of the restaurants. My favourite hangout was Horizon, a small bar near the main pool with a stunning view, fun swing chairs and great iced coffees.
Dining experiences
During my stay at the JW Marriott, I also was able to try some of the resort's dining experiences.
The first was a floating breakfast – a popular experience at Maldives resorts. As one reader commented on my floating breakfast at the Westin Maldives, there is always a risk that you drop your scrambled eggs into the pool, which adds a refreshing nuance of danger to one's breakfast.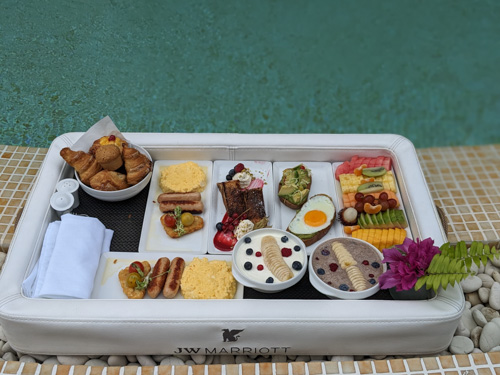 Here's the impressive array we were sent for two adults and a small child. The only downside with these breakfasts is that if something is forgotten or there's a mistake, it can be a bit of palaver to get it changed. You would need to ring your butler who would then need to go to the kitchen and then come back to your villa.
A firm highlight of my entire three resort trip to the Maldives was the sunset beach meal we had here.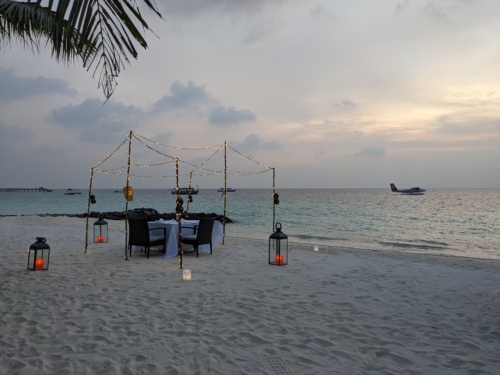 Tables are set up on the beach, shrouded in lights and a personal waiter attends, pouring drinks and serving food. We were lucky enough to also experience a Maldivian banquet, drummed in with about 12 staff singing and dancing who stayed to perform a few Maldivian songs.
Whilst the Maldivian banquet is a bit more of a special request, guests can organise a beach dinner quite easily through their thakaru.
Kids facilities
The JW Marriott Maldives is particularly well set up for families. On arrival at our villa we had been left a selection of beach toys, a sticker book and balloon which were all welcome, along with a sweet note addressed to my daughter.
However, the kids club 'Little Griffins' really was the star of the show. It's very big, with three air-conditioned indoor rooms, a large swimming pool and Pirate Ship playground / climbing frame.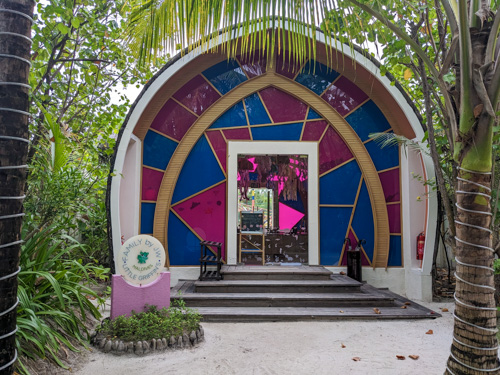 Children aged 3-12 can attend the kids club free of charge. Younger children need to attend with their parents or pay a fee to cover the extra staffing required.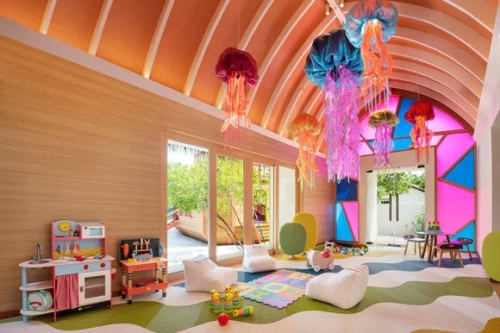 There's a small ball pit, every toy imaginable, soft squishy climbing blocks, and much more. The kids club is often open until 9pm and the staff will organise dinner for the kids, meaning parents can enjoy a child-free meal occassionally which I thought was brilliant.
There are set activities throughout the day such as treasure hunts, smoothie-making and sports tournaments, but also plenty of free play time.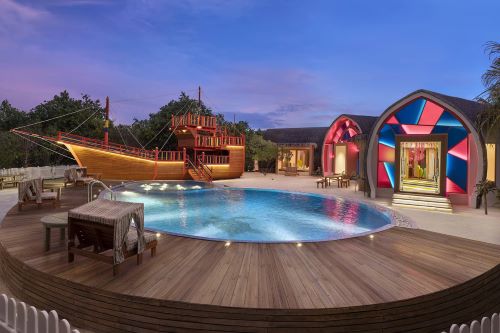 The team at the kids club were just brilliant and my daughter adored the club manager, Gordana, who was endlessly patient and kind. I couldn't take any photos as, unsurprisingly, there were too many children around, however I think these photos taken by the hotel are true to life.
Spa and fitness
The resort gym has an enviable location, in an overwater bungalow next to the tranquil spa. It is well equipped and a decent-enough size but, of course, it's the calm views out to sea that really makes it such a delightful place to work out.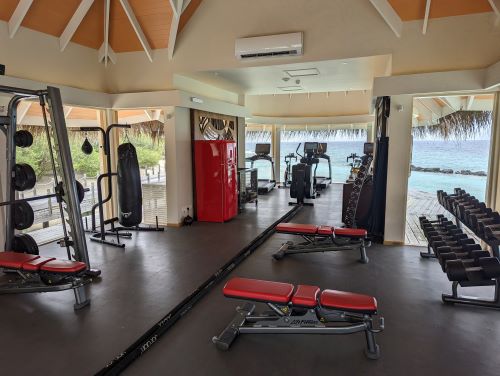 As I was mostly rolling around in a food-induced haze, I didn't actually use the gym, but I did do a relaxing yoga class – after all, nine days in the Maldives is very stressful.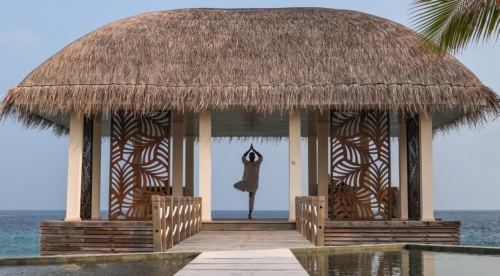 Many of the yoga classes take place on a yoga platform on stilts above the water. It's such a calming spot and the yoga teacher was very good, teaching a traditional class and pushing my flexibility to its limit.
There are also plenty of water sports available including paddleboarding and diving. The snorkelling close to the beach is good, but not as spectacular as some of the other resorts such as the W Maldives.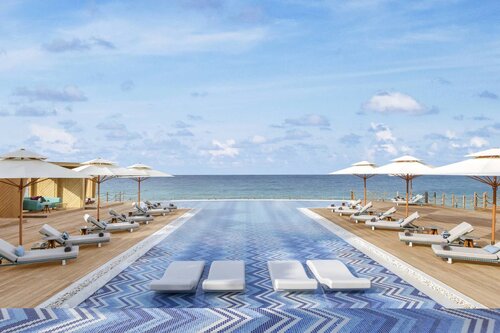 There's a large pool near the Aailaa and Fiamma restaurants, with cabanas and plenty of loungers.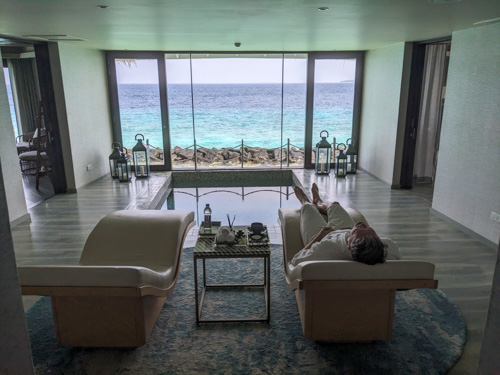 Of the three resorts I visited in the Maldives, I liked the spa at the JW Marriott the most. It was really beautiful and the treatment rooms were very well thought through. My husband and I had an excellent couples massage, and I loved the space they brought us to afterwards to enjoy a herbal tea, with a stunning view and mini plunge pool.
Conclusion
The JW Marriott was my final stay in the Maldives (my review of W Maldives is still to come) and as such, it could have been a little underwhelming – it is hard to beat that first glimpse of the tropical paradise on your arrival to the Maldives. However, the resort really was impressive.
For me, the outstanding element was the facilities for kids. The toys in the room were thoughtful but the kids club was just incredible, particularly its availability late into the evening and the attentive staff.
That's not to say this is a resort only suitable for families. In fact, the joy of the kids club was that there were very few kids around the resort at any time aside from breakfast. There are also plenty of spaces that were child-free such as the spa, and there is an adults-only pool at the opposite end of the island to the main pool.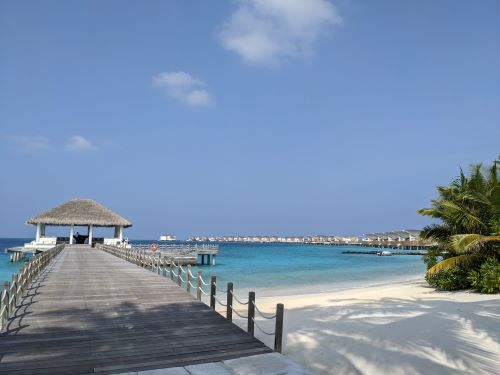 Do not come to this resort if you are planning to stick to the diet, because like a doting grandmother, this is a resort that shows its love by feeding you. The food is of an excellent quality, whether it's the buffet breakfast or high-end Japanese sushi, and the little room treats were always delicious.
Service was faultless but there was a lot of warmth and friendliness with it too. The GM, Marc, has done a lot to the resort over the last few years and I experienced a real consistency to the service that is a credit to him.
This standard does come at a price. A one bedroom overwater villa (cheaper than a beach villa) starts at around £860 per room per night with breakfast in low season and £1,016 per night for half board for two people. A duplex beach villa like the one I stayed in is from £1,688 per night with breakfast.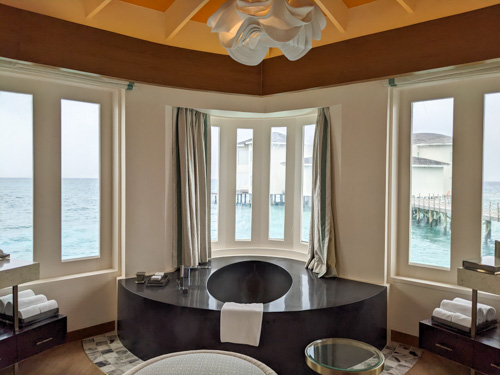 However, JW Marriott Maldives actively welcomes Marriott Bonvoy points redemptions. If you are sitting on a huge stack of Bonvoy points, you could really blow them in style here. Redemptions for a one bed overwater villa are from 88,000 points a night and the two bedroom beach villa is from 259,000 points per night.
Of course, even then you'll need to be aware that a coffee at JW Marriott Maldives costs $12 and a classic cocktail is $24 so your spending could really add up. If you have a glut of Bonvoy points, there is an option to pay for drinks, spa treatments and so on with points. The exchange rate for these purchases isn't great – 125,000 points equals $500 of expenditure – but it is an option if you have the points and want to keep cash expenditure low.
Thank you so much to everyone at the JW Marriott Maldives for hosting my family, but particular thanks to Marc, Saadhvi and Juliette who looked after us so well.