Win 2 business class tickets to Malaysia with Malaysia Airlines at the HfP 2023 Summer Party!
Links on Head for Points may pay us an affiliate commission. A list of partners is here.
Tickets to the Head for Points Summer Party go on sale next week – keep an eye on the site for details. Before that happens we wanted to tell you about what you can win in our free party raffle on the night.
As a reminder, our Summer Party this year takes place on Tuesday 27th June in the lovely Hansom Hall at the Renaissance St Pancras Hotel. This article has more information. If you've never been, it's a great night out.
SeatSpy is generously sponsoring the event, with all guests getting a free drink on arrival as well as a variety of free snacks throughout the evening. Further drinks are available for purchase.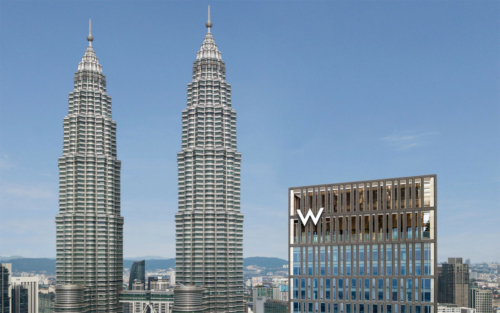 What is the top raffle prize this year?
This year, one lucky party guest will win two business class flights to Malaysia with Malaysia Airlines. This is a fantastic prize, worth over £7,000 at current pricing.
The winner can enjoy a twin centre trip, selecting from Penang, Langkawi or Kota Kinabalu via a domestic connection from Kuala Lumpur.
You can find out more about Malaysia Airlines and its business class product below.
How can you win?
Every guest at the party will receive a raffle ticket on arrival.
It is not possible to obtain a raffle ticket without buying a party ticket and attending on the night. The winner must be in the room at 8pm when the raffle is drawn.
(Full T&C will be made available when tickets go on sale.)
There will be a small number of valuable runner-up prizes too.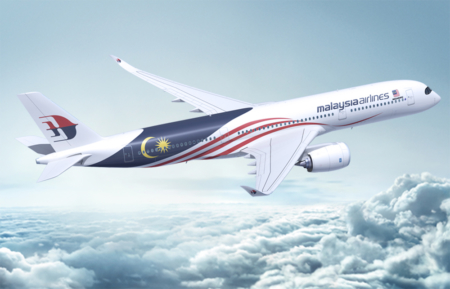 What does Malaysia Airlines offer from London?
As our headline raffle prize sponsor, we wanted to take a closer look at what Malaysia Airlines has to offer.
Malaysia Airlines is now the only airline to offer direct flights from London to Kuala Lumpur, with British Airways having withdrawn from the route for the foreseeable future.
There are two daily departures:
MH3 departs London Heathrow at 11am and arrives in KL at 7:15am the following morning
MH1 departs London Heathrow at 9:35pm and arrives in KL at 5:50pm the following afternoon
Both flights are around 13:30 hours long – plenty of time to enjoy the onboard service and get a bit of shut-eye!
You can also connect onto a huge number of domestic and regional flights, including Langkawi, Penang and Kota Kinabalu.
Malaysia Airlines is also an excellent option for flights down under, with routes to Perth, Melbourne, Adelaide, Sydney and Auckland, as well as regional Asian connections.
Whilst Malaysia Airlines no longer operates its own lounge, business class passengers can use the impressive Qatar Airways Premium Lounge in Terminal 4, reviewed here. Economy passengers with oneworld status can use the new Qatar Airways Frequent Flyer Lounge, reviewed here.
What is Malaysia Airlines service like?
Both flights are operated by Airbus A350 aircraft with their Business Suite (formerly First) cabin, Business Class and economy.
Business Suite
I last reviewed Business Suite back in 2019. In fact, it was my first ever long-haul review for Head for Points.
The cabin was rebranded to attract corporate customers who did not want to be seen to be spending on a first class product. Despite the name change and a slightly lower cost, both hard product and soft product appear to have remained the same.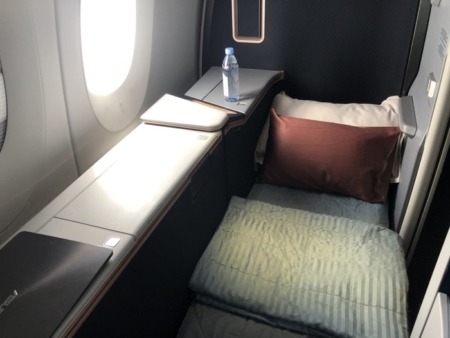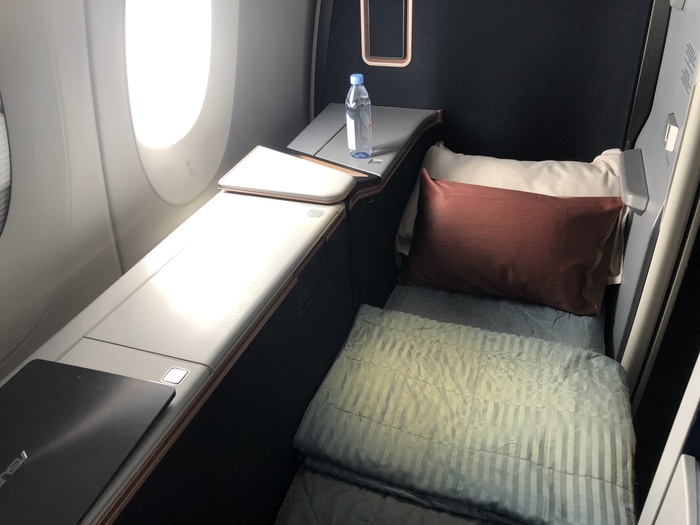 In fact, in my experience you'll get a better service than on other First Class airlines including *cough* British Airways. I had some delicious dishes including caviar and Malaysia's famous satay, which they serve in all classes.
Business Class
In rows two to ten you'll find the business cabin. This is a staggered layout with a range of seating options, including my favourite, the throne seat.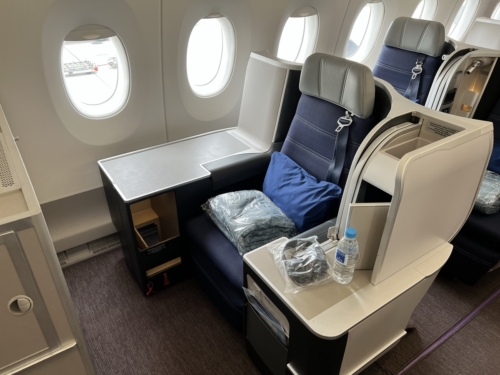 Malaysia Airlines have upgraded their amenity kits since my 2019 trip and you'll now get stylish Aspinal of London amenity kits, which are a massive upgrade on what was available before.
One of my highlights is still the satay course, which in my opinion rivals any satay you'll find on the ground in KL (trust me – I tried it a lot!). This is an additional course which is brought round on a trolley: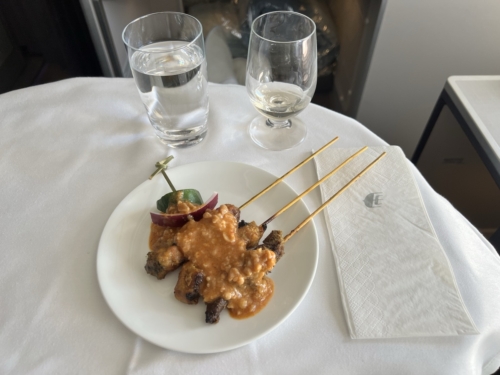 Lounges in Kuala Lumpur
Anyone flying business or first also has access to Malaysia Airline's flagship lounges at Kuala Lumpur International Airport. There are a range of options, ranging from the international First Class lounge to the domestic business class lounge.
Don't forget you earn Avios and Tier Points with Malaysia Airlines
Finally, you can also earn Avios and tier points with British Airways when flying Malaysia Airlines thanks to their membership of the oneworld airline alliance.
You can earn between 25% and 150% Avios of the miles flown with Malaysia Airlines.
When it comes to tier points, you you can earn between 20 (discount economy) and 240 (Business Suite) tier points each way when flying between London and Kuala Lumpur. Add a domestic or regional sector on and it quickly adds up.
Want to try it? Buy a party ticket and enter the party raffle
If you are keen to try out the Malaysia Airlines business class seat and service, buy a ticket for the Head for Points Summer Party on Tuesday 27th June. You could be the winner of a pair of flights.
Party tickets will go on sale next week – keep an eye on Head for Points.
The Malaysia Airlines team will be at the party and look forward to hearing about your travel plans. We are grateful to Malaysia Airlines for their continued support and of course to SeatSpy for their sponsorship of the event.