Review: Lufthansa First Class, Frankfurt to Newark
Links on Head for Points may pay us an affiliate commission. A list of partners is here.
This is my review of Lufthansa First Class on a 747, flying from Frankfurt to Newark. It is Part 4 of my series of airline and hotel reviews covering my NYC trip this week. Part 1 is here and Part 2 is here and Part 3 is here.
The previous post ended with me being deposited at my 747 by my private driver, who had driven me across the airfield from the First Class Terminal.
Whoever said 'it is better to travel than to arrive' probably had the new Lufthansa's First Class product in mind.
Now, you are not yet guaranteed to get this new set-up on every LH First Class flight, although all but one of the 747's out of Frankfurt has it, as do the A380's. However, if you are on an Airbus or flying out of Munich it is more pot luck for now. Part of the reason I chose this service was because it was a 747 and I was therefore likely to get the new layout.
What Lufthansa has done is to deal with the perennial issue of turning the seat into a bed when you want to sleep. Why not, they thought, give everyone a seat AND a bed?! We can then give people 'proper' beds, with real mattresses. And they did. There is no-one else anywhere currently doing this.
(It came at a price, of course. Lufthansa's first class cabin used to have 16 seats in a 2×2 layout. It now only has 8 seats. This makes award seats very hard to find. Star Alliance partner airlines only get access to seats within 7 days of departure – you need to use Miles & More miles to book First Class more than a week in advance.)
My attempts to take a decent picture of the seat with an ipad failed due to the lack of background flash to counterract the sun! Here is a stock photo: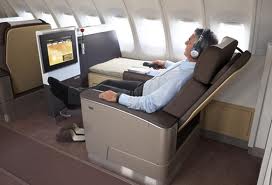 When I got my boarding pass at Hamburg, I noticed that there was only 1 other seat blocked out. Some people could have not pre-selected a seat, of course. But no – when the flight took off, there were only 2 of us in First Class!
Here is a picture of mine looking down the cabin. Being in Row 63, I had one seat rows in front of me and one behind. The other passenger was sat right at the front.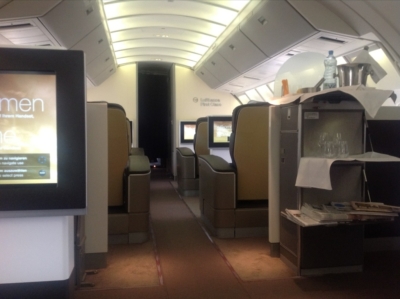 I even uploaded the pictures in this post during the flight, using the in-air internet. This is usually charged at €11 per hour, but I had a voucher from an old promo for 1 hour of free use. It worked surprisingly well.
The staff on the flight were superb, as you would expect when only serving 2 people. I was amused when I was told that they like a light load because when there are 8 passengers they don't find it as easy to serve everyone as well as they could. I reminded her that BA usually has 14 seats in First Class …..!
The service routine started with the usual drinks, which I refused as I'd had quite a bit in the lounge! Lunch was served shortly after departure – I have posted the menu at the bottom of this post for those who are interested.
The key differentiator with LH First over BA is that appetisers and deserts are served from a trolley. The only thing you pre-order is your main course. You can therefore have as many appetisers and deserts as you want, mixing and matching freely. The photo below shows some caviar and a salmon and asparagus dish.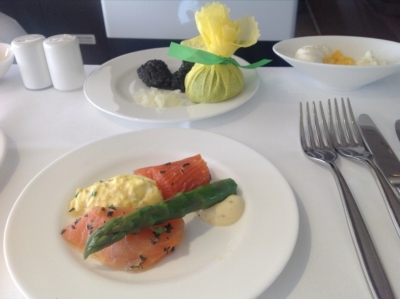 For champagne, they served Cuvee Louise, the premier Pommery brand. There was even a trolley with digestifs brought around, although nothing that I would class as a 'dessert wine' in the English tradition. I tried the calvados but it wasn't for me!
Shortly before landing the trolley came round again with a selection of snacks. Again, you could take as much or as little as you wanted. I was stuffed by this point, so settled for half a club sandwich. They also have 'proper' coffee machines onboard, so you can order a decent capuccino if you want – which I did!
I didn't bother watching any of the movies, despite the big screen TV (BA, again, take note!), and caught up with a pile of reading instead. Before I knew it, the plane was descending into Newark, giving a great view of Manhattan on the descent.
Only after landing did LH strike the wrong note. They have just introduced First Class 'personal concierges' who are meant to greet you on arrival and ensure your easy passage through the airport. At Newark, this counts for nothing!
As the two of us got off the plane, we were met by a man with a board bearing our names. He then gave us a lengthy speech which basically said that he would be available after customs clearance if we needed anything. Well, thanks a lot mate! There was no offer to put us through a fast-track immigration lane (which doesn't seem to exist at Newark) and by the time he had finished his speech a pile of passengers from my flight were ahead of me in the race for the immigration queues!
I ended up queuing for around 40 minutes to get through. And guess what – when I did emerge from customs into the landside area, he was nowhere to be seen anyway ……
I therefore had nothing else to do but to head for the taxi queue and head off to the Conrad New York hotel (a $90 ride including tax and tolls). More to come on that!
PS. Here is the menu for the main meal. Remember that appetisers and deserts are basically 'pick and mix' from a trolley:
Appetisers:
Caviar with traditional garnishes
Salmon confit and egg salad with Belgian vinaigrette
Creamy chicken salad with sliced sweet potato and tarragon creme fraiche
Vegetable terrine and avocado salad, cherry tomato confit
Salad and Soup:
Mixed leaf salad with grilled bell papper, zucchini, bleu d'auvergne cheese and asparagus
Jerusalem artichoke soup with parsley oil
Main courses:
Medium rare tenderloin of veal presented with wild mushrooms, artichokes and potato mash
Fried cod on lemon verbena served with braised chicory and brandade
Roulade and breast of guinea fowl filled with mushrooms, savoy cabbage balls and potato cakes
Ravioli filled with leaf salad on parmesan cheese with white cabbage
Cheese and dessert:
Brie, roquefort, banon, Pete Joseph Kloster Kase and Pont-l'Eveque with quince chutney, red radish and grapes
Chocolate and caramel tartlet with a touch of salt
Apple tatin with tahiti vanilla creme and ice cream)