Your 'airport lounge on the ground' – use your airline or hotel status to get a free Regus Businessworld Gold card
Links on Head for Points may pay us an affiliate commission. A list of partners is here.
(EDIT:  See this 2014 post for current ways of getting a free Regus BusinessWorld Gold card)
The company Regus may or may not be familiar to you.   They are the worlds leading provider of 'serviced office space'.  This is, fundamentally, treating office space like a hotel.
You want an office for a day / a week / a month / a year for 1 / 2 / 5 / 20 people?  They can provide it.  You don't need to worry about furniture, IT, cleaning, receptionists etc – they provide it all.  It is an effective route for start-ups or for business which are growing quickly.
However, it is the other side of the Regus operation that is the point of this post.
Almost all Regus centres feature a 'business lounge'.  I am writing this post in one, as it happens!  They vary in size, but most feature open-plan seating areas, 1-4 Apple Mac computers available for free use and 1-10 'pods', available on a first come, first served basis (for free) which provide a semi-private work area.
Free Wi-Fi and free tea and coffee are provided in all lounges.   Here is a picture of 1 Poultry in the City of London, which is next to Bank tube station (the pods are the blue and white things at the back):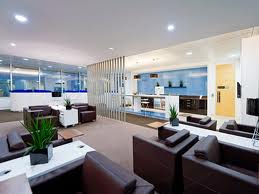 If your job takes you 'out and about' a lot, or you work for yourself but simply don't like sitting in Starbucks or your house all day, then working out of Regus lounges is a very viable alternative.  Regus also has a global network, so you can pop into centres pretty much wherever you are in the world.
Frankly, even if you buy an annual pass for £299, it is a bargain if you use it a lot.  I use a Regus lounge 2-3 times a week, so £299 would be a steal.  However, you don't even have to pay that.  You can get a Regus Businessworld Gold card for free.
I get my card for free via Business Traveller magazine who used to (but no longer) give one away with a subscription.  However, Regus has plenty of deals with airlines who give out a Regus Gold card to their elite members – or even, in some case, basic level members.
Priority Club, the Holiday Inn / Crowne Plaza / InterContinental loyalty scheme, also gives out a card to Platinum members.  Last month I ordered a new Gold card via the Priority Club link and it arrived within a week.
Virgin Atlantic also offers a free Regus Businessworld Gold card to holders of its Black credit card (£140 fee).  They also throw in 2 free vouchers for a one-day private office.
Loyalty Lobby did an excellent article recently which summarises the airlines who offer a free Regus Gold card.  The Virgin Black credit card deal link is not in that article but can be found here.