This is the seventh and last of our overview series of the main hotel loyalty schemes.  Each scheme will be covered over two posts.  One will list the basic facts of the scheme, the other will be my subjective view of what is of particular merit.
Starwood Preferred Guest covers 1,100 hotels globally.  It operates a variety of brands – Luxury Collection, St Regis, W, Le Meridien, Sheraton, Westin, Four Points, Aloft and Element.  The SPG home page is here.
What is the geographic spread?  Just over half of SPG's properties are in the US.  UK coverage is weak with only 10 hotels, eight of which are in London and the remaining two in Scotland.  For comparison, there are more hotels (13) in Dubai.  Coverage across Europe is varied, with a strong presence in Germany.  The European hotels are skewed heavily towards the luxury sector.
Do I use them?  Not for a while, but I have stayed in some impressive SPG properties in the past, including the Gritti Palace in Venice.  I can see me making more use of them as my children get older, as they have some impressive family resorts such as Pine Cliffs in Portugal.  I have SPG Gold status via my American Express Platinum charge card.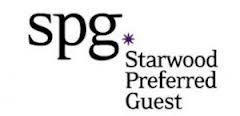 Elite membership levels
Gold – requires 10 stays or 25 nights.  Benefits are 50% bonus on base points, 4pm late check-out, upgrade to an 'enhanced' room, welcome gift (free internet, bonus SPG points or a drink)
Platinum – requires 25 stays or 50 nights.  Benefits are 50% bonus on base points, 4pm late check-out, free internet, upgrade at most chains to the best available room including selected suites, welcome gift (free – continental only – breakfast, bonus SPG gifts, local gift), lounge access.
SPG offers additional benefits beyond Platinum.  At 50 nights, you will receive 10 suite upgrade certificates which allow you to guarantee a suite upgrade from 5 days before arrival.  At 75 nights, your elite bonus doubles to 100% and you can access 'Your24'.  This allows you to check-in and check-out at any point during the day or night – check in at 9pm and leave at 9pm, for example.   At 100 nights, you will receive access to an SPG ambassador who will liaise with you personally to arrange future stays to your specific needs.
Suite upgrades ARE an elite benefit for Platinum members.
Reward nights count towards elite status qualification and requalification.
Click here for the full list of Gold and Platinum benefits.
SPG offers lifetime status.  Lifetime Gold requires 250 eligible nights and 5 years of SPG Gold status.  Lifetime Platinum requires 500 eligible nights and 10 years of SPG Platinum status.
If you are able to do a number of SPG stays within a three month period, it may be worth asking SPG for a Gold Status Challenge or a Platinum Status Challenge.  This will enable you to gain status more quickly, ie 18 nights in three months for Platinum.  Unlike the Hyatt Diamond challenge, you are NOT upgraded for the period of the challenge – only afterwards, if you successfully complete it.
Earning points
SPG points generally have a lower base than other schemes.  You will earn fewer points per $ spent but require less for a redemption.
The base level of earning is 2 points per $1.  You will also receive an elite status bonus if applicable – even for Gold members this is 50%.
Starwood runs regular promotions but they are rarely exceptionally generous.  Most also require five nights or more over the promotional period to qualify.  See our 'Hotel Promos' page for any current offers.
Starwood has a partnership Delta Airways called Crossover Rewards.  This allows SPG members to earn additional points when flying with Delta, based on cost of your ticket, and vice versa.  Further details are in this post.
Spending points
Redemption rates for hotels run from 3,000 points in Category 1 (generally obscure US properties or in developing countries) to 35,000 points in Category 7.  The full chart is here.
You receive 'fifth night free' on all redemptions in Category 3-7 properties.  This does not apply to 'cash and points' redemptions.
Starwood operates a genuine 'no blackout' policy.  If a standard room is available for cash, it is available for redemption.  This is not the case with the majority of other chains.  However, a handful of SPG properties play games with their definition of 'standard room', such as making it a single-bed room which does not allow two guests.  There are also some Starwood properties which do not participate in SPG at all, either for earning or spending points.
A 5-star 20,000 point redemption in Category 6 would typically require a Gold member to spend $6,666.  This is exceptionally high when you compare it to the $1,700 of spend required for a Club Carlson 50,000 point 5-star redemption.
Some hotels offer 'in hotel' rewards (upgrades, meals, airport transfers, spa treatments) via SPG Instant Awards but this is on an ad-hoc basis.  If available, it will include the option to use points to settle some or part of your bill at a rate of $5 = 375 SPG points.
SPG also has SPG Moments which allows you to use your points to bid for tickets on exclusive sporting and cultural events around the world.
Points expiry
If you do not have any activity at all on your account within a 12 month period (this does not necessarily require a stay) then your points will expire.  Starwood has historically been willing to reinstate expired points if you reactivate your account.
This article explains how to stop your Starwood points from expiring.
Can you upgrade using points?
Yes, but only within five days of arrival.
Rooms can only be upgraded when on a cash reservation at specific rates.  Suite upgrades are available, albeit at a substantial points premium.  Rates vary by hotel category as per this chart.
Are 'cash and points' redemptions available?
Yes, although not all hotels offer them.
'Cash and points' rooms generally offer better value than an 'all points' redemption.  The reward chart compares both 'all points' and 'cash and points' options.  I discussed 'cash and points' in this post.
Since the 2013 changes, 'cash and points' redemptions have also been available for suites and higher room categories, not just standard rooms.  These must be booked by telephone, except for the cheapest Category 1 and 2 properties.
Airline redemption options
This is the strongest part of the SPG programme.  Starwood points can be transferred to an extensive number of airlines including Avios.
The conversion rate is an excellent 1:1 in most cases.  In addition, Starwood will give you an additional 5,000 airline miles for every 20,000 SPG points you convert.
The minimum transfer level depends on your status in the programme.  Base level members require 2,500 points.
You can also redeem for packages called 'SPG Nights and Flights' although these are limited to Category 3 and Category 4 hotels.  They are similar to Marriott travel packages.  60,000 points gets you 50,000 airline miles and five nights at a Category 3 hotel (total cost usually 68,000 points) whilst 70,000 points gets you the same at a Category 4 (usually 80,000 points).
SPG also offers an additional reward option called 'SPG Flights'.  This allows you to redeem your SPG points for a cash airline ticket, at effectively 0.8p per SPG point.  More details are in this post.
Can I earn Avios directly without collecting points?
Yes, see ba.com here.  You can earn 2-3 Avios per $1 spent, depending on brand, by showing your British Airways Executive Club card at check-in.
You will not earn Starwood Preferred Guest points.  You must, however, be a member of Starwood Preferred Guest to do this.
Credit card partnerships
Can you get elite status with a UK credit card?   Yes, American Express Platinum members receive Gold status for as long as they retain the card.  You can also earn Gold status by spending £10,000 per year on the SPG American Express card.
Is there a SPG credit card in the UK?  Yes, the Starwood Preferred Guest American Express.  See my review here.  All holders of this card automatically receive 'Preferred Guest Plus' status in the SPG programme, which gives many of the benefits of Gold.
Is SPG an Amex Membership Rewards partner?  Yes, although the conversion rate is only 2:1
Purchasing and transferring points
You can buy Starwood Preferred Guest points for $35 per 1,000 via this link.  Occasional promotions offer a modest bonus for buying points.  In some cases it may be cheaper to buy SPG points for conversion to airline miles than buying airline miles directly.
Points can be transferred to other members who share your address, without charge.  Details are here, scroll to the bottom.
My opinion
Read Part 2 of this review for my overall opinion of Starwood Preferred Guest.