What is the best FREE Visa or MasterCard for earning miles and points?
Links on Head for Points may pay us an affiliate commission. A list of partners is here.
I have had a few emails from readers recently looking for the best Visa or MasterCard miles and points card.  It has got tough now that the IHG Rewards Club and Marriott cards have disappeared and the Tesco card has halved its earning rate.  I thought it was worth a recap of the few remaining options.
The best miles and points credit and charge cards tend to come from American Express.  It is unfortunate, however, that they are not accepted everywhere.  You will need a Visa or a MasterCard as a back-up card.  The big question is 'Which one?'.
This article only looks at the 'no annual fee' options and ignores cards which require an annual fee.
The important thing to remember is:  most Visa and MasterCard loyalty cards do NOT offer good value once you have triggered the sign-up bonus. You may be better with a cashback card, the most generous of which is currently the ASDA Money MasterCard.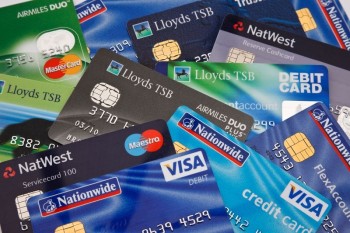 The ASDA Money card pays back 0.5%.  You also receive this in cash, immediately, which means that you should treat it as more valuable than the equivalent value in miles or points.  It won't impress the girls at Pret when you use it to pay for your coffee but cash is cash …..
We all place different values on miles and points, so it isn't always easy to say when a loyalty card gives you a reward that is worth more than 0.5%. This is especially true of airline miles – it is easier to place a value on hotel points because the cost of a room usually falls within a modest range.
Let's take a look at the earning rates for all of the free MasterCard and Visa products out there. I have NOT looked at the various MasterCard or Visa cards which come with a fee, as there is a complex trade off between the fee and the higher points earned which needs to be looked at on an individual basis.
My valuations, which you can criticise as much as you want (!) are:
Avios points and other airline miles – 1p (I personally value Avios at 0.75p but I am in a minority here)
Hilton HHonors points – 0.3p
Here are your options (remember, this list only covers free cards) along with the value of the reward if you use the valuations above:
0.75p per £1 – American Airlines Visa (issued with an Amex) based on 0.75 miles per £1
0.75p per £1 – Etihad Guest Visa (issued with an Amex) based on 0.75 miles per £1
0.75p per £1 – Lufthansa Miles & More Visa (issued with an Amex) based on 0.75 miles per £1
0.5p per £1 – HSBC Premier MasterCard based on 0.5 Avios points, Etihad Guest, Krisflyer or Asia Miles mile per £1 spent (note that this card is only available to HSBC Premier current account holders and has strict financial criteria for acceptance).  This is the best Avios option.
0.625p per £1 – United Airlines MileagePlus Visa (issued with an Amex) based on 0.625 miles per £1
0.6p per £1 – Hilton HHonors Platinum Visa based on 2 Hilton HHonors points per £1
0.5p per £1 – Virgin Atlantic White Visa (issued with an Amex) based on 0.5 miles per £1
0.5p per £1 – Emirates Skywards Visa (issued with an Amex) based on 0.5 miles per £1
0.312p per £1 – Tesco Clubcard MasterCard based on 0.125 Clubcard points (0.3 Avios, 0.312 Virgin miles) per £1.  This is the most generous Avios option if you don't qualify for HSBC Premier.
0.2p per £1 – IHG Rewards Club MasterCard based on 1 IHG point per £1
0.2p per £1 – TSB Avios MasterCard (issued with an Amex) based on 0.2 Avios per £1
The analysis, of course, isn't that simple.  You need a LOT of airline miles to get full value from them, as that usually means enough to redeem for a business class flight.  American Airlines and Etihad may top my list but, unless you already collect their miles from flights, you will struggle to get enough just from a credit card for a decent redemption.
This is why, for most people, you end up gravitating towards the Tesco or Hilton cards (assuming you also pick up some Hilton points now and then from hotel stays).
Don't forget perks for additional spending
Now, of course, the earning rate is only part of the story.
Some of the cards above have additional long-term bonuses or benefits.  This can make the card more valuable than the headline numbers show.
Hilton HHonors Platinum Visa – spend £10,000 per calendar year on this card and you are upgraded to Hilton HHonors Gold status.  You receive Silver status just for having the card.
Lufthansa Miles & More Visa – using this card once a month stops your Miles & More miles from expiring
IHG Rewards Club MasterCard – gives you Gold status in IHG Rewards Club
Note that spending on the Visa card which comes with the Virgin Atlantic White cards does NOT count towards the upgrade voucher or companion voucher.  Virgin only counts spend on the American Express card.
Remember that, whilst not featured on this list because it has an annual fee, the Lloyds Avios Rewards MasterCard has valuable perks for high spenders including an upgrade voucher.  You can learn more in my review here.
The sign-up bonus is the best reason to get many of these cards
Most of these cards have a sign-up bonus – the Hilton card, for example, gives you a free night anywhere for spending just £750.  A full list of bonuses can be found on our 'Credit Cards Update' page.
Overall, though, you need to think carefully before getting a miles and points MasterCard or Visa for long term spending.  Be sure you can justify a good reason for not using an ASDA Money cashback MasterCard or something similar instead.
Personally, it is telling that two of the three Visa or MasterCard products I have at home – my grandfathered BMI MasterCard paying 2.5 Avios per £1 (!) and the Marriott MasterCard are all no longer available.  If I was starting out now,  I would be churning through cards for the sign-up bonuses and then ditching them as soon as possible.  Once I'd done that, I would probably bite the fee bullet and decide that paying £24 for the Lloyds Avios Rewards card was a better option than anything offered by a free card.
Further reading: click here for our 'Credit Cards Update' page summarising all the current offers, and click here for our 'Credit Card Reviews' articles.  Representative APR rates for the cards above can be found on these pages.
Disclaimer: Head for Points is a journalistic website. Nothing here should be construed as financial advice, and it is your own responsibility to ensure that any product is right for your circumstances. Recommendations are based primarily on the ability to earn miles and points and do not consider interest rates, service levels or any impact on your credit history.  By recommending credit cards on this site, I am – technically – acting as a credit broker.  Robert Burgess, trading as Head for Points, is regulated and authorised by the Financial Conduct Authority to act as a credit broker.