Review: my airberlin 'super low tax' New York – Berlin Avios redemption
Links on Head for Points may pay us an affiliate commission. A list of partners is here.
This is my review of airberlin business class on the New York to Berlin service.
As I did have to leave New York eventually, despite my best attempts to avoid it, I decided to try out airberlin's New York JFK to Berlin Tegel service.
Rob has written extensively about airberlin. You can learn about how to redeem Avios with airberlin in this article and learn about their latest US routes here.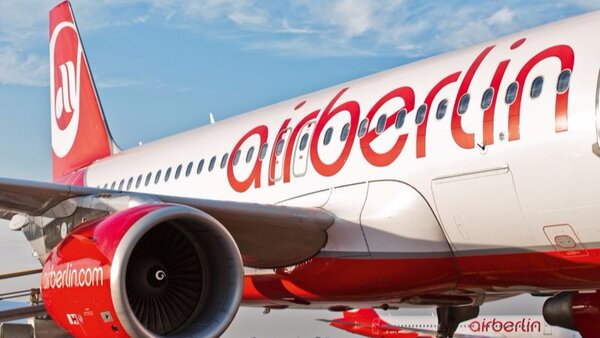 The key point about airberlin is that you do not pay any fuel surcharges. My one way flight from New York to Berlin cost 60,000 Avios points and just £4 of tax.
You need to add in the cost and time of getting from Berlin back to the UK of course. My brother lives in Berlin, so I had no need to get a hotel and I was able to spend a few days with him as an added bonus.
Getting to JFK
If you are staying in Manhattan, taking public transport to JFK isn't always the best idea. Google Maps told me it would take about 2 hours (I was staying with a friend on the Upper East Side at this point) and I'd have to walk 20 minutes, take a subway, a bus and another train. It is a different story if you are staying in Midtown or Downtown where you can take a direct subway train to an AirTrain connection station.
I took a friend's advice to try Via – New York's newest taxi app. It's basically like Uber Pool but good. Unlike Uber Pool, where you might end up travelling in circles until you reach your final destination, Via only picks up passengers en route who are headed the same direction. Within Manhattan it always costs a flat fee of $5 including tip. Two days prior to my return flight the company had extended their service to La Guardia and JFK. These airport trips costs a bit more but still less than a yellow taxi. I paid $38 minus a $10 sign up bonus (you can use anika6q2 to also get $10 sign-up credit) and got to the airport within 70 minutes despite a bit of traffic in Queens.
At JFK
airberlin operates out of Terminal 8 at JFK. I find security in America in general a bit stressful and time consuming. Even when you've got priority status, you often end up in the same queue as everyone else – although BA does have a totally separate premium channel if you are flying out of Terminal 7. But, being German, I was at the airport way too early anyway and had enough time to wait in line.
airberlin passengers are currently using a temporary American Airlines Admirals Club lounge until 2017. I reviewed it yesterday – it wasn't great.
The plane
airberlin operates an A330 with 19 business class seats. If you look at the seating plan, you see that there are quite a few different seat arrangements.
A and K seats are directly next to the window (or rather three windows)
C and H seats are a bit further from the window but still called window seats
D and G seats are aisle seats without a direct seat neighbour
E and F seats are great when you're travelling together with someone
My seat was 3A.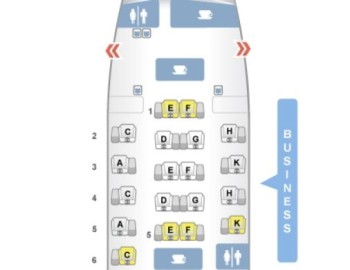 The picture below shows a D seat on the left and E and F on the right.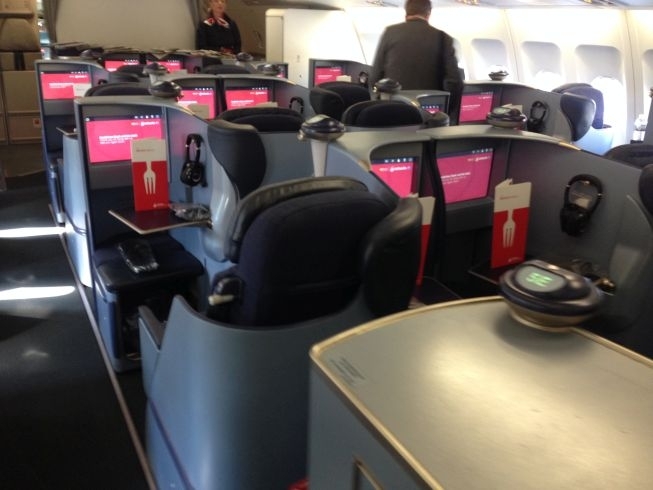 I must admit the layout looks a bit chaotic but makes perfect sense as it allows you to choose the arrangement best for you.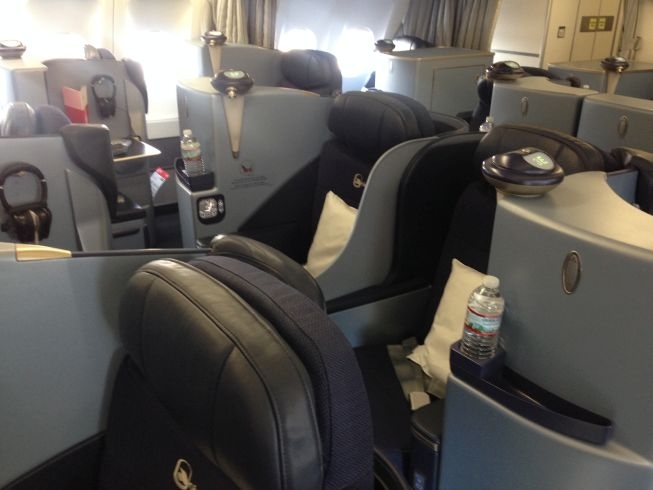 The seats were a decent size. A blanket, pillow, headphones and amenities kit were already on the seat. There was also a bottle of water and the menu ready to choose dinner.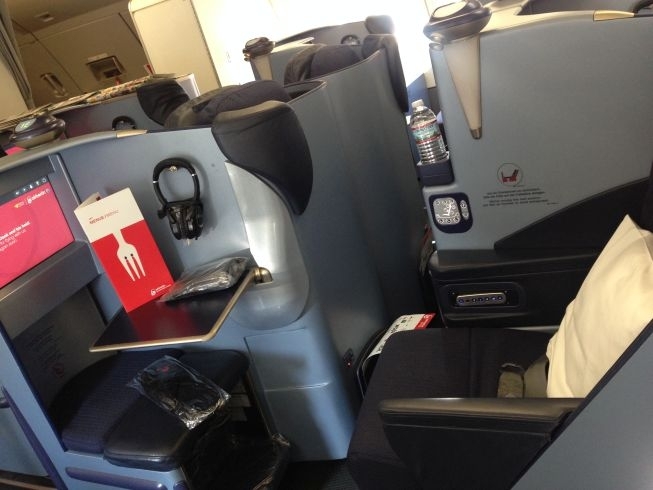 The flight
After sitting down and organising my belongings, I was offered a glass of champagne (Louis d'Or 'Cuvee Louis Le Grand' Brut) and asked to choose my dinner.
I also had a first look at the entertainment program. There were about 40 movies in English and German, various TV shows, and music channels including videos. The choice obviously isn't up there with some of the Middle Eastern airlines but was adequate enough.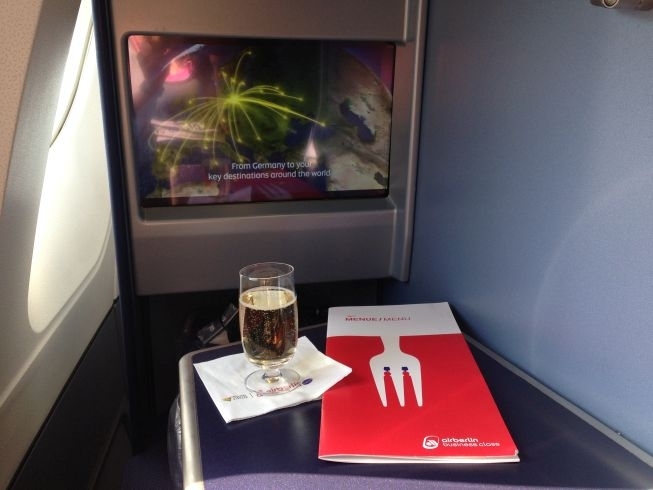 The cabin crew offered a great variety of magazines. I could have chosen Vogue or a gossip magazine in German or English, but I thought reading about forensics, Trump and May might be more entertaining – it wasn't and I ended up watching a movie instead ……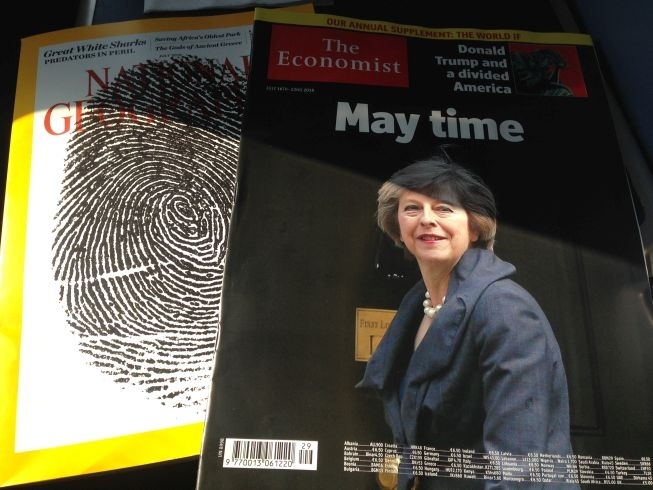 The toiletry bag was by WUNDERKIND by Wolfgang Joop. It contained an eye mask, socks, ear plugs, toothbrush and face cream and lip balm (also by WUNDERKIND). The eye mask was a bit tight and not adjustable so I decided not to use it.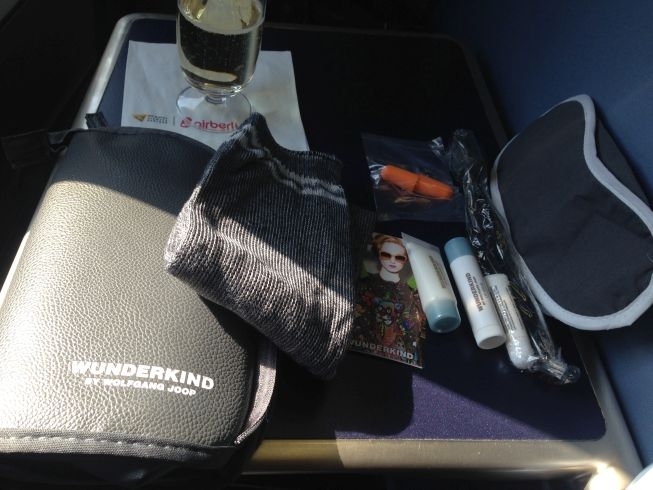 I liked the airberlin slippers which prevented wet socks when using the lavatory.
There wasn't a lot of at-seat storage and my shoes took up most of the space. I was struggling a bit to sort out my books, tablet etc. However what I did like about this storage box was that you can access it from the top which is useful when the seat is reclined.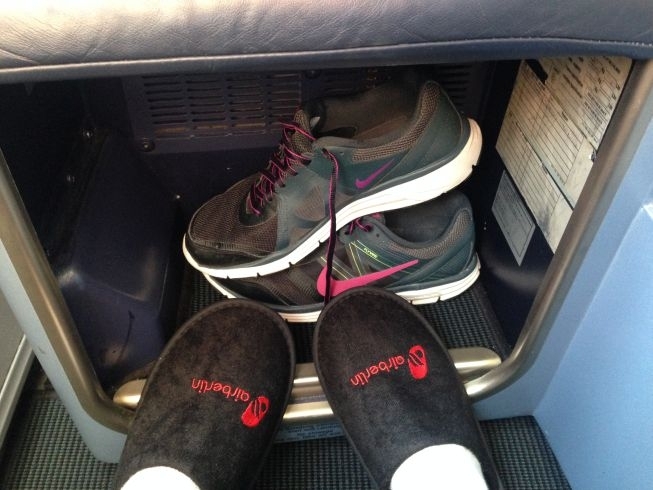 airberlin's drink menu is a decent one and once the seat belt signs had been turned off, the flight attendants began serving. On top of the usual spirits they offer three white wines, two red wines, one rose and three different cocktails, but I'm boring and prefer G&T. The drink was served with some nuts (almonds, cashews and hazelnuts).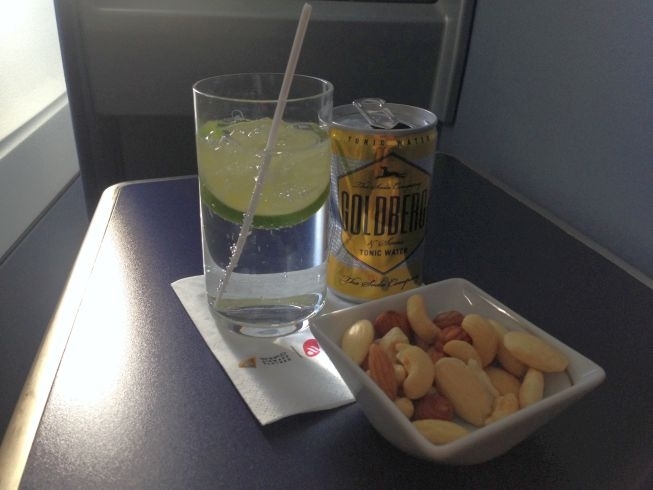 airberlin business class food
Shortly after having had the first drink, food was being served. The starter was a seasonal salad with a choice of either:
chicken breast with water melon, radish and goats cheese or
scallops with a papaya salad and cashew nuts
of which I chose the latter.
However my highlight weren't the scallops (they were ok but could have done with a bit more seasoning) but the 'Laugenstange' – you can take the German out of Germany ….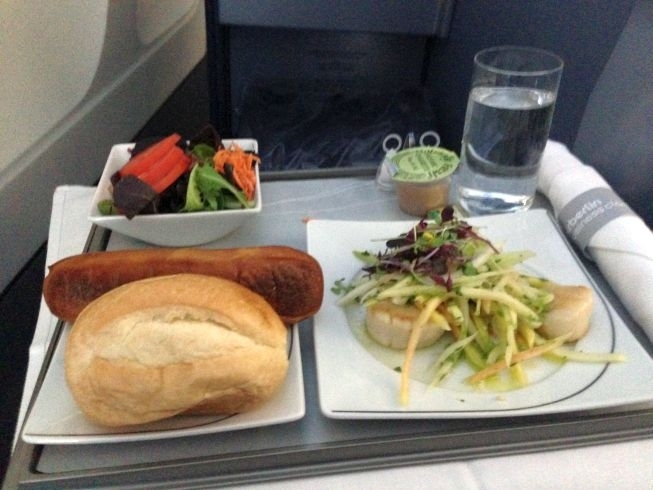 There were 4 mains to choose from:
Pheasant Breast poached in Butter accompanied by Kale, Cherry Tomatoes and a Duet from Quinoa and Barley
Beef Tenderloin in a spicy Teriyai Sauce with white Sesame Seeds, Green Beans, Baby Corn and steamed Colrose Rice
Mahi-Mahi Fillets in Sauce 'Vierge' with Slices of Butternut Squash and roasted Fingerlin Potatoes
Ravioli filled with Lemon flavoured Ricotta in a spicy Tomato Basil Sauce with roasted Yellow Tomatoes and Green Peas
I chose the pheasant breast which was a little bit dry but acceptable and a decent sixed portion.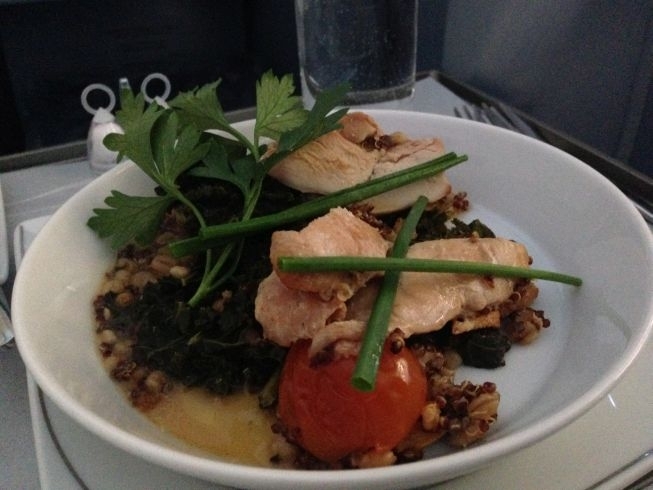 I was offered both desert options (cheese or passion fruit mousse cake) but chose to only have the mousse which was delicious. It was too late for coffee and I asked for a fruit herbal tea instead. Note that when a German member of cabin crew asks you if you would like some tea, they most certainly mean herbal tea and if you want English tea, you need to ask for black tea.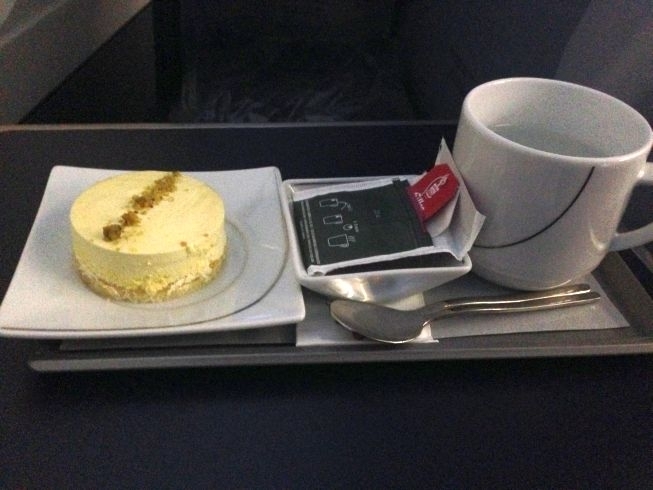 After the meal I decided to try to sleep. The seat went all the way down and was way more comfortable than the La Compagnie seat I had on the outbound flight. I managed to sleep for a couple of hours.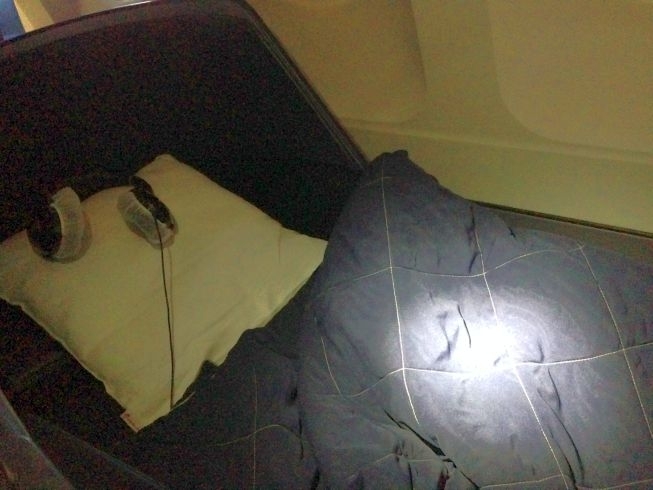 I woke up just in time for breakfast which was some fruits, a croissant and yoghurt. I also had a coffee and orange juice.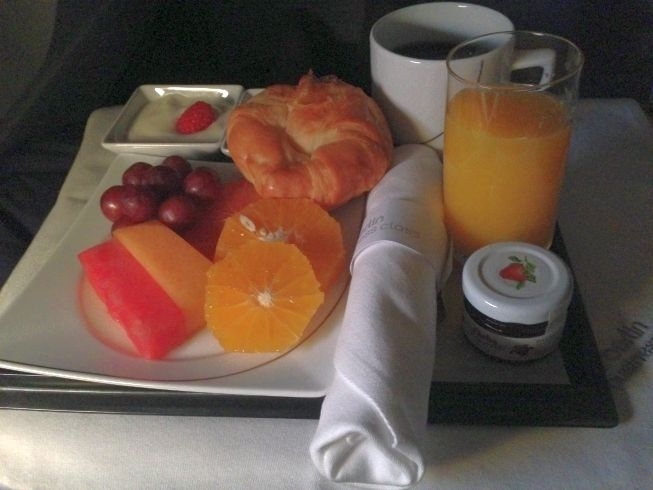 Shortly after breakfast we landed in Berlin Tegel: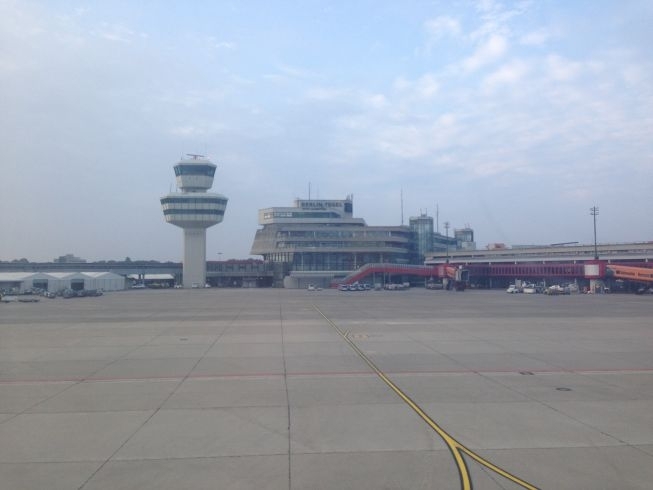 …. where, annoyingly, we had to take a bus to get to the terminal.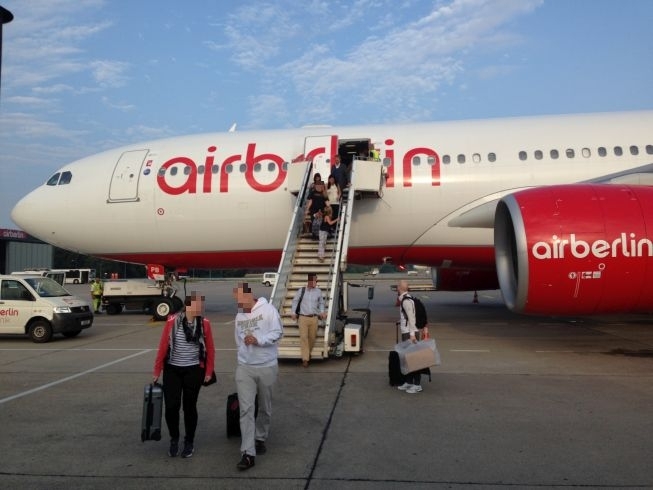 Berlin Tegel Airport
There are lots of local buses that take you from the airport into the city center. Expect the bus drivers to speak English but don't expect them to be too friendly. You can buy bus tickets from the ticket machines, in most cases AB is the right ticket choice. Once you board the bus, you need to validate your ticket by stamping it in one of the machines. If you forget, it can get expensive.
A taxi is also quick and relatively cheap because of close location of the airport to the city centre.
Conclusion
I thought airberlin was a very sound long-haul airline with comfortable business class seats, great service and decent food. Forget any ideas you have of it being a second tier airline. You can see from the seats, seating layout (1-2-1) and the food that it is actually ahead of British Airways Club World in many ways.
The only downside is that airberlin doesn't have direct flights from London to New York – or indeed from the UK to anywhere. You can either fly to New York via Dusseldorf or – if you want a stopover to sightsee – go to Berlin and spend a few days in Germany's capital eating currywurst and drinking decent beer.
As an Avios redemption, you will pay 60,000 Avios each way (there are no off-peak reductions with partner airlines). The tax is a very cheerful £68 out of Germany and £4 out of New York. Note that ba.com shows £87 of tax outbound but when you click through to pay it drops to £68.
airberlin usually restricts business class availability to two seats per flight so this is not an option for a family or larger group. There are usually four economy seats available. You can book Avios redemption seats via ba.com in the normal way – only search for the long-haul leg as BA will hide availability if you search for New York to London via Berlin / Dusseldorf and there is no UK connecting flight available.
The airberlin website has more details on their schedules and service.