In my article yesterday, I reviewed 'the facts' of the Club Carlson loyalty scheme. This post is my personal opinion, highlighting areas where I think you might want to focus.
The 10-second summary:
Strong points – high earnings rate, free Gold status via Amex Platinum, generous Amex Membership Rewards transfer rate, good spread of properties in Europe and Middle East including excellent London coverage
Weak points – fewer bonus promotions than some programmes, lack of 'wow' luxury properties, few or poor quality hotels in Asia and North America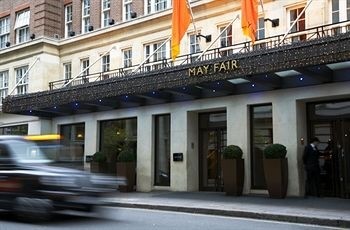 The longer version:
I like Club Carlson.  Whilst I rarely pay to stay in their hotels (except when mattress-running for promotions), I frequently transfer over Amex Membership Rewards points for stays.  They are my 'go to' first choice when we have friends or relatives coming to London.
Club Carlson compares favourably with other chains when you look at how much you need to spend to earn a free night in a luxury hotel.  Even when transferring from American Express,  a 70,000 point five-star redemption would only require 23,333 Amex points at 1:3 – no other hotel transfer is anywhere near as good.
(The 2nd best hotel option, as mentioned in the comments, is probably 30,000 Amex to 15,000 Starwood to 45,000 Marriott which gets you a top category hotel.)
You get Gold status if you have an American Express Platinum charge card.  At a Radisson, this can lead to a pleasant chain of good results – if you get upgraded to a 'Business Room' at a Radisson for being Gold, as I was in Hamburg in 2012 and at Stockholm Arlanda in 2015, you also get free Pay TV, free mini bar and an in-room Nespresso machine.  You may even get free breakfast, although some hotels like to remove this benefit from the business class room benefits if they upgrade you.
The Park Plaza properties in London are relatively low profile but surprisingly modern and high quality.  The Park Plaza Westminster Bridge in London is very nice as I reviewed here.
20 points per $1 spent means that points are very easy to earn.  The ability to top up by an Amex Membership Rewards transfer means that you shouldn't end up with any orphan points.
The recent Spring promotion, now over, offered 5000 bonus points per night.  If you value them at 0.33p, you were getting £17 of extra value on top of your base points.  That isn't bad at all.
Reward rooms are generally OK to find. They do NOT have 'last room availability', so seeing cash rooms does not mean you will see reward rooms. The ability to spend more points for better rooms, available at some hotels, is good.  It is the only chain to have specific 'family room redemptions' which have the space for extra beds for children.
The recent 2017 loss of the 2-4-1 and 4-4-2 deals for Gold card holders was a shame.  I remember a stay at a Radisson in Riga about 9 years ago, where I did a 2-4-1. I got two nights for £40 in total AND got upgraded to a 'Business Room' with free mini-bar and breakfast!
Because the Radisson chain was owned by SAS in Europe at one point, there are a lot of properties in Scandinavia. A lot of major global chains ignore that part of the world, despite the high room rates, so it is a good programme if you are planning stays in the region.
What don't I like?
Whilst there are some impressive 'flagship' Radisson properties (Berlin, Chicago), many are old and tired. The brand desperately lacks 'wow' properties (or even 'impressive' properties) in many places including North America, although you will usually find a Carlson family hotel of some standard if you need one. There are few properties of any sort in Asia.
The June 2015 devaluation made the chain a lot more expensive for European redemptions – although the 'earn to burn' ratio remains better than its peers.
The benefits for mid-tier Gold members, if you don't get upgraded, are pretty much nil apart from the bonus base points. That said, I have generally done OK with upgrades but I am working off a very small sample set of stays.
Club Carlson has a nasty habit of changing the rules without notice.  In 2013 it devalued the 'points to miles' conversion rate overnight, with no notice.  This was especially unfair because the rate improved as you collected more points, meaning that collectors were encourage to hold off redeeming their points for miles until they reached a high balance – only to have the rug pulled out.  The June 2015 changes were announced online in advance but members were NOT emailed about them.  The removal of the 241 deal for Gold members in early 2017 also happened with no notice.
Overall
If Carlson was not an American Express partner (offering me a free Gold card and a generous points transfer ratio from Membership Rewards), I would probably ignore it.
As it is, I am happy to pick and choose the best properties from their redemption list for friends, family and myself whenever I need to, and I have always been happy with the experience.
I would have no qualms being told I had to stay in a Radisson Blu property on a business trip, because I know that I can always top up the points I will earn with additional Amex points and redeem for a decent European hotel somewhere.  Anika found herself in exactly this situation recently – she ended up with 14,000 Club Carlson points due to their Spring promotion from what was her first Radisson stay and she will probably end up redeeming them after an Amex top-up.
(Want to earn more hotel points?  Click here to see our complete list of promotions from the major hotel chains or use the 'Hotel Promos' link in the menu bar at the top of the page.)