Lufthansa's Miles & More moves to revenue-based miles earning from today
Links on Head for Points may pay us an affiliate commission. A list of partners is here.
In what may be a model for BA's upcoming Avios revamp, Lufthansa's Miles & More scheme moves to revenue-based mileage earning for tickets issued from today.  Existing bookings are not impacted.
In theory, it is meant to be simpler and to reward those who buy more expensive tickets.
(Regular readers will know that I disagree with this model.  The majority of people who 'buy' higher priced tickets are spending their employers money, not their own.  In many cases the employer will have a route deal which forces the flyer to use Star Alliance irrespective.  People who are obliged to fly Lufthansa irrespective of their genuine loyalty to the airline get more miles, whilst leisure travellers and small business owners – who genuinely have a free choice in who they fly with – get less.)
This is the chart (click to enlarge):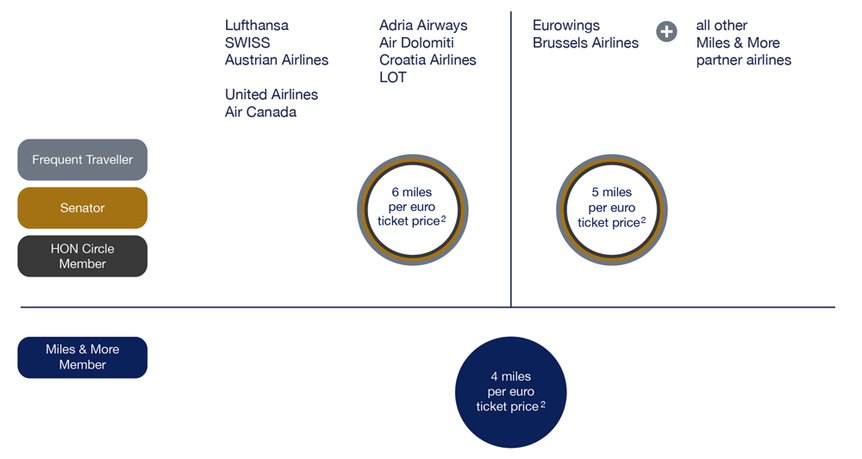 The € value used is 'base fare plus airline-levied YQ surcharges' which means they will exclude Air Passenger Duty (for UK departures) and airport fees before calculating what you earn.  This could lead to cheap one-way tickets from Heathrow earning under 50 miles!
Codeshares will be based on the operating airline and not the marketing airline.
Except:
"The new system applies to all tickets sold by Lufthansa, SWISS, Austrian Airlines, Eurowings or Brussels Airlines. If you book via a direct sales channel of Lufthansa, SWISS, Austrian Airlines, Eurowings or Brussels Airlines, i.e. the website, miles will be awarded based on the new system. If you book via a third-party sales channel, i.e. a travel agent or online travel agency, you will be able to tell by the ticket number whether your award miles will be calculated according to the new system. If the first three digits of your ticket number are 220 (Lufthansa), 724 (SWISS), 257 (Austrian Airlines) or 082 (Brussels Airlines) or Eurowings, the new system applies to your flight – if not, the award miles are calculated according to the old system. The one exception are tickets purchased through a tour operator. Here award miles are allocated according to the booking class, irrespective of the ticket number. In rare cases where no fare information is available, Miles & More reserves the right to continue to award miles according to the booking-class-based system."
So …. the chart above is what you get, except when you don't.  If you want to earn miles under the old system, you still can!  Simply use a third party booking agent or a Star partner such as LOT or United which can also issue Lufthansa tickets.
More confusingly, status, select and HON Circle miles will continue to be awarded under the current system.
For readers who earn the bulk of their miles from non-flying methods such as credit card spend, there is unlikely to be much difference to their earning.  Lufthansa claims that the new system is neutral in terms of miles awarded, which implies that those buying cheaper tickets (with their own money) will be worse off.