A review of flying British Airways long-haul with a disabled wheelchair passenger
Links on Head for Points may pay us an affiliate commission. A list of partners is here.
We virtually never cover issues relating to disabled or wheelchair passengers on Head for Points, even though it pops up in reader emails on a regular basis. This is purely because it isn't an area where any of the HfP team have any experience unlike, say, travelling with small children.
I was therefore very keen when reader Gary offered to write up a trip he took with his wheelchair-bound mother, especially as the trip they took was a deal they found on Head for Points. We both hope that this article will have some value for anyone else who is considering something similar, especially as it covers both the flights and the process of booking suitable hotels. Over to Gary ….
"After years of explaining to my mother that the reason she didn't like flying was that she was doing it wrong, she finally called my bluff and agreed to a trip to South Africa. This was all the more remarkable as my mum had a stroke 2 years ago, and has had very limited mobility since. Her husband, Tom, has also had a couple of knee replacements and struggles to walk any distance. They had convinced themselves that they would never fly again.
Thanks to Head for Points, we got the word on a great British Airways deal to Cape Town, First Class for under £2,000 return. We booked by phone with BA, to find out that the only suitable dates available didn't have a direct return available from Cape Town – we would have to travel back via Johannesburg. This would mean a long and tiring trip back to our home base of Glasgow, with two stops on the way. It turns out that BA's strict seven day maximum stay rule didn't include additional time for layovers – worth noting if these deals come back up again – so we added a couple of nights in Jo'burg to break the journey.
Flights sorted, it was time to book the hotels. As a relatively able-bodied person myself, I was not aware how difficult it is to book a room at a hotel and ensure that you have the accessible bathroom facilities that you need. It also appears that South Africa has little or no legislation on requirements to support disabled access – many hotels simply do not cope with wheelchairs.
Once we narrowed down the hotels we wanted to stay at, I had to contact each hotel, ensure that there was an accessible room, find out what room type that was, and compare prices and availability on the booking sites. I'm a regular user of comparison sites for hotels, but the inability to choose accessible rooms makes them less useful. They are also difficult about letting you choose different room types for the same booking.
My advice is to use them to gauge the best rate, then negotiate directly with the hotel, ensuring that the hotel remains aware of the accessibility requirement. It is also worth noting that 'accessible' is not a universally recognised term – we had to revert to 'disabled room' to ensure we were understood.
We ended up choosing the Asara wine estate for three nights, to get a taste of wine country, followed by three nights at the 12 Apostles by the sea near Cape Town itself. Our Jo'burg layover was booked at the Black Rhino Lodge at Pilanesberg Game Reserve – a two hour drive from the airport.
As we had luggage for four adults, and shoes for eight (my wife does not risk having the wrong shoes) plus walking frame and collapsible wheelchair, we needed a sizeable car. Pilanesberg also offers the opportunity for self-drive safaris, so I booked a Discovery 5 from SMH Car Hire near Johannesburg. They are off site, but will deliver and collect from the airport.
Just to re-iterate at this point – my mother had not flown for years, and would not contemplate flying even before her stroke. In the six months between booking and travelling, we were convinced that she still might cancel.
Our outbound flight
The first part of the journey was straightforward, a taxi to Glasgow Airport courtesy of our local taxi company who use Mercedes V class vans for airport duty. The luggage and four adults fitted – just – and getting in and out of the van was OK. The drop off at Glasgow to check in is a short walk, and it was explained that our wheelchair could be used all the way to the gate, then stowed in the hold, to be brought back up for the transfer at Heathrow.
Security at Glasgow couldn't be any friendlier or more helpful, and we were through in minutes. Tom managed the long walk to the one BA lounge, although this was probably about his limit. We got to the gate early, and were boarded first. Mum was in row 1, so it was an easy move from the chair to the seat, and the wheelchair taken away and stowed.
Arrival at Terminal 5 meant waiting for the plane to empty and the assistance crew to arrive. They insisted on using a narrow chair designed to fit between the seat rows to deplane mum, then put her in her own chair, which seems a bit unnecessary, but those are the rules.
We made the dreaded Terminal 5 to Terminal 3 transfer quickly and easily – it appears that mid-afternoon on a Wednesday is a good time to do so. The bus had a ramp that made wheelchair access easy, and we were allowed to skip the modest queue. Once in Terminal 3, we made our way to the Cathay Pacific lounge, and the route was wheelchair friendly with no issues, other than the usual crowding in the public areas.
As required, we headed down to the gate slightly early to allow for priority boarding for mum. Once there, we were moved to the top of the ramp, where the loading chair was waiting. Unfortunately, only one of the assistance crew was there, and he was not allowed to move mum onto the chair on his own. Disappointingly, we ended up waiting until the entire Boeing 747 was boarded before being taken on board.
On board, mum was well looked after. Tom joined her for dinner in her suite, and things were going well. At some point later she needed to go to the toilet. This was a much more complicated affair. I had ensured that I had booked her in the nearest seat to the toilets on each flight, however it is still a considerable distance when you need support from two people to walk there, and care support to go.
The crew were fabulous, and since both mum and Tom didn't fit in the toilet at the same time, shielded the doorway with the curtains until mum was settled and the door could be closed – likewise on her exit. It is worth noting that airplane toilets are in no way suitable for the disabled and some consideration should be given to how the actual mechanics of getting in and out would happen. We were lucky to be in First Class and have the staff and toilet availability for the time that it took, but I can imagine this being considerably more difficult in a busy economy section.
Landing at Cape Town, we waited for the plane to empty, and left using the loading chair. Mum's wheelchair was waiting at the door, and as she was about to try and stand and shuffle over to her chair, she was grabbed by two of the Cape Town assistance team and lifted and dropped into her chair. It was over before she knew it had begun, and although incredibly efficient, may not have been as careful as someone with a painful injury might need. Luckily this is not the case with mum, and the difference between 'health and safety' concerns at Terminal 3 and Cape Town was quite dramatic.
Mum and Tom were whisked through immigration, but my wife and I had to join the queue. When we got through, we found that the assistance guys had loaded two trolleys with our cases and were set to go.
Off to Asara
I had arranged transport to Asara through Blacklane on their Uber-style app. Our driver Brendon was waiting for us and helped with the luggage, allowing Tom to walk with no bags to carry. The Mercedes V-class was a more upscale version of the one we took to Glasgow with captain's chairs, which meant that there was less luggage room. It is worth noting that not all similar vehicles will have the same luggage capacity. We eventually squeezed everything in and set off.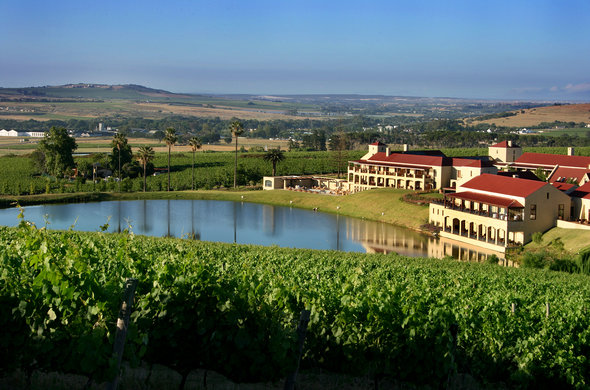 On arrival at Asara (photo above), we were pointed to a drop-off zone next to a sign pointing to reception. This turned out to be at the top of a flight of stairs, so my wife and I walked down to start checking in, while Brendon was told to follow a road that led towards the reception area. This tuned out to be a major detour around the estate, and they went missing, as far as we were concerned, for quite a while. It was another example of where we in the UK can take disabled access for granted.
Assigned rooms were good – Mum had an easily accessible shower, as requested, while due to some complications with the booking, my wife and I had been upgraded to a fantastic suite with a wraparound balcony overlooking the lake and the vineyards. Again, due to South Africa's attitude to accessibility, there was no way for mum to come up to the 1st floor to see the room. In fact there were some totally inaccessible parts of the hotel, notably the pool area and the wine tasting room.
We used Blacklane again for the next transfer to Cape Town. Again this went very well, with the 12 Apostles (picture below) being a particularly wheelchair friendly venue – as well as being just a fantastic hotel.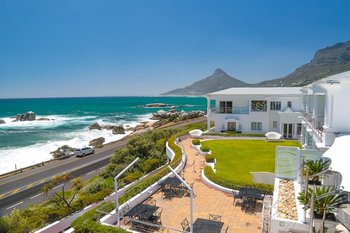 The transfer to Johannesburg
Three nights later it was time for the trip to Johannesburg. Again, Blacklane – and driver Brendon. Once again, assistance at Cape Town was good, helpful efficient and easily available at check-in. Mum's stroller was once again slightly too wide for the baggage drop, and once tagged had to be taken to the large baggage drop – conveniently next to the firearm check-in, if you're wondering. Again, boarding was first and completed using the narrow boarding chair, row 2 this time.
Deplaning was somewhat different this time. We waited for the plane to empty, by the bridge at the front, as normal. Mum was put on the boarding chair, and unusually we were taken to the back of the aircraft, where a service vehicle with a lift body, similar to the catering trucks you will be familiar with was waiting. We got on, took a seat, and it lowered to its travelling height, before making its way around the airport to a doorway normally used for bus transfers. I have no idea why we weren't simply allowed to leave via the bridge.
A lot of walking later and we ended up at the luggage carousel and got loaded up. We only had one assistance person with us by then, and we eventually got landside where our car delivery guy was waiting. As requested, we had a Discovery 5 waiting for us, which held all the luggage quite easily. Off we drove to Pilanesberg.
On safari
The final two nights were always going to be potentially difficult. We had decided on a safari lodge, as we had already covered city/sea and wine country. It was a long drive, and the roads in the North are not great. There are exciting points where your 120 km/hr road suddenly has a 4-way stop with speed bumps. It's also very hot, even in March. We arrived at the Black Rhino as darkness began to fall, tired and thirsty. First impressions were not good – each of the cabins were a long distance from the main lodge, on dirt road then wheelchair-unfriendly gravel. I checked my mails to the hotel, and although we had been told that it was not wheelchair friendly, it was suggested that someone who could walk with assistance would have no problem. I respectfully disagree.
In the end we moved between cabin and lodge using the car, which could get near enough to the cabin to allow mum to get in with only a short wheelchair ride. Although it was workable, it did not make for a relaxing holiday. The major part of a safari holiday is of course the outings. Mum decided she didn't want to travel in the safari wagons, understandably, despite them being considerably more comfortable than they looked. Pilanesberg does allow some self-drive, although not in the area we were located. The track from the main road to the lodge was sufficiently long, however, that we did get a mini-safari for about half an hour, during which we got to see several animals, including a herd of elephant. And all from the comfort of a nice new Discovery 5.
Heading home
Back at Johannesburg Airport, our off-site car hire company was waiting for us, thanks to regular whatsapp updates on our journey back. We arrived a bit too early, and were prevented from checking in due to a power outage – South Africa has power shortages and has introduced rolling blackouts, known as 'load shedding', to help reduce the demand. This appears to completely screw up the airport check-in systems, and we had to sit rather longer than was comfortable landside before being allowed to drop our baggage and make our way airside.
One minor inconvenience was that mum's stroller, which was accepted on every other part of the journey, needed to be wrapped in plastic this time. We had assistance take us to the lounge, where we sat and had our final South African drinks. As we were so tired, we tried to find more comfortable chairs to relax in. These are rare in the British Airways First Class lounge in Johannesburg and we actually had more luck by moving to the considerably less crowded business section.
Boarding was possibly the best yet – straight down to the front, the now familiar 'efficient' African chair swap, and into 1st Class on a very pleasant A380. Within minutes we were settled with our drinks in our hands. I can't comment on the toilet process this time, as mum had decided that after the last time, she simply wasn't going on the plane again. It was interesting to note that there are larger toilets in business class upstairs on the BA A380 fleet as this is where most airlines put First Class.
Landing at Heathrow was, as ever, a long long wait for assistance. Although I had always booked assistance for Tom and rarely used it, he was going to need it this time, as we were at a Terminal 5C gate and had a long way to go for immigration and transfer. This was, of course, the time that no assistance was available. Mum was OK, but by the time we got along the corridor toward the train, we had to ask our assistance guy to get another chair – which took ages. Heathrow is just too big and too spread out to be convenient if you have any form of mobility issue and they need to improve their assistance team quite considerably. Always plan a much longer transfer than you might expect.
Despite a two and a half hour transfer within the same terminal, we got to our A gate pretty much on time for early boarding. We headed down the ramp only to be stopped and held at the top of the bridge. I suspect our original plane may have gone tech, because when we eventually got to board, it was onto a brand new A321neo, which still didn't have branding, curtains, or the middle-seat trays in Club Europe. Again, boarding was simple using the narrow boarding chair, which mum had been placed in during the wait.
Arrival at Glasgow meant the reverse of the above. Another tip for those travelling with restricted mobility travellers – do not hold the boarding trolley steady while they load it up, because when they go to move, you'll trap your fingers in the brake lever. This is something I should have learned the first two times it happened.
Our assistance team in Glasgow was just one person, and again Tom needed a chair, which was duly provided. This meant that when we got to the luggage carousel, we had two trolleys, two chairs, and three pushers between us – impressively, the girl from the Glasgow assistance team simply grabbed both Tom's chair and a trolley and made her way out to the car park where our V-class taxi would be waiting.
Mum and Tom have decided that the trip has been a revelation, and that flying does not have to be a chore. Both are in their 80s with various degrees of mobility issues, but they have now decided that travelling the world is an option open to them.
Despite some minor hiccups (mostly Heathrow induced) the whole trip was actually surprising easy, despite the non-wheelchair friendly aspects of some of the hotels. I'd avoid safari locations, unless they are explicitly wheelchair friendly, but everywhere else was remarkably straightforward. Never assume that it is too late to take a parent or elderly relative on another great trip."
---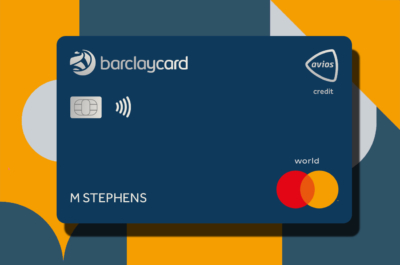 How to earn Avios from UK credit cards (September 2023)
As a reminder, there are various ways of earning Avios points from UK credit cards. Many cards also have generous sign-up bonuses!
In February 2022, Barclaycard launched two exciting new Barclaycard Avios Mastercard cards with a bonus of up to 25,000 Avios. You can apply here.
You qualify for the bonus on these cards even if you have a British Airways American Express card: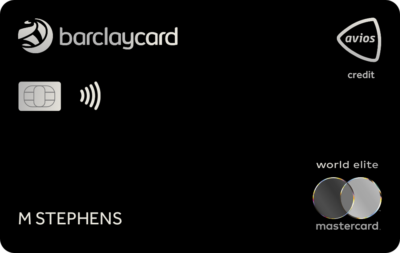 Barclaycard Avios Plus Mastercard
Get 25,000 Avios for signing up and an upgrade voucher at £10,000 Read our full review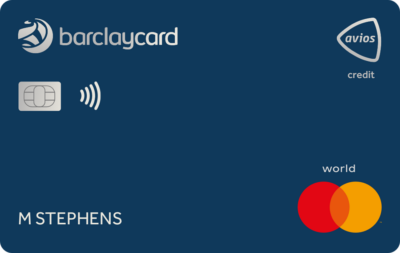 Barclaycard Avios Mastercard
5,000 Avios for signing up and an upgrade voucher at £20,000 Read our full review
There are two official British Airways American Express cards with attractive sign-up bonuses: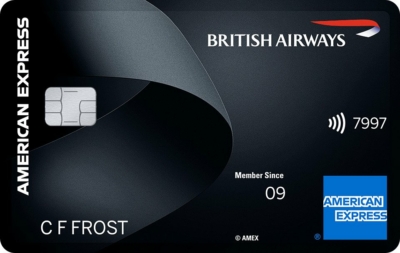 British Airways American Express Premium Plus
25,000 Avios and the famous annual 2-4-1 voucher Read our full review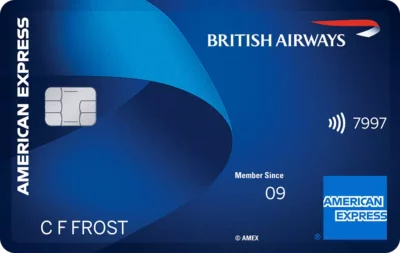 British Airways American Express
5,000 Avios for signing up and an Economy 2-4-1 voucher for spending £12,000 Read our full review
You can also get generous sign-up bonuses by applying for American Express cards which earn Membership Rewards points.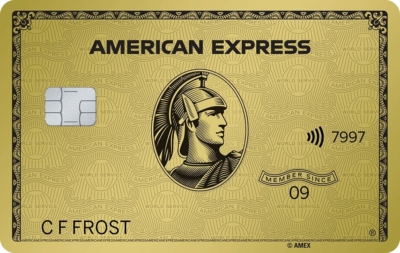 American Express Preferred Rewards Gold
Your best beginner's card – 20,000 points, FREE for a year & four airport lounge passes Read our full review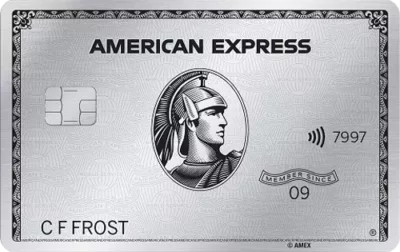 The Platinum Card from American Express
30,000 points and a huge range of valuable benefits – for a fee Read our full review
Run your own business?
We recommend Capital On Tap for limited companies. You earn 1 Avios per £1 which is impressive for a Visa card, along with a sign-up bonus worth 10,500 Avios.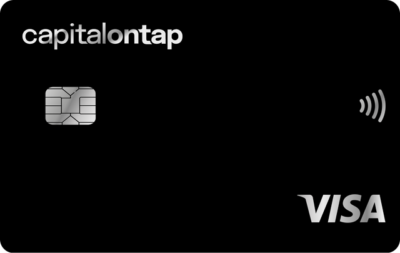 Capital On Tap Business Rewards Visa
Get a 10,000 points bonus plus an extra 500 points for our readers Read our full review
You should also consider the British Airways Accelerating Business credit card. This is open to sole traders as well as limited companies and has a 30,000 Avios sign-up bonus.
EDIT: Applications for this card are temporarily suspended due to IT issues with the British Airways On Business SME loyalty scheme.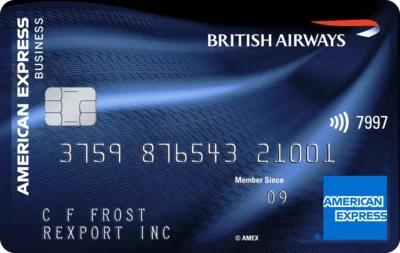 British Airways Accelerating Business American Express
30,000 Avios sign-up bonus – plus annual bonuses of up to 30,000 Avios Read our full review
There are also generous bonuses on the two American Express Business cards, with the points converting at 1:1 into Avios. These cards are open to sole traders as well as limited companies.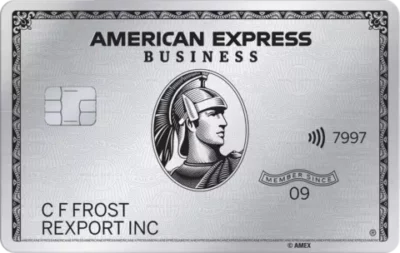 American Express Business Platinum
40,000 points bonus and an annual £200 Amex Travel credit Read our full review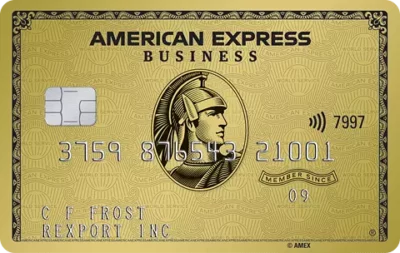 Click here to read our detailed summary of all UK credit cards which earn Avios. This includes both personal and small business cards.