Review: SWISS Business Lounge at Zurich Airport Terminal E
Links on Head for Points may pay us an affiliate commission. A list of partners is here.
This is our review of the SWISS Business Lounge at Zurich Airport Terminal E.
It is a while since we reviewed SWISS Business Class on Head for Points. When I (Anika) headed back to the US after a couple of weeks in Europe, partly for the HfP Summer Party, it seemed a good opportunity to take another look.
I had spent my last couple of days back in Europe with a friend in Düsseldorf, so my trip had started with an uneventful SWISS short haul flight to Zurich. I look at this briefly tomorrow as part of the long haul review.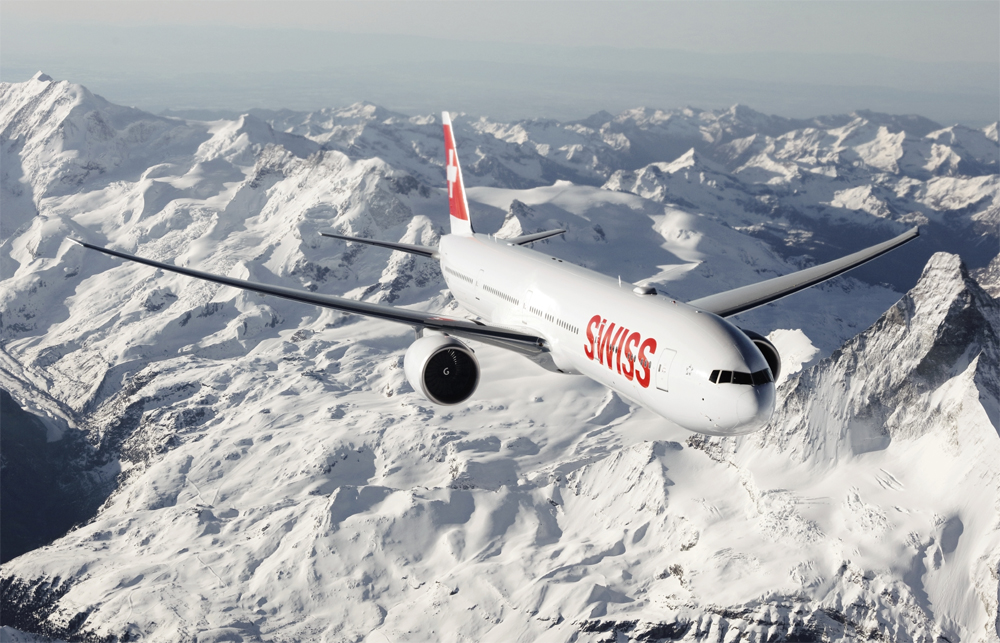 I was connecting in Zurich to Chicago. This involved quite a long walk and a train ride from the A Gates to the E Gates before I arrived at the SWISS Business Lounge.
Where is the SWISS business lounge in Zurich?
This lounge – SWISS has a number in Zurich – is located on the third floor near Gate E37 and is accessible via an elevator. It is very close to the international gates.
The reception serves both the Business and the Senator lounge. The Business wing is to the left whilst the Senator (Gold Card – there is a dedicated First Class lounge elsewhere) lounge is to the right. They share shower facilities, though I didn't check them out.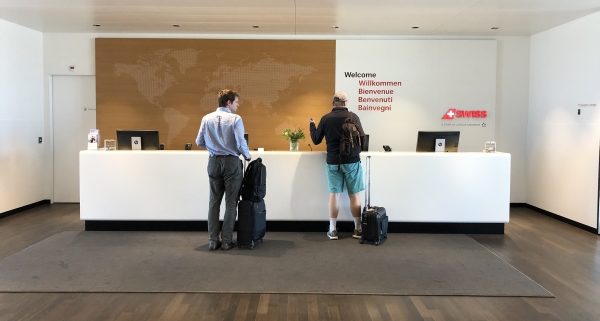 After scanning my boarding pass I was given a personal access code for unlimited Wi-Fi across the whole airport. Users normally get two free hours and are subsequently charged.
Reception staff advised that I should make my way to the gate about 15 minutes before boarding as there was another passport control to get through. Luckily there were designated Business and First Class queues which meant I didn't have too wait long.
The SWISS Business Class lounge (E gates)
I don't need to describe it in detail, because this overview of the lounge was hanging on one of the walls (click to enlarge)!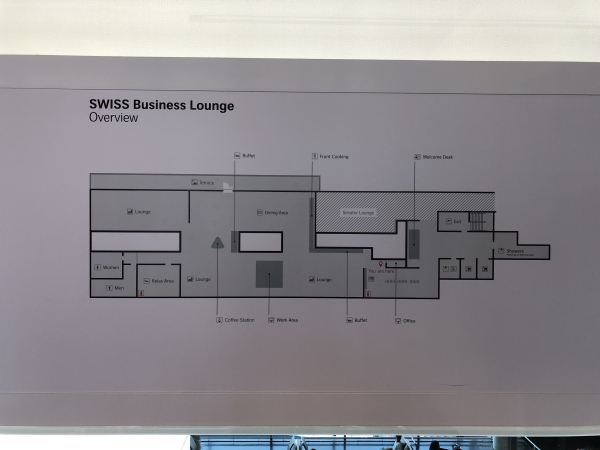 The SWISS website says that the lounge covers 1,200 sq m and can seat 200 guests. The Senator lounge next door is virtually the same size.
As I walked into the lounge there were seats to the left and the magazine shelves in front of me.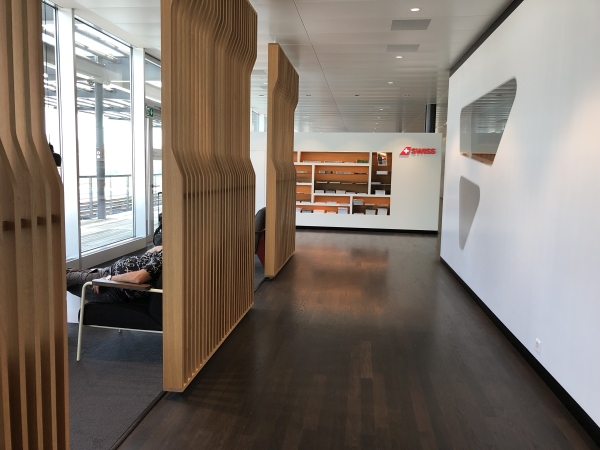 The magazine selection was great – if you speak German. Magazine and newspaper titles included Der Spiegel, Elle, Vogue and Gala (Rob's wife would have been very happy about the latter). There were also some English titles but fewer than you might have expected – and, overall, the selection was one of the biggest I've seen in a long time: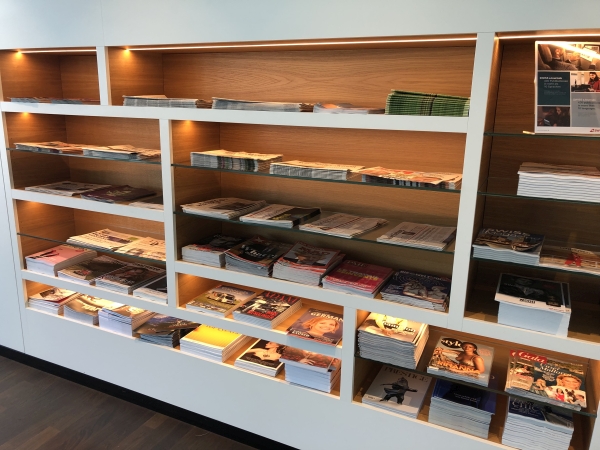 Around the corner was a selection of food and beverages: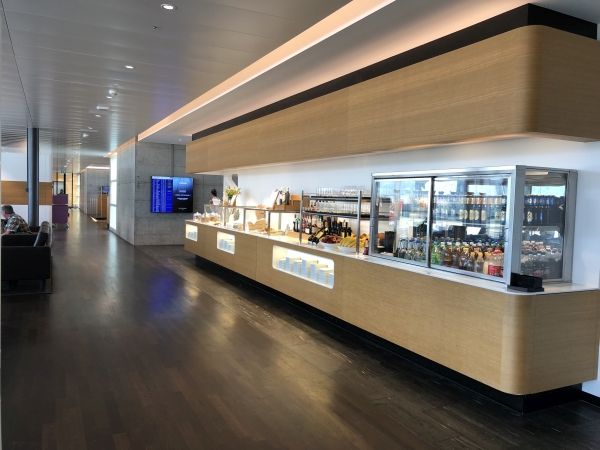 …. with a salad buffet, fruits and cakes ….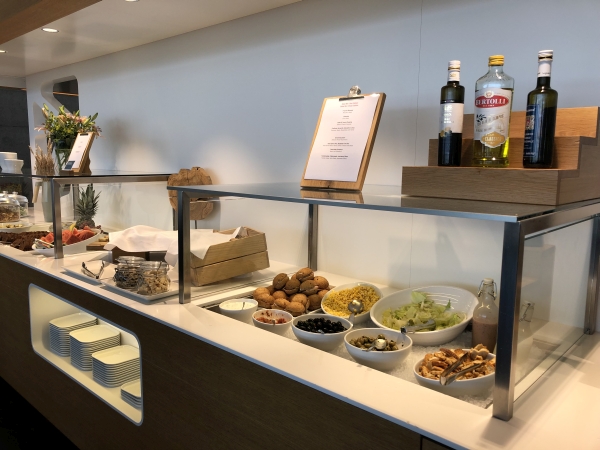 …. and a good selection of alcohol, for people who are less pregnant than me.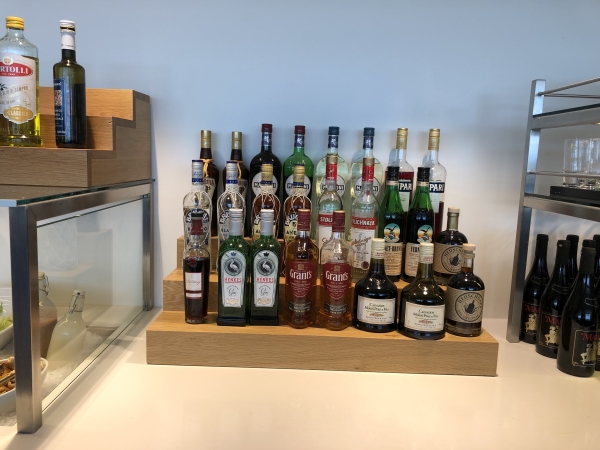 The lounge also had an open kitchen with a made to order menu.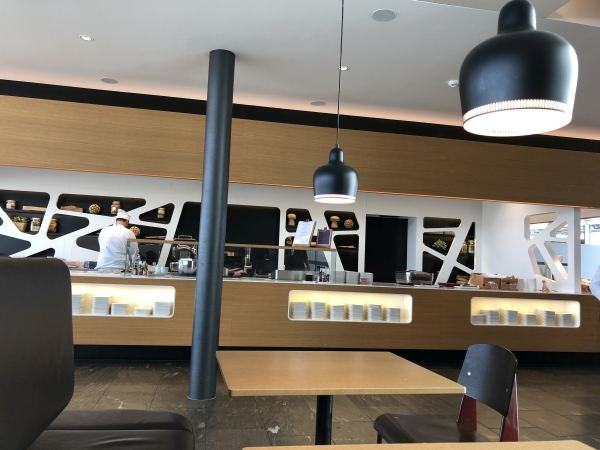 The lunch options were:
Pasta with Carbonara sauce and bacon
Spaetzle with garden vegetables
Potato quiche with rosemary
Beef bouillon with root vegetables
Chilled tomato soup
The desert option was French Toast with apple puree.
I had a small portion of the pasta which had a little bit too much bacon in it, but was otherwise tasty.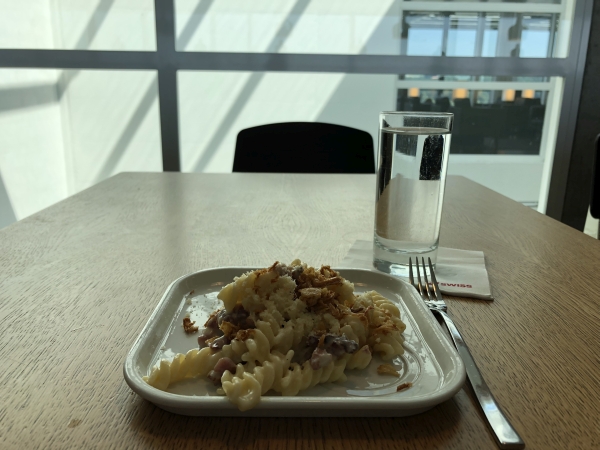 There was a coffee island in the middle of the room: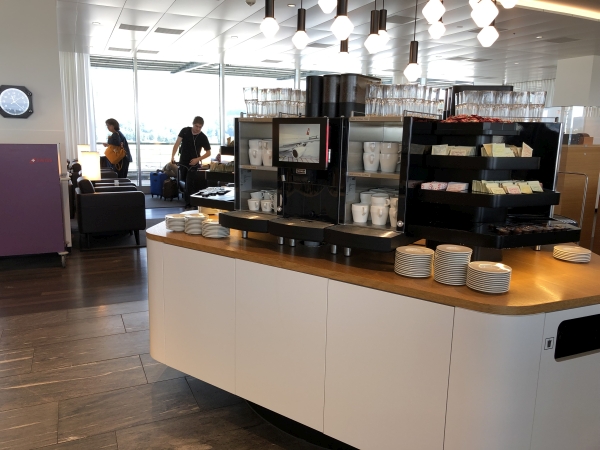 …. and opposite the coffee machines was a good selection of wines and prosecco.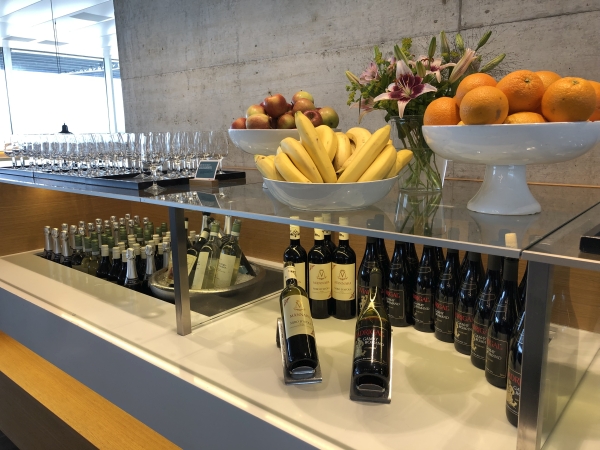 The lounge was very bright with floor to ceiling windows facing the tarmac.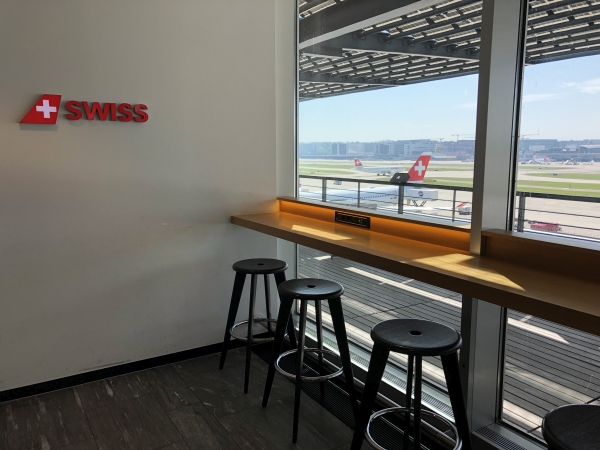 One plus was definitely the outdoor space, especially as it was gorgeous sunny day (no smoking allowed).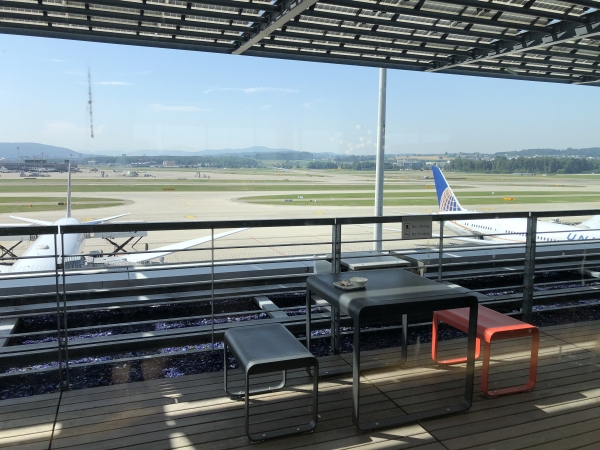 Here's another picture of the main area with the made to order food kitchen at the far end.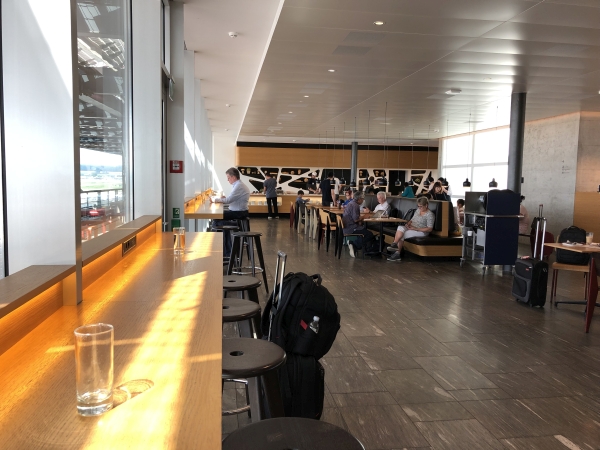 Other areas in the lounge included the 'work area' (a number of small office cubicles) and a relaxation area: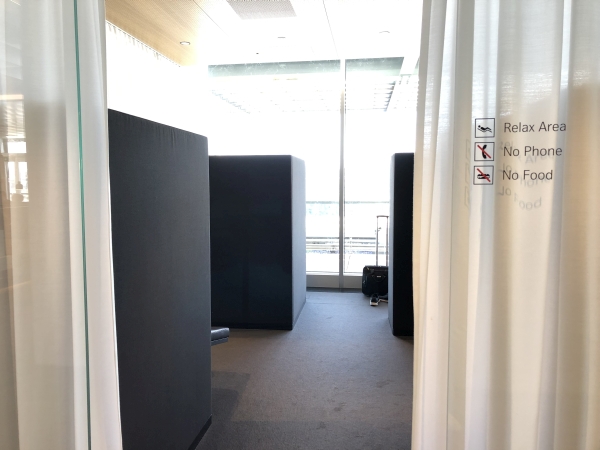 Conclusion
All in all I enjoyed my short stay in the SWISS Business Class lounge. The lounge was bright and inviting, the atmosphere calm and the food and drink selection great. It's definitely a lounge where you won't mind spending a couple of hours waiting for your flight.
The lounge is open from 6am – 10:30pm Monday to Sunday and can be accessed by ticketed First and Business Class passengers or Star Alliance Gold / Miles & More Frequent Traveller (Silver) members. That said, Star Gold members should preferably use the Senator lounge and First Class passengers should use the dedicated First Class facility.
You can find out more about all of the SWISS lounges in Zurich Airport on their website here.
Tomorrow I will take a look at SWISS Business Class as I head to Chicago – click to read that review.