Review of the new Lomond Lounge at Glasgow Airport – is it worth £40?
Links on Head for Points may pay us an affiliate commission. A list of partners is here.
This is our review of the brand new Lomond Lounge at Glasgow International Airport.
It is part of our review series covering most (we're getting there!) lounges at UK airports. You can see all of our airport lounge reviews here.
The Lomond Lounge was part of Rob's 'seven most exciting UK lounge openings' post from May this year. It is an uber-premium offering at Glasgow Airport, owned and operated by the airport itself. It is the upmarket sister of the Upperdeck Lounge which we reviewed here.
We were so intrigued by this concept that I flew up to Glasgow to take a look. For clarity, we paid the £40 entrance fee ourselves and the airport did not know we were visiting.
You can find out more about the lounge – and book visits for cash – on its website here.
If you want to know about Avios redemption ideas from Glasgow, this HFP article looks at Avios flights from UK regional airports.
Where is the Lomond Lounge at Glasgow Airport?
The Lomond Lounge is situated in the retail area of the concourse, before the gates. If you have been to Glasgow Airport before you will know it is not the easiest to navigate …. coming from another another flight, this means following the signs for gates 27-33. The lounge is on the first floor, above the majority of shops and restaurants: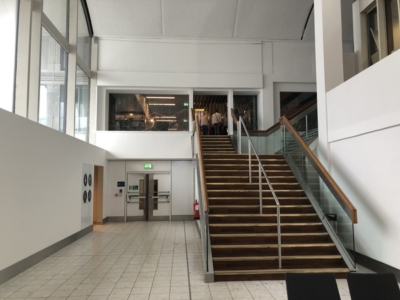 I was quickly welcomed and checked in to the lounge by the staff, before being given a quick tour of the facilities. The lounge is split into several zones. This includes a small TV area off to the right hand side: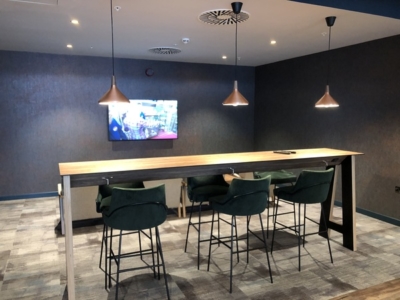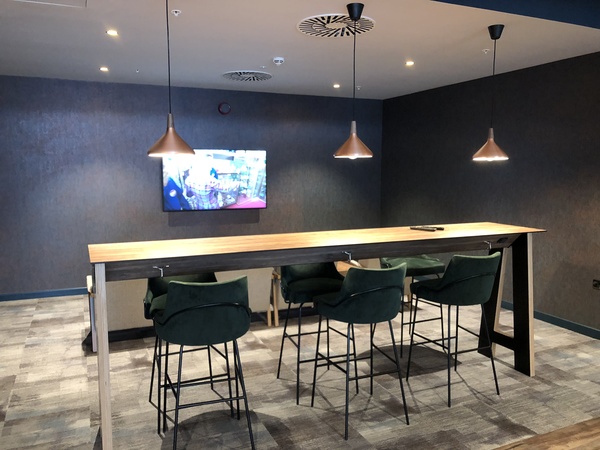 The main dining area, flanked on the right by the bar and at the far end by the buffet: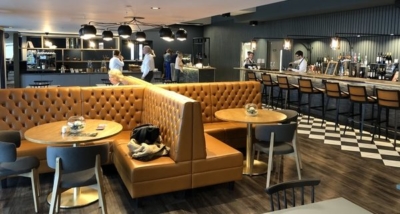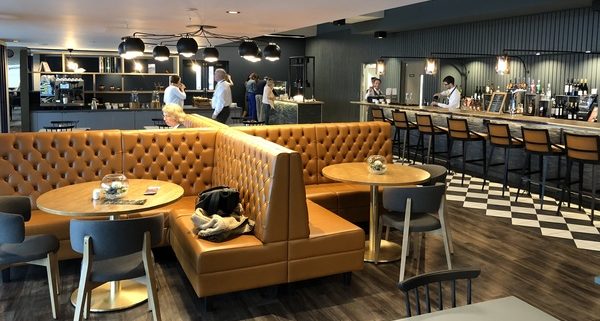 As well as more casual seating alongside the window side, which has excellent views of the gates and the hills in the distance: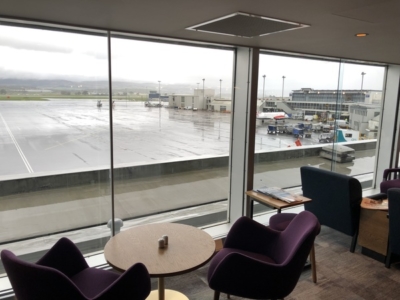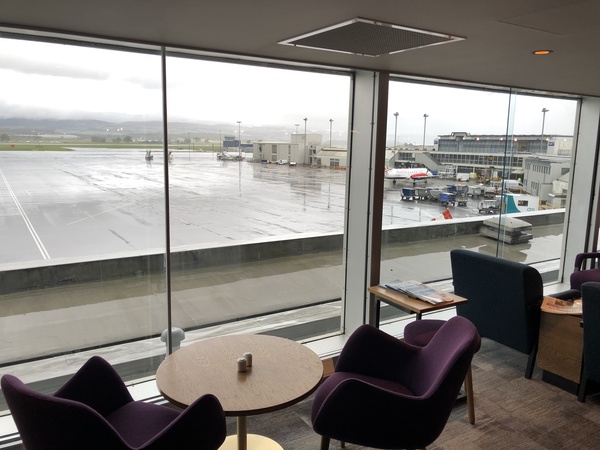 and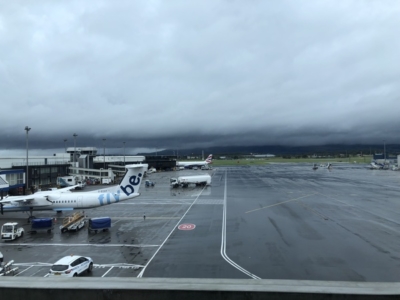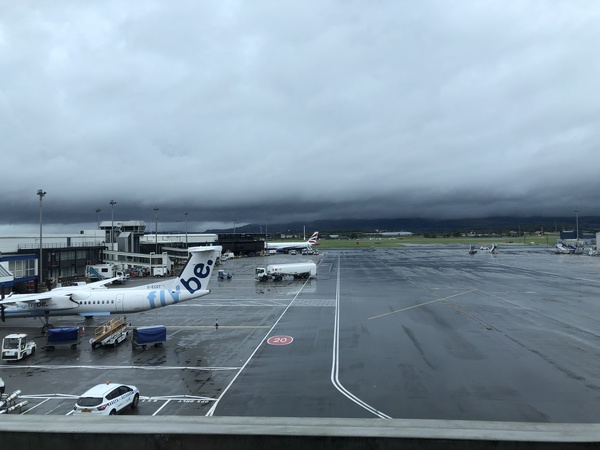 As you can see, the lounge was fairly quiet. I was there for about 4 hours and this is as busy as it got. Towards my return flight at 5pm I was almost the only person left!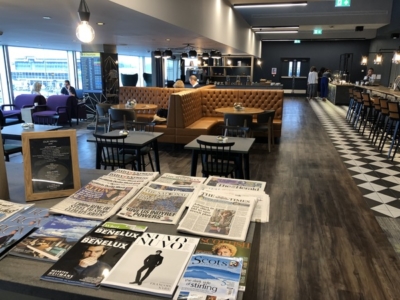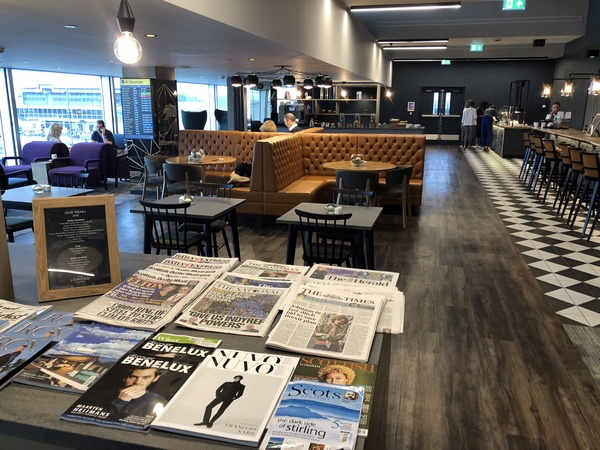 Food and drink in the Lomond Lounge
The buffet is very small, and features a range of cold nibbles including smoked salmon: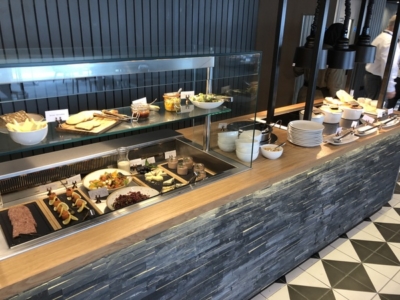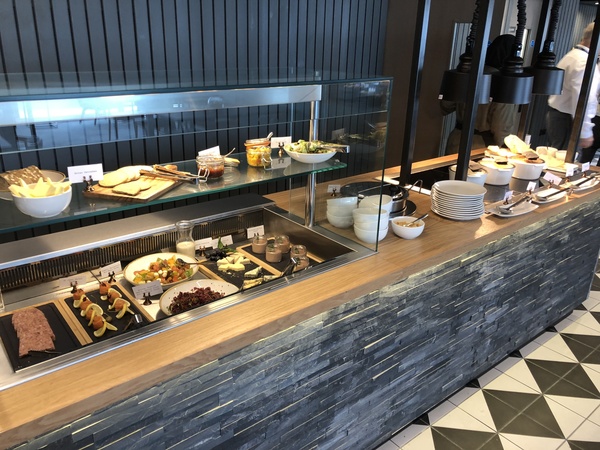 … as well as a few hot options which included a stew and chicken tikka masala curry with associated sides: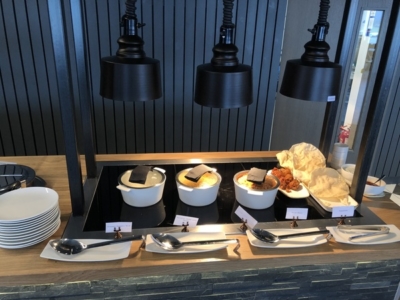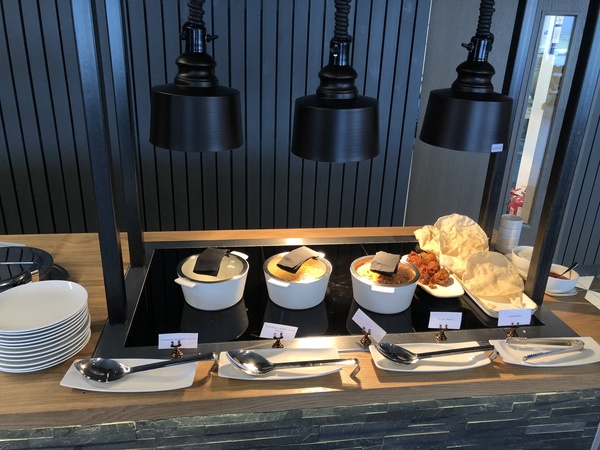 The reason the buffet is so small is that the lounge also has an a la carte menu, which is available all day. This is available via waiter service throughout the lounge. The options were:
Lomond Burger with Triple Cooked Chips
Fresh Baked Pizza
Toasted Bloomer Sandwich served with Kettle Crisps
Fish and Chips
Lomond Vegan Burger
I chose the Lomond Burger, although I asked for it without the chips. This is what I got: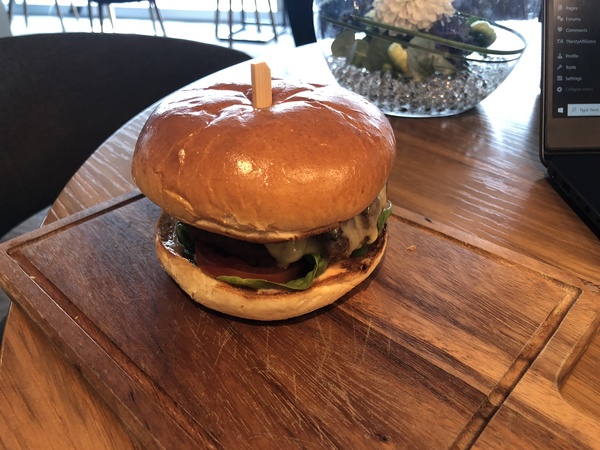 I thought it looked very smart – not overfilled and impossible to eat like some burgers, or overly greasy – and it tasted good, too. It is not fine dining but it is as good as anything you would find in any of the airport restaurants or indeed any normal pub offering.
In terms of beverages, hot drinks are available via some machines, with an extensive range of teas, coffees and hot chocolate, too. There is also a water station with normal water as well as fruit-infused waters: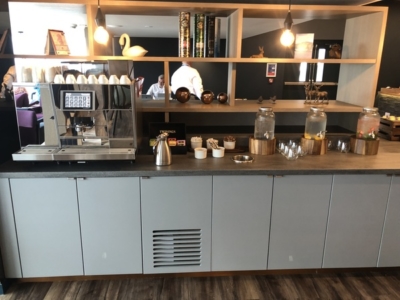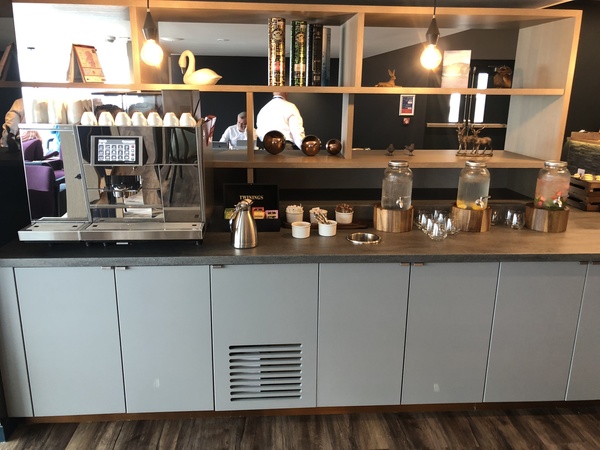 Other soft drinks as well as alcoholic drinks are available from the bar or via the table service.
During my stay I had a gin and tonic and was given a choice of Gordon's, Bombay Sapphire or Hendrick's gin. I also had a glass of champagne, which I believe was Rodier Pere et Fils, which typically sells at retail for around £23 per bottle.
There is no limit to the amount of drinks you can consume and the staff are very proactive in offering to get more when they collect your empties. In general, the staff are excellent – always friendly and happy to help. And who can resist a Scottish accent?!
Connectivity
Connectivity varies where you are in the Lomond Lounge. There are regular plug sockets serving those sat in the windows, and plenty under the bar as well.
If you are sat on one of the tables in the dining area it is not quite as easy, although there are plenty to be found on the structural pillars, if you are close to one.
In terms of Wi-Fi the lounge normally has its own network, although I was told this was currently undergoing maintenance. It was suggested I use the general airport Wi-Fi which offers 1 hour free. However, since I was staying longer I reached the hour and was unable to refresh the connection without waiting for 11 hours.
After a quick conversation with the lounge staff it was clear there was no alternative, despite the ability to use a voucher code to extend the Wi-Fi. Since I was working I ended up purchasing 3 hours of Wi-Fi for £5. You can also get 1 hour for £3 or one day for £9 as well as monthly and annual passes. I thought this was poorly handled by the lounge, which should have instead given out voucher codes.
Bathrooms
The Lomond Lounge toilets are sort-of behind the bar, which sticks out a little. There are two female and two male cubicles although – as you can see – all the cubicles are self-contained, with their own sinks and driers.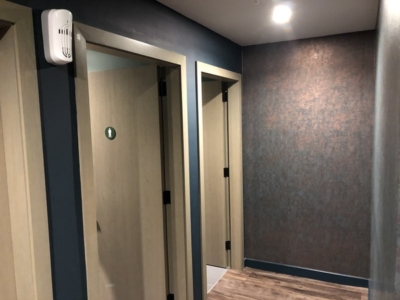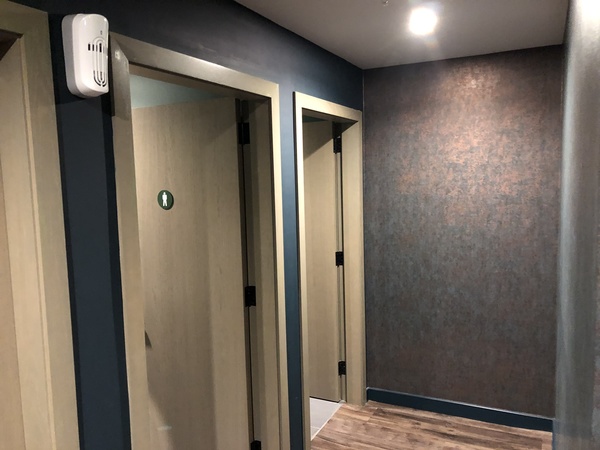 They are, essentially, gender-neutral toilets so I'm confused by the need to label each one for a specific gender! It makes no sense, and is not a very efficient way of doing it.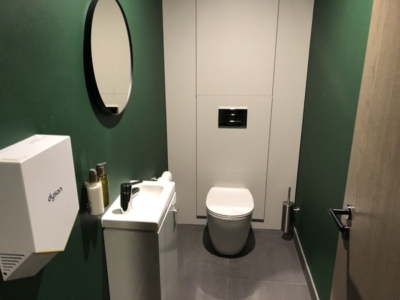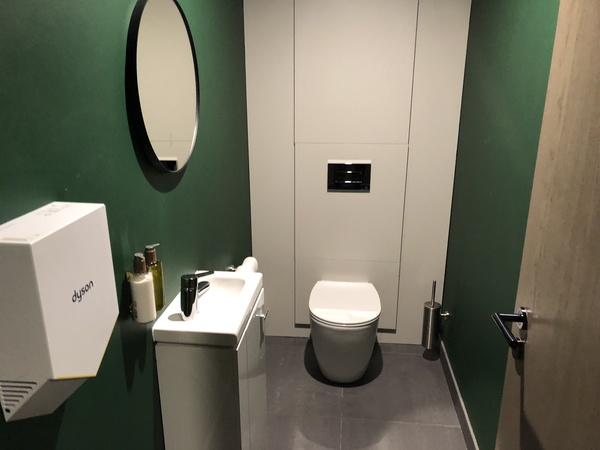 They are stocked with Arran 'After the Rain' toiletries.
Who gets access to the Lomond Lounge?
Bad news for anyone with Priority Pass, LoungeKey, Lounge Pass or DragonPass – the Lomond Lounge is available only to paying customers.
(In the early days we heard reports of it offering a 'buy up' to lounge card holders, but this is not official policy.)
That means that, no matter what lounge passes you have, you'll have to pay the £40 entrance fee. This is the same both booked in advance on the Glasgow Airport website here or on the door.
For comparison, £40 is also what you would pay to enter The House (the former Etihad lounge) at Heathrow before any discounts.
Conclusion
The Lomond Lounge at Glasgow Airport is a very classy affair. The space itself has been utilised well and zoned into a range of areas that cater to different needs. The views of the tarmac are excellent, and the lounge has been stylishly furnished and fitted.
Although the buffet is small, the a la carte menu delivers freshly prepared, high quality food that you would never find in a buffet. You can also get your fill on the large range of drinks available at the bar, including a cocktail menu as well as more premium spirits such as Hendrick's, which you don't often find in lounges.
The service is exceptional with plenty of staff around that will bring you food and drinks to your table.
The only problem I had was with the WiFi. Whilst I understand that maintenance must occur, I felt the lounge could have handled the issue better and offered alternative access to guests, instead of leaving them high and dry.
Nonetheless, the Lomond Lounge is a fantastic lounge that rightly commands a high cost of entry. It would be great to see this lounge join the various lounge networks, even if it included an additional entry fee. We have seen this work with the Clubrooms lounge at Luton Airport and no doubt it would also work here.
You can find out more, and make cash bookings, on the Lomond Lounge website here.