Rob's travel highlights (and lowlights) of 2022
Links on Head for Points may pay us an affiliate commission. A list of partners is here.
Yesterday Rhys gave a comprehensive run-down of top recommendations from his very extensive travels in 2022, virtually all of which we documented on the site.
My end of year review is different. Ever since HfP started a decade ago, I have rarely written about my personal travel. This is mainly because I have had children ever since the site started, and travelling with kids impacts so many elements of what you book and do that any review becomes irrelevant if you don't have kids the same age. Frankly, it is also a relief not to spend my holiday taking pictures of every meal ….
This means that much of what I talk about below hasn't already been discussed on the site. If you have any questions about any of the resorts mentioned, please drop them into the comments.
Around May 2022 I had a mini crisis of confidence in my ability to review hotels. I'd done a number of stays in a row which I had found underwhelming, despite having suites in all cases.
It was niggling me. Had I become a grumpy old man who was unable to find any pleasure in totally acceptable luxury hotels? Or had I simply had a run of bad luck, exacerbated by covid staffing issues?
The year had started well …..
2022 started well with a couple of impressive airport hotel reviews. I found both Moxy London Heathrow Airport and Courtyard London Heathrow Airport to be high quality and good value hotels, belying their star ratings. There really is no need to pay more, however fussy you are. Both can be booked with Marriott Bonvoy points.
(I should also give an honourable mention to Ellmauhof, our regular February half-term ski hotel in Austria, which remains a great independent family ski property in a village which is pretty much given over to kids ski lessons. Summer photo below. This can't be booked on points.)

The rot set in during April:
at Le Meridien Hamburg, reviewed here, I was given their top suite via a Marriott Suite Night Award which didn't do it for me (too big, a bit dark, delays at check-in) despite being theoretically amazing – my review is more positive because I was trying to be objective
at St Regis Venice, opened at ludicrous expense, I thought the entire hotel was having a laugh. I was upgraded into a tiny suite with no view, the hotel only opened its canal side bar for half the week (not the half I was there) and on my last day it 'sold' all of its outdoor space for a wedding. Why would you pay a four figure nightly sum when you're not even allowed onto the canal terrace due to a function? Uncollected room service items hanging around and being ignored for 20 minutes at breakfast didn't help.
at Sheraton Frankfurt Airport, also refurbished at great expense, I found a hotel where the lobby bar and business centre were shut, the rooms lacked coffee machines or functioning wi-fi and it had one of the worst club lounges I have ever visited
I did these three stays within the space of six weeks and all had underwhelmed me. Was I losing my touch? Or were they just rubbish?
Top picks #1: One&Only Le Saint Geran, Mauritius
Recovery started in Mauritius in May.
I had managed to get four Club World seats to Mauritius over May half term which was a result. We stayed at One&Only Le Saint Geran which had been through a top to bottom refurbishment and extension just before the pandemic. (Quick plug for our luxury hotel booking partner Emyr Thomas who sorted this for us and got some extra benefits thrown in.)
Ignore anything you may read about this place from pre-2019. The quality of the rooms is now exceptionally high. I can honestly remember walking around and thinking 'yes, this is good, I still know it when I see it'.
Two room photos are above and below. I wasn't won over by Mauritius but that is partly because we underestimated how big it is which meant we couldn't see everything. If we returned we would stay elsewhere but only to be nearer to what we missed.
You can't book One&Only hotels on points, unfortunately. It doesn't even have its own loyalty scheme although you can earn miles in Emirates Skywards from your stays.
Top picks #2: Park Hyatt New York
Park Hyatt New York turned out to be another joy. Based in one of the new 'super skinny' towers overlooking Central Park, my review says 'Park Hyatt New York is a supremely classy hotel which oozes wealth from every pore.'
On paper there are things which are wrong about this hotel – lack of public space, lack of park views – but it has style in adundance. I was at St Regis New York two months later in a full suite and would have traded it for a standard room at the Park Hyatt. (The photo below is, amazingly, of their most basic room.) The same goes for the studio suite I had at Thompson Central Park New York a few weeks ago.
Whilst cash rooms here are extortionate, you can buy World of Hyatt points in their current promo and save well over 50% on peak dates.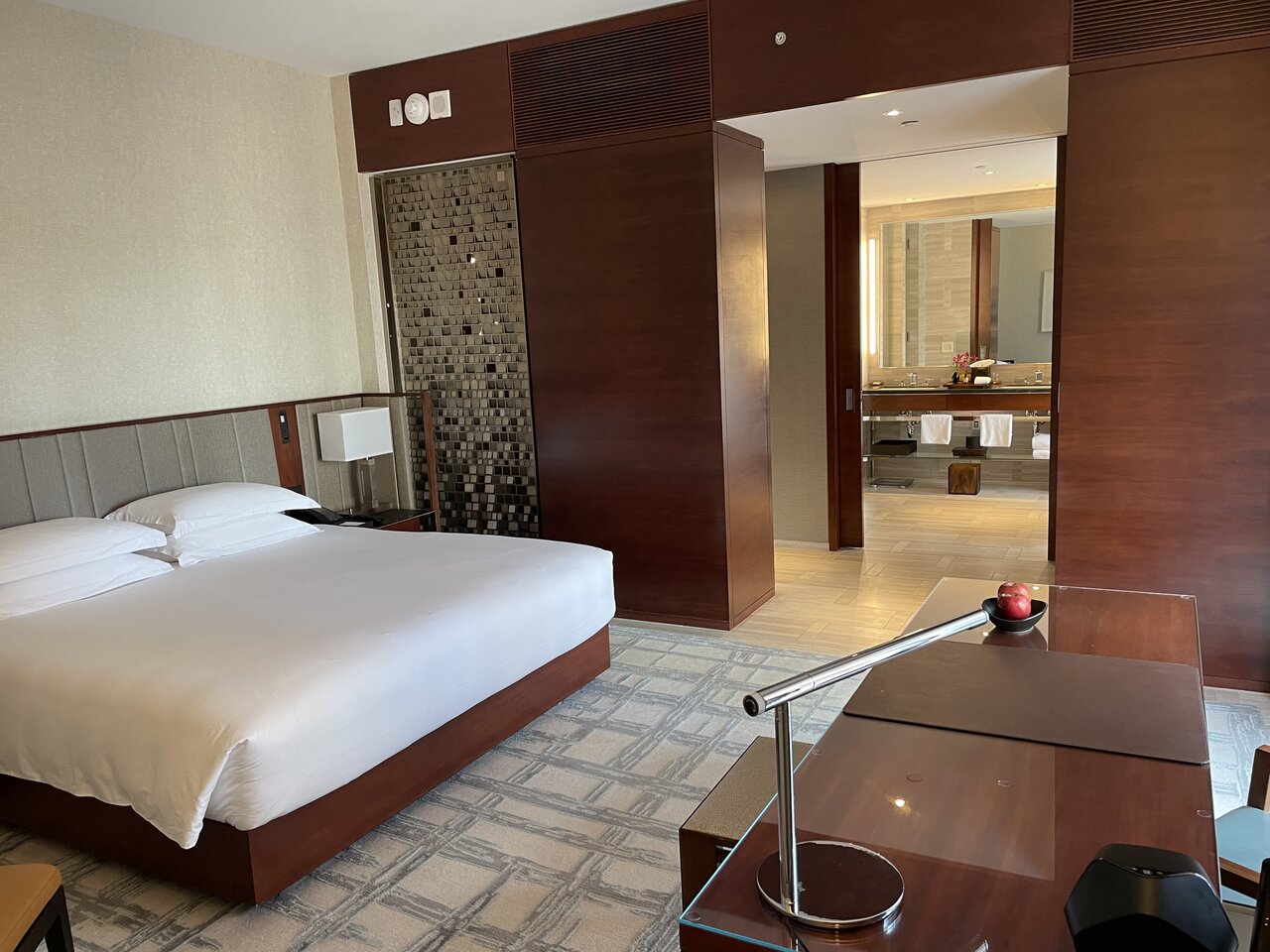 Top pick #3: The University Arms, Cambridge
My third favourite is perhaps surprising …. The University Arms in Cambridge, part of Marriott Bonvoy.
I stayed there in 2020, my son and I got a bad room (my wife and daughter got a better one) and we failed to get a restaurant table. I could tell, however, that if done properly this could be a great place to stay.
My daughter did a Summer school in Cambridge this year so we ended up spending two weekends there. On the first my wife and daughter got a 'turret suite' on the roof (the bathroom is in a turret – see below) with a huge terrace which was great. My son and I had a first floor suite which was impressive but had some noise from the park.
On our return stay, I got the Stephen Hawking Suite, the biggest in the hotel. Very impressive, although I preferred the turrets and terrace we had previously! These were all via Marriott Suite Night Awards. I would put this hotel in my 'top 5' of 'hotels outside the M25'.
Top pick #4: Villa Dubrovnik
We did 10 days across Dubrovnik and Montenegro in late August. The opening of two luxury hotels in Boka Bay – IHG's Regent Montenegro and One&Only Portonovi – means that you can now spend 7-10 days in the area. Dubrovnik is good for three days but you need something more, and these two hotels – just down the road – offer it. Hyatt is also opening in the area next year.
Villa Dubrovnik is a stunning property which, again, is greater than the sum of its parts. I just realised that I have no room pictures. Here is the 'James Bond villain lair' entrance from the road – all you have is a lift, which takes you down into the hotel which is built into the cliff face. It is a beautiful place, although it has no beach, just rocks into the water.
Villa Dubrovnik can be booked on IHG One Rewards points via their partnership with Mr & Mrs Smith.
We moved on to One&Only Portonovi. This was built at ludicrous cost – it must be the most expensive resort ever built in Europe – for rich Russians, frankly. Whilst the Russians aren't coming these days, you can't avoid the ludicrous room decor which screams 'plutocrat'. This is room decor you expect in New York, not a beach resort:
That apart, it is a stunning hotel covering 60 acres. It looks and feels like a Dubai luxury resort and I mean that as a compliment.
I strongly recommend Montenegro. One option if you don't want to see Dubrovnik again is to fly to Tivat, which is literally just a few minutes drive to IHG's Regent Montenegro. You can hire boats from there, or join group trips, to take you around the bay to Kotor which is basically a mini Dubrovnik. One&Only is across the bay from Tivat and would require a boat transfer or a disproportionately long drive.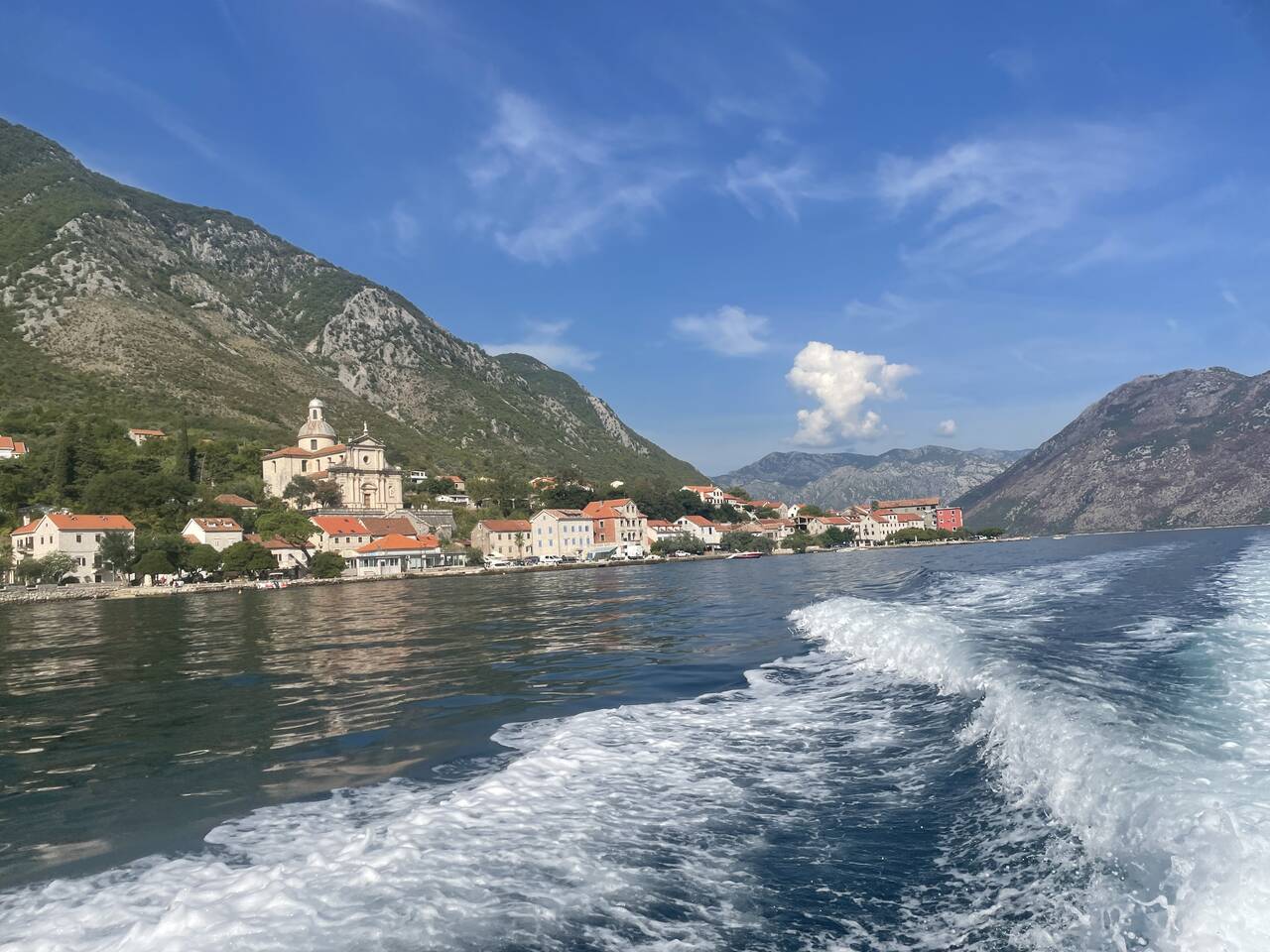 Top pick #5: The Thief, Oslo
I'd had one disappointing day in Oslo about 25 years ago. I went back this year for one night on a glorious August day, staying in the waterside boutique hotel The Thief – review here.
I booked this at a substantial discount (71% off) by buying Choice Privileges points.
Spending an evening around the redeveloped harbour area in the sun was delightful. The weather may have impacted my thoughts about the hotel – I can easily imagine how I could have felt differently had it poured it down for the short time I was there – but The Thief is a classy piece of work however you look at it.
Top pick #6: Andaz Prague
I won't say anthing about Andaz Prague because a full review is coming up. You can book it with World of Hyatt points. It is a stunning property, and you can't dislike a hotel where your suite comes with its own conservatory:
One downer …. Al Maha Desert Resort, Dubai
We need to talk about the Al Maha Desert Resort in Dubai, which is part of Marriott Bonvoy.
I had planned to review this again – we ran a comprehensive two-part review of Al Maha from our PR guru Caroline back in 2019 – but I couldn't find a fair way of doing it justice.
My problem was that I didn't like it. My kids didn't like it either. The snag – in terms of the review – was that we didn't like it because this was my 4th 'tented camp' trip and their third. Al Maha doesn't compare, at all, with The Ritz-Carlton Ras Al Khaimah Al Wadi Desert resort in Ras Al Khaimah, 60 minutes down the road. I reviewed Al Wadi Desert here.
If you've never been to a tented camp resort, I'm sure you would be stunned by Al Maha. Once you've done a few, though, you ignore the gazelle that walks past your table during dinner (true story) or wanders by your private pool whilst you're swimming. You start to focus on the cracked sinks, knackered coffee machines, bizarre pricing (it's all-inclusive, except when it's not) etc.
I've run a couple of photos here. It looks cool, I admit. The camel ride is fun. If you've got Marriott Bonvoy points, stay here. If you're thinking of paying over £1,000 per night in cash, have a look at the Ras alternative. I should stress that Ras is more of a full resort in the desert. If you want to be more in touch with nature – although this is obviously relative when you have a huge private tent with your own pool – then Al Maha is better.
This Flyertalk thread on Al Maha has some griping from me dated late October / November (screen name 'Raffles') with a lot of feedback from others who love the place – start from post 1585. I know some people go there for multiple weeks every year. I won't be joining them.
I should add, in fairness, that our trip was also messed up by my wife having to dash to Germany the day before we arrived due to a family emergency. This obviously impacted the stay and is another reason why I hesitated to write a full review.
Other mentions
I don't know if you trust a one line hotel review, but if it helps you with your own plans in 2023 here are some quick thoughts:
Kimpton St Honore Paris is running a lot better than it did during my 2021 stay. A one nighter in 2022 was impressive, albeit helped by a decent upgrade to a suite with a balcony. Book with IHG One Rewards points. I am still having issues with InterContinental Paris Le Grand, directly across the road, since the amazing club lounge was moved and downgraded although the food offering recovered a little this year.
Madinat Jumeirah in Dubai continues to be, unquestionably, the best leisure resort developed anywhere in the world this century. I think we've now done over 100 nights here.
I had two stays at InterContinental Amstel in Amsterdam. I love this place because it is quiet and classy but I admit the rooms are a bit odd. A full refurbishment is about to start – whether it remains an InterContinental remains to be seen. It is nothing like any other InterContinental. Book with IHG One Rewards points, and join InterContinental Ambassador to get a '2 for 1' weekend voucher.
Two weeks ago I had my final stay at Park Hyatt Hamburg, which was (it is now closed) probably my wife's favourite hotel of the world. The recent news that it will eventually reopen as a Conrad was some end-of-year consolation.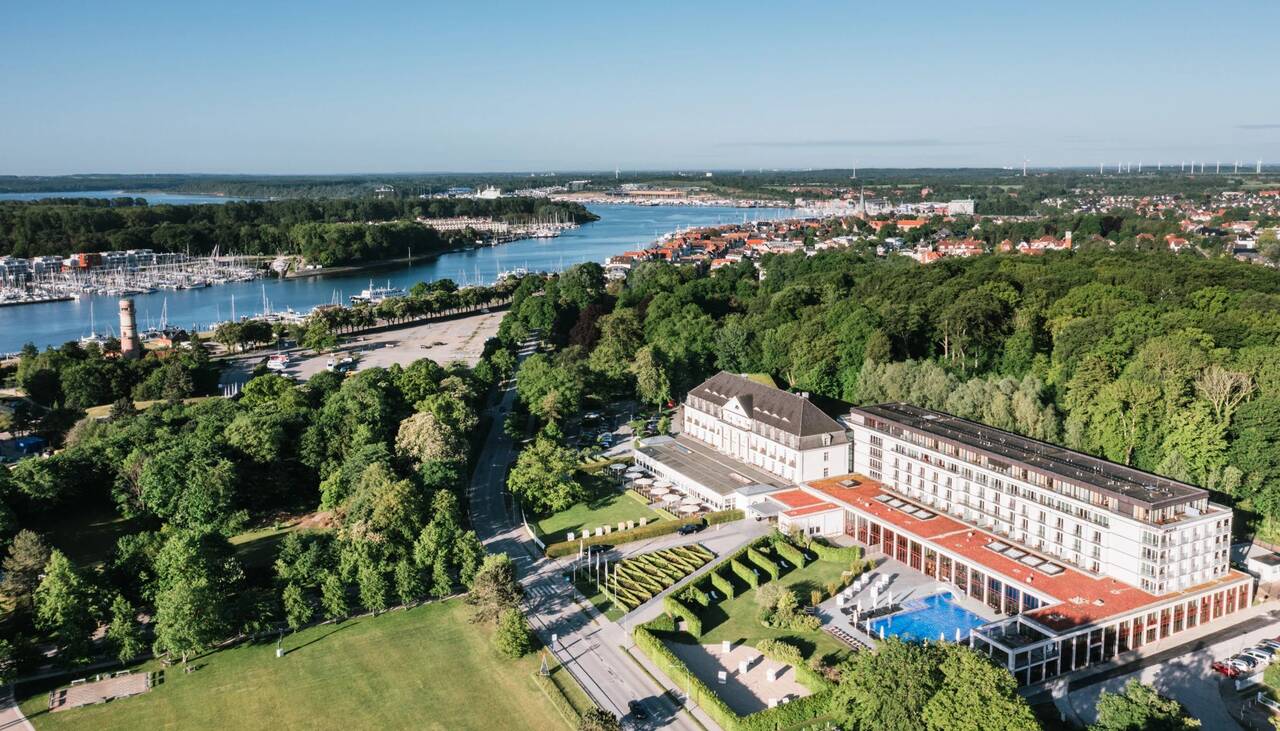 Finally, for somewhere really obscure, I was back at A-Rosa Travemuende (above) in April with my in-laws after a 7-8 year gap. Few people know that Germany has a lot of 5-star beach hotels and this one sits on the Baltic coast in a little seaside town – a little seaside town with not one but two 5-star resorts. There is no logical reason to ever go there BUT if you are in Hamburg for business, and it's Summer, I would stay on for the weekend and pop over. Even better, everyone in Travemuende speaks English because the nearby ferry terminal handles tourist traffic from Scandinavia. You can't book this hotel with points.
Conclusion
Despite a wobbly start, I ended the year with my faith in the power of hotels to deliver a fantastic experience restored. I'm talking about an experience which goes far beyond just providing a bed for the night, but which brings some extra joy – either through design, food, pool, spa or amenities – into your life.
In terms of 2023 …. I have a (rebooked due to the delayed opening) Kimpton Mallorca stay at some point. I still need to try Fairmont Windsor Park which is bizarrely under the radar – no-one I know has ever admitted to staying there. I am facing three weeks in Crans-Montana in Switzerland in August whilst my daughter does a Summer camp, which will be interesting. There is also a 10-day family trip to Boston and New York pencilled in for Easter which may or may not happen …. the flexibility of miles bookings is invaluable.