I haven't read everyone's posts yet on the offer. However a reminder of the following

1. Creation would be offering nothing unless the FOS had told them they were fair and square in the wrong.

2. Each person's contract with Creation for a card is individual. I would accept nothing until Creation confirms to me personally the number of IHG points they will refund to me personally and I've checked it.

I also want more see 4. below. I'd ask for +25% and negotiate. More if my particular hotel I was going to spend the points at, is now 270,000 points, was 90,000 when Creation should have awarded the points, and if I've gotnan air ticket booked, adjacent nights at the old rate, had to pay out cash etc.

3. I also want to know the exact amount of refund of card fee I've personally been offered. I expect a refund of card fee to include a full refund for any month or day when I was not provided all card benefits at that time. It's no good paying points and nights late – if the person was not credited at the correct time then regardless of being told 1 or 2 years later by the FOS, I was not able to have access to these key benefits of the card in full so I'm not paying the card fee for any month when any card benefits were withheld.

4. Given the time value of money/spend (inflation/interest), huge intervening inflation in hotel costs in general, and noting that in particular, in the [1 or 2 years] since the time when the points were earned correctly and should have been credited, IHG has made program changes resulting in hotels [mention any targeted or previously stayed in by the particular cardholder) now costing many timew the points. This is a direct loss to me caused by Creation's misbehaviour and breaches and so this should also be compensated to mw as part of Creation making it right.

I note that if the points had been credited on time and in accordance with the contract, if I had received the contracted benefits at the time, any such risk of price or rule changea would be my responsibility and risk.

However by their misbehaviour Creation has caused this risk to crystallise for me resulting in a loss of at least £x for me personally, aa had I received the contracted benefits at the correct time I would have spent the points at the rates and rules operating in the IHG program at that time. Creation's settlement therefore needs to take account of this in my case and I would suggest a minimim uplift of £x or x points to compensate time risk and the deterioration in pointa value for my use that has crystallised for me only due to Creation's breaches.

5. Offering to pay free nights 'to those eligible' does not remove JDB's elephant from the room, that if due to Creation's actions you didn't reach the next card anniversary, even though you'd spent enough Creation could, amazingly, still try not to give you the free night.

I'd tell them I need it in writing from Creation that I personally will be awarded the x free night(s) I am due, the points value of nights they can be used on will remain uncapped, and that each night will be valid for a minimum of 12 months.

Partially earned nights shoukd also be compensated pro rata aa Creation did have the right to terminate, but did it in an incorrect manner so I should receive pro rata what I've earned.

6. I'd ask "In addition to the above to put me back into the position I would have been in, what is Creation's offer for time, effort and stress caused".

"Once the above are clarified exactly to me in relation to my personal case, I expect to be able to respond promptly and favorably".

Remember, your contract is individual.
Creation should be making a specific offer to everyone.
FOS may wish to get acceptance of the principles of the offer, but without specifics there's too much risk Creation will drag it out and require more work by the cardholder because they will fail again.

Apologies for the length of the above quick thoughts.

We're nearly home, guys
You must be logged in to reply to this topic.
New to Head for Points?
Welcome! We're the UK's most-read source of business travel, Avios, frequent flyer and hotel loyalty news. Let us improve how you travel. Got any questions? Ask them in our forums.
Win 1 million Avios when you apply for a Barclaycard Avios credit card by 2nd April. Exclusive to HfP readers.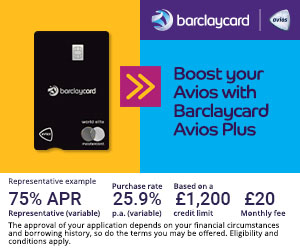 Check reward flight availability instantly for free!
Booking a luxury hotel?
Our luxury hotel booking service offers you GUARANTEED extra benefits over booking direct. Works with Four Seasons, Mandarin Oriental, The Ritz Carlton, St Regis and more. We've booked £1.7 million of rooms to date. Click for details.