Review of New York to Berlin on airberlin in business class (40,000 Avios + £1.50)
Links on Head for Points may pay us an affiliate commission. A list of partners is here.
This is the 6th and final part of a series of airline and hotel reviews covering my trip to New York. To recap (since it is almost two weeks since the previous part of this trip report!), I have just checked out of the Conrad New York hotel and headed off to JFK airport.
Click the links to read Part 1, Part 2, Part 3, Part 4 and Part 5.
I have written quite a bit about airberlin in recent months on Head for Points. This is because it offers interesting long-haul redemption routes (some of which are not available on BA at all) along with very low taxes and surcharges on redemptions.
I was therefore keen to try them out for myself, as I keep recommending them to other people! And, as it turned out, this trip was the ideal opportunity. I needed to be in Hamburg anyway after this flight, which is a relatively modest train ride from Berlin.
The cost of the airberlin one-way business class flight from JFK to Berlin was 40,000 Avios plus just £1.50 of taxes!
This is well over £200 less than BA want in taxes – albeit that unless you need to be in Germany you also need to factor in 4,500 Avios plus £15 for a one-way Reward Flight Saver flight on BA from Berlin to Heathrow.
The ground experience
airberlin uses Terminal 8 at JFK, which is the American Airlines terminal. I was checked in promptly (two business class desks open, one person ahead of me at each) and was given a fast track pass for the security line. This is well worth having in the US!
Once past security (which was only my second experience of a 'nudoscope' scanner, the first being Moscow about seven years ago), you are directed up the lifts to the American Airlines lounge complex. There is the standard lounge and the 'Flagship' lounge. You would need a BA (or other oneworld) Gold card to get into the 'Flagship' part, which I don't.
US airline lounges are generally derided as unbelievably poor. This one, being AA's US flagship, was OK. They have certainly spent a lot of money redecorating it recently. Here is a stock photo: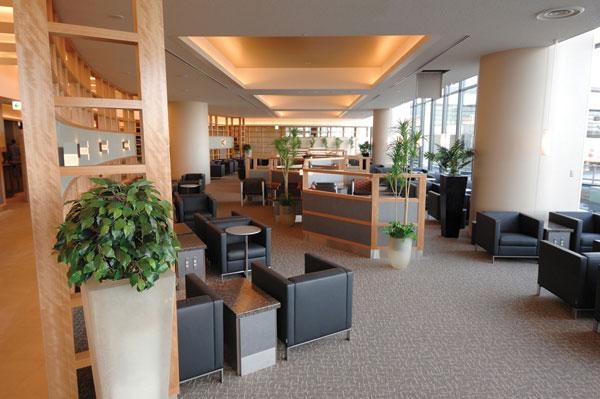 However, the core problems remain. You must pay for any food you want (apart from snacks like apples) and for any drink you want. I was given 1 free drink voucher as an airberlin customer.
The lounge was spacious enough and, whilst busy, was not overcrowded. There was a large bank of computers available (free!) so I passed the time before boarding on those.
Whilst some (all US) newspapers were available, weirdly there were no 'real' magazines. The only options were those weird free titles which you never see outside airport lounges.
On board
I was not surprised to see that I got one of the old-style airberlin business class planes, since there are only two currently flying with the fully-flat seats.
The old layout is a 2 x 2 x2 layout, with 3 rows by the windows and 4 rows in the middle. I took the 2nd row in the middle block, to ensure that no-one would need to climb over me during the night.
All 20 seats were full. I don't know if people had been upgraded or if this is simply a popular and/or cheap service to get to Europe. It would not have been full of redemptions, since airberlin appears to cap these at 2 business class seats per flight.
Because it was a full flight, I felt too conspicuous taking photographs! These stock photos gives you a decent impression of the seat, though.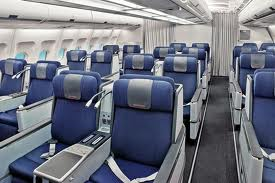 and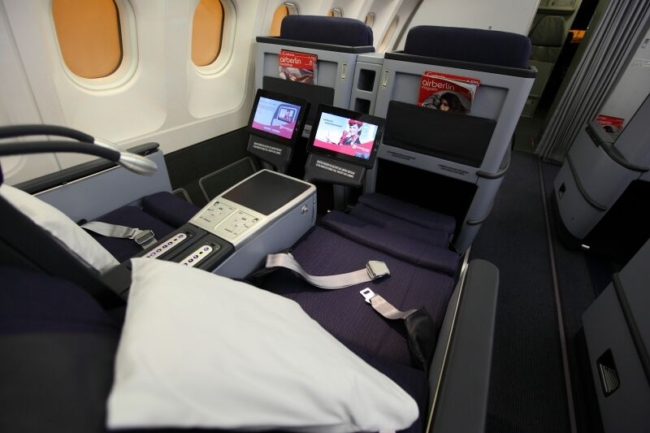 The slope towards the floor is certainly steep. However, to be honest, I did get a few hours sleep so it can't have been too bad! As well as the slope, there is no real privacy from the person next to you. You even need to share the armrest table when putting down your drink.
In terms of leg room, you are better off in Row 1 by either of the windows, since the gap between the seat and the bulkhead is huge. However, unless you are travelling as a couple, you will either have to climb over someone (or be climbed over yourself) to reach the aisle. The benefit of the middle pair of seats is that you and your neighbour both have direct aisle access.
Shockingly, airberlin is a champagne-free airline, it seems! Pre-departure, I was offered a glass of prosecco, which I drank but was not impressed with.
Food
The food was the most impressive element of the flight. Like most airlines, airberlin has teamed up with a well-know restaurant – in this case the Sansibar restaurant in Sylt – to create its menu.
(Sylt is the German equivalent of Martha's Vineyard, and is where the German rich and famous go on holiday. The film of 'The Ghost' was shot there. It is almost totally unknown to non-Germans, though.)
Here was the menu:
Appetiser (you get both!):
Jicama olive salad
Grilled beef tenderloin slices with radish salad, pomegranate seeds and horseradish
Main courses:
Chicken breast in a dark grape sauce with roasted red and yellow tomatoes, brussel sprouts and saffron flavoured parisienne potatoes
Grilled wild boar mignon in a delicate blueberry sauce, yellow wax beans, broccoli florets, leek and yukon gold potato mash
Seared monkfish with pork belly, zucchini and potato gratin and cherry tomatoes in lemon oil
Three cheese ravioli in a pepper sauce and a herbed alfredo sauce garnished with baby artichokes
Dessert (you get both!):
American cheese cake
Goats cheese button and gouda
It is served on one tray. The two appetisers and two deserts come at the same time on the same tray! Once you have eaten the appetisers, the main course comes.
I had the monkfish with pork belly. And it was fantastic. For once, the airline had created an off-beat meal from the menu of Sansibar and made it work at 36,000 feet.
The wine list was eclectic, to put it midly, although was a decent selection with three whites, a rose and three reds. No champagne on airberlin, but they did serve a Prosecco Spumante from Italy.
Breakfast was served nearer our arrival. Annoyingly, though, it was not near enough. The lights in the cabin went on, I woke up and so I had the breakfast. This was one tray containing yoghurt, a fresh fruit plate, croissant, butter, cream cheese and jam.
However, once I'd eaten it (it didn't take long ….!) there was still well over an hour before landing. They could have let us sleep for another hour.
Landing at Berlin Tegel
This was to be the end of my NYC trip. Tegel Airport had a surprise up its sleeve.
I was 4th or 5th off the plane. Passport control is AT THE GATE, so you are guaranteed to have no-one ahead of you if you are first off.
If you have baggage (I didn't) then that it also delivered to a carousel at the gate. No walking required.
And then, most impressively, the walk from passport control to the taxi rank took about 30 seconds! I was actually through passport control and in a taxi within about 90 seconds of leaving the plane! Tegel is also very close to the centre, and within 15 minutes (a €20 ride) I was in Postdamer Platz. Shockingly efficient!