Preparing for Summer Part 3 – are Avios or BAEC 'cash passports' worth a look?
Links on Head for Points may pay us an affiliate commission. A list of partners is here.
This is the third is my series of articles this week looking at maximising your points when booking your Summer holiday. I have already looked at airport car parking and using credit cards abroad.
Today, I want to look at the Avios Cash Passport and the brand new British Airways Executive Club Multi-Currency Cash Passport, which has just been launched.
Both cards are issued by niche private bank R Raphael & Sons in association with Travelex.
The Avios card is a pre-loaded Mastercard which can be loaded in £, US$ or Euros – but only one currency per card. The British Airways card only comes in one version but can carry simultaneous balances in seven different currencies – £, €, $, Australian Dollars, New Zealand Dollars, Canadian Dollars and South African Rand.
Both cards can be used to withdraw money from cash machines as well as buying goods anywhere that accepts MasterCard. These cards tend to be aimed at two markets – young people or those with poor credit who cannot obtain a credit card and want something more secure than a debit card. The BA card is actually pitched at the globe trotting executive, but the fees (as you will see below) should frighten off anyone with an ounce of executive common sense.
The only hypothetical attraction to the general public with good credit is that there is no currency loading fee if you spend in the same currency as the card is denominated in. So, load in Euros and spend in Euros and you don't pay the 2.99% loading fee that is added to almost all credit and debit card foreign currency purchases. This, however, is outweighed by the poor FX rate used when loading the card.
So, let's look at exactly what you get.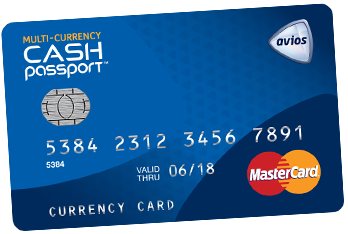 You earn 1 Avios point per £1 for loading the cards. Now, remember that every time you use this card, you are missing out on Avios or other miles from using a 'proper' credit card! OK, 1 Avios per £1 is good for a MasterCard, but a lot of MasterCard establishments would also take an Amex which would earn you 1+ miles per £1 depending on card and programme.
Here are the fees on the Avios card. The fees on the British Airways card are identical.
The key numbers are:
You pay a 2% fee for loading the cards with £ from your debit card
You will pay a 5.75% foreign currency fee when you make a purchase in a currency other than the currency in which you loaded the card
Let's imagine you put £2,000 in £ onto the Sterling version of the card via your debit card (you can use a credit card but it will be treated as a cash advance and thus you pay fees and earn no miles). You earn 2,000 Avios, but pay a £40 fee so only £1,960 goes onto the card. As long as you spend in £ in UK shops, there will be no other fees to pay.
This is clearly not a great deal as you have effectively paid 2p per Avios via the fee (not a great deal) and you get nothing extra back when you spend on the card. Any purchases in foreign currency have the laughable 5.75% loading fee attached, which means you should avoid foreign spend like the plague. My conclusion – do not bother getting the £ Avios card or operating the British Airways card as a £ card.
Now, let's look instead at loading £2,000 on a Euro or $ Avios Cash Passport card, or operating the BA card in a foreign currency. When you load Sterling onto the Euro or $ denominated cards, the exchange rate you are offered is roughly 3.5% away from the 'spot' rate. This is worse than the 3% that almost all credit cards will charge you for using your card abroad.
There are no foreign spending fees as long as you spend in same currency that is pre-loaded onto your card. However, you have already paid a 3.5% foreign exchange fee because of the poor exchange rate used when you loaded the card.
Whilst 1 Avios per £1 is a better earning rate than most non-Amex credit cards, this is entirely offset by the poorer foreign exchange rate you will be getting compared to using a credit card.
There are also a lot of practical limitations to a Cash Passport – you need to keep reloading it, and you need to know the balance at all times to avoid rejection. You also cannot use it at a hotel or car hire company where an authorisation is taken at check-in, although you can use it to settle a final balance.
All in all, when I weigh up these factors, I really cannot recommend the cards.
(It is also worth noting that the BA Cash Passport also comes as an unbranded version – and that has a better exchange rate, which is 2.75% from the spot rate. Those Avios don't come free you know ….)