My review of La Compagnie's all-business-flight from London to New York (Part 2)
Links on Head for Points may pay us an affiliate commission. A list of partners is here.
This is part 2 of my review of the La Compagnie 'all business class' London Luton to New York Newark service.  Part 1 which is here looked at the seat and the background to the service.  Here I want to look at the amenities, IFE, food and pricing.
Amenities
The washbag was made of 100% recycled cotton: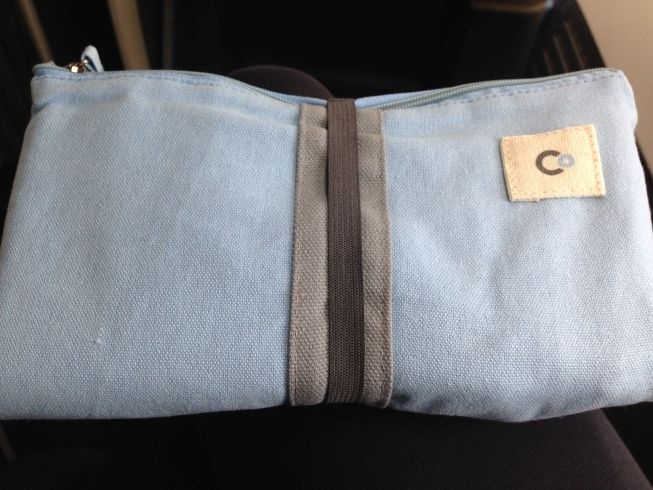 …. and contained socks, a sleeping mask, ear plugs, a toothbrush with toothpaste, an eye cream, a face cream by Caudalie, a pen and a mirror. I would love to see more mirrors in washbags.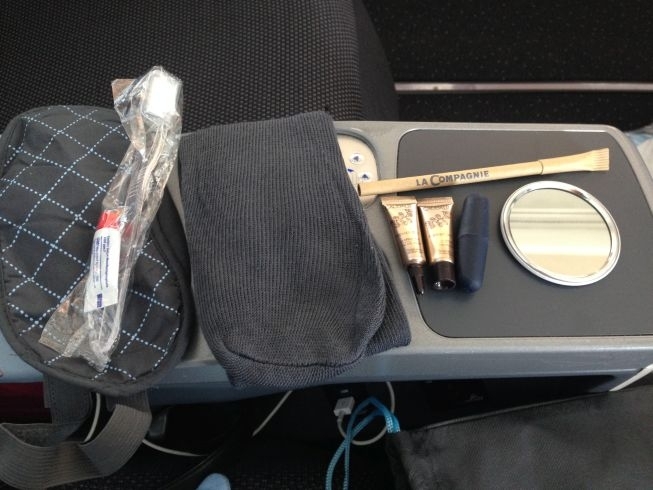 The food
The food was very impressive by business class standards.  La Compagnie has genuinely made an effort here and it shows.
There wasn't a menu to choose from, but there were two options for the main course.  The starter was lobster salad: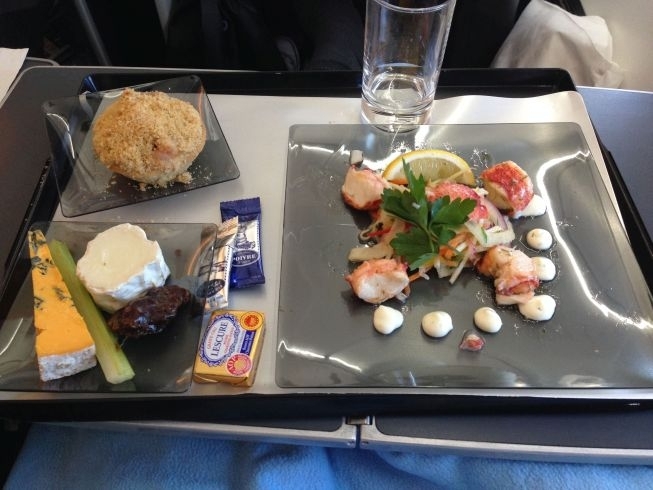 As my main I chose the salmon with gnocchi and spinach. The other dish was chicken.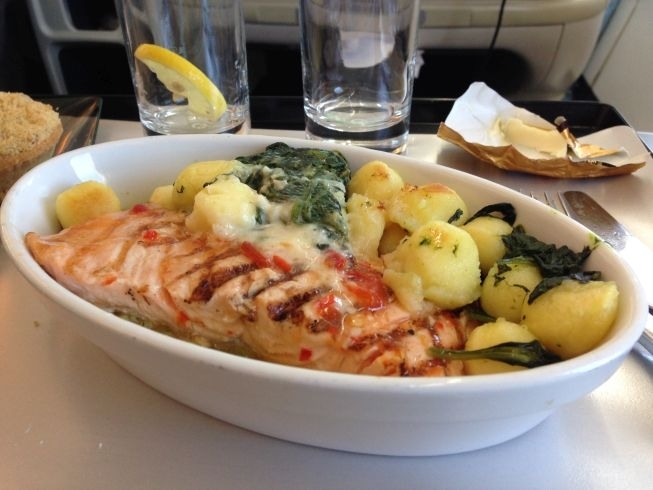 The drinks were in large bottles and poured into glasses.  I'm not too sure how many bar lessons the flight attendants had but when your G&T is 3/4 gin an 1/4 tonic, something must have got mixed up. My seat neighbour and I had to keep ordering more tonic to not get completely wasted within minutes.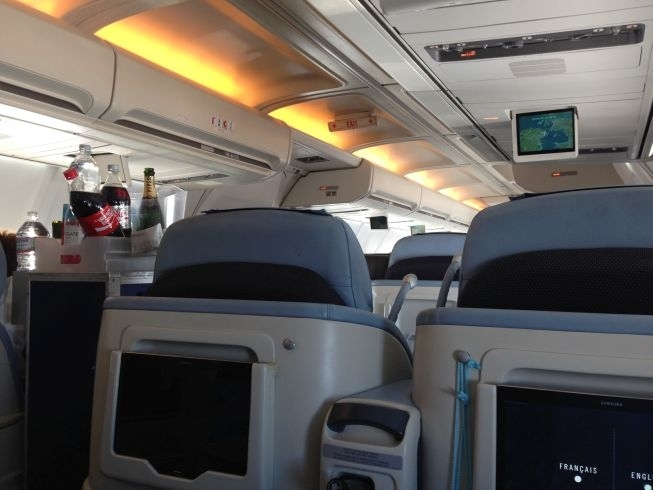 After dinner I tried to sleep, but it was still relatively early UK time and the seat wasn't comfortable enough for me to drop off.
I ended up watching a movie on the tablet. Unfortunately I never got to finish the film as the battery died and by the time I got a new one the wi-fi had been turned off.  I will never find out what happens at the end of X-Men: First Class (yes I know this film is a bit old and I should've seen it already …..).
An hour before landing we got some sandwiches, scones and sweet pastries, which were a bit too sticky but delicious: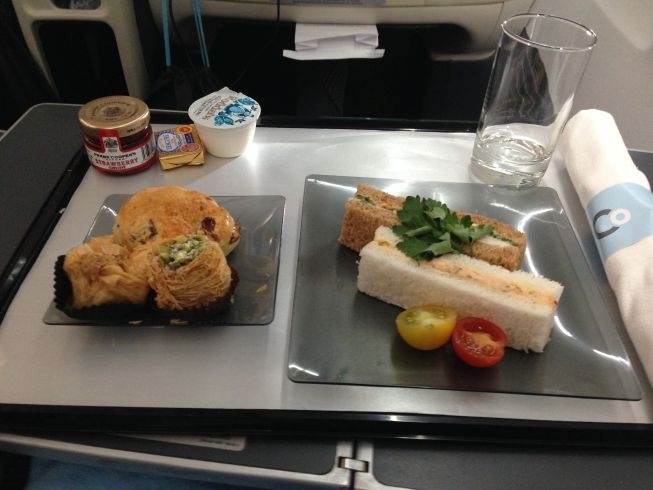 Newark Airport
Rob told me that going through customs and passport control at Newark airport would be quick and easy but the queues were definitely longer than I expected.  On top of that I got a red A on my landing card and had to let my suitcase go through an x-ray.  On the upside, Newark is a quick fixed fare taxi ride into Manhattan.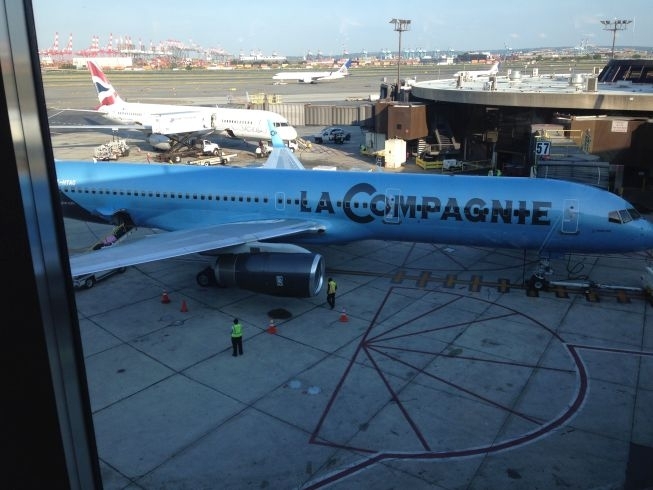 The La Compagnie loyalty program
As La Compagnie is an independent company, they have their own loyalty program which reminds me a lot of a coffee card, although you don't have to hand in over mid-flight to be stamped.
For every flight you take you get points depending on the category you book.  Once you've got enough points, you get a free flight.  Easy.
Interestingly, you can earn bonus points if your flight is delayed by more than six hours or cancelled!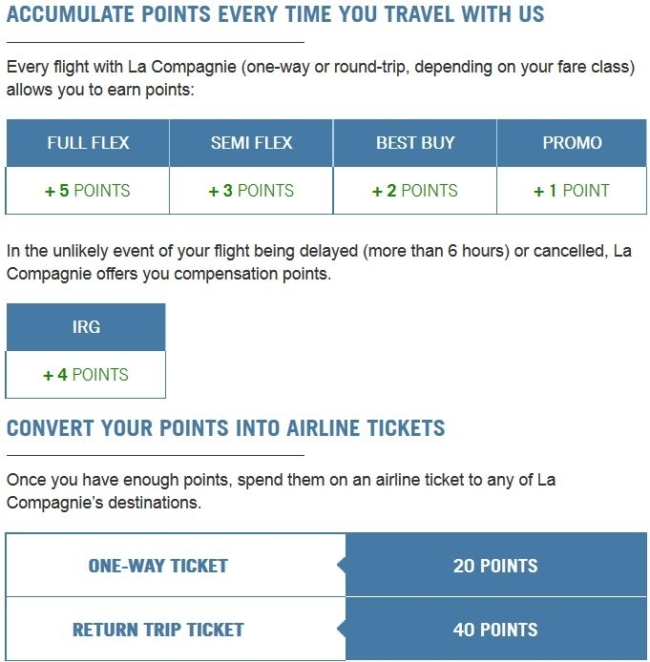 For those travelling to and from New York a lot, La Compagnie recently released a number of 'unlimited' passes for £25,000 each.  These allow to take as many trips as you like over a 12 month period.
Conclusion – is La Compagnie worth it?
Calling La Compagnie a 'business class only' flight is a bit misleading for people who are used to the current standards of the big airlines and their business class products.  The major European airlines have pretty much eliminated sloping seating (even Lufthansa has finally got rid of it) and most give you the option of not being seated directly next to a stranger.
It certainly isn't Premium Economy either though – the food and the space available on La Compagnie is well ahead of any Premium Economy seat I know.  You also get lounge access which would not be available with BA's World Traveller Plus or Virgin's Premium Economy.
The price is rather Premium Economy. Currently you can book a return flight to Newark on La Compagnie for £1000 (if choosing 'Promo' which is non-refundable).  In comparison a BA or Virgin premium economy seat to New York is around £900 to £1100 return outside of a sale.  British Airways has been selling Club World for as little as £1200 in recent sales although you can never predict when they will come around.
It was a bit unfortunate that I didn't get to fly and review what I understood was the newer La Compagnie plane.  However, it is probably better to expect the old plane and to be surprised with the newer one than the other way round.
The food was great and so was the service (besides the lack of drink mixing skills).  It wasn't the cabin crew's fault that seats were broken and that tablets were not working. They did their best in providing a great service throughout the flight.
Your flight may be a little chaotic, but if you are happy to sacrifice earning Avios and tier point and fly old-style business class for premium economy prices, I do recommend La Compagnie.  What the plane lacked in finish was made up for by the crew, food and, compared to premium economy, the spacious seat.