Rob's travel highlights and lowlights of 2017
Links on Head for Points may pay us an affiliate commission. A list of partners is here.
There is just one article today as we gently ease back into things.   What impressed me on my travels during 2017?  And what didn't?
What I realised when I looked back over the last year of articles is that I haven't done much which was radically new.  When travelling with my young children, I tend to be risk averse by visiting cities and even hotels that I already know.  By letting Anika do most of the 'official' reviews – everything below I paid for, either with cash or points – I missed out on a few unexpected highlights in places such as Ljubljana.  However, of the stuff I did do:
There are some very good unbranded family hotels in Europe
I think I did around 80 nights in hotels this year.  I only wrote about a fraction of them because I don't write about run-of-the-mill hotels and generally keep our family trips off the site.
That said, I continue to be impressed by two family-focussed hotels we returned to this year.  Both are ski properties in winter and walking properties in summer.  Near Salzburg you have Elmauhof and near Innsbruck Cavallino Bianco (photo below).  We spent an enjoyable week in each this year for the 2nd year running and are off to Elmauhof again in February.
There is nothing like this in the UK, especially Cavallino Bianco.  The village of Ortisei, where Cavallino Bianco sits, is also astoundingly pleasant.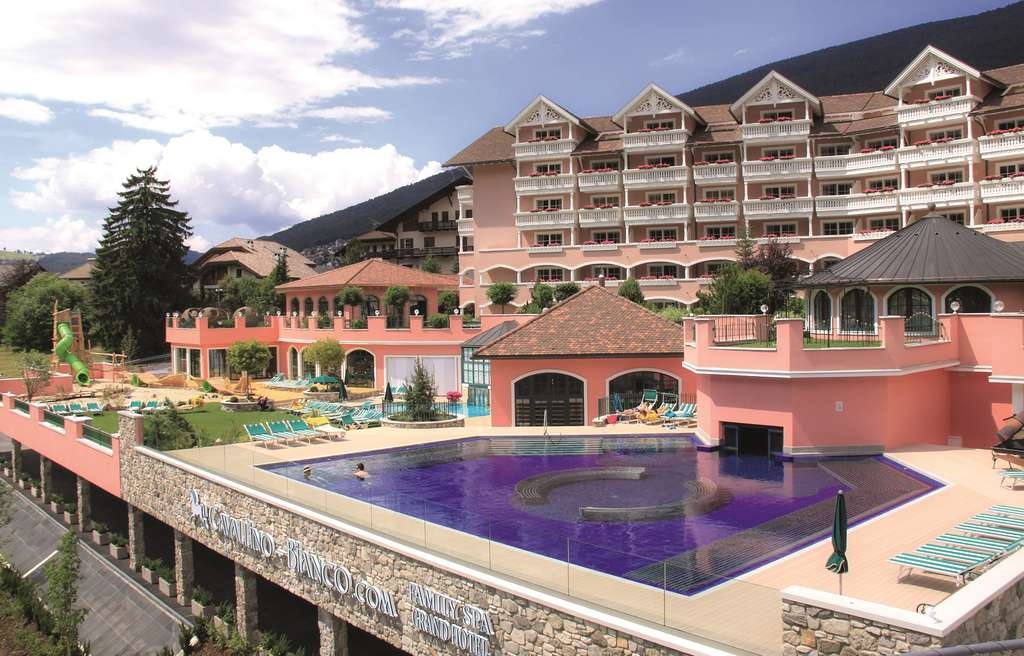 I took the family down to Asia for the first time
With my youngest now six, I felt it was time to show them a bit of 'proper' Asia.  A week in Sentosa, Singapore two years ago doesn't count.
This was meant to be a trip to Japan but the lack of Avios seats over Easter meant a more complex Hong Kong – Tokyo – Beijing route, with a bullet train to Kyoto thrown in.  The regional Asia flights were Avios redemptions on JAL which worked well.
The InterContinental Hong Kong (reviewed here) still has some of the best views in the world although the building work on either side is a bit of a disaster to be honest.  Both the Conrad in Tokyo (review) and the Waldorf-Astoria in Beijing (review) were well worth the visit although my Hilton Diamond status didn't get us any 'wow' upgrades.  The stand-out, by far, was The Ritz-Carlton in Kyoto.
We were exceptionally lucky that our Japan trip coincided with the peak cherry blossom period.  It was never part of our plan and, if it had been, we would have booked for a few weeks earlier because it was surprisingly late this year.
Virgin Atlantic stuffs me
Last year I flew Virgin Atlantic for the first time in too long on a new Boeing 787. My review of Upper Class on the new 787 fleet is here.
I decided to give them another go this year coming home from New York.  Little did I know that Virgin had moved me, without telling me, from a Boeing 787 to one of the old A330 aircraft leaving a couple of hours later.  Here is my unhappy review.  It seems that this is now common practice on redemption tickets as cash customers in Upper Class actively avoid the A330 aircraft which have yet to be refurbished.  After flying it, I can't blame them.
My request to Virgin for an explanation of why reward customers were being moved to inferior aircraft did not get a reply, except for an apology that I didn't receive an email informing me of the move.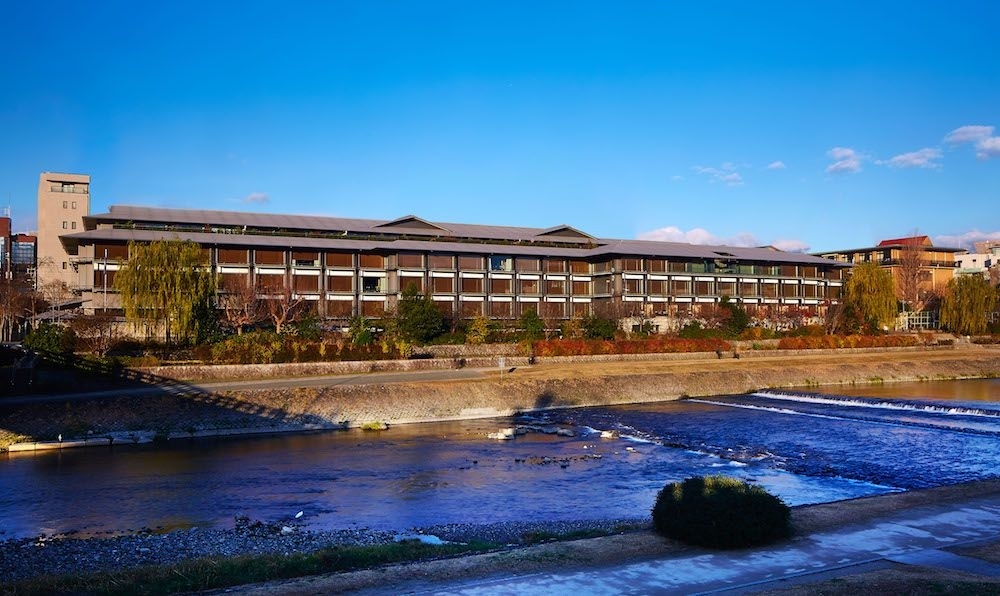 Hotel revelations of the year
As I mentioned above, The Ritz-Carlton in Kyoto (above) is a real return to form for the brand.  It operates in an almost theatrical way.
The upgraded tent we received at The Ritz-Carlton desert resort in Ras Al Khaimah (review) was superb.  It was easily one of the five best rooms / tents I have ever had.  I can't give a final verdict on the rest of the resort because it had still not fully reopened as a Ritz-Carlton when we were there.
I was also intrigued by the Family Hotel Amarin in Rovinj, Croatia, where we spent three nights.  I didn't review this, but it has a lot going for it if you have young kids.  My only gripe was the seating in the dining area which was more like an office canteen than a five star hotel – although the all-inclusive food was very good.  British Airways now flies to Pula in Summer which is a short taxi ride away.
Less glamorously, the Hilton in Bournemouth (reviewed here) was surprisingly accomplished.  My Diamond status finally paid off here with a suite upgrade and access to their decent lounge.
I didn't review my night at the Hilton Brighton when I was there for a conference.  It was better than expected despite warnings from friends and the hotel has some impressive Victorian features.  It is utterly different to the Bournemouth hotel in almost every way, which shows the real problem for branded hotels in trying to define exactly what the brand stands for.
At the other end of the scale, I had dinner – but didn't stay – at one of the Marriott / Ikea jointly run MOXY hotels this year.  It looked good and I liked the vibe although apparently the rooms are very small.  If I had to stay in one for some reason I'd be happy to do so.
And, despite everywhere else he went this year, my 6-year old was most excited by the – very good – 3-star Park Inn in Southend on Sea which I reviewed here.  From our balcony he could see the sea and the pier and the funfair.  If you're 6, it doesn't get much better than that.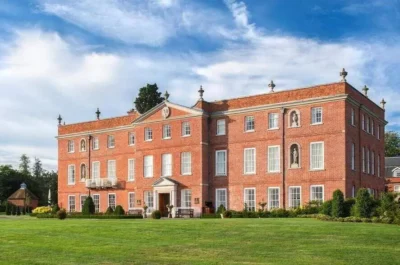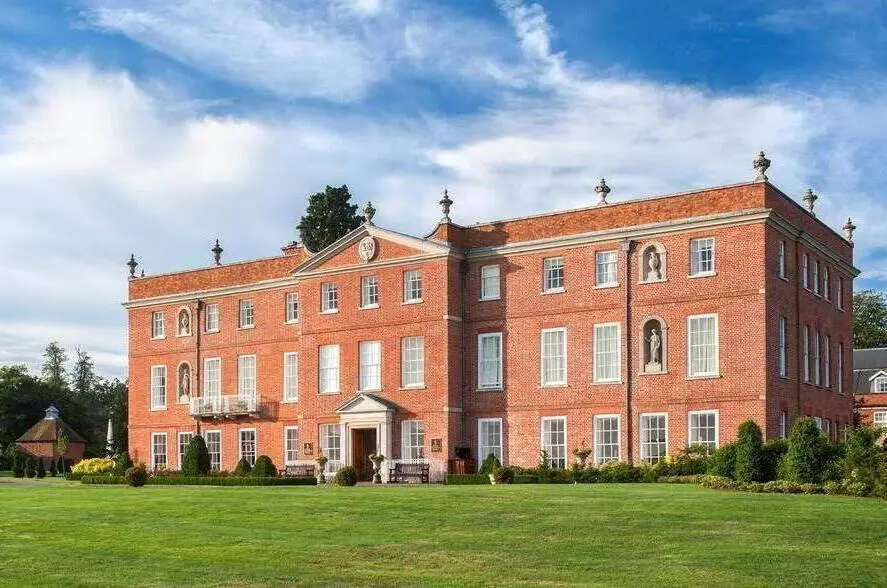 Hotel frustration of the year
Four Seasons Hampshire wins my 'most chaotic hotel stay of the year' award.  Not only was the hotel without a dining room for most of the year due to rebuilding work, but it was also without a chef for a Bank Holiday weekend when we were there.
This led to hour-long waits for tepid food served in the hotel ballroom, which has all of the character of a Debenhams in-store cafe.  To give the hotel credit, they refunded my entire bill – room, food, activities – when I complained.  Given the queue of people complaining at check-out, I wasn't the only one.  I told the story in this article.
PS.  The new FS Hampshire restaurant is now open and in theory everything is now operating as normal.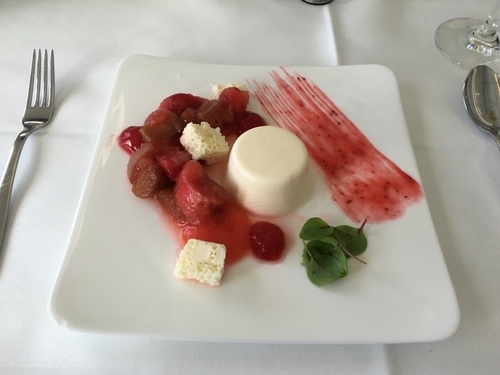 First Class experience of the year
I had my second trip in Etihad's A380 First Class Apartment this year.  It is clearly an amazing product with a ludicrous amount of personal space.  My review is here.
Something about it just doesn't work for me, however.  I'm not sure what – I think I just don't like being shut away in my little private room for seven hours.
Lufthansa remains the pinnacle of First Class flying for me, perhaps surprisingly.  Lufthansa First Class is a standard 'open' seat with no real privacy at all.  Returning to it after three years, it was a pleasure to experience the great food (image above) – Lufthansa is one of the biggest caviar buyers in the world, apparently – and attentive staff.  My review of that flight is here.
I was a little underwhelmed on my return to the Lufthansa First Class Terminal in Frankfurt as I wrote here.  The real highlights are the food – which didn't work for me this time – and the limo ride to the plane, which was a letdown as I ended up in a minibus and the aircraft was about as near to the terminal as it was possible to get!
I also had a perfectly acceptable time in Emirates A380 First Class this year as I reviewed here.  Whilst I didn't write about it, we also flew Emirates A380 business class again this year which retains its high standards.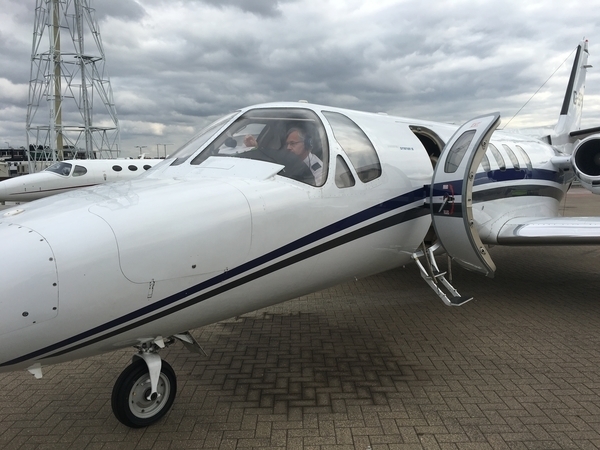 I finally got to try a private jet
Jetsmarter invited me to try their private jet shuttle service between Luton and Switzerland.  This was, oddly, a private invitation and nothing to do with running this site.
It was a novel experience, and I also got to visit the Signature Flight Support lounge in Luton, see here.  The highlight was chatting to my fellow passengers, both successful men in their own fields.  The rest of the private jet experience (DIY food and drink, no proper loo) I was less bothered about as I wrote.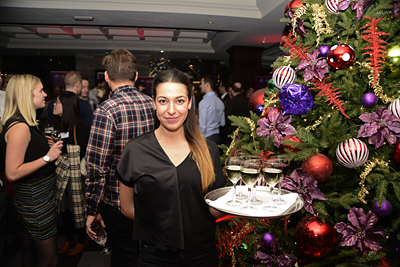 Party of the year
Ours!  Having been terrified in 2016 that no-one would come – and I was relieved when the tickets sold out in eight hours – we were shocked when the tickets for the 2017 Christmas Party sold out in literally five seconds.
Thank you to those who came along, to Qatar Airways for being our headline sponsor and to everyone else who donated raffle prizes and goody bag items.
We will do it differently in 2018 so more of you can come.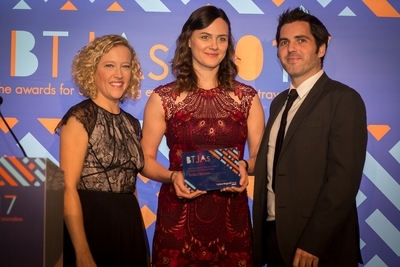 And we won some prizes ….
I should also mention that we won three gongs at the 2017 Business Travel Journalism Awards, including the top award for 'Editor of the Year'.
To be honest, I was happier for Anika who won 'Best Newcomer to Business Travel Journalism' because it will help her career.  My career is beyond redemption at this point ….
We also won 'Best Digital Strategy' so I got to take two of the heavy perspex awards home.  Which, after a week, my wife hid away in a cupboard on the flimsy grounds that she thought the kids might start throwing them at each other and end up knocking someone out ….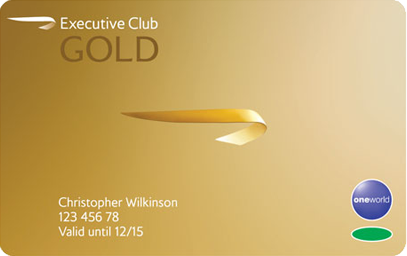 BA status benefit of the year
If you have kids, the most underrated benefit of a BA Gold card is the ability to book Gold Priority Rewards during peak school holiday weeks.  This lets you book any seat, any flight on Avios as long as you pay double the normal price.  In February you will be paying £500 per person for a flight to a ski resort (Saturday out, Saturday back) during half term – or just 18,000 Avios if you force open Gold Priority Reward seats.  Which is what we did, for the second year running.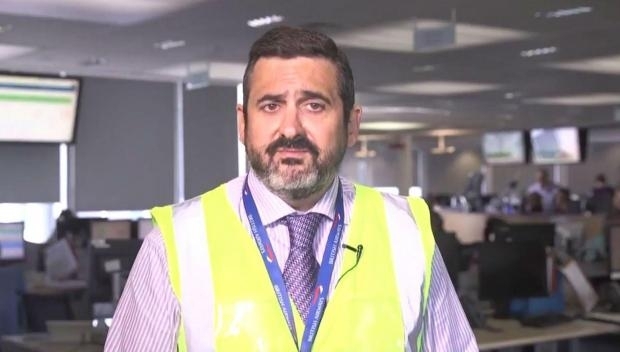 Surprise tube experience of the year
Coming home from World Travel Market in November, I found myself standing next to British Airways CEO Alex Cruz.  We had a good chat for 20 minutes or so about life as he sees it and life as I see it.  In terms of BA cost cutting, you can't argue that he wasn't walking the talk with his £3.30 tube ticket.
I genuinely liked him and now I've met him, I have a better idea of where he is coming from (and, in terms of tube travel at least, where he is going).
Travel lesson of the year
I will leave this one to my wife, who ran up a £1,400 Vodafone bill on her company iPhone whilst watching online videos in our hotel in Dubai over half term.  The hotel wi-fi was spotty and it seems to have dropped out at a very bad time …..
Missing in action
The 'pointless cause of extra work in the HfP office' award goes to Hilton Honors, who decided to drop an 'H' from the previous Hilton HHonors branding.  Much retyping ensued.
Anyone wondering where the missing capital 'H' had gone soon found the answer.  Le Club Accorhotels became Le Club AccorHotels.  More retyping ….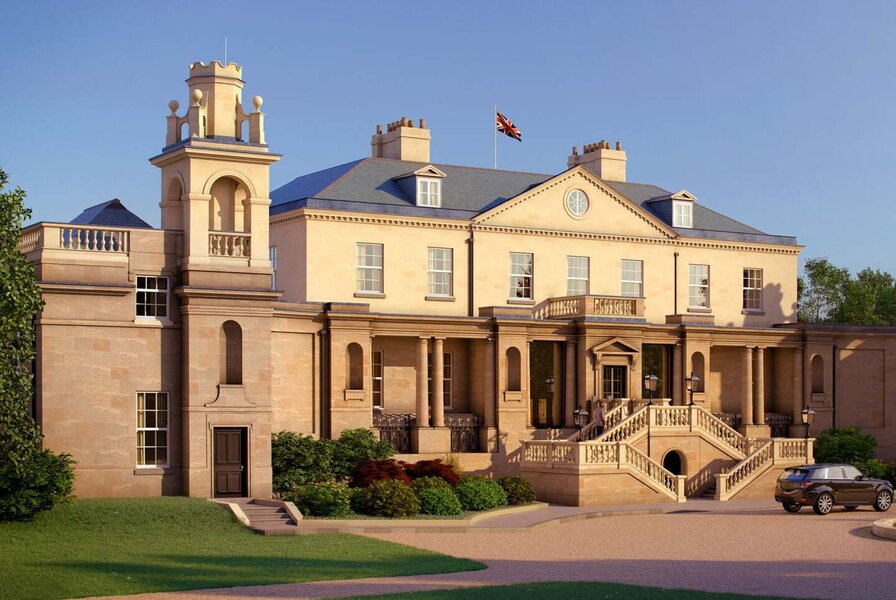 What is coming in 2018?
We will hopefully be bringing you reviews of SWISS First Class, Royal Jordanian Business Class and – for no particular reason other than I have some Jumeirah Sirius points to burn – the OTT Burj Al Arab hotel in Dubai in the next few weeks.  SWISS First already has a black mark against it because they expect me to pay for seat selection – even BA doesn't try to charge First Class passengers.
We have had early stage discussions with some Star Alliance carriers about doing a series of reviews, following Anika's ANA business class piece this year, but let's see where that ends up.
With the Qantas Terminal 3 and Plaza Premium Terminal 5 lounges now open, I'm not expecting any major new London airport lounge openings this year.
Interesting hotel openings in the UK include a Hotel Indigo in Leicester Square from IHG and Hilton's first Canopy hotel in the UK (Aldgate).  I am also intrigued by The Langley, pictured above, a country house hotel which will be operated by Starwood's The Luxury Collection.  It looks like it will be the most impressive UK 'country house' property which can be booked with points.
There is also a better than average chance that the site gets its first facelift for five years ……
Tomorrow Anika will give you her own impressions from a busy year of reviewing, and normal service resumes with our usual mix of news and articles.
Thank you for your continued support.