Review of Malaysia Airlines First Class lounge at Kuala Lumpur International Airport
Links on Head for Points may pay us an affiliate commission. A list of partners is here.
This is our review of the Malaysia Airlines first class lounge in the international Satellite terminal at Kuala Lumpur International Airport (KLIA).
This review is part of our series on Malaysia Airlines. You can read the first article, my review of the Malaysia Airlines Golden Lounge at Heathrow Terminal 4, here. The second article, our review of the Malaysia Airlines Business Suite, the renamed First Class seat, is here.
Malaysia Airlines is, of course, a British Airways partner in the oneworld alliance and you can earn and spend Avios – and earn British Airways tier points – when you fly with Malaysia Airlines.
Malaysia Airlines offered us complimentary flights on their flagship A350 service from London Heathrow T4 to Kuala Lumpur. HfP paid for all of its incidental expenses on the trip, although our hotel bill was partially subsidised by Four Seasons.
You can find out more about the Malaysia Airlines A350 and the London-Kuala Lumpur route it serves twice daily by clicking here.
The First Class Golden Lounge at Kuala Lumpur International Airport
The first class lounge in the sattelite terminal at Kuala Lumpur is Malaysia Airlines' flagship lounge.
It designed to serve all its long haul passengers ticketed to fly on its newly rebranded Business Suites product which we reviewed here. However, with just four suites per A350 aircraft, this is clearly not many people.
The vast majority of people will be accessing the lounge as a oneworld Emerald status holder, such as with a British Airways Gold card. To be honest, this is reflected in the quality of what is on offer. It is similar to the British Airways Galleries First lounge, which is effectively a Gold card lounge – whilst BA does have a lot of ticketed First Class passengers at Heathrow, they all use The Concorde Room.
All international flights depart from the Kuala Lumpur's Terminal 1 Satellite terminal. It is accessed via an air train from the main Terminal 1 building (Terminal 2 is low cost carriers only).
Unfortunately, the lounge is not signposted as well as it could be. Once you step off the air train, you must go one floor up. Weirdly, the escalators are hidden behind duty-free shops and accessible by a narrow passageway which is easily missed if you are not eagle-eyed.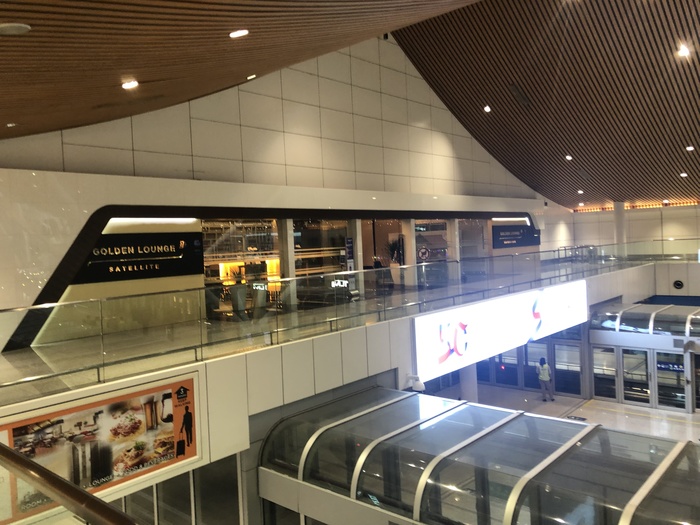 Once you are up at the right level you will see a large entrance where staff will greet you and check your boarding pass: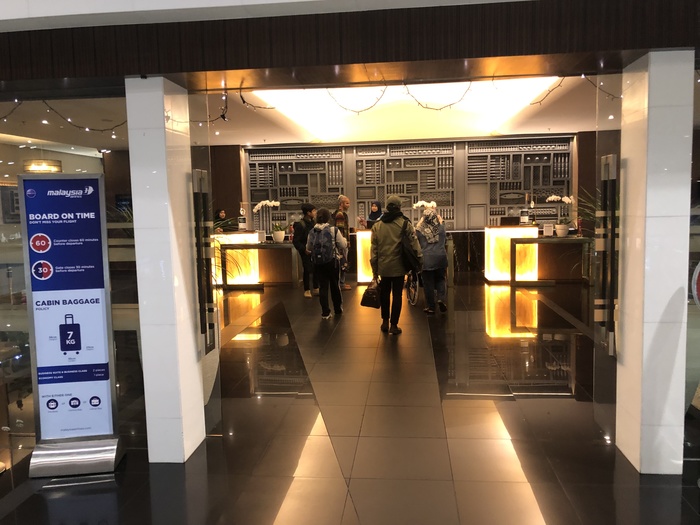 As with the Malaysia Airlines lounge in London, which we reviewed here, business class is to the left whilst First Class is to the right. This review is only about the First Class side. You can read Jamie's 2018 review of the Malaysian Airlines business class lounge at Kuala Lumpur here.
There is also luggage storage at this point, although I took my carry-on bag with me.
Breakfast
Immediately to your right upon entering the first class side is the a la carte dining room, which is set across a main and mezzanine level and has an excellent view of the tarmac. I particularly liked the small size of the room, which made it feel like a dining room rather than just another part of the bigger lounge. It felt a little more exclusive and cosy.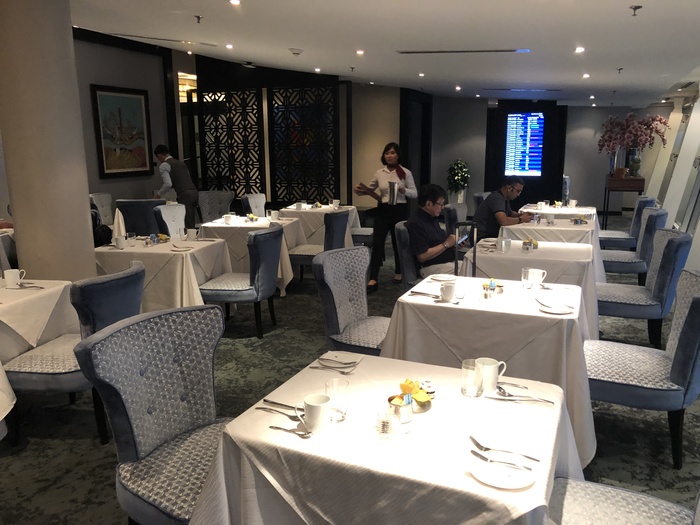 This was the view from my table: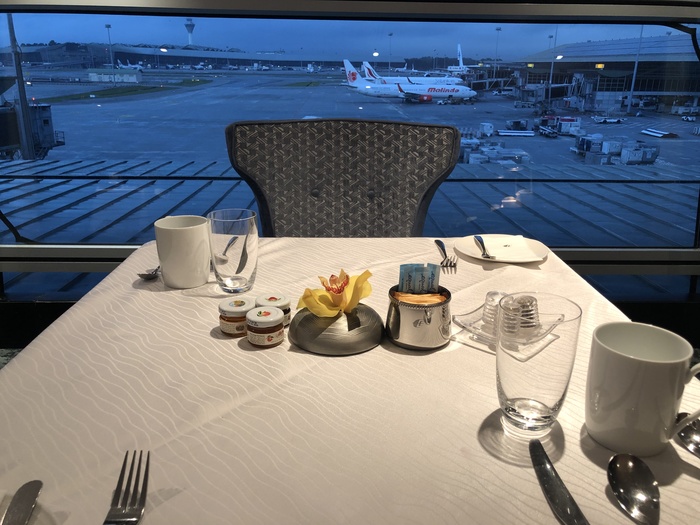 There is a small buffet table on the main level, which for breakfast service at 8am had a small selection of breads, pastries, cereals, fruit and yoghurt.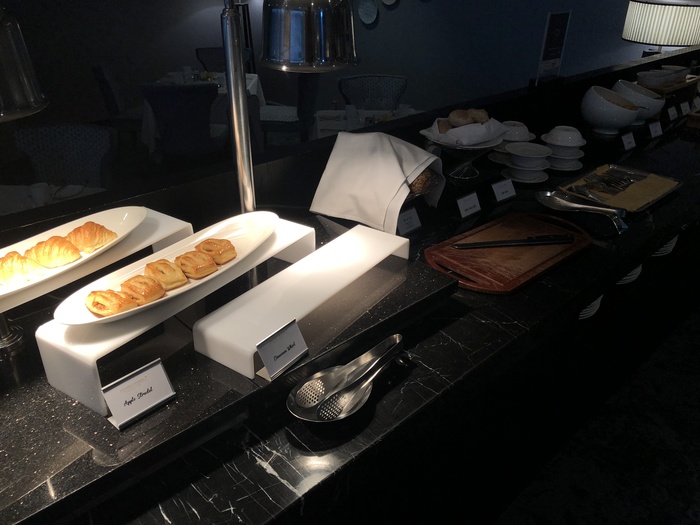 and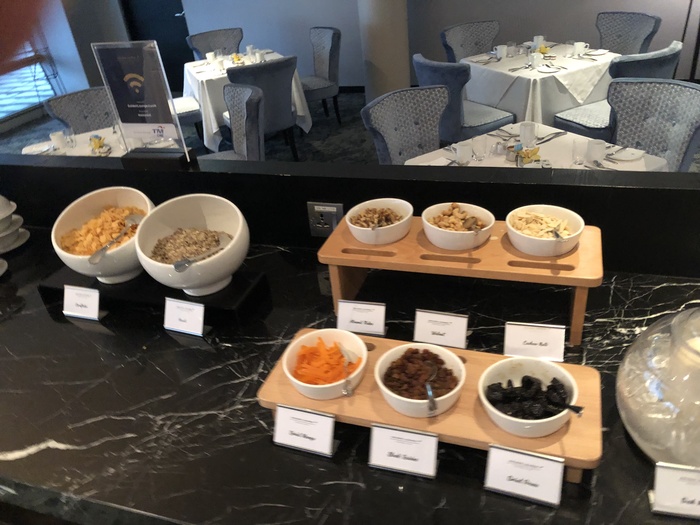 and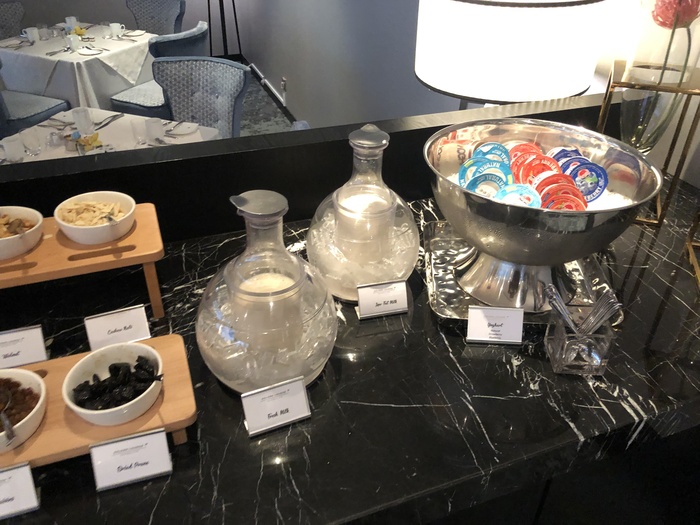 The a la carte menu includes a variety of Malaysian breakfast dishes as well as eggs cooked any way you like accompanied with chicken sausages, baked beans, sautéed mushrooms and beef bacon or freshly cooked waffles. I went for fried 'sunny side up' eggs, which were perfectly cooked. The plate was not warm, however, and I noticed that some of the items, such as the baked beans and mushrooms, were a little on the cold side.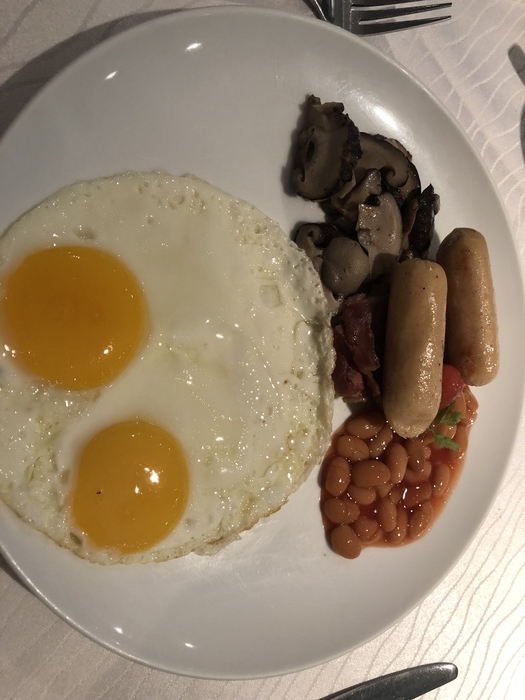 If you are expecting a cooked breakfast on par with those in the UK you will be disappointed. It is obviously unreasonable to expect pork in Malaysia given the majority Muslim population, so you are already getting chicken sausages and beef bacon, which tastes more like jerky.
The lounge
To continue to the main seating area part of the lounge you turn right as you leave the dining room. You are faced with this view and set of stairs/ramp: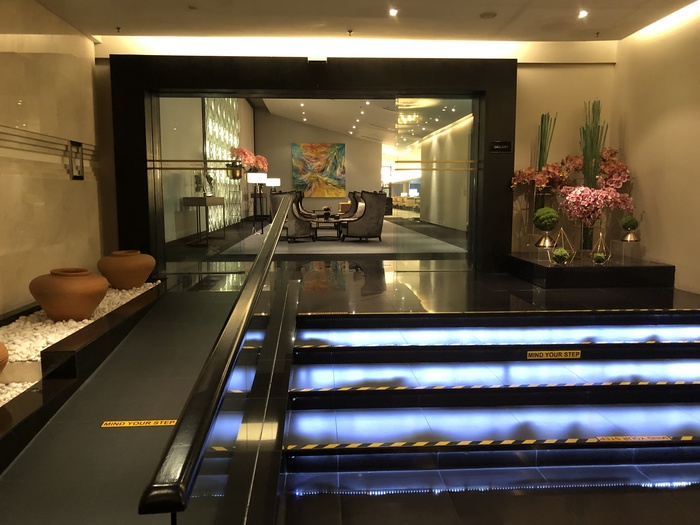 Which I thought looked rather impressive, albeit spoiled by the warning tape on the steps.
The first part of the lounge you see is this tall-ceilinged space which looks grand but feels a little too much like a corridor since it is located between the toilets, the lounge entrance and the rest of the lounge. It also does not have any windows.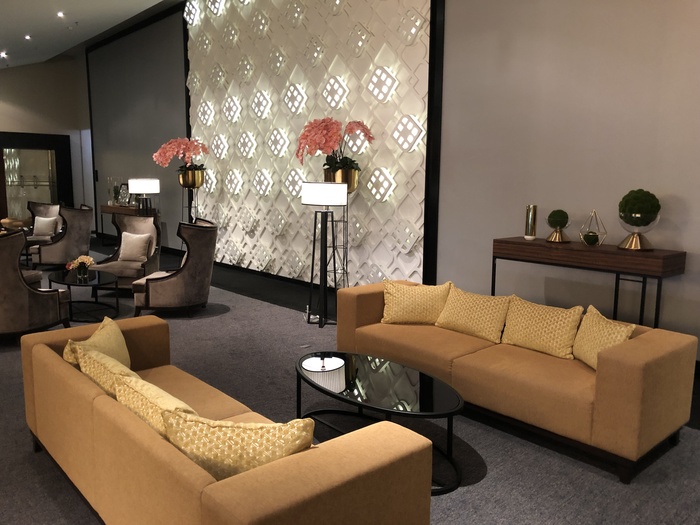 Continue straight on and you will reach the final part of the lounge which stretches along floor-to-ceiling views of the airport.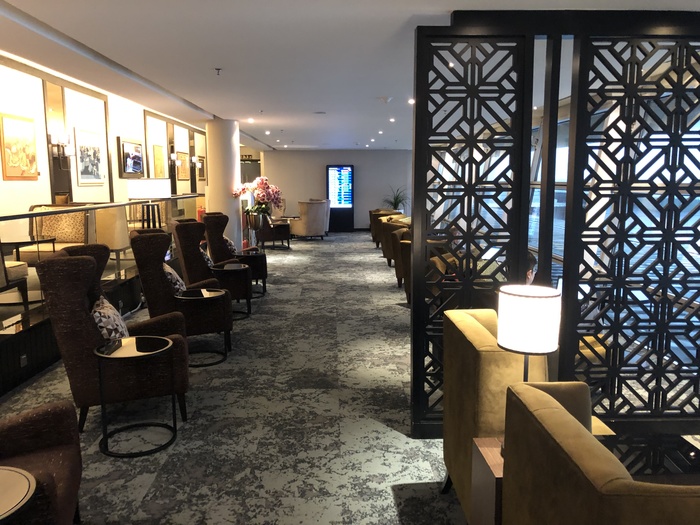 A range of seating options, all facing the windows, flank the lower mezzanine level of this section. Most seats are close to a power outlet, with the armchairs sharing a three pin socket between two as well as two USB plugs: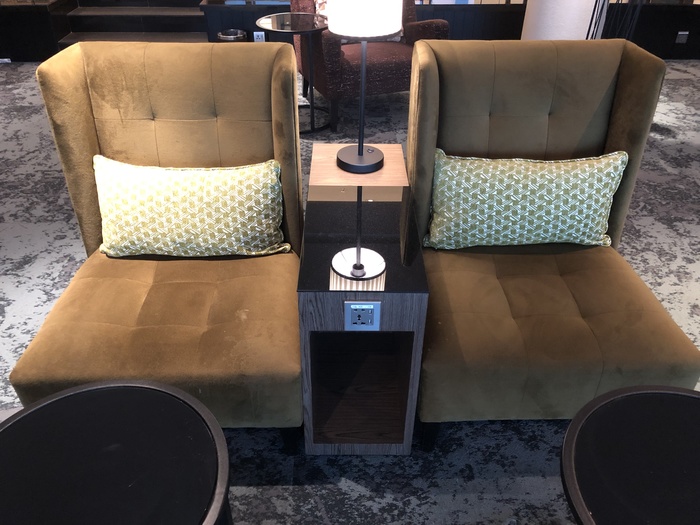 Whilst there were a handful of people in the dining room when I entered, only two other people sat in this section at 9am in the morning. This is perhaps not surprising given that only Malaysian Airlines' A350 and A380 have the rebranded 'Business Suites' first class cabin and even then only with a handful of seats. I suspect the majority of guests in this lounge will be oneworld Emerald status holders.
Along the rear wall is another small buffet, with similar items to the one in the dining room, although I noticed this one also had some smoked salmon. The only place you can get hot food is in the dining room or business class lounge, where there are a range of stations and buffets including one with cooked-to-order noodles.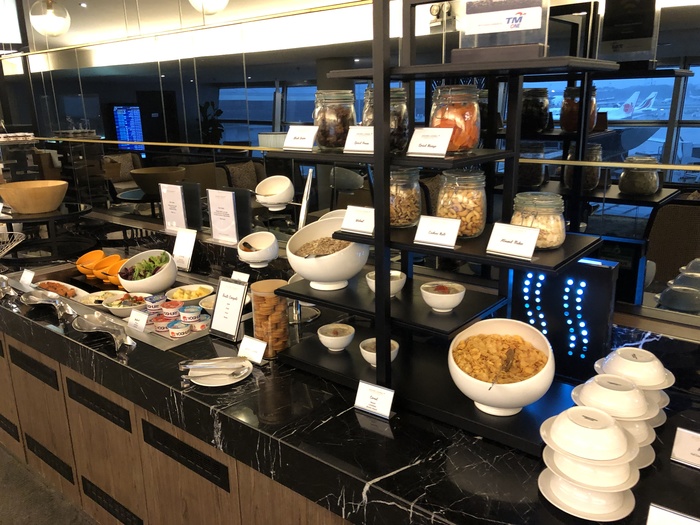 and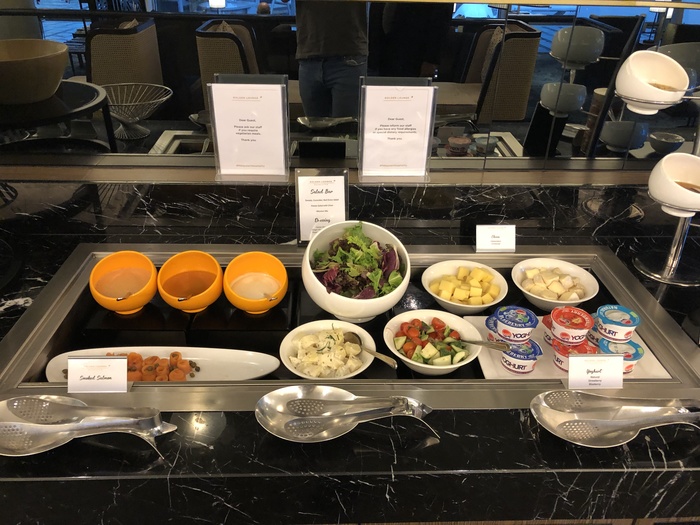 Alcohol is only available from the Sports bar on the business class side, although table service in the lounge will bring you drinks if you ask.
One thing I did notice in the main seating area of the First Class lounge was the temperature of the air-conditioning. I was dressed in jeans and a shirt – which would have been far too hot had I been standing outside in the Malaysian heat – but I had to put on a jumper to avoid catching hypothermia! It is a bit like in some US airports where, outside, you would be sweating but in the airport you have to layer up to stop from freezing.
You can also find a magazine and newspaper stand here. Amongst British papers was The Times, Telegraph and the i; these must have just arrived on the inbound flight given the time difference. There were also a couple copies of The New York Times and a range of Malaysian and regional newspapers.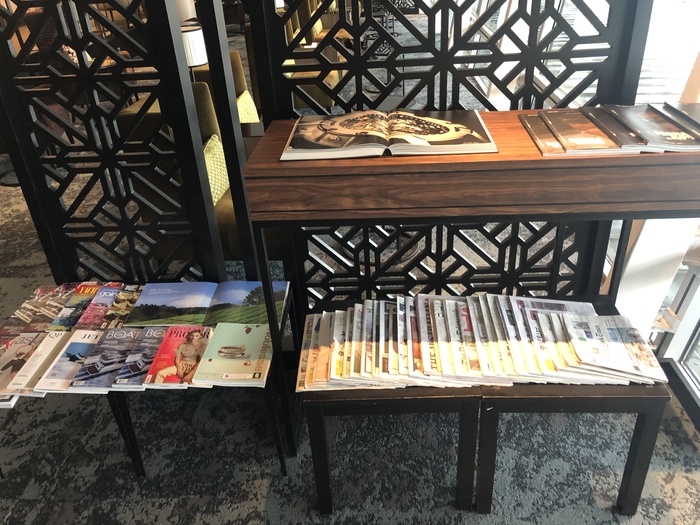 If you walk all the way to the back of this room you will find a nap nook on the left. The men's side has five recliners whilst the women's only has three. Whilst they are situated at the quieter end of the lounge there is no door: if it gets noisy outside it probably carries through. Recliners are only separated by a very transparent trellis, which means you won't have much privacy or protection from snorers!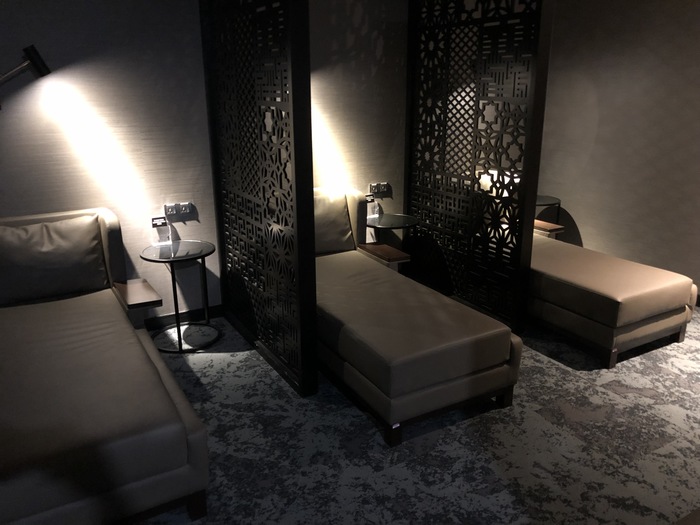 Interestingly, at the end of the lounge is a small partitioned room with a private bathroom. Although it overlooks the tarmac it is right in the corner, and I assume it is used for VIPs such as celebrities and politicians, so they can enjoy a little quiet. It was only accessible by key code.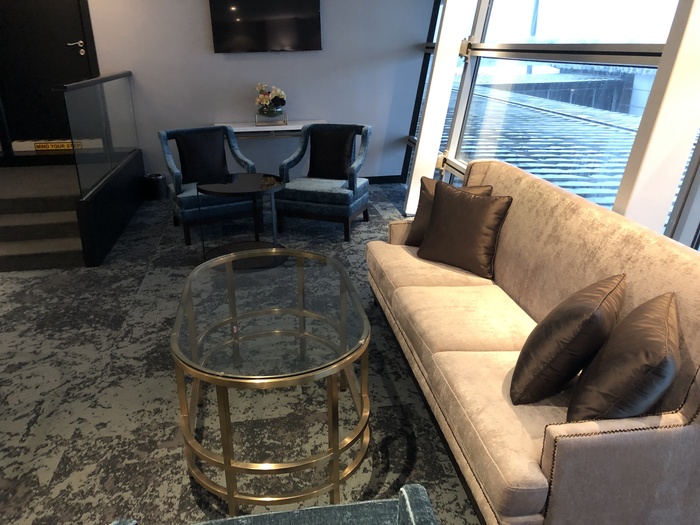 Bathrooms
The main bathrooms are located to the left of the imposing double-height ceilinged room that connects the dining room and main lounge with the entrance. It is not exactly easy to spot when you first enter, since it is hidden away in the corner.
The corridor leading to the men's bathroom had these very …. interesting …. pieces of art: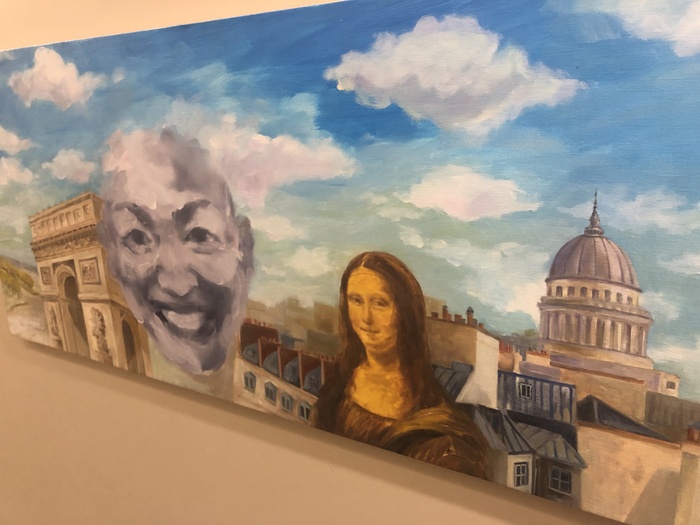 Inside, there are four shower and toilet cubicles. These are quite nicely done, although it would have been better to keep the toilets and shower facilities separate, I think. Amenities are provided by Magenta, which I am not familiar with. In the shower, two large refillable dispensers supply shower gel and conditioning shampoo.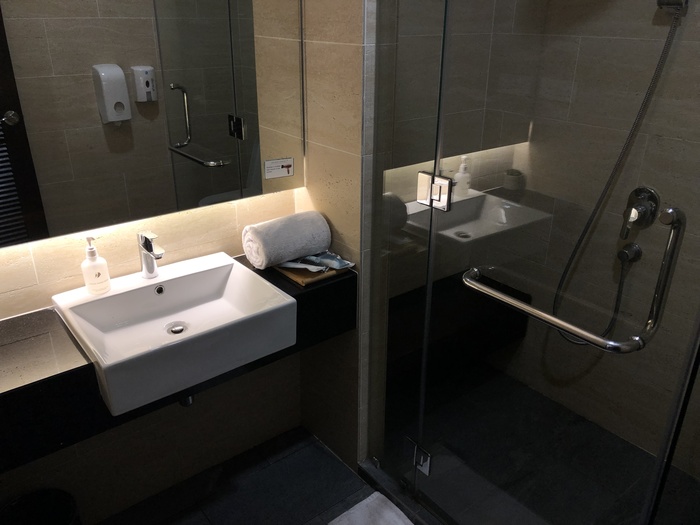 and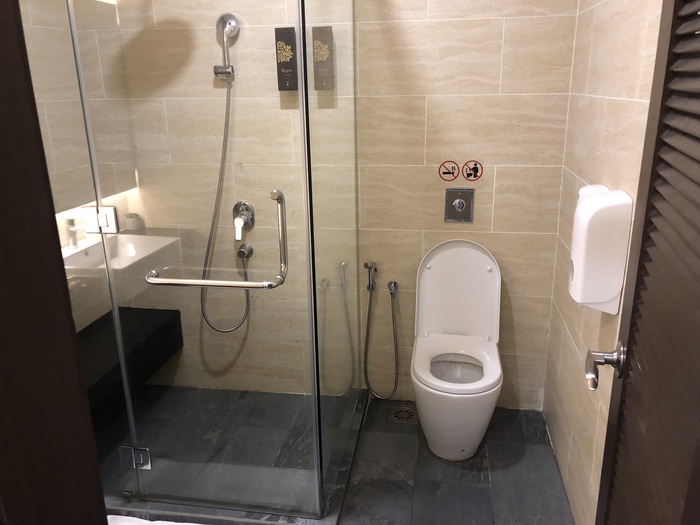 When I went to the bathroom only one shower appeared to be used although, again, this was 9am or so.
Conclusion
The First Class lounge in the international Satellite terminal at Kuala Lumpur is Malaysia Airline's flagship lounge.
It doesn't compare to the dedicated First Class lounges of oneworld carriers who actually carry a lot of First Class passengers, such as Cathay Pacific or Qatar Airways.
It certainly stands up well when you compare it to other lounges used mainly by Gold card holders, such as British Airways Galleries First at Heathrow – and in many areas, such as the day beds and the very civilised 'white linen' dining room, it clearly excels. It is a great benefit for any British Airways Executive Gold member or oneworld Emerald cardholder passing through KL.
In the final part of this series, which will run over the weekend, I look at Malaysia Airlines Business Class on the A350.
You can learn more about the Malaysia Airlines lounges on this page of its website.