What are the best seats on a British Airways Boeing 747?
Links on Head for Points may pay us an affiliate commission. A list of partners is here.
This is our guide to picking the best seat on the British Airways Boeing 747 aircraft.
This is part of a series of Head for Points British Airways seat guides. Unfortunately, you will no longer be able to fly on a 747 with British Airways. In July 2020, British Airways made the decision to retire its entire fleet of Boeing 747s with immediate effect.
You can read our seat guides for other British Airways aircraft here:
British Airways A350 seat map and 'best seat' guide
British Airways A380 seat map and 'best seat' guide
You can also read about the history of the 747 at British Airways here.
Introduction
The Boeing 747 is on its way out across the airline world. Before coronavirus, British Airways intended to phase out the aircraft from its fleet by 2025. In the meantime it planned to operate the remaining aircraft on some of its biggest destinations including New York, Cape Town, San Francisco and Miami. Post coronavirus, all bets are off and it is very possible it will never fly again for the airline.
(Boeing's attempt to launch a more modern, stretched version – the 747-8i – was not a success, although it has proved more popular as a cargo aircraft. Lufthansa is the only airline in Europe which bought it.)
You can find out what aircraft is operating your British Airways flight by following the steps in this guide.
We have NOT done seat maps for the Boeing 747. This is because there are two variants of the aircraft which would have made it rather complex, and with the future of the fleet uncertain it was not necessarily a good financial investment! Hopefully the descriptions are good enough. If the airline does return to the sky we may add them in the future.
The photograph below is one of the Boeing 747 aircraft which was repainted in a legacy British Airways livery in 2019 to celebrate the 100th anniversary of the airline. A 'Landor' variant was also repainted and is shown further down the page.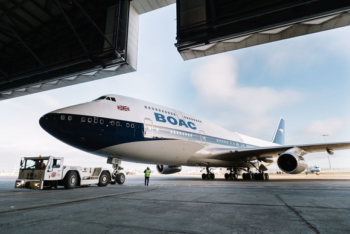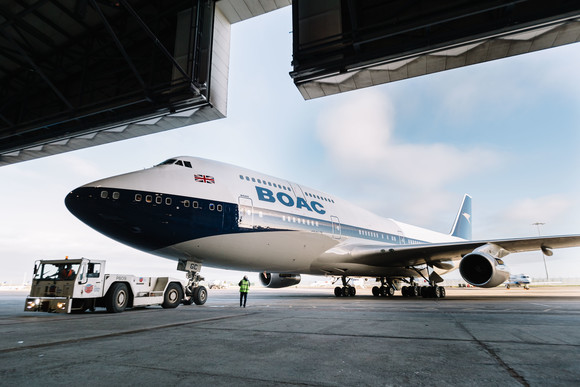 How do you select a seat on British Airways?
British Airways permits seat selection from the time of booking.
Some Executive Club members get free seat selection via their Silver or Gold status. However, for everyone else, you have to pay a fee. This even includes passengers in Club World or Club Suite business class, which is very unusual. Most airlines which charge for seat selection only charge in their Economy cabins, but not British Airways. The only cabin where seat selection is free is First Class.
You can read the British Airways seat selection rules in our article here. This guide will help you choose the best seats on the British Airways Boeing 747.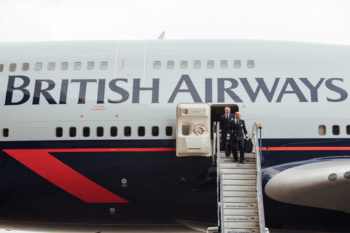 How do the two Boeing 747 variants differ?
Before we go into a detailed description of the cabins, here is how the two variants of the British Airways Boeing 747 differ:
First Class – no difference, both variants have a 14-seat First cabin on the lower level, in the nose
Club World (upper deck) – no difference, both variants have a 20-seat Club World cabin on the upper deck
Club World (lower deck) – both variants have a 2nd Club World cabin on the lower deck. One variant has 52 seats placed, oddly, behind World Traveller Plus and in front of World Traveller. The other variant has the more traditional First / Club World (66 seats) / World Traveller Plus / World Traveller layout.
World Traveller Plus – both variants have World Traveller Plus on the lower level. One variant has 36 seats behind First Class and in front of Club World (unusually) whilst the other variant has the more traditional First / Club World / Word Traveller Plus (30 seats) / World Traveller layout
World Traveller – both variants have a World Traveller economy cabin at the rear of the lower deck comprising either 145 or 243 seats
Let's look at each cabin in turn ….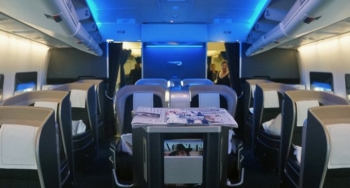 What are the best First Class seats on the British Airways Boeing 747?
Best seats – 1A or 1K, because you can see forward through the windows, or 2A/K or 3A/K for a solo window seat in the middle of the cabin
The First Class cabin features a slightly older version of the seat than you will find on the new Boeing 787-9 and 787-10 fleet.
It is also a larger cabin than is found on the Boeing 787, with 14 seats. The first three rows are in a 1-1 configuration whilst rows 4 to 5 have a 1-2-1 configuration with a middle pair.
Forget the age of the seat and the size of the cabin though. First Class on a Boeing 747 has a unique feature that you fill not find on any other airline in the BA fleet. If you are sat in 1A or 1K you can, because you are sat directly in the nose, see slightly forwards through the window. This is a genuine novelty which will be sorely missed when the 747 fleet is finally retired – if indeed it ever returns to service after coronavirus.
Unlike BA's latest business class Club Suite seat upgrade, the First seats do not feature a closing door. There is a sense of privacy, but the 14-seat cabin is far larger and less exclusive than the 8-seat version found on the new 787 fleet. On the upside, the larger cabin means that it is more likely that Avios redemption seats will be made available.
Let's be honest – there are no 'bad' seats in the first class cabin, and all seats virtually identical. You may want to factor in your proximity to the galley and lavatory at the rear of the cabin, as these are typically the noisier parts of an aircraft.
Row 1, with the semi-forward view, is undoubtedly the best row on the aircraft. It is usually blocked for BA's most valuable customers – its Executive Club Gold card holders – although you may get lucky and find an empty seat at check-in. There is a wardrobe between 1A and 1K which gets traffic throughout the flight.
If you can't get in the first row, seat 2A and 2K are excellent options. Failing this, any of the window seats will get you a window (obviously) and a solo seat with no neighbour.
For people travelling in pairs, the middle seats are the obvious choice. These have a retractable divider which you can keep lowered if you want to have a chat or raise if you are fed up of each other! However, for those couples who can cope with being a few feet apart for a few hours, you may still prefer two window seats, one behind the other. Rob says that he and his wife always did this before the kids came along!
Be aware that seat 5F, at the rear of the cabin, is a bassinet seat and is available for people with infants.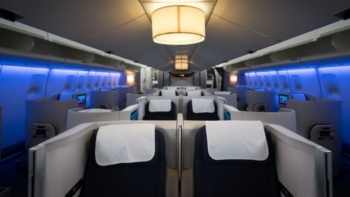 Best Club World business class seats on a BA Boeing 747
Best seats – anything on the upper deck, with 64A/K preferred if you want extra privacy
British Airways operates its legacy yin and yang product on its Boeing 747 fleet. Even if the fleet does fly again, BA will not be refitting the aircraft with its new Club Suite seat as the aircraft are due to be retired in the next few years.
Because Club World is split beween the upper deck and the lower deck, each cabin is of a manageable size. You don't get the 'flying dormitory' feel that is evident on some variants of the Boeing 777.
It is important to note that half the seats face backwards. Whilst this may sound like an odd way to fly, it is hardly noticeable and only becomes evident during take-off and landing. All seats on an aisle face forward.
Not all the seats have direct aisle access. Whilst all-aisle-access is a common feature on newer business class seats such as Club Suite, in this configuration passengers sat in window or middle seats must step over the legs of another passenger to exit. This is the single biggest complaint about the legacy Club World seat.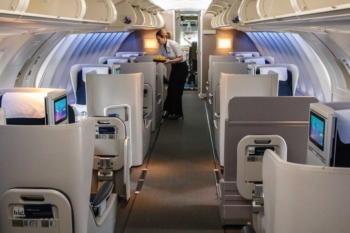 Upper deck
Let's talk about the upper deck first, which is identical on both variants of the aircraft. The upper deck is an exclusive experience and offers the best seats on the aircraft after First Class.
There are just 20 business class seats in this cabin, in a 2-2 layout, between rows 60 and 64. It is, to all intents and purposes, equivalent to flying on a 20-person private aircraft. It is something that you should try to do once in your flying life if you can.
On the upper deck, all window seats also benefit from additional storage much like on the upper deck of the A380.
Both 64A and 64K, in the last row, are window seats with direct aisle access. These seats are especially prized because having a window usually means you are climbing over another passenger to get out. These seats also benefit from a little extra space. If you are travelling solo this may appeal to you, although you are closer to the galley.
62A and 62K also offer a little extra room as they are in an Exit Row. You also benefit from direct aisle access.
One warning: the upper deck of the Boeing 747 is not recommended for babies or small children in our view. This is partly because any excess noise carries more easily in such a small space, and partly because – for children that can walk – the steep stairs down to the main deck could be a hazard.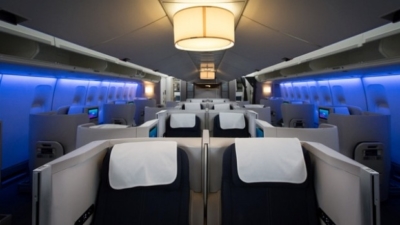 Lower deck
The configuration on the lower deck varies depending on whether you are on a Boeing 747 with 86 business class seats or the smaller cabin with 52. If, when you come to choose your seat, row 12 is a business class row then you are on the variant with 86 seats. If it is not you are on the variant with 52 business class seats.
Variant 1:
In the larger variant, Club World is spread across three smaller cabins on the main deck. Seats 14A, 14K, 20A, 20K, 22A and 22K all benefit from being both directly next to a window and having direct aisle access. This is a unique benefit of being at the back of each partition.
Variant 2:
On the variant with fewer business class seats, the Club World cabin is actually behind World Traveller Plus (premium economy). Seats 20A and 20K are again both window seats with direct aisle access, although the trade off is that you are sitting in the last row and therefore last to be served your meal.
On both variants you may wish to avoid 18A, 18K, 19A and 19K as there are no windows here. If you look at the photograph above, you will see a windowless area by the wing.
Families or groups of four may prefer the lower deck where they can occupy a group of four centre seats, rather than splitting up along the windows. Whilst many travellers dislike the Club World middle seats with a passion, they are actually fantastic for families with two young children. You can take a row of four in the middle block with a parent on each aisle. The children can share the 'double bed' seat pair in the middle and get a lot of floor space between them for toys etc. Whilst this normally requires the middle pair to climb over strangers to get out, this is not the case in the last row of each cabin.
Apart from this, there is no reason why any solo traveller would want the middle pair on the lower deck. In particular, the middle pair on the lower deck means that you are effectively sharing a double bed with a stranger for the entire flight. Yes, there is a divider, but in bed mode you are almost certainly going to be closer to your neighbour than you are to your partner in bed at home.
A couple should, instead, consider a pair by a window. An A/B or J/K pair allows you to face each other and one of you will have a window. With an E/F pair, neither of you has a window and you are both climbing over strangers to get out.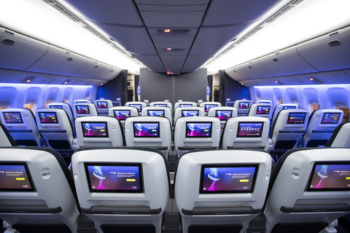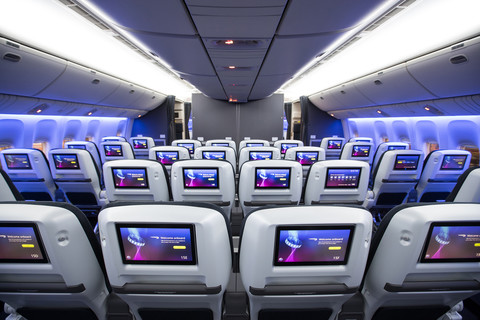 Best World Traveller Plus (premium economy) seats on a BA Boeing 747
The two seating variants of the 747 put the premium economy cabin in slightly different places on the aircraft. Seats are arranged in a 2-4-2 layout.
Each seat has a 38″ seat pitch (the gap between the back of the seat in front and yours) and comes with a 10-12″ screen in the seatback in front of you and USB charging.
Couples are likely to enjoy the window seats where you can have two seats together. It makes no sense to take two seats in the middle block. You might be tempted to pay for a seat reservation in order to guarantee a window pair.
Variant 1:
If the World Traveller Plus cabin starts in row 11, then you are on the aircraft where the premium economy cabin is oddly sandwiched between First Class and Club World (business class).
On this variant, seats on the right hand side of the aircraft (ie. seats J and K) are likely to be slightly less busier and therefore quieter, since all the lavatories are on the left hand side.
Seats 11J and K as well as 12A, B, D, E, F and G are likely to have extra legroom as there is nobody sitting in front. Be aware that your in-flight entertainment screen and tray table are stored in the armrest and cannot be used during takeoff and landing.
Variant 2:
If you are on the variant where World Traveller Plus starts in row 33, the best seats are undoubtedly at the front of the cabin. Seats in row 33 benefit from greater legroom thanks to being at the front of the cabin, as well as the first to be served during meal times. You are also far away from noiser parts of the cabin such as galleys and lavatories.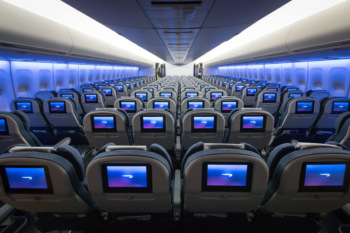 Best World Traveller (economy) seats on a BA Boeing 747
There are some general rules for better seats in World Traveller.
The first row of World Traveller typically gets additional legroom. Be aware, however, that the in flight entertainment screen and tray table are stored in the armrest and therefore cannot be used during take-off and landing.
Passengers at the front of the economy cabin also typically get their first choice of meal and are first to disembark the plane, which may be an important consideration.
You may also wish to avoid areas around galleys and lavatories at the rear of the aircraft as these are likely to be noisier.
Variant 1:
If you are on the variant where the World Traveller cabins start in row 39 then the best seats are 40A-G and 39H, 39J and 39K as these have more legroom. There is only one lavatory at the front of the cabin but this is behind a cabin monument and should therefore be fairly quiet, although you will have to contend with galleys.
Variant 2:
If you are on the variant where the World Traveller cabin starts in row 28 then the best seats are undoubtedly in this first row. There are no galleys or lavatories between the front of the economy cabin and the rear of the business class cabin so it should be fairly quiet. Crucially, you will be the first economy passengers to disembark.
Row 39, 40A-G and 39H, 39J and 39K also have more legroom. However these are in the middle of the cabin with a lavatory and the galley, so may be a little noisier than row 28.
On both variants, the final three rows on the window side become rows of two rather than three seats as the fuselage narrows. There is a lot of extra floorspace where the third seat would have been, although you are right at the back of the cabin.
Conclusion
The Boeing 747 was arguably the most iconic aircraft of the 20th century and British Airways had one of the largest fleets, but its days are numbered.
Whilst undoubtedly attractive to look it, it has four fuel guzzling engines and is not made of lightweight composites. You don't get the larger windows and improved cabin pressure found on modern aircraft. It is also fair to say that the interiors are not in great condition compared to the new A350 and Boeing 787 fleets.
It is very possible that the Boeing 747 will never fly again for British Airways and this article will turn out to be wasted. If you do get the chance to fly it in a premium cabin, try to take advantage.
---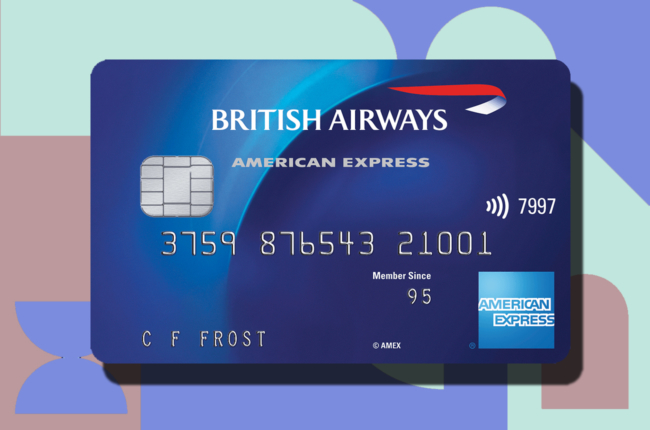 How to earn Avios from UK credit cards (May 2021)
As a reminder, there are various ways of earning Avios from UK credit cards. Many cards also have generous sign-up bonuses.
There are two official British Airways American Express cards:
British Airways American Express
5,000 Avios for signing up, no annual fee and a companion voucher for spending £20,000 Read our full review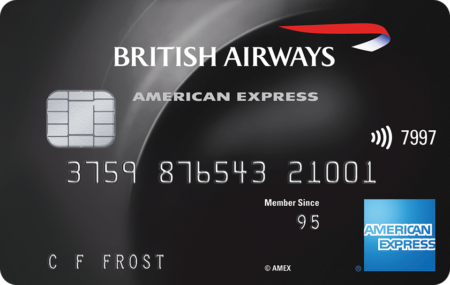 British Airways American Express Premium Plus
25,000 Avios and the UK's most valuable credit card perk – the 2-4-1 companion voucher Read our full review
You can also get generous sign-up bonuses by applying for American Express cards which earn Membership Rewards points, such as:
American Express Preferred Rewards Gold
Your best beginner's card – 20,000 points, FREE for a year & two airport lounge passes Read our full review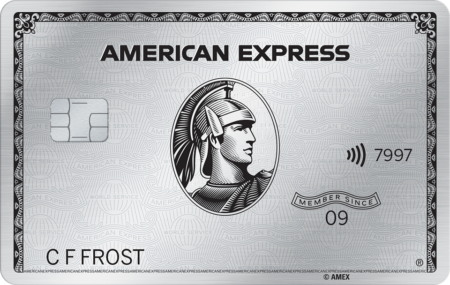 The Platinum Card from American Express
30,000 points and an unbeatable set of travel benefits – for a fee Read our full review
Click here to read our detailed summary of all UK credit cards which earn Avios. This includes both personal and small business cards.
Do you have a small business? Until 20th May 2021, you can receive a special sign-up bonus worth 29,900 Avios with the Capital On Tap Business Rewards Visa credit card. This offer is exclusive to Head for Points readers. Click here to learn more.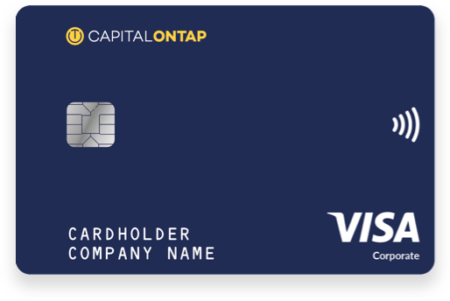 Capital On Tap Business Rewards Visa
The most generous Avios Visa or Mastercard for a limited company Read our full review
(Want to earn more Avios? Click here to visit our home page for our latest articles on earning and spending your Avios points and click here to see how to earn more Avios this month from offers and promotions.)