My travel highlights and lowlights of 2018
Links on Head for Points may pay us an affiliate commission. A list of partners is here.
As we gently ease back into things after Christmas, I wanted to do my annual look back at the past year.   What impressed me on my travels during 2018?  And what didn't?
There are some very good unbranded family hotels in Europe
I think I did around 80 nights in hotels this year, which is about average.  I only wrote about a fraction of them because I don't write about run-of-the-mill hotels, unless they are at airports, and generally keep our family trips off the site.
That said, I continue to be impressed by two family-focussed hotels we returned to this year.  Both are ski properties in winter and walking properties in summer.  Near Salzburg you have Elmauhof and near Innsbruck Cavallino Bianco (photo below).  We spent an enjoyable week in each this year for the 3rd year running and are off to Elmauhof again in February.

There is nothing like this in the UK, especially Cavallino Bianco.  The village of Ortisei, where Cavallino Bianco sits, is also astoundingly pleasant. Elmauhof is nowhere near as flash as Cavallino but does do a great job of looking after children.
The year starts with Ronan Keating …..
My first hotel review of the year was, to put it mildly, modest – the Holiday Inn at Southend Airport (click).  This was after a party to celebrate the opening of their new private jet centre.
This ended up being one of those stories I kept repeating all year in the pub.  The airport had secretly hired Ronan Keating to play at the party. It was so secret, however, that when I decided to leave after two hours – the hotel was next door and I had work to do – I still wasn't told.  The airport CEO didn't mention it when we were chatting and the entire team I passed on my way out of the door failed to mention it.  I was more than a little surprised to see other press reports in the following days …..
Later in January I popped down to the Waldorf Astoria Dubai The Palm for a couple of days, reviewed here.  It wasn't bad although I simply don't like The Palm hotels much – they are too far from the mainland and the beaches feel, because you are facing land across the channel, a little odd.  I flew down in SWISS First Class although I didn't review it – it was a 'mistake' redemption, as SWISS normally blocks its First Class cabin for miles, and so not something any HFP reader could repeat without paying cash.
Coming back, I tried Royal Jordanian in Business Class (Dubai to Amman to Heathrow) which let me tick another oneworld airline off my list.  My Royal Jordanian flight review is here.
Back in the Middle East in October, I tried out the great value redemption which is The Ritz Carlton Al Hamra Beach in Ras Al-Khaimah (review here)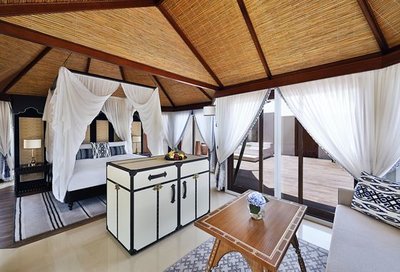 Into the pods
Even less enticing than a night at the Holiday Inn Southend Airport was my night at the Thistle Heathrow.  I did this purely to review the driverless pods, which take you from the car park to Terminal 5.  We even made a video of this and it was probably the geekiest thing we did all year.  Read more here.
We went to Lapland
Over Easter we decided to head to (Swedish) Lapland.  Purely because we thought it would be interesting for the kids – there is a flight alternative – we took what was recently called "the greatest sleeper train trip in Europe", the 15 hour train ride last week from Stockholm to Kiruna in Lapland.  You can read my review, and that of my 'hotel' in Kiruna, here.
The Guardian ran a great article about Kiruna recently – see here.  This is nothing to do with tourism and all to do with their plans to move the entire town down the road, before it disappears into a large hole in the ground caused by a century of mining.
We also visited the Icehotel whilst we were there – article here.
Off to South Africa
The biggest HfP trip of the year was Johannesburg, but I left this to Anika.  Her review of South African's Business Class on its new A330 is here.  For those who think this stuff is glamorous, she flew down with a stinking cold, spent two days stuck in the InterContinental (review) due to the terrible weather and then flew home.  I'm not sure if this was better than her night in a windowless cabin at YOTEL Gatwick or her attempt to review Vueling's Business Class but finding herself moved to a one-class charter plane.
Similarly, when Virgin Atlantic offered what was effectively a 'party trip' to New York to try out their Economy Delight product (review here), I passed it to Jamie.  Sadly the stories he came back with, being led astray by representatives of The Telegraph and The Sun, are not repeatable.
MOXY …..
The glamour continued when I visited the low-budget MOXY hotel at London Excel (review).  This confirmed what I already thought – that Marriott is on to a winner with this chain, which is cheap but smart.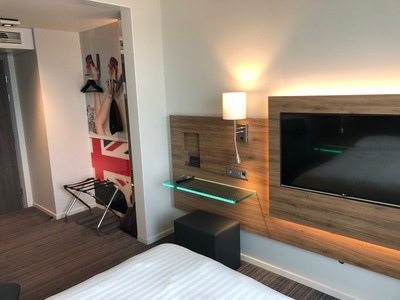 To Washington ….
The best thing I did all year was my visit to Hilton's HQ in Virginia.  The senior team at Hilton Honors threw a small conference and invited me along.  Chris Nassetta, Hilton's CEO, even got involved in one session.
Sometimes you get a business trip where everything goes right.  This was one of them.  All of my flights were punctual (I got to try Virgin's ex-Air Berlin business class on the way out), Hilton gave me a suite in the lovely The Graham hotel in Georgetown, I got to stay 30 seconds walk from the best of Georgetown's historic shops and restaurants, I got to catch up with old US frequent flyer friends that I hadn't seen in a few years, we got top tickets to a U2 concert and – importantly – Hilton scheduled the trip with plenty of downtime to allow us to keep our writing schedules up.
If you're heading to Washington, consider The Graham.  Here's my review.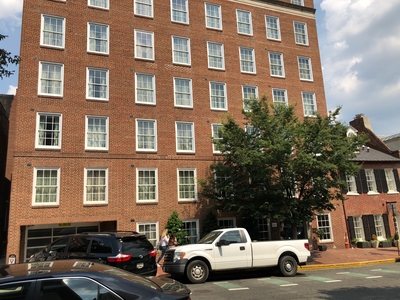 To Paris …..
My other hotel surprise this year was Marriott's Renaissance Paris Republique (review).  This is a hidden gem in the portfolio and actually got cheaper, for points, during 2018.  The hotel does a la carte for breakfast – no buffet here – which is all you need to know.
When I returned to Paris at Christmas I was at the Marriott Paris Champs-Elysees (review).  It isn't as classy but the location can't be beat and having my own private balcony hanging over the Champs-Elysees was pretty cool.
My 'hotel of the year' award is shared between Renaissance Paris Republique and Washington / Georgetown's The Graham.  These were NOT the most luxurious hotels I visited all year, but the ones where the gap between expectation and reality was pleasurably wide – and where the entire trip was a pleasure.  It is probably not a coincidence that my kids did not accompany me on either trip, so I got to enjoy the hotels properly.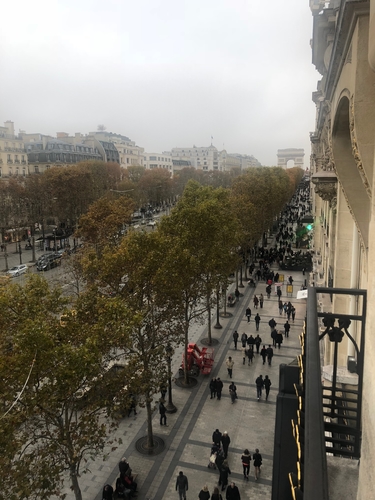 Coolest things I did all year …..
On a tour of Amsterdam Schiphol in October, I got to watch the fire fighting team put out a real fire on their dummy aircraft, from just a few feet away.  I wrote about that here, including a video.
I also got to visit my first airport catering facility, in Prague – see here.  Who else flies to Prague but doesn't even leave the airport secure zone, stopping only to see a few sandwiches being made?
Other good stuff I got to do on points included Paul McCartney at the O2 a few days ago via Marriott Rewards which was fantastic.  We also had a great VIP day at Queen's Club for the tennis during the Summer, courtesy of Emirates Skywards miles, as well as seeing a couple of Arsenal games from the Emirates Box.  
A private lunch at Clare Smyth's restaurant via Marriott Rewards was another highlight, as was Hilton's Bastille gig. All of these were bookable by anyone who had the points to do so.  Marriott also threw an excellent (trade only) private gig by Rag & Bone Man at the Renaissance St Pancras.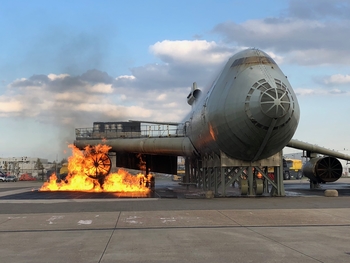 Party of the year
Despite not having Rag & Bone Man playing (see previous paragraph), I will say ours!  We decided to throw our first Summer Party in 2018 and increase the number of tickets from 150 to 250.  Despite this, it still sold out in under a minute.  Thank you to Etihad for supporting that event.
We returned to Holiday Inn Camden for our Christmas Party, with another epic raffle.  Thank you to Virgin Atlantic and Virgin Money for sponsoring us.  Again, tickets sold out ludicrously quickly.
We have some interesting plans for Summer 2019 …..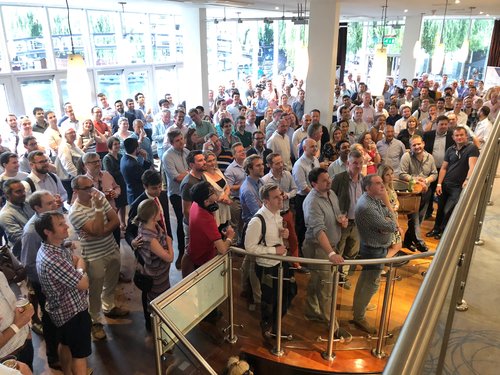 Thank you to my team
Head for Points ends the year in a position of change, although in truth we have never stood still.  Anika got married and, at least for the medium term, is not in London.  Rhys did a great job as our intern in November and December but is now back at University, although you haven't seen the last of him.  Jamie will continue to contribute but only when we can fit it around his 26 weeks per year out of the country.
In the next week or so I need to make a final decision on a new full-time employee to work in London, who will focus mainly on editorial and free up some of my time for more strategic stuff.  Last year I promised a redesign and it didn't happen – that is the first thing on the list.  With my kids getting older, I also have a bit more flexibility to travel to trade fairs, conferences etc.
What is coming in 2019?
Good question!  January is looking interesting, with trips to Barcelona and Abu Dhabi – and a potential chance to try out the new Emirates First Class Suite.  After that we hit trade show season.  My wife has some interesting holiday ideas for 2019, including Iceland and the new Four Seasons resort just outside Athens, although they are not in the diary yet.
In terms of reviews, I am hopeful that United finally puts their Polaris seat onto Heathrow-New York.  I'd also like to do more with the other oneworld partners, as well as try the new Aer Lingus single-aisle long-haul aircraft.
And, of course, both British Airways and Virgin Atlantic will be unveiling new Business Class seats for their new A350 fleets.  Don't get too excited though – BA will only have the new seat on six aircraft by Christmas 2019 and, as the A350 fleet has no First Class, you won't find them on 'prime' routes.  And will either BA or Virgin even get close to matching what Qatar Airways, Emirates, Etihad etc has been offering for years?  A cynic would say that they will struggle to match the Qatar Airways 'herringbone' seat which the airline has already rendered obsolete by moving to Qsuite!
Whatever happens, we'll keep you in the loop.  Thank you for your continued support.
---
Hotel offers update – December 2023:
Want to earn more hotel points? Click here to see our complete list of promotions from the major hotel chains or use the 'Hotel Offers' link in the menu bar at the top of the page.
Want to buy hotel points?
IHG One Rewards is offering a 100% bonus (some members may see less) when you buy points by 30th December. Click here.
Marriott Bonvoy is offering a 30% bonus when you buy points by 20th December. Click here.