EXCLUSIVE: New Heathrow Terminal 4 Priority Pass lounge, ART & LOUNGE, in the El Al space
Links on Head for Points may pay us an affiliate commission. A list of partners is here.
Heathrow Terminal 4 has got a 'new' airport lounge, accessible with a Priority Pass.
El Al has decided that it no longer wants to run its own facility at Heathrow. The impressive King David Lounge, which was managed by Plaza Premium, has been handed over to start-up lounge group ART & LOUNGE in the last few days. El Al has experience of ART & LOUNGE as the airline uses their only other lounge at New York Newark.
The lounge only opened in May 2016, following El Al's transfer to Terminal 4 after the closure of Terminal 1. At 340 square metres, it featured business and first class zones, free wifi, charging points, and three kosher food counters.
The lounge is located by Gate 2. It was only open from 3.5 hours before each El Al departure.
Strangely, there has been absolutely no publicity about the switch at all. This article is the first time it has been mentioned anywhere in the travel press. Not even a press release, yet alone a press launch. The El Al website still claims that the King David Lounge is up and running.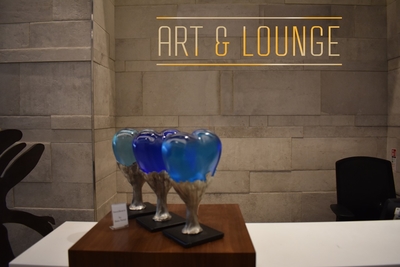 Who is 'ART & LOUNGE'?
According to its website:
"ART & LOUNGE is an international airport hospitality company. Our flagship lounge is located at Newark Liberty International Airport just outside of New York City. London Heathrow Airport, Terminal 4 is being added on July 1, 2019. Soon lounges will open in Paris and other major cities around the world. It is not a business lounge, it is not a gallery, it is a "bubble" allowing a high-end captive audience to experience an unconventional story, through art.
Every aspect of our hospitality is rooted in our commitment to you as a traveler. While we pamper you with the premium class experience you expect, we also aim to delight your mind and soul with thoughtfully displayed art throughout, inviting music and publications from around the world, adding a new dimension to your journey. All of our amenities are complimentary to our guests.
ART & LOUNGE, a uniquely designed VIP lounge takes travelers on an inspiring journey, long before they board their flights (and leaves an impression long after they've landed). An innovative concept that uses a somewhat "obvious" space more creatively, the new generation airport lounge by ART & LOUNGE."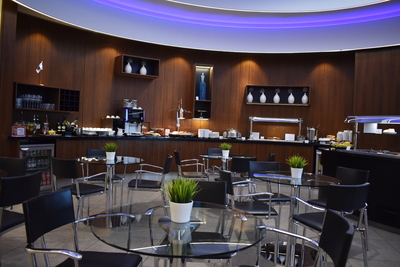 Will there be First and Business Class sections?
ART & LOUNGE has decided to retain the First Class zone from the El Al lounge. It will offer:
"added comfort, upgrade food items and premium liquor, a quiet atmosphere for a limited number of guests."
What does it cost to enter the lounge?
Standard entry is £25. Access to the First Class area costs £35.
What are the opening hours?
Weirdly, it is sticking to the old El Al opening hours:
06:00 – 11:00
15:00 – 18:00
It is difficult to see how it is going to pick up much third party business with such restrictive timings.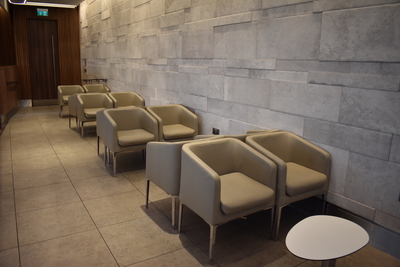 Can I enter with my lounge club card?
Yes. ART & LOUNGE accepts Priority Pass (free with American Express Platinum, or buy one here), Lounge Club (two free passes with American Express Preferred Rewards Gold, which is free for a year), LoungeKey and DragonPass.
Is the lounge still kosher?
I don't know. I would imagine that El Al has signed a deal with ART & LOUNGE to send all of its premium and status customers to the lounge, in which case some or all of the food will remain kosher. The New York Newark ART & LOUNGE lounge, used by El Al, has a large kosher offering.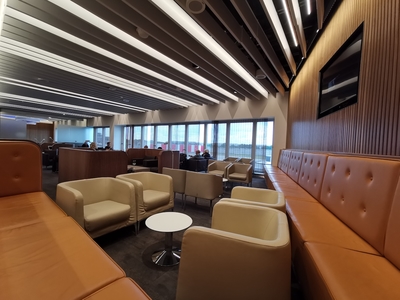 Why has El Al walked away from running its own lounge?
We can only surmise …… but, as I have said before on HFP, Terminal 4 is probably the most 'over lounged' airport terminal in the world.
There are only around 50 flights per day, including a lot of short haul departures, yet you have:
These are ALL excellent facilities. I would happily spend a couple of hours in any of them. There simply are not enough premium passengers to go around, however. You could easily close two of these spaces without causing major overcrowding elsewhere.
El Al is also about to come under strong pressure at Heathrow. Virgin Atlantic is launching services to Tel Aviv and British Airways is introducing an A350 with Club Suite. easyJet and Wizz Air already provide low cost competition out of Luton.
Etihad has already handed over its lounge to No 1 Lounges, under 'The House' brand. At least one of the other airline lounges above is, I know, trying to attract additional airline tenants.
What are my Priority Pass options now in Terminal 4?
You're spoilt for choice between the SkyTeam lounge, Plaza Premium and ART & LOUNGE.
Lounge Club cardholders cannot access SkyTeam but can use the other two lounges.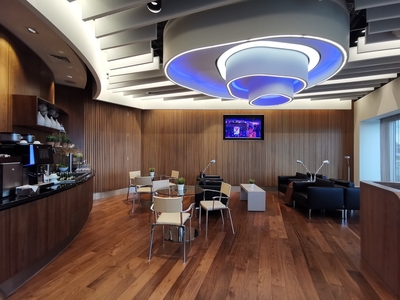 Regular readers will know that I have been in EVERY departure lounge at Heathrow …. except one. The El Al King David Lounge. Now that ART & LOUNGE has taken it over, I can pop in and complete my collection. (I don't think I get any sort of prize!)
The Art & Lounge website is here if you want to find out more.
Getting airport lounge access via a UK credit card
As a reminder, here are the three options to get FREE airport lounge access – including the new ART & LOUNGE in Heathrow Terminal 4 – via a credit or charge card:
The Platinum Card from American Express
Two free Priority Pass cards (one for you, one for your supplementary Platinum cardholder, each admitting two – so a family of four gets in free) giving access to every lounge in the Priority Pass network – search it here. You also get access to Plaza Premium, Delta and Eurostar lounges. Our American Express Platinum review is here.
American Express Preferred Rewards Gold
You get a Lounge Club card loaded with two free visits to any Lounge Club network lounge – see the list here. The list is slightly shorter than the Priority Pass list, but not by much. Additional visits are charged at £20 per person. You get two more free visits for every year you keep the card. No annual fee in Year 1. Full details are in our American Express Preferred Rewards Gold review here.
HSBC Premier World Elite Mastercard
You get a free LoungeKey card allowing you access to any property in the LoungeKey network. Guests are charged at £20 although regular travellers will find it cheaper to pay £60 for a supplementary credit card (adults only, of course). The card has an annual fee of £195 and there are strict financial requirements to become a HSBC Premier customer. Full details are in my HSBC Premier World Elite Mastercard review.