Review: Vietnam Airlines Premium Economy flight from London to Hanoi (Part 1)
Links on Head for Points may pay us an affiliate commission. A list of partners is here.
This is our review of Vietnam Airlines Premium Economy on a Boeing 787-9 from London Heathrow to Hanoi.
This is the first part of a new HfP series on Vietnam. You can read more about my trip in Vietnam, including reviews of business class on Vietnam Airlines, the Hilton Hanoi Opera, a Halong Bay cruise, the MGallery by Sofitel Royal Hoi An and a review of the Sailing Club Resort Mui Ne.
Vietnam Airlines offered me and my plus one complimentary flights (one way Premium Economy, one way Business). It also used its contacts to arrange complimentary hotels and even a river cruise, so you can expect a wide variety of content over the next week. HfP paid for all its incidental expenses.
Vietnam Airlines is the only airline to fly directly between the UK and Vietnam, which makes it your obvious choice if you are keen to visit this beautiful country.
Check in and airport experience
Vietnam Airlines is a member of the Skyteam alliance and uses Heathrow Terminal 4, the SkyTeam base. It is the Heathrow terminal I am least familiar with – the last time I was here was for my Malaysia Airlines trip earlier in the year.
Emerging from the tube you are greeted by rows and rows of check in counters. I checked the board to see which zone Vietnam Airlines is in and saw it was Zone H.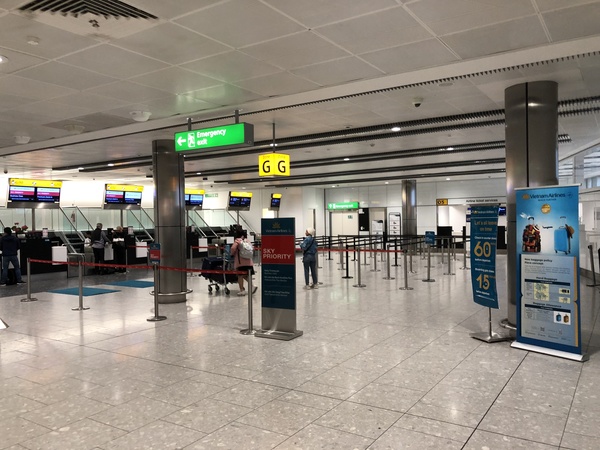 This turned out to be incorrect. Zone H is not in the same row – it has expanded slightly into the 'forecourt' of the terminal, so to speak. I was redirected to Zone G, which is on the far right-hand corner and which looks like it is in a room of its own.
When I arrived two hours before my flight there were a handful of desks open, one for business class, one for premium economy and the rest for economy. We walked straight up to the premium economy check in and were served immediately.
Having a dedicated premium economy check-in desk was an immediate plus – this is something that British Airways still does not do.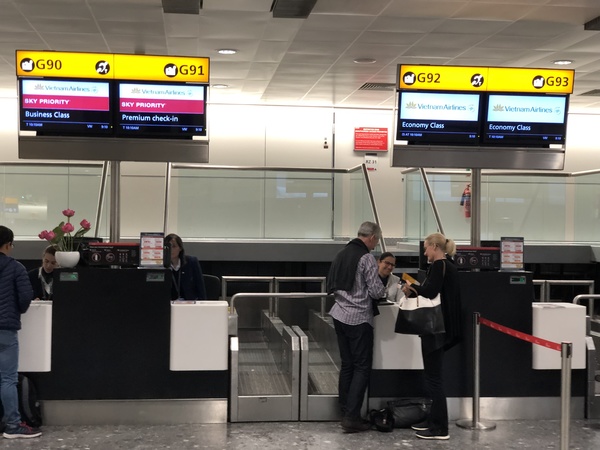 The lounge
Vietnam Airlines does not have its own lounges but does use the SkyTeam lounge at Terminal 4, which Rob reviewed back in February.
Premium economy passengers are not entitled to lounge access unless they have SkyTeam status (which I don't!). It is worth noting that you can also access the SkyTeam lounge with a Priority Pass lounge club card (free with American Express Platinum) although you cannot use the two Lounge Club passes which comes with American Express Gold.
There are two other Priority Pass / Lounge Club options in Terminal 4 – the Plaza Premium lounge, reviewed here, and ART & LOUNGE, reviewed here. The latter is currently closed for refurbishment. You can also pay to use The House, Etihad's old lounge and now part of No 1 Lounge's super-premium brand.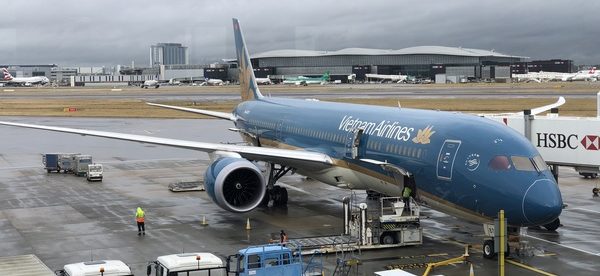 Boarding
Although our boarding pass said that boarding began an hour before departure, in reality it was more like 45 minutes. Business class was boarded first, followed by premium economy. There was a trolley with a stash of newspapers and magazines on the jet bridge: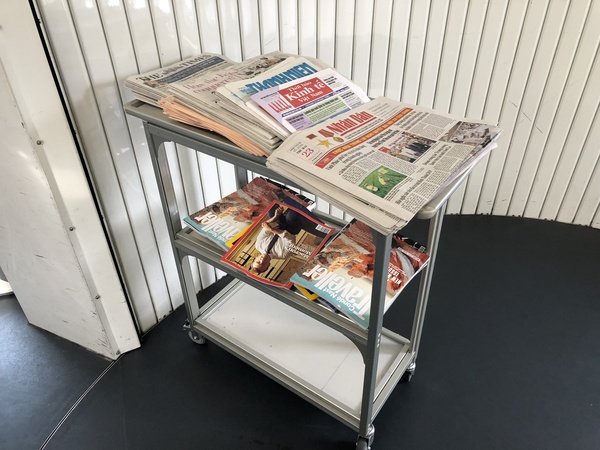 …. including The Economist, National Geographic, Time, The Times, FT …. not bad at all.
We made our way to our seats in 15G and 15K, which is the last row of premium economy on Vietnam Airlines' 787-9. The window seats are best for those travelling in pairs, since we did not have to step over anyone to get in or out.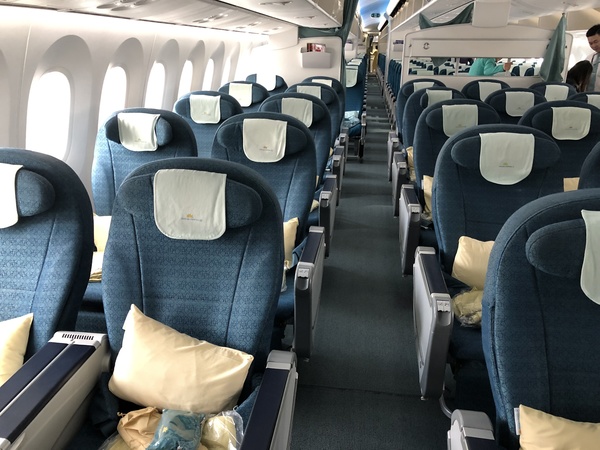 The Vietnam Airlines premium economy seat
Vietnam Airlines uses the same premium economy seat as Norwegian, although it is obviously upholstered in different materials. This means it is a wide seat with very generous leg room and recline. Here it is: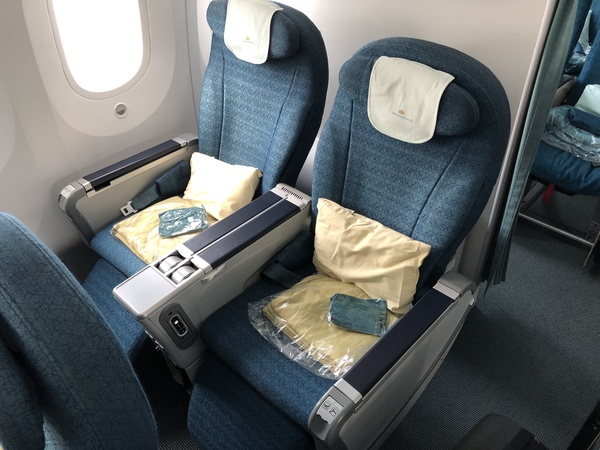 and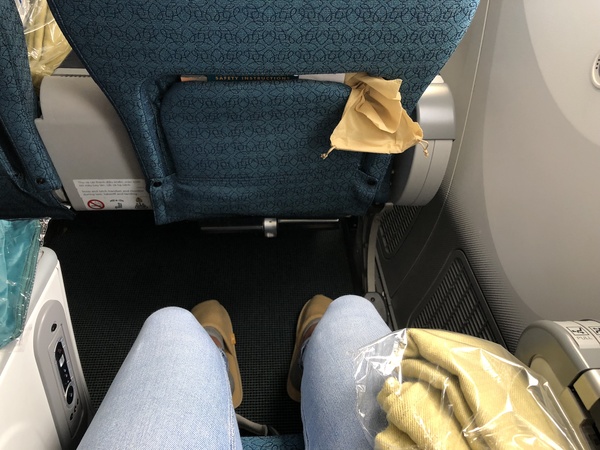 The recline is such that it is not the easiest to get out of if you are sitting in a window or middle seat and the person in front of you has fully reclined. You do have to ask your neighbour to move – there is not enough space to squeeze past them. Then again this IS premium economy and not business class where all-aisle access is now expected.
Each seat had a blanket, amenity kit and small cushion on it. There was a pair of toe-less slippers in the seat-back pocket: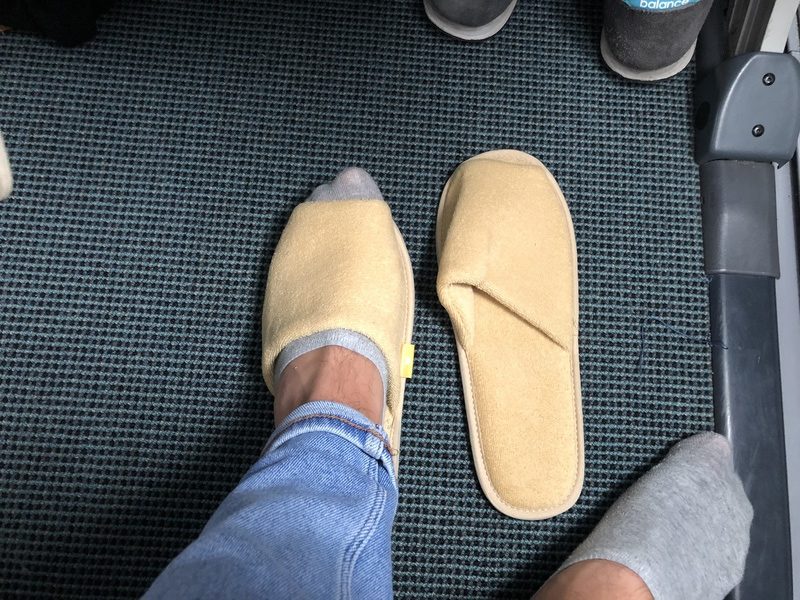 As you can see, Vietnam Airlines has gone for a decidedly yellow theme!
The amenity kit was relatively basic as you would expect from premium economy. It was made from a thin green polyester material and contained a pair of socks, eye-mask, ear plugs and dental kit.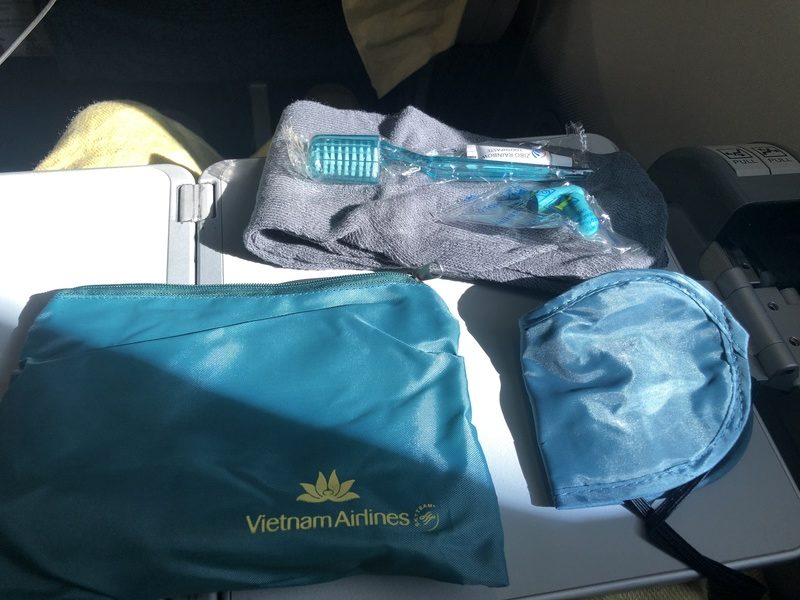 Cabin crew came around with a small drinks service at the gate. You could choose from water, apple or orange juice, served in plastic cups.
We ended up pushing back from the gate at the correct time, although we were stuck on the tarmac for a while. Something was clearly not right, and about 10 minutes later the captain announced that there was a technical problem and that we would return to the gate for it to be fixed.
In the end, we departed with a delay of about an hour. Given Heathrow's notorious congestion and the fact that we had a technical problem I am surprised it was not longer!
This is the end of Part 1. In Part 2, also published today, I look at the meal service and IFE in Vietnam Airlines premium economy.