Avios changes 2: understanding the new earning rates
Links on Head for Points may pay us an affiliate commission. A list of partners is here.
My three articles today look at the headline changes announced by BA yesterday.  I will follow this up with some deeper discussion tomorrow.
Key link: 'Club Changes' page on ba.com
(If you are new to Head for Points, welcome!  Please consider bookmarking the site or sign up for our daily emails via the box in the right hand margin.)
Here are the other articles in this series you may have missed:
1. Understanding the new tier point rules
3. Understanding the new spending rates
4. What is an Avios point worth after April 28th?
5. Exploiting the 'no repricing on date changes' rule
6. Why are off-peak upgrades now more expensive than peak?
7. Save 43% of your Avios on long-haul redemptions if you fly Iberia
8. Partner redemptions may be cheaper if booked on iberia.com
9. What will happen to airline partner earning rates?
10. Are you a winner or a loser overall?
The changes only apply to tickets booked after April 28th.  Tickets booked before then will be covered by the current rules, whenever the travel date.
This article looks at the changes to Avios earning rates.
If the bulk of your Avios points come from credit cards, Tesco etc then these earning changes will not impact you much.  For others it will mean a massive change.
Here is a summary table of the old and new rates: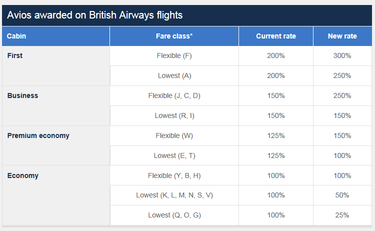 It speaks for itself:
Earnings on cheap economy seats drop from 100% to 25%-50%.  The minimum number of Avios earned per flight has also been adjusted to reflect this.  Instead of earning at least 500 Avios per flight, you are now only guaranteed a minimum of 125 for the cheapest economy tickets.
In itself, I don't blame BA for changing this in some way.  The old system was too generous and this is only moving back to what existed pre 2011.
If this had been the only change made to the scheme, I would have shrugged it off as a shame but also as a return to commercial reality.  Giving out 12,000 Avios for a flight to the US in deeply discounted economy did not make a lot of sense.  They were giving away a European flight with every long-haul.
However, BA is also making changes at the top end.  Fully flexible business class tickets jump from 150% to 250%.  This is pointless.
How many people buy fully flexible business class tickets with their own money?  Almost none.  How many companies let employees pick their airline?  Not many, as there are usually bulk deals in place.  The banker who has no choice but to use British Airways because the airline has negotiated a deal with his employer sees his mileage jump sharply.
(No changes have been announced to earnings rates on partner airlines but that doesn't mean that none will be forthcoming!)
BA has also tampered with the status bonus for Silver members:

The Silver bonus drops from 100% to 50%.  Again, if I'm totally honest, I could have lived with this if it had been the only change.
The impact of this on a fairly large sub-section of BA customers is huge.
Let's assume you are a Silver member who flies to Cape Town in deeply discounted economy.  Using 12,000 miles as a rough distance, you would earn 24,000 miles for the round-trip.  After April 28th, you would only earn 9,000!  That is an astonishing drop.
The smartest thing I ever read about loyalty schemes was from US blogger Gary Leff.  His thesis is that a successful scheme is about increasing marginal spend from EVERY customer.  Not your top 10% of customers (who only use you because their employer tells them to) but from all your customers.
BA, on the other hand, has told about 70% of customers by volume that it really couldn't care less if they continue to fly with them or not.  The customers it does want to keep and will reward heavily are those who are effectively forced to buy their product by their employer, an employer who already receives large rebates from BA.  If that sounds odd to you, it should.
Click for the next article – understanding the new spending rates