My airberlin NYC-Berlin flight with the NEW FULLY-FLAT SEAT!
Links on Head for Points may pay us an affiliate commission. A list of partners is here.
This is my review of business class on airberlin, flying from New York to Berlin.
This is the final part of my review of my recent US trip. Previous articles in this series cover the Sheraton Frankfurt Airport, the Lufthansa First Class Terminal, the Swiss First Class Lounge, Swiss First Class in the air, the InterContinental Boston, American Airlines domestic service from Boston to New York and the InterContinental New York Times Square.
I had no intention of writing about this flight before I boarded. After all, I did exactly the same flight – New York JFK to Berlin Tegel, airberlin business class – in February. You can read my report on that flight here.
However, as soon as I stepped on board, that changed. I had got lucky, and my flight was equipped with airberlin's new fully-flat business class seat!  This is the 'other' version of this seat, which is a second-hand seat previously used by Swiss.  There is a different fully-flat seat running on the Abu Dhabi route, which matches the seat used by airberlin's partner Etihad.
Even better was that the flight was an outstanding bargain in terms of cost. A one-way business class flight from JFK to either Dusseldorf or Berlin on airberlin costs the standard 40,000 Avios points but just £1 of tax!
Before I talk about the seat and the food, here are a few ipad shots: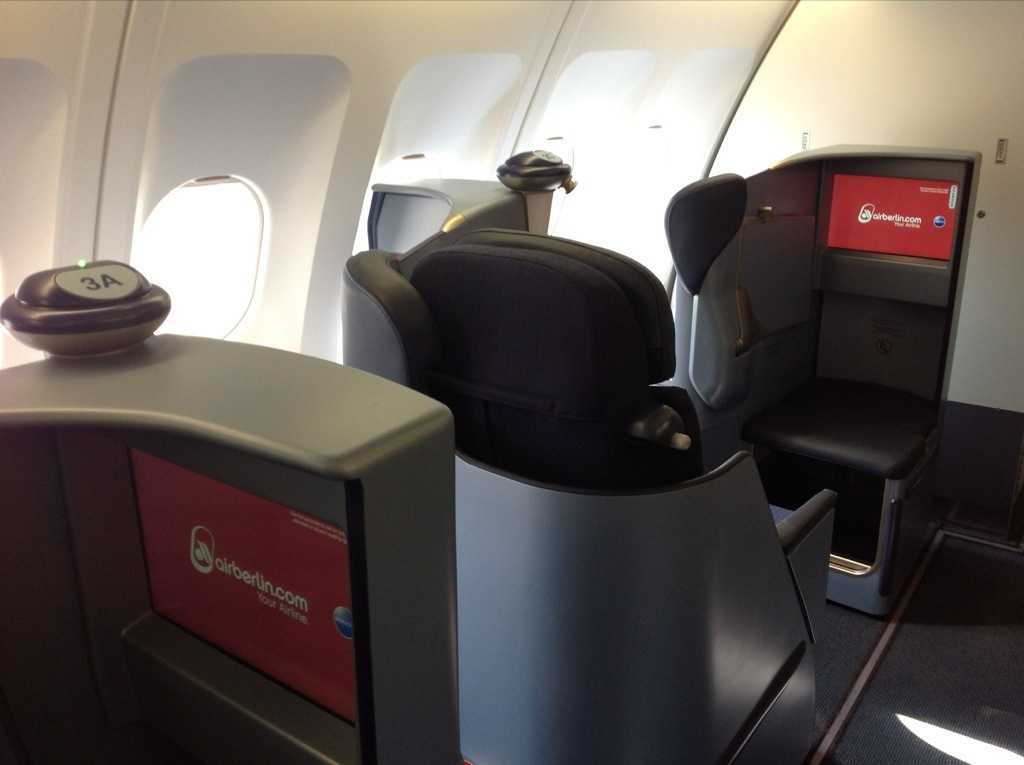 And …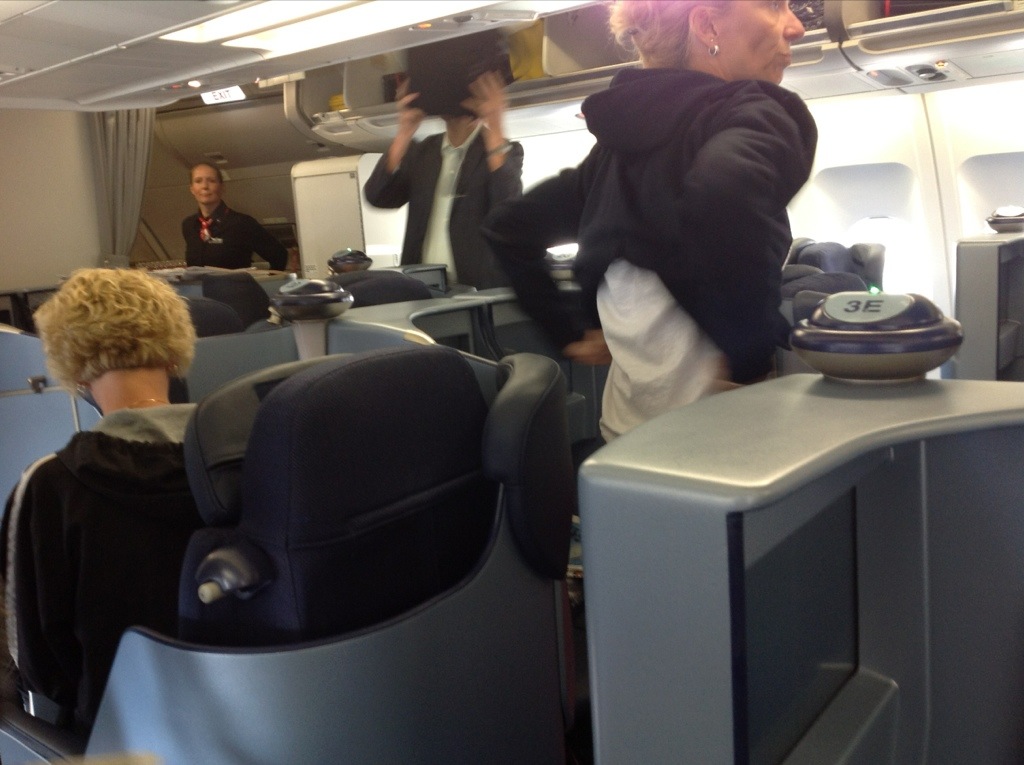 And …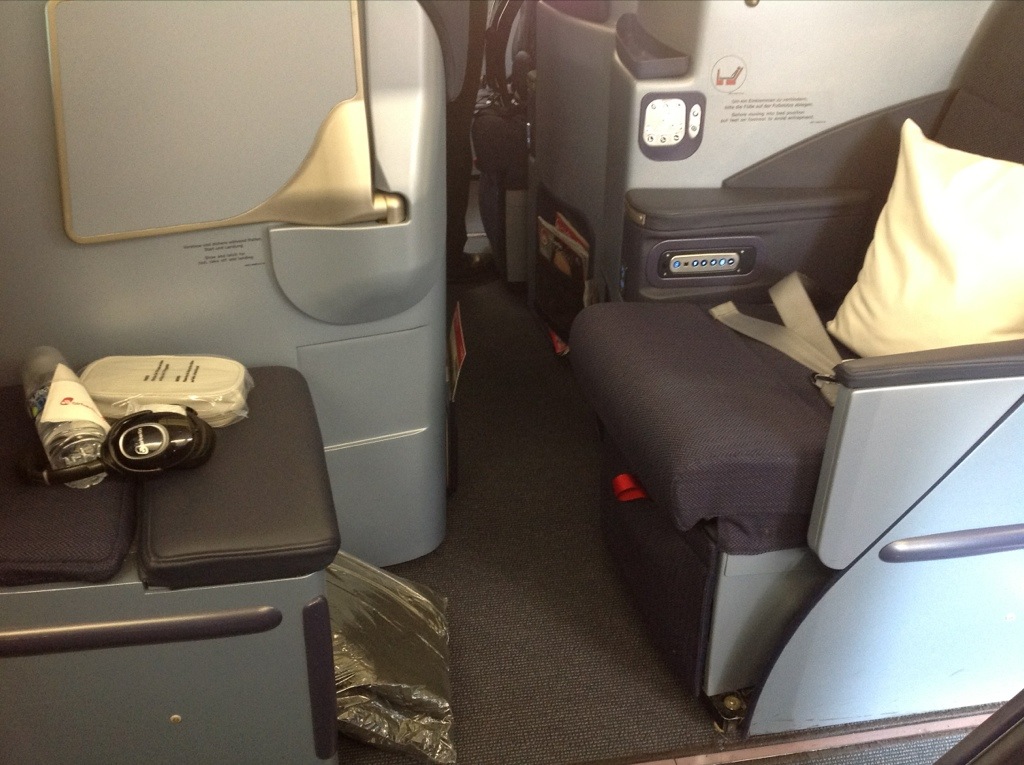 What you've got is a cabin of 19 fully-flat business seats, mainly in a 2 x 2 x 2 zig-zag layout.
The upside to this layout is that all seats face forward (unlike BA's Club World) and all seats, even window seats, have direct aisle access. You can see in the middle photo how the people in the middle block can access the aisle without walking over anyone. You also get a big TV as you can see from the top photo.
The downside, compared to Club World, is that the seat is definitely shorter (182 cm, so 5 foot 11 inches – I am 6 foot 2) and it also felt quite narrow. However, it was more than OK for a quick overnight hop from the US.
Food & drink
The food and drink offering on airberlin is, erm, "eclectic" (brussel sprout salad anyone?). It certainly isn't the sort of thing that BA would serve in Club World, but that's not necessarily a problem.
At least they don't embarrass themselves BA-style by trying to serve stuff like roast beef and full English breakfasts which simply can't be done properly in the air ….
The wine list is similarly eccentric, although not German dominated. No champagne, only prosecco.
This is what was on the menu, inspired by the Sansibar restaurant on Sylt. (Never heard of Sylt? Look it up! It is totally unknown in the UK but is effectively The Hamptons – complete with celebrity quota – transferred to Germany.)
Vorpeise
Prosciutto with parmesan crackers, asparagus tips and balsamic sauce
Shrimp marinated in lemon oil with brussel sprout salad and tomato slices
Heisses Gericht
Baby pok choy and lime rice ('bok choy' as the English translation had it!)
Lamb medallions in rosemary sauce with baby carrots, yellow beans and yukon (?) mashed potatoes
Grilled sea bass in lemon oil with green and yellow beans and saffron potatoes
Ravioli filled with spinach and gorgonzola served in a cherry tomato sauce garnished with roasted yellow tomatoes
Nachtisch
Mocha mousse
Aged gouda and goat cheese
Breakfast was a Club Europe-style tray with fresh fruit, a small pot of yoghurt and the floppiest, soggiest croissant ever seen!
Arrival
As ever, Tegel was simply astonishing. We arrived 25 minutes early at 7am. I was first off the plane. Immigration is done at the gate so there was obviously no-one in front of me. And its Tegel, the doughnut airport, so it is literally 30 seconds from the gate to a taxi if you're on hand baggage.
And its Berlin, so it is 12-15 minutes in a taxi to central Berlin.
Amazingly, I was at Berlin's central station for 7.20am, just 20 minutes after walking off the plane.
The rest of my day involved a 100 minute, £110, first class rail trip from Berlin to Hamburg, meeting the family, taking the S-Bahn out to Hamburg Airport and a BA Club Europe flight back to London, where disappointingly my kids did not manage to annoy anyone this time!
I ended up doing 8 flight over 9 days:
2 x BA Club Europe
2 x BA Eurotraveller
1 x Lufthansa short-haul business
1 x American Airlines short-haul economy
1 x Swiss long-haul first
1 x airberlin long-haul business
…. plus 1 x German ICE train trip in first class!
Time for a rest now ….!