Flybe is back – and I was on the first flight
Links on Head for Points may pay us an affiliate commission. A list of partners is here.
Yesterday Flybe (re)launched flights with an inaugural BE404 8:55am service from Birmingham International to Belfast City.
I was on it. After a two year absence, we wanted to see what Flybe has to offer.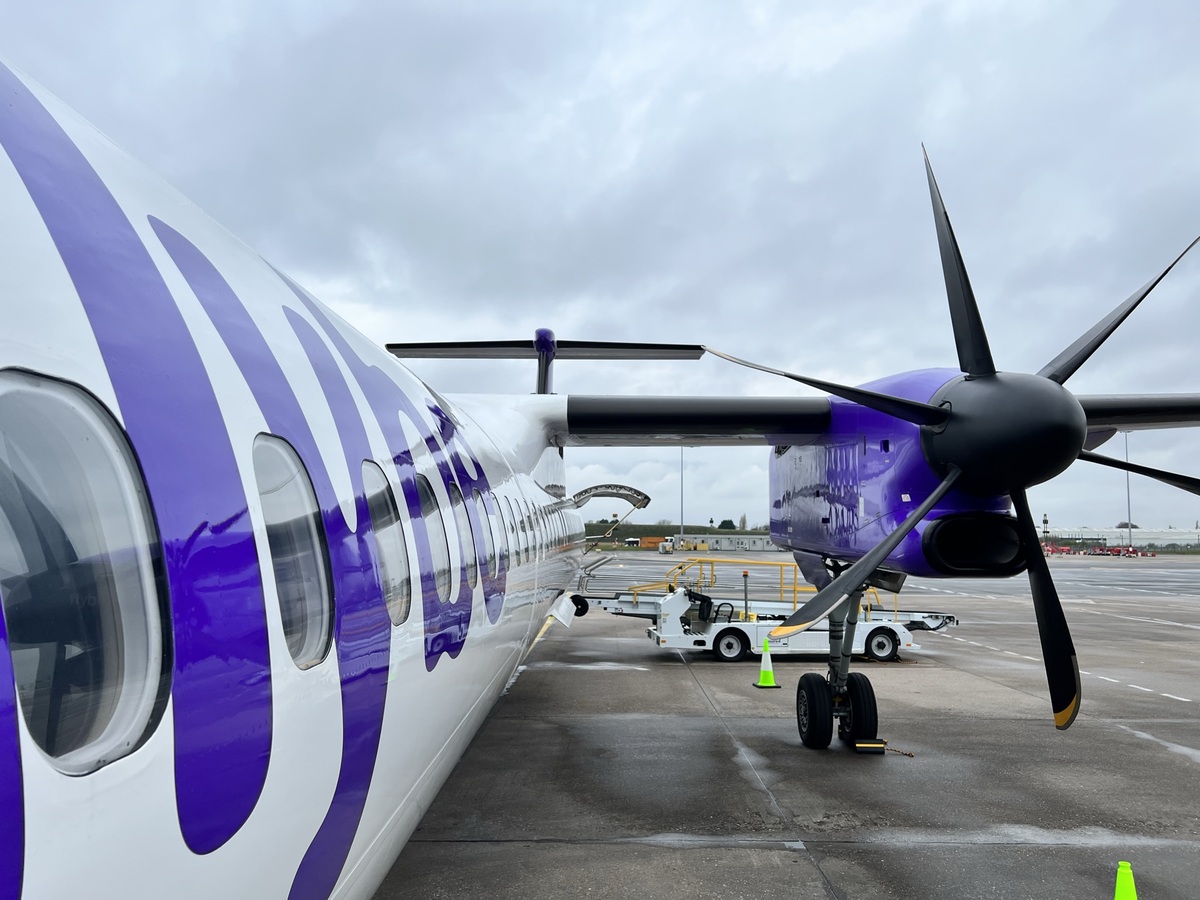 A quick recap of Flybe's history
The past five years have been anything but smooth for Flybe, which has its roots in Jersey European Airways, founded in 1979. In 2000, the airline was renamed British European before another rebrand in 2002, as Flybe.
Here's a quick timeline of the past 15 years:
In 2006, Flybe buys BA Connect and becomes the largest regional airline in Europe
In 2014, Flybe joins Avios and for a time you are able to earn and redeem Avios on the airline
In 2016, Virgin Atlantic announces a codeshare with Flybe
In 2018, Flybe has already been struggling financially for a couple of years and Stobart Group announces it was interested in taking the airline over
In late 2018 the rumours of an acquisition by Virgin Atlantic hit the press, followed by speculation that IAG could make a counterbid
In early 2019 Virgin Atlantic announces a bid for Flybe via the consortium Connect Airways. The bid is priced at just 1p per share but included a £100 million cash injection. The deal involves Virgin Atlantic (30%), Stobart Group (30%) and Cyrus Capital (40%).
The deal with Connect Airways completes within a few days of the announcement and Connect Airways takes ownership in February 2019. Connect Airways plans to simplfify Flybe's core operation and adjust the network to better connect with Virgin services.
In April 2019 the cutbacks begin, with four bases closing or shrinking. The Avios partnership ends, with a medium term view to offer Virgin Points.
In October 2019, Connect Airways announces plans to rebrand Flybe as Virgin Connect. HfP was the only media invited to the unveiling.
In January 2020 (before Covid) Sky News reports that Flybe is on the brink of administration (again). It is saved from collapse in a secret government deal.
On 4th March 2020 (before major lockdowns) Flybe collapses for good after the government refuses requests for additional funding. You can read our post-mortem of the Flybe collapse here. Controversially, Virgin Atlantic, Stobart Group and Cyrus Capital get back much of what they invested because they took a charge over the assets of the business.
In October 2020, Flybe's former assets were sold to Cyrus Capital, the majority shareholder in the Virgin Connect consortium. The 'assets' consist of very little beyond the brand and website since virtually everything of any value had been mortgaged.
The new Flybe picks up Heathrow Summer-only slots from BA in April 2021, strengthening the case for its return. These slots can now be used for any European routes and can also be sold. (A core aim of new Flybe is presumably to jump through the hoops required to receive the matching Winter seasons slots.)
In November 2021, Flybe announces its first base – Birmingham
In March 2022, Flybe announces a second base at Belfast City and its initial network, comprising 23 primarily domestic routes
…. which takes us up to the present day.
As you can see, Flybe has had more than its fair share of ups and downs.
In the last fifteen years, Flybe went from being the largest regional airline in Europe to the verge of collapse, only to be saved by a consortium led by Cyrus Capital, before being saved from collapse by the Government in early 2020.
The airline then collapsed – for real this time – in March 2020, before being resurrected by Cyrus Capital two years later.
There is another story to be told about why Flybe collapsed – driven by poor fleet choices, including adding Embraer jet aircraft, and picking unnecessary fights with airlines such as Loganair on certain routes – but that is for another day.
What has changed at (new) Flybe?
Virtually everything, as it turns out. Whilst the brand and Heathrow Summer slots were retained, a new management team was brought in. It is, in effect, a brand-new startup.
Flybe has re-leased some of its former De Havilland Dash 8-400 aircraft (fortunately, not that many other UK / European airlines use this type of aircraft and they had not all found new homes). They have had a fresh lick of paint and, as you will see, reupholstered interiors.
Booking my Flybe launch flights
As part of its launch, Flybe ran a twenty-four hour sale with £10 off flight bookings. As I had nowhere better to be on a Wednesday in mid April, Rob thought he would book me on the very first commercial Flybe flight in two years – the 8:55am departure from Birmingham to Belfast City.
We managed to grab one of the £19.99 one-way sale fares. In general, Flybe's pricing now starts from £34.99 one-way.
Checking in to my Flybe flight
As you would expect, there were festivities for the new flight. Flybe's bag drop and check in area in Birmingham were in Zone B, where a balloon arch had been set up. Here is CEO Dave Pflieger plus some colleagues: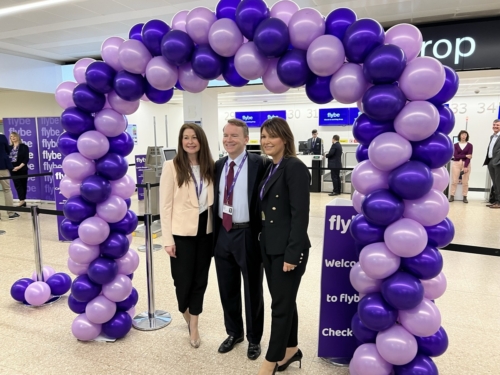 Plenty of Flybe staff members were taking photos, as you can see, so I thought I'd give it a go too: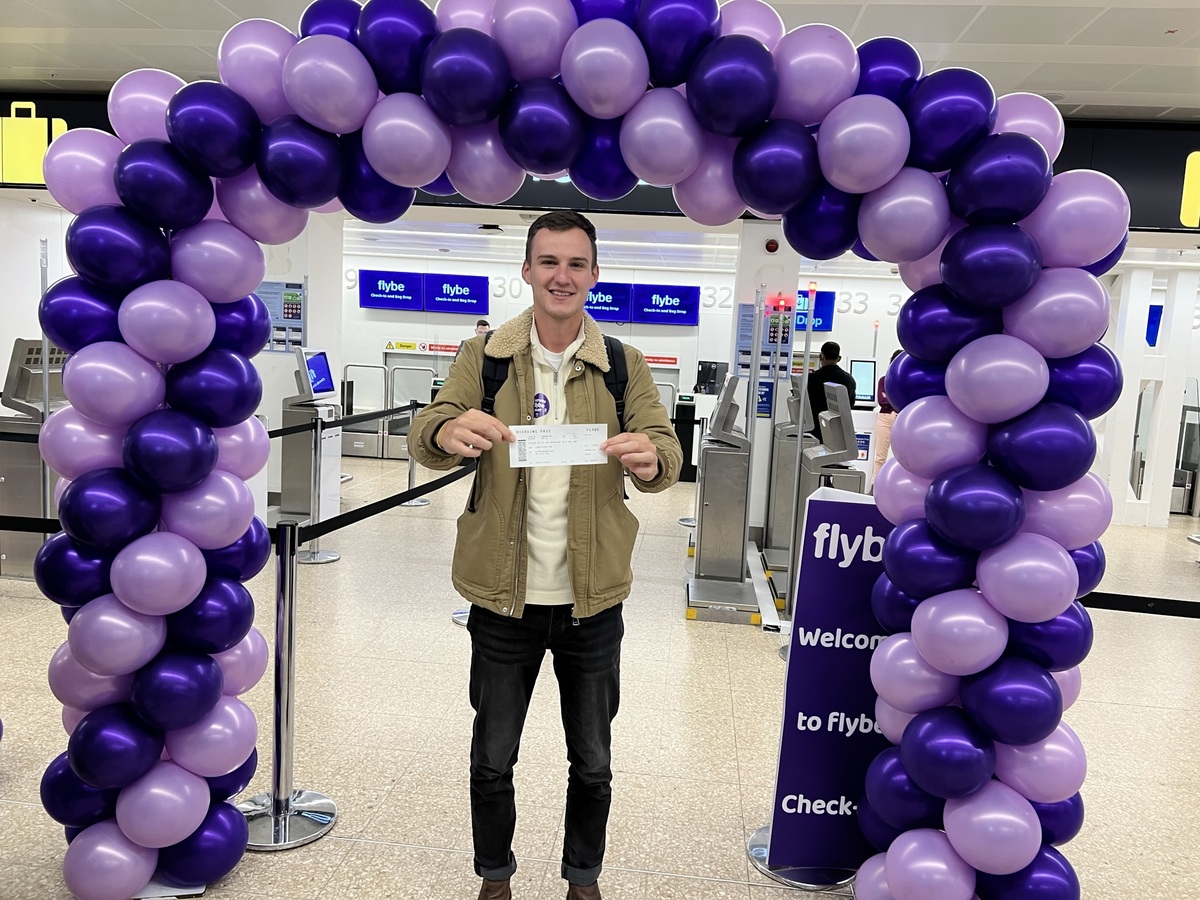 There were no queues to check-in and I was seen straight away, which was a pleasant change.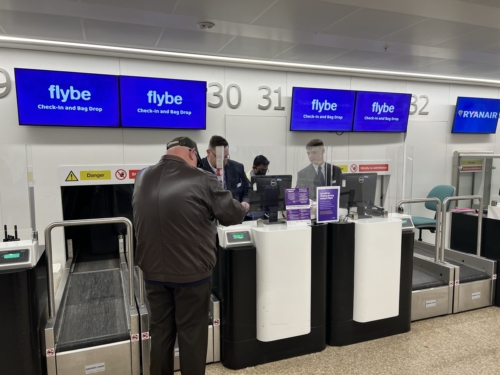 There were, unfortunately, gigantic queues for security at Birmingham Airport, although this is largely out of Flybe's control.
There wasn't a whole lot of activity at the gate, although plenty of avgeeks in attendance watching the aircraft arrive.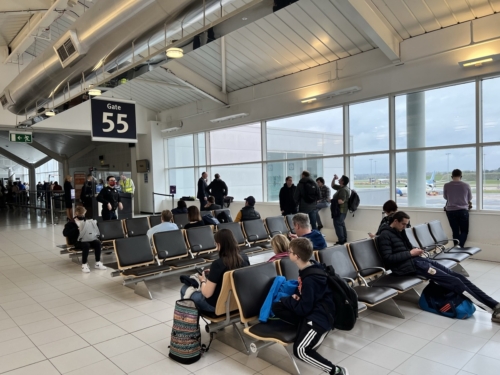 There was more of a celebration as we boarded, with various media and film crews as well as staff from Flybe and De Havilland, amongst others. The entire Flybe senior leadership team was on the flight. Goody bags were being distributed: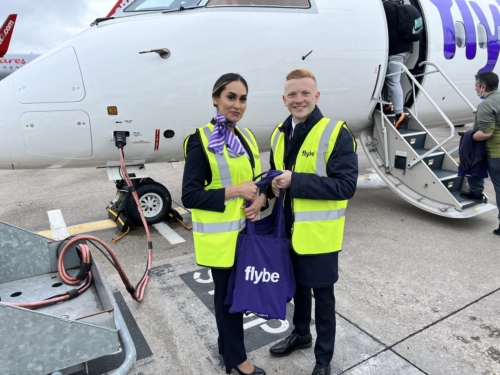 I managed to get a photo op as I boarded: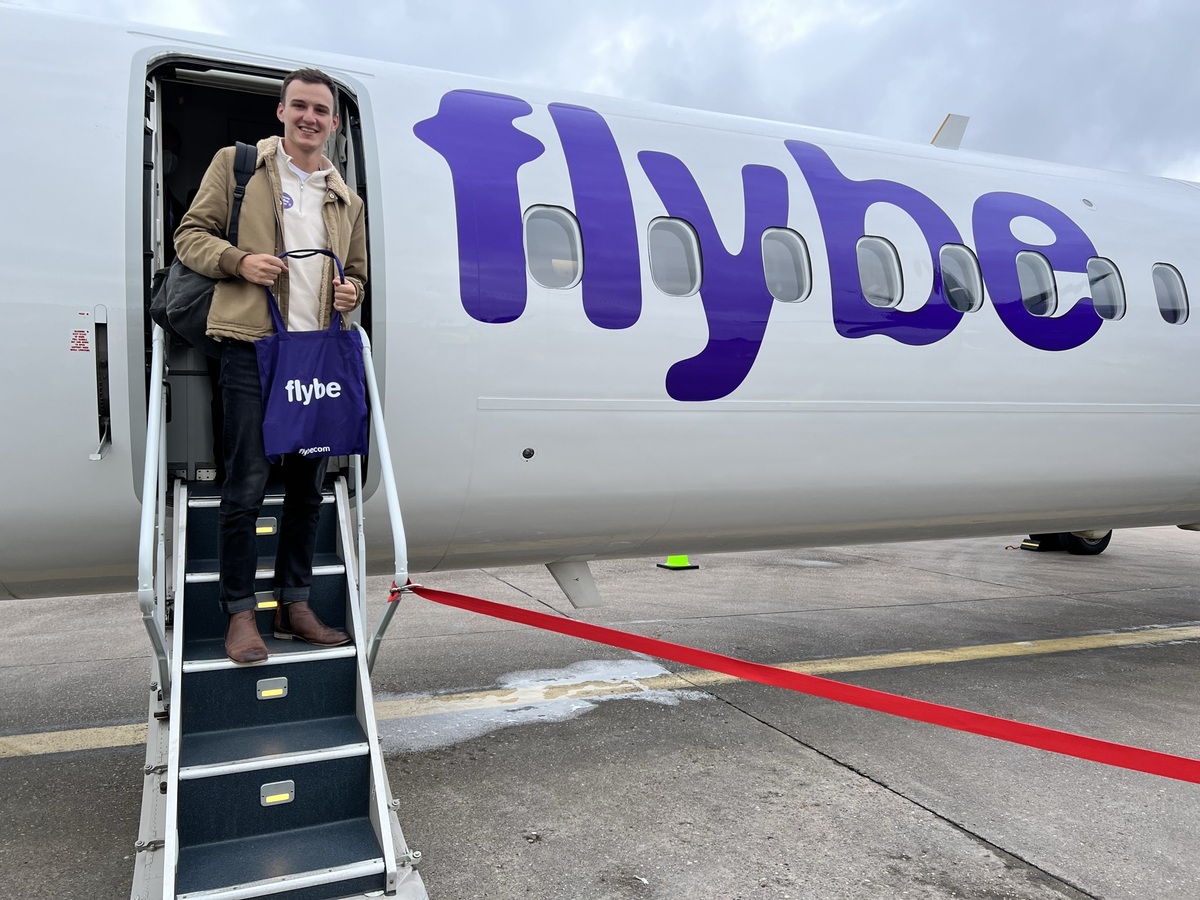 What are Flybe's De Havilland Dash 8-400s like?
Like old Flybe, new Flybe's fleet is based around the De Havilland Dash 8-400 (bit of a mouthful, I know). The Dash 8-400 is a turboprop aircraft with open rotors vs the turbofan architecture of most modern aircraft: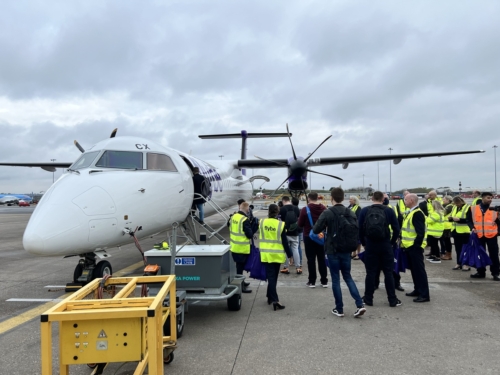 One of the benefits of the Dash 8-400 is that (according to the De Havilland employee sat behind me) it is 35% more efficient versus comparable jets such as the Embraer E190 flown by BA CityFlyer.
It's definitely smaller than your average-sized aircraft. At 6'2″ I didn't quite touch the ceiling but I was close: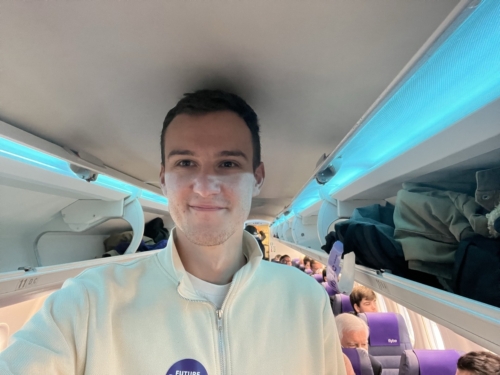 The aircraft has a 2-2 configuration with 78 seats in total: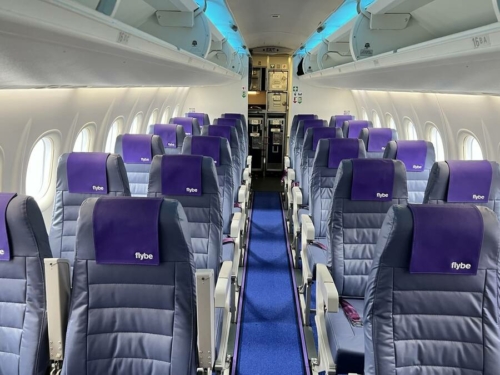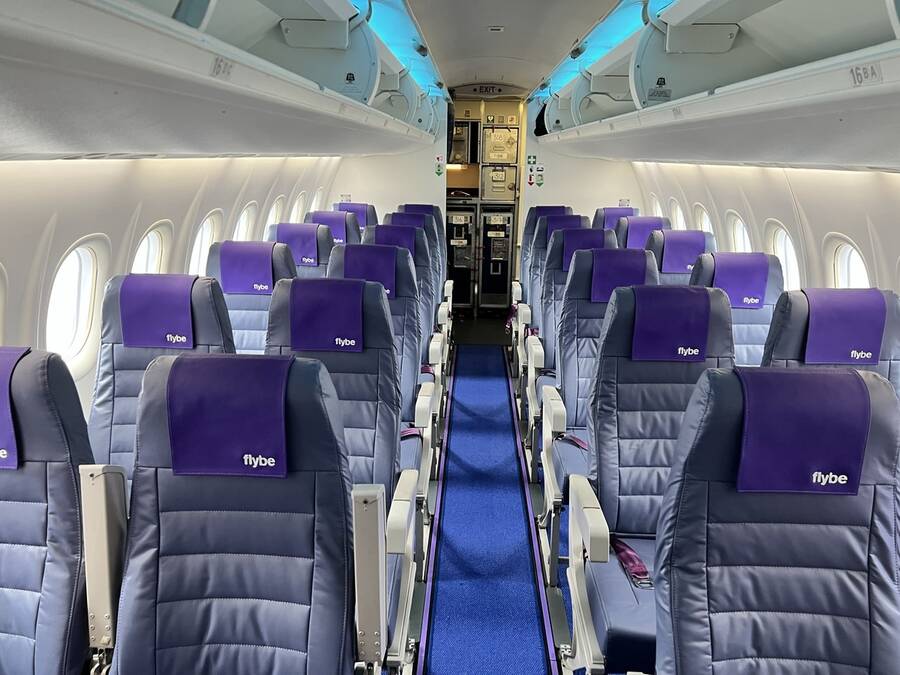 All seats are the same. There is no business class, although you can opt for the front row which has extra legroom.
Whilst the aircraft and seats were older, they had all been reupholstered with this smart new blue and purple leather. I particularly like the purple seat belts.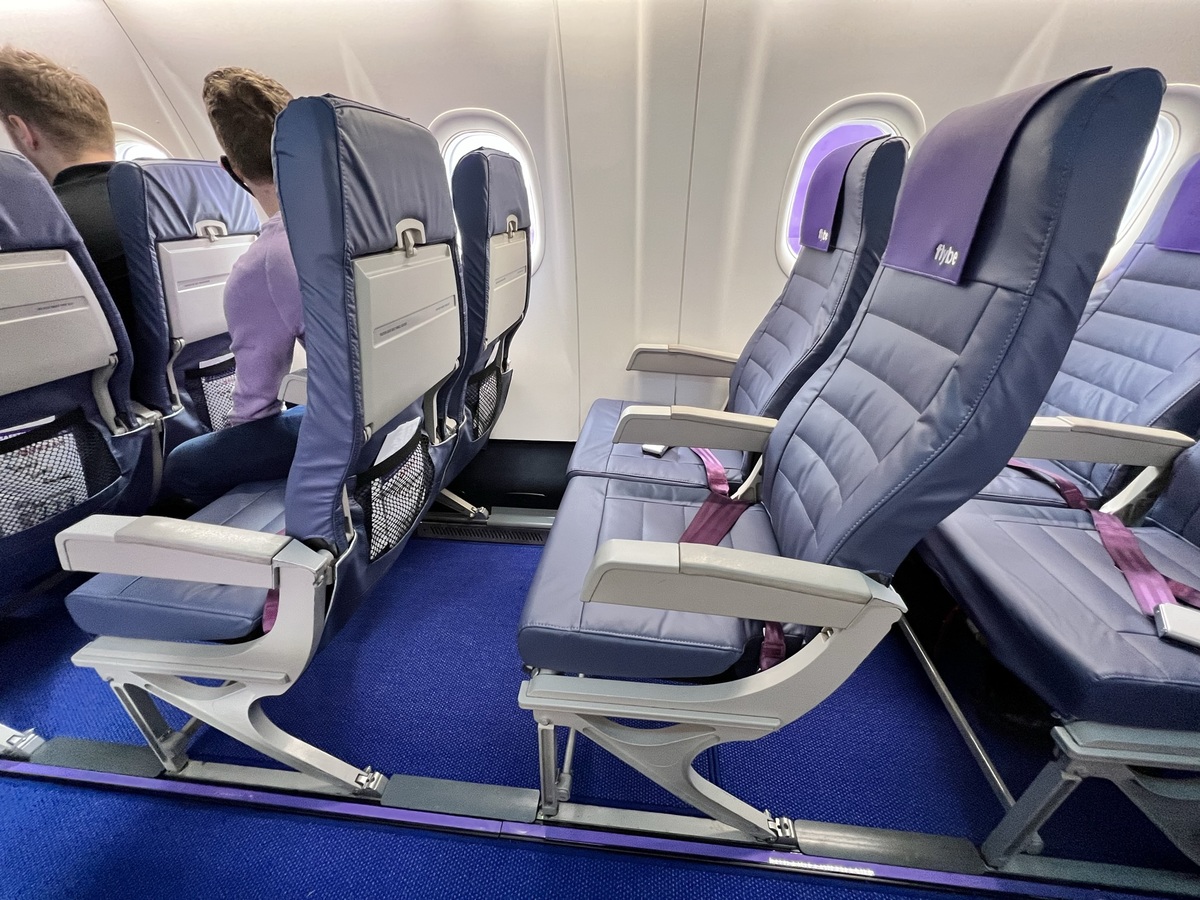 The seating is noticeably tighter than you would find on an A320 – you really are shoulder to shoulder. On the other hand, the leg room was pretty good – better, I think, than Ryanair / easyJet etc: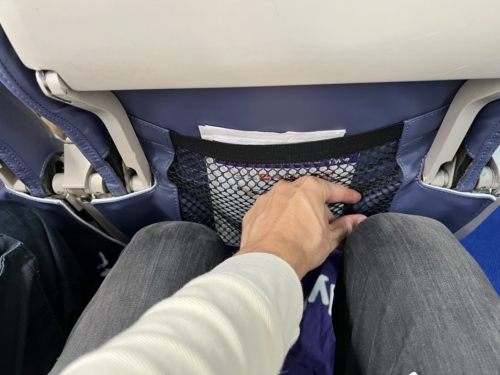 One word of warning – I was disappointed to find that there was no window in row eleven (see photo above). Row ten, on the other hand, gets two.
The aircraft also had a new upgraded LED lighting system.
Just before take-off CEO Dave Pflieger gave a few words of welcome over the PA system, thanking everyone on the team.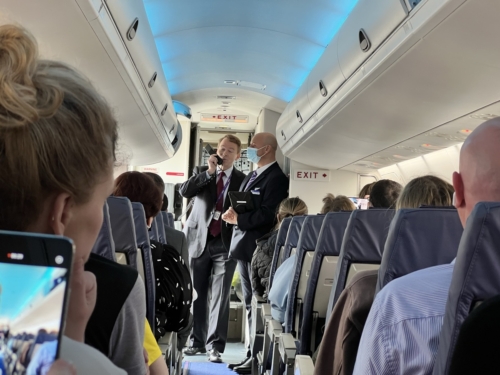 Do you get free drinks with Flybe?
Yes. I was surprised to hear that Flybe was offering complimentary soft drinks and biscuits on the flight, similar to what BA now offers on its short haul flights.
You can choose between water, tea, coffee and juice, whilst there is also a choice of biscuits: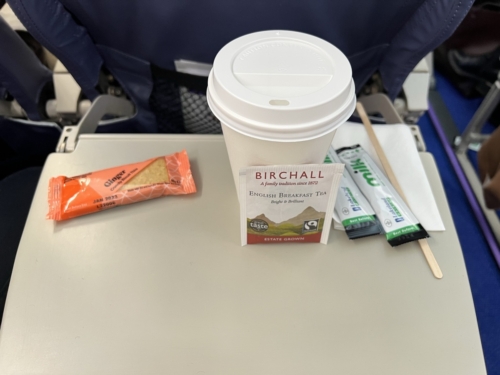 There are no other food or drink options. Because the flight is so short the crew had a bit of trouble trying to serve the whole cabin before landing, and the pilots had to ease off the accelerator a little!
Arriving at Belfast City
Despite that we arrived in Belfast City five minutes early and were greeted by a water cannon salute.
As Belfast City is Flybe's second base we were greeted by the regional team, including the Belfast City cabin crew who are ready and prepped to start flights in the coming days.
Belfast City is a delightful airport to arrive in, and very similar in size to London City. You can be through within minutes and it's just ten minutes or so into Belfast itself – much more convenient than Belfast International.
Conclusion
Most Flybe flights going forward won't be quite as dramatic as this one, but it looks like the airline is starting from a strong position. There is decent legroom and complimentary in-flight refreshments for all passengers, which was a pleasant surprise.
The Dash 8-400s are cramped, but on the flipside they are 35% more fuel efficient than E190 jets which isn't to be sniffed at. They are only slightly slower on domestic flights than a jet aircraft – on average, just five to ten minutes.
Fingers crossed we see Flybe 2.0 (or should it be 3.0?) succeed where its predecessors couldn't. It is fighting an uphill battle – the competitive environment has changed a lot, with airlines such as Loganair, Emerald Airlines (as a franchisee for Aer Lingus Regional) and Eastern now offering competition on many of Flybe's old routes. Good luck to them.
You can find out more and book tickets on the Flybe website here. You can find the full list of 23 Flybe routes, along with start dates, in this HfP article.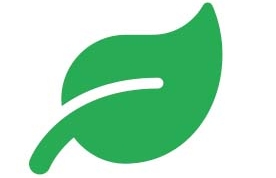 Head for Points made a financial contribution to the Woodland Trust as part of this trip. The Woodland Trust creates and manages forests in the UK in accordance with the Woodland Carbon Code.