Flybe goes bust – all flights cancelled
Links on Head for Points may pay us an affiliate commission. A list of partners is here.
In an unexpected move on Saturday morning, UK regional airline Flybe filed for administration.
All flights are cancelled and customers are unlikely to receive any refunds, except via a credit card chargeback.
Data from Cirium shows that the airline was due to operate 292 flights over the next week with over 22,000 seats.
The airline had only resumed flying in April 2022. The original iteration of Flybe went bankrupt before the pandemic and its assets – primarily just the name and website – were bought back by Cyrus Capital. Cyrus is a private equity investor which had been part of the Virgin Atlantic consortium that had initially tried and failed to keep the airline afloat.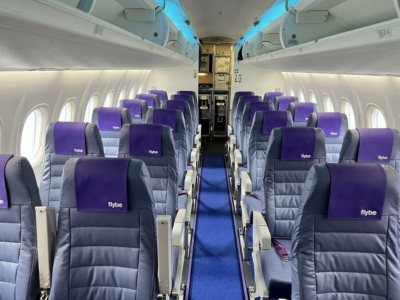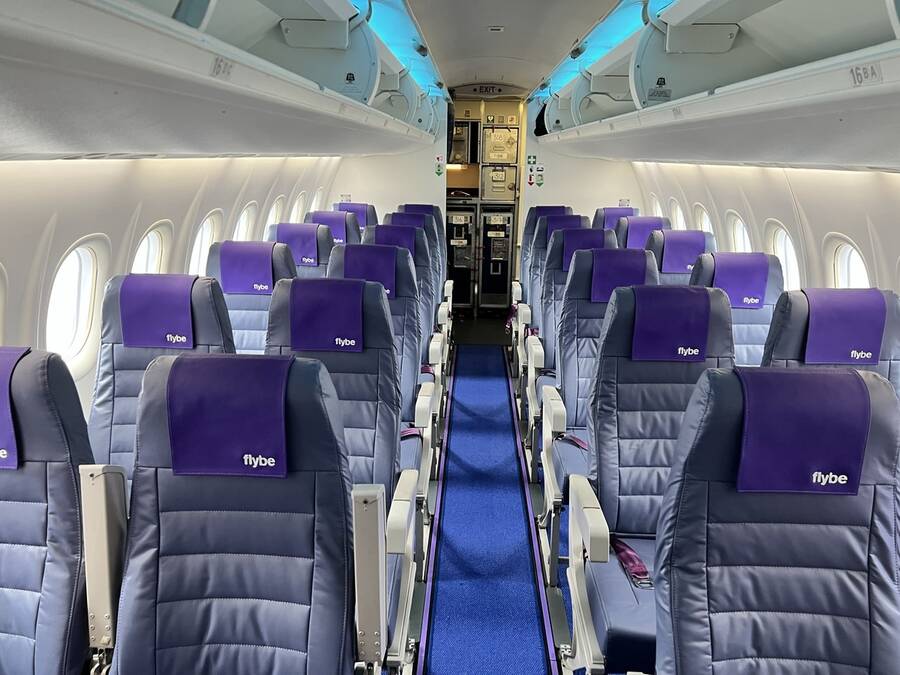 Whilst the brand and Heathrow Summer slots were retained – which is arguably what the new owners coveted, in order to sell them on – a new management team was brought in. It was, in effect, a brand-new startup. Flybe had re-leased some of its former De Havilland Dash 8-400 aircraft – not many other UK or European airlines use this type of aircraft and they had not all found new homes.
A message posted on the airline website this morning says:
"On 28 January 2023, the High Court appointed David Pike and Mike Pink as Joint Administrators of Flybe Limited ("Flybe").

Flybe has now ceased trading and all flights from and to the UK operated by Flybe have been cancelled and will not be rescheduled.

If you are a passenger affected by this event, please read the advice below.

If you are due to fly with Flybe today or in the future, please DO NOT TRAVEL TO THE AIRPORT unless you have arranged an alternative flight with another airline. Please note that Flybe is unfortunately not able to arrange alternative flights for passengers.

If you have a Flybe booking sold by an intermediary (i.e. not directly with Flybe) that includes travel on a Flybe flight, please contact the relevant airline or booking / travel agent to confirm if there is any impact to your travel plans as the intermediary may be able to support you with alternative arrangements and provide further advice regarding any claim you may need to make.

Customers are also advised to monitor the Civil Aviation Authority website for further information www.caa.co.uk/news."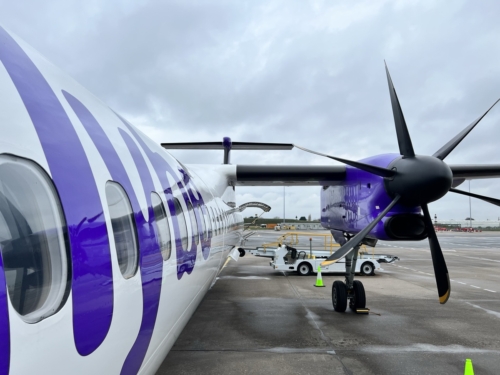 A more 'personal' message was posted on social media:
Since we relaunched the business last April, we've been humbled by the goodwill and support shown to us from customers, stakeholders and the whole aviation industry. We had made it our mission to bring the airline back to full capacity efficiently, creating jobs, and establishing better regional connectivity across the UK, using aircraft that have a lower carbon footprint by design. We also hoped to widen our network, partnering with other operators with access to Europe and the US.

Unfortunately, while we made significant progress in certain areas, there were a number of hurdles in our way which we were unable to overcome.

We'd like to thank all of our wonderful customers for your support since we relaunched Flybe in April 2022. Its been our absolute pleasure and privilege to serve you.

Above all, we want to say an enormous thank you to our team of brilliant people, who worked so tirelessly to make Flybe a success.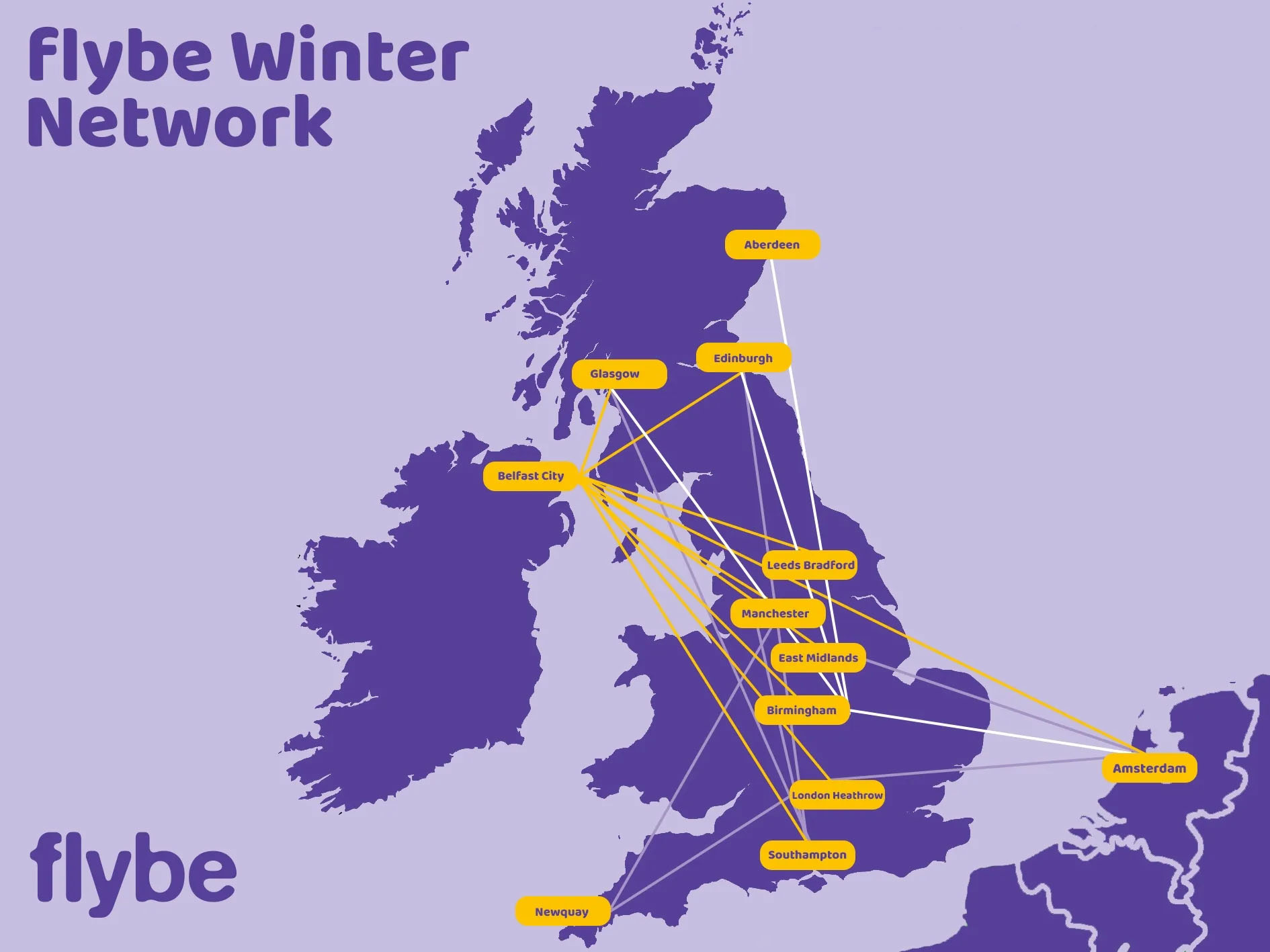 The Civil Aviation Authority said:
Flybe, which operated scheduled services from Belfast City, Birmingham and Heathrow to airports across the United Kingdom and to Amsterdam and Geneva, has ceased trading.

All Flybe-flights have now been cancelled. Please do not go to the airport as flights will not be operating.

Flybe customers who still need to travel, will need to make their own alternative travel arrangements via other airlines, rail or coach operators.

The UK Civil Aviation Authority will provide advice and information to affected passengers. More information can be found on www.caa.co.uk/news when it is available.

Information will also be made available on our Twitter feed @UK_CAA
Paul Smith, Consumer Director at the UK Civil Aviation Authority, said:
"It is always sad to see an airline enter administration and we know that Flybe's decision to stop trading will be distressing for all of its employees and customers.

"We urge passengers planning to fly with this airline not to go to the airport as all Flybe flights are cancelled. For the latest advice, Flybe customers should visit the Civil Aviation Authority's website or our Twitter feed for more information."
Flybe never had an easy life
The past five years have been anything but smooth for Flybe, which has its roots in Jersey European Airways, founded in 1979. In 2000, the airline was renamed British European before another rebrand in 2002, as Flybe.
Here's a quick timeline of the past 15 years:
In 2006, Flybe buys BA Connect and becomes the largest regional airline in Europe
In 2014, Flybe joins Avios and for a time you are able to earn and redeem Avios on the airline
In 2016, Virgin Atlantic announces a codeshare with Flybe
In 2018, Flybe has already been struggling financially for a couple of years and Stobart Group announces it was interested in taking the airline over
In late 2018 the rumours of an acquisition by Virgin Atlantic hit the press, followed by speculation that IAG could make a counterbid
In early 2019 Virgin Atlantic announces a bid for Flybe via the consortium Connect Airways. The bid is priced at just 1p per share but included a £100 million cash injection. The deal involves Virgin Atlantic (30%), Stobart Group (30%) and Cyrus Capital (40%).
The deal with Connect Airways completes within a few days of the announcement and Connect Airways takes ownership in February 2019. Connect Airways plans to simplfify Flybe's core operation and adjust the network to better connect with Virgin services.
In April 2019 the cutbacks begin, with four bases closing or shrinking. The Avios partnership ends, with a medium term view to offer Virgin Points.
In October 2019, Connect Airways announces plans to rebrand Flybe as Virgin Connect
In January 2020 (before Covid) Sky News reports that Flybe is on the brink of administration (again). It is saved from collapse in a secret government deal.
On 4th March 2020 (before major lockdowns) Flybe collapses for good after the government refuses requests for additional funding. You can read our post-mortem of the Flybe collapse here. Controversially, Virgin Atlantic, Stobart Group and Cyrus Capital get back much of what they invested because they took a charge over the assets of the business.
In October 2020, Flybe's former assets were sold to Cyrus Capital, the majority shareholder in the Virgin Connect consortium. The 'assets' consist of very little beyond the brand and website since virtually everything of any value had been mortgaged.
The new Flybe picks up Heathrow Summer-only slots from BA in April 2021, strengthening the case for its return. These slots can now be used for any European routes and can also be sold.
In November 2021, Flybe announces its first base – Birmingham
In March 2022, Flybe announces a second base at Belfast City and its initial network, comprising 23 primarily domestic routes
In April 2022, the new Flybe launched
In the last fifteen years, Flybe went from being the largest regional airline in Europe to the verge of collapse, only to be saved by a consortium led by Cyrus Capital, before being saved from collapse by the Government in early 2020.
The airline then collapsed – for real this time – in March 2020, before being resurrected by Cyrus Capital two years later.
And here we go again
There had been signs, of course, that the situation at the 'new' airline was not well. Routes had been cancelled at short notice (eg Isle of Man) with the blame placed – allegedly – on the non-receipt of aircraft from lessors. It had already become a bit of a leap of faith to make a booking well in advance.
The timing is unfortunate. In April 2023, Air Passenger Duty on UK domestic flights will be halved. This would have made a substantial difference to the financial performance of the airline.
It is also, of course, just two months away from the pick-up of travel over Easter. It is a shame that the airline survived the bulk of the quieter Winter season but not all of it.
The collapse will be a blow to Belfast City and Birmingham airports which had been the two key Flybe bases.
One key question is what will happen to the seven daily Heathrow slot pairs being operated by Flybe – albeit some were, I think, leased rather than owned.
LNER offfering free rail travel to Flybe passengers
LNER has announced that anyone on a Flybe route which is covered by the LNER rail network can travel for free on Saturday and Sunday.
Details on Twitter here.
BA and Ryanair launch 'rescue' fares
Ryanair, never one to miss an opportunity, has launched 'rescue' fares starting from £29.99 to accommodate customers affected by Flybe. This includes routes from Belfast to East Midlands, Manchester and London Stansted.
Fares are on sale on the Ryanair website for travel from 26th March – so it isn't much use if you need to travel in the next eight weeks. In reality, it looks like the company has simply reduced selected flights from ex-Flybe airports.
British Airways is being more helpful if you need to travel imediately.
BA is offering discounted one-way fares at a flat fee of £50 / €60 plus taxes, charges and fees on routes between London and Belfast, Newcastle and Amsterdam. These fares includes one checked-in suitcase. You must call a British Airways contact centre to get these fares – ba.com is only selling the usual high last-minute fares.
We will update this article as there is further news. For nostalgia, here is our article for the Flybe inaugural flight back in April 2022.